A Brief And Blunt Guide To Basic L.A. Etiquette
Seriously, chill. If there is one common trait that binds the coppery glamazons, industry wheelers and dealers and artisanal hipsters of Los Angeles, it is a learned desire to confront everything from traffic on the 405 to excessively slow service at slow food vegan restaurants with easy, breezy nonchalance. L.A. does not do alarmist. It will not speed up its pace for you, even if you bark and fidget, waiting endlessly for a single-origin espresso at Intelligentsia.
KNOW THE DO'S AND DON'TS OF THE THREE D'S: DISTANCE, DRINKING, AND DENIM
The average Angeleno spends 90 hours a year stuck in traffic, in comparison with the average Kansas City resident, who spends just 9 hours, (according to a 2014 Time magazine study anyway). All this time spent driving ends up influencing much of life in Los Angeles, including what Angelenos tend to drink, and what they wear so as to spend as little time as possible -- outside the time spent in a car -- transitioning from work days to nights out. As such, to start, it's critical to brush up on the city's three foremost facets.
DISTANCE
The city, as you've probably heard, is, to put it mildly, sprawling. Because it is wider than it is long, traversing East to West (or vice versa) at any hour in Los Angeles is a nightmare. So, heed our advice when it comes to dealing with said nightmare.
Do not suggest lunch at Café Stella in Silverlake to a Venice Beach resident under any condition
Lunch is so little a payoff for such a long drive it's essentially an insult.
Do make plans to meet for a long, languorous dinner somewhere in between
Dinner merits a little more effort and if you want to make things even easier for your across town friend, make plans on a weekend evening when traffic is likely to be less insane.
Do not ask anyone to pick you up or drop you off from LAX
This airport is never convenient, except for those who live in Manhattan Beach. It is encircled by constant traffic. If you want that treatment, fly into the Bob Hope Airport at Burbank. If your host does pick you up at LAX, just know you owe them big (like, more than lunch big) and keep them apprised of any delays with as much forewarning as possible so they're not stuck in some McDonald's parking lot on Sepulveda, killing time, waiting for you.
Do expect delays and take them with a grain of salt, unfazed.
Due to the area's largesse, traffic snafus are abundant and call for patience. Do not start texting your friend for his or her whereabouts minutes within your established meet-up time. He or she is likely driving; texting you to say "I'm parking," or "I'm stuck on Cahuenga behind an accident," is not only annoying, it's dangerous -- "80 percent of vehicle crashes involve some sort of driver inattention" according to the California Office of Traffic Safety, with talking or texting on a cell phone as the number one source.
DRINKING
L.A. takes their java and juice scene very seriously, so know what to drink and how to talk about it so you seen like a true native.
Do swap your coffee for Kombucha...
On the coffee front, while single origin drip method meccas abound (Intelligentsia, Alfred, LaMill, Blue Bottle), the beverage landscape is incorporating an ever wilder, organic array of fermented elixirs, from Dr. Kefir's Rooibos on tap at Verve in West Hollywood, to Shilajit Resin at Moonjuice—"a neurostimulating mineral complex made of primordial matter gathered from the Himalayan mountain ranges."
… but do not talk up the merits of Kombucha.
We've all heard it before and it's obvious you just like saying the word Kombucha as much as possible.
DENIM
The city may be so large as to change drastically from one neighborhood to the next, the weather, as you might have guessed, varies little from day to day. That said, it cools down substantially at night even during the height of summer, and as such, for their layerable flexibility, jeans are a natural go-to.
Do pack several pairs.
Denim is to Los Angeles what the color black is to New York. Ubiquitous and essential.
Do not wash your jeans.
Washing denim is passé, uncouth and robs them not only of their characteristic markings, but, over time, of their shape. Instead, follow the advice of L.A. jeans gurus A.P.C.: "Throw them in the freezer if they become intolerable in smell, but whatever you do, do not wash them."
Do wear your jeans to the beach and take them for a run into the ocean followed by a sun bake in the sand to artfully destroy them. Seriously.
According to Los Angeles lore, Ronald Reagan swam in his pool at Rancho del Cielo in his jeans for an "authentic", broken-in effect. Among Angeleno denim aficionados, swimming in jeans to break them in has since become fairly common practice. Given that the American denim design industry is largely centered in and around the city, (Madewell, JBrand, AG, Lucky Brand, and Guess are just a few of the labels with L.A. staffers) chances are someone in a pair of jeans that have undergone this faux stone-washing process are within a stone's throw wherever you go.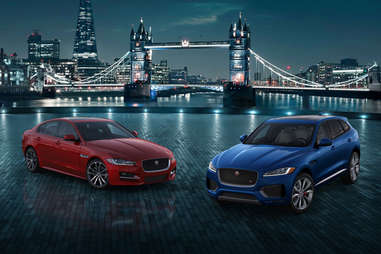 Embodying good L.A. manners despite hailing from across the Pond: the sleek new Jaguar XE. Its exceptional handling should be a legal requirement for anyone navigating the 405, paparazzi, and star-seeking tourists focused more on celeb-spotting than traffic rules.
BE ENVIRONMENTALLY CONSCIOUS (literally).
Home to the highest recycling rate of any large U.S. City, Los Angeles was also among the first American metropolises to adopt curbside recycling in 1989. With over 22 miles of beaches, more than 100 museums, the world's first and only solar-powered ferris wheel (the Santa Monica Pier Wheel) and the nation's largest municipal park (Griffith Park), the city is not only green, but wildly diverse, in terms of its population and abundance of cultural settings. Within the city of Los Angeles alone there are more than 88 cities and six different area codes—more than any other U.S. city. The rich array of ways to spend a day calls for a certain kind of situational sophistication.
When in a car, remember that it is legal to turn left on a red if you entered the middle of an intersection while the light was green or yellow.
L.A. traffic depends on this scenario. The rule of thumb is two cars turning left on a red, so, if you're one of those two at light, nose out into the intersection and get prepared to gas it at the tail end of the yellow light. To forgo this ethos is to shatter the delicate balance of already addled traffic. It constitutes nothing less than a driver's sin.
When in a bar, refrain from referring to any place with a door person and a wait as "so Hollywood."
"When we hit capacity, we have to hold the door. This is not for appearances, believe me," says Dan Sabo, Director of Beverages and Bars at the Ace Hotel Downtown Los Angeles. "Also, smoking in front of No Smoking signs and saying you didn't know there was no smoking. Come on, guys. Oh, and enough with the birthday cakes. No, we cannot and will not store that in our walk in for you until tomorrow. And don't tell a bartender to 'smile more.' That's the worst."
When at the beach, frolic and flirt all you want, but make no mistake: the beach is not your bedroom.
Reserve the hardcore PDA for behind closed doors -- your fellow beachgoers will thank you. On the subject of seagulls, make sure your edibles are properly stowed or tossed in a trash bin before you run down to the ocean for a swim. No one wants to be stuck in the sand with the flapping, squawking mayhem.
When in a movie theater, keep in mind that hair and makeup artists, digitechs, screenwriters, agents, managers, producers, PR directors, lighting and sound engineers and the rest of the estimated 250,000 entertainment workers in L.A. county may be well within earshot.
For this reason, it is not uncommon for a Los Angeles movie-going audience clap at the end of a film, even if that film was less than epic. This is because, chances are some of the names that scroll during the credits belong to people seated in the crowd, or at the very least, to their friends or family. So, before you go loudly panning the pile of garbage flick you just saw, it's best to wait to share your pointed criticism until you've made it safely in your car or final destination.
When entering a grocery store, come armed with tote bags.
Plastic bags have been banned in Los Angeles. Throughout California, a paper bag at checkout costs ten cents. It's human to forget to bring tote bags now and then, but in L.A., that doesn't make it any less frowned upon.
When walking through a neighborhood, if confronted with an enticingly abundant citrus tree, pause before you help yourself.
Having polled plenty of Los Angeles citizens, we've come up with the following nugget of wisdom. If a plant is profuse, extends itself over a fence or property line, and its bounty is within easy reach of your sidewalk stance, it's ripe for the taking. In other words: If and only if it's overgrown the fence, it's no offense. Still, forage at your own risk!
DON'T OGLE
It is entirely possible to arrange your time in Los Angeles so as to never rub elbows with celebrities and their entourages, or to be inundated while walking down a sidewalk by the many iterations of plastic surgery that have clearly altered visages and silhouettes. Still, chances are you may set foot in Beverly Hills from time to time and you'll likely brush up against the many offshoots of the Kardashian klan.
Do not stare when confronted with a face manipulated (or mangled) by plastic surgery.
Angelenos are tired of people coming to town, wanting to talk about their shocking run-in with a crazy plastic surgery lunatic. It's like, get over it already. Anyone living in Los Angeles has heard similar tales from visitors a thousand times. Plus, the longer you live here, the more you're forced to confront the many ways in which it's possible to unwittingly indulge insane industry standards.
Do understand the "industry" enough to hold a meaningful conversation.
According to a Polygraph survey of more than 2,000 films ranging from Finding Nemo to There Will Be Blood, women, for instance, are given less dialogue in Hollywood films the older they get, while men are given more. Let such statistics replace your brush-ins with denizens of bad plastic surgery as excuses for jaw-dropping, not to mention -- fodder for cocktail party conversation. Rather an uninitiated, gawking, out-of-towner, you'll be taken for a worldly, open-minded sophisticate.