Strike Back at Gravity with Adaptive Scuba Diving on Catalina Island
The inclusive scuba practice makes a moment of buoyancy accessible for anyone of any ability.
Courtesy of Scuba by Design
Courtesy of Scuba by Design
For almost all of us almost all the time, there is one big thing dragging us down—gravity. It clutches at limbs, tugs on anything that dangles, and pulls us ever downward toward the dirt. Every day is a battle against gravity. But if you want to take a break from the struggle, there is one reasonable way to access a moment of balance and buoyancy—scuba diving. The weightlessness and freedom of being underwater are unlike anything else, a magical and meditative escape from earthly concerns.
For one reason or another, the pressure of gravity is tough on some people's bodies. Disabilities of all kinds can make attempting physical activity daunting, and the challenges presented by the terrestrial portion of scuba diving can feel overwhelming. There's a lot of gear, lines, apparatuses, tanks, belts, and flippers. Some of it is heavy, and much of it is cumbersome, not to mention the discomfort of putting on a wetsuit and then wearing it in public. But there is a dedicated practice that allows anyone to overcome those challenges and access the weightless feeling and floating wonder of being under the ocean: adaptive scuba diving.
The set of rules and guidelines behind adaptive scuba is designed to create an inclusive environment for people of any ability level so that anyone interested can access the therapeutic beauty of being underwater. Whether people are experiencing physical or mental disabilities, kinetic issues, or psychological struggles, the ocean can be a place for exploration, exercise, challenge, and meditation.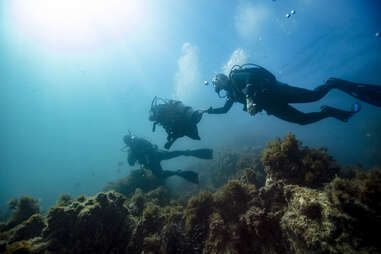 The non-profit Diveheart has been on the cutting edge of adaptive scuba since the organization's inception in 2001. They offer a special set of training courses for already-certified scuba divers to become adaptive dive buddies, and each diver with a disability can be paired up with two dive buddies to form a dive team. They also have regular pool diving programs for divers of all levels around the country and week-long adaptive diving trips to Cozumel, Roatán, and other ocean diving locations at least three times a year.
Diveheart's Founder and President, Jim Elliot, was already a scuba diving instructor when he started working with people with physical disabilities in 1997. He saw firsthand the benefits that adaptive diving could have, both in terms of physical exercise and fitness and emotional well-being and mental health.
In Adapting to Dive, a documentary about Diveheart by filmmaker David Marsh, Elliot speaks about Diveheart's mission to empower people with disabilities through scuba and to build confidence, independence, and self-esteem simultaneously. Elliot says their goal is to help people change how they think of their bodies. That is to say, Diveheart wants to shift a person's self-image away from any potential disabilities and into a new identity as a scuba diver.
Diveheart is not the only organization committed to adaptive diving. The Handicapped Scuba Association has been around since the early 1980s and has been training and certifying divers since 1986. PADI, the Professional Association of Diving Instructors, also offers a special certification course for instructors specializing in adaptive diving techniques and can help those interested find nearby courses and experiences.
For Ryan Chen, an entrepreneur, founder, and adaptive diver, scuba diving has been a healing journey. Chen suffered a tragic snowboarding accident in college that left him partially paralyzed, and scuba has led to growth and personal discovery. "It was one of the ways I learned that I can do anything, I just have to do it differently," Chen says, "Scuba diving is one of those things that can change your whole framework."
Scuba diving also changed his life in another way, too—it provided the inspiration for his company, Neuro, a line of functional gum and mints designed to boost energy and focus. Chen and his co-founder and dive partner Kent Yoshimura had been in heavy athletic training, and they were experimenting with energy-boosting supplement pills like caffeine, vitamins B6 and B12, and L-theanine. But when they needed it most, in between dives on a boat trip, they realized that taking energy-boosting pills in public can be a sketchy look, not to mention the skepticism from their fellow divers and new friends when Chen and Yoshimura offered to share. They realized they needed a more practical, approachable delivery system, and Neuro gum and mints were born.
Now, in success, Chen has kept up his diving, and he's remained close to PADI as an organization. Neuro even has a collaboration with PADI's coral reef restoration project coming up—a special pack of Neuro, with proceeds going to PADI's non-profit foundation.
And underneath it all, for Chen, is one enduring impression: "There's no cooler feeling than taking that first breath underwater," he says, "all of a sudden you have this superpower, to breathe underwater and explore."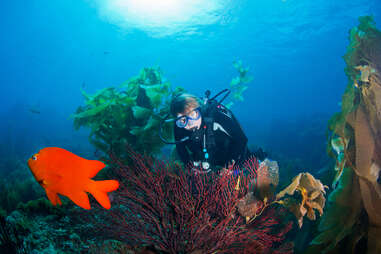 How to do adaptive scuba diving in LA
If you're looking for an adaptive scuba diving trip in Southern California, your best bet is to head 26 miles across the sea to Catalina Island. It's one of LA's great, easy escapes, and it's also one of the best places to dive in the Southland, with beautiful bathymetry, abundant marine life, and a great group of dive instructors and scuba shops. Options are plentiful, whether you're there for boat diving, exploring the island's hidden coves, or staying in Avalon at the famous Casino Point Dive Park.
Catalina's kelp forests are legendary, and they're also legendarily easy to access, just feet from shore. Marine life is carefully protected, and as a result, there are tons of ocean creatures everywhere, from the signature bright orange garibaldi to octopus, lobsters, sheepshead, and giant black sea bass in early summer.
As of this May, Catalina is also one of the best places in Southern California for adaptive diving, thanks to Scuba by Design and Lisa Beach. Beach is a PADI master scuba diver trainer, an emergency first responder instructor, and a certified adaptive techniques instructor who likes to call herself the "scuba instructor for the rest of us."
Scuba diving can look like an intimidating and somewhat insular sport, a lonely tumble into shark-infested darkness better left to the gaggle of fit young dudes who rhapsodize about gear over mid-afternoon beers at the dive park like it's the quieter, solitary cousin of surf bro culture. But that's a misconception, and Beach is living proof.
She was 50 years old when she dove for the first time, after a decade of nagging from her scuba-instructor son. She was scared to death, sure she would be eaten alive until she got under the water. "All of my preconceived notions just went out the window," said Beach. It's brighter, more accessible, more peaceful than she could have imagined. She was quickly hooked, and within a few short years, she became an instructor herself.
Now, her specialty is taking divers on custom-designed day trips, with longer time frames like half or whole days, better-specialized gear, and a fully flexible program built to accommodate all kinds of needs. "It really starts from a broad, holistic focus on the individual person and what they need," said Beach. That can mean dive trips for folks who aren't able to carry their own gear, people who may need help getting into or out of the water, people who can't or don't know how to swim, or people who have anxiety around the ocean.
It can also help to look at the bigger picture of a day of scuba diving to think of things differently. Sometimes, said Beach, "the goal that day isn't to dive; the goal is to try something completely new, completely out of your comfort zone, and have a good time."
That is to say, the important thing is not necessarily what you see underwater, how deep you dive, or how long you stay. The beauty is in the diving itself and what it unlocks for you. "Diving saved me, for sure," said Beach. "I want people to be empowered, and to know that most of the barriers that we see are ones that we create for ourselves." She's helping to take those barriers down, one adaptive diving trip at a time.
Ben Mesirow is Thrillist's LA Staff Writer, and an Echo Park native who writes TV, fiction, food, and sports. At one time or another, his writing has appeared in The LA Times, Litro, McSweeney's Internet Tendency, Los Angeles Magazine, and scratched into dozens of desks at Walter Reed Middle School.