10 Airbnb Rentals You Would Only Find in LA
Summer might be over, but that doesn't mean your vacation time has to be. In a city like LA, you have the luxury of hiding in the mountains, or living it up in a million-dollar mansion -- at least temporarily -- thanks to short-term rental sites like Airbnb. So, whether you've got friends coming into town, or you're itching for an out-of-the-ordinary staycation, ditch the hotels and check into one of these ridiculous Airbnb homes you can only find here in your own backyard.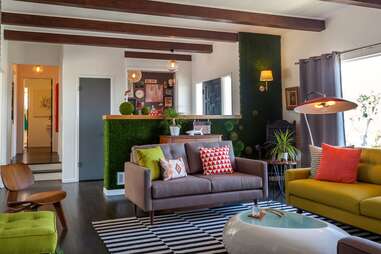 Baldwin Hills
Everything from the orange-and-white patio furniture to the bright green AstroTurf walls make this Baldwin Hills pad look like a page ripped out of Crate & Barrel's Fall 2016 catalog. Vibrant tufted sofas and funky art fill each room, so no corner goes unnoticed; as one guest commented, "It's like a buffet for the eyes." With its high wood-beam ceilings and spectacular views of Downtown LA, this three-bedroom, four-bathroom house could be the perfect place to impress friends for your next soiree.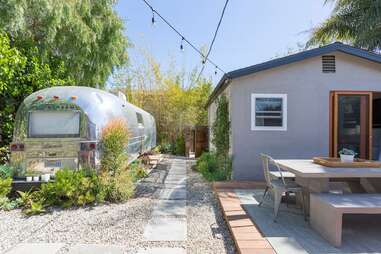 Venice Beach
When was the last time you slept in a shiny 29ft Airstream? Probably never. At this Venice Beach house, you can take your pick between a cushy Casper mattress (found in all of the bedrooms), or the Airstream that sleeps four. With the Pacific Ocean as your backyard, these digs are impressively well-equipped with four beach cruisers, boogie boards, umbrellas, and yoga mats (c'mon, it's LA after all). There's a wooden deck that wraps around the house, complete with lounge chairs, string lights to set the mood, and a four-person built-in Jacuzzi, which makes it the beach house that California dreams are made of.
Beverly Hills
There are homes, and then there are HOMES. We'd be remiss not to include at least one gaudy Beverly Hills mansion where you could live like a king for a day (or month?!). This 10-bedroom luxury crib probably has its own zip code, but unless you're Snow White and the Seven Dwarfs, we're not exactly sure what you would do with all this space. Upon entry of this three-story home, there's not one, but two marble stairways (his and hers?), which lead to seven bedrooms, including the master suite and a massage room -- because you'll need one after you pay the $6,000/night a bill. There are two formal dining rooms (of course there are), one that seats 12 and the other 26, so you can invite all your other filthy-rich friends over for dinner and drink wine from your gold chalices. And after your chef-prepared meal, you'll be too full to walk up the iron staircases, so take the elevator. Should you ever find yourself traveling with an entourage of 16, or if you have money trees growing in your backyard, stay here -- and send us an invite, mmk?
West Hollywood
Only in LA could you stay at a cottage that Charlie Chaplin built in the 1920s. The 550sqft West Hollywood studio has a charming European appeal that has apparently drawn celebrity dwellers like Marilyn Monroe, Patrick Dempsey, and Rudolph Valentino. This particular loft is one of 25 in an apartment bungalow community dubbed "The Shire," and boasts some of the original fixtures that Chaplin built, like the lofted bed frame and ladder system. The current owner added her own flair to the space with local flea market finds and DIY pieces, so needless to say, this humble abode comes with a lot of history.
Arts District
If you're looking for a truly unique experience, try this 1952 vintage rooftop trailer. Escape the hustle and bustle of the city with this trailer nestled atop an artist's loft (and the neighborhood's newish music venue, Resident), which has some of the best views overlooking the Downtown skyline. The rooftop deck has its own lawn, with lounge chairs, tons of green foliage (even cacti!), Chinese umbrellas, and colored string lights so you really feel like you've been transported back a few decades.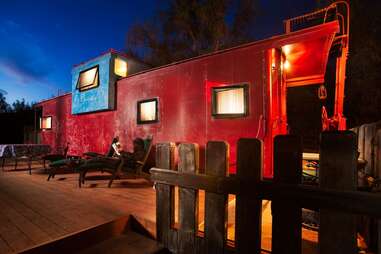 Agoura Hills
If you're looking for a real far-out experience -- literally and figuratively -- you can stay at this... caboose situated deep in the Valley. You'll be surrounded by nothing but the Santa Monica Mountains and pepper trees, but surprisingly, the interior of this little red train is beautifully detailed, with a vintage tin ceiling and ornate moldings, and is stocked better than most college dorm rooms. There's a Cal-King bed, a mini-fridge, coffee maker, toaster, and microwave. But if you're in the mood to fish for your own dinner, you can walk 20 minutes to a fishing farm, or sip on local wines at Cornell Winery Tasting Room. You're also just a short walk from Paramount Ranch State Park, which has been the backdrop for many Western films and shows like Dr. Quinn, Medicine Woman. This may not be the typical romantic getaway, but the picturesque views and hidden location make it a perfect place for couples to go wild.
Venice
Ahh, Venice Beach, where you'll find beach bums residing in bungalows and techies living in multi-million-dollar bachelor pads all on the same block. Just a few steps away from hip Abbot Kinney Blvd, you'll find this ultra-sleek architectural stunner. The modern building, adorned with futuristic, Jetsons-style furniture and plenty of white space, is comprised of two living quarters joined by a bridge that overlooks the courtyard. That way, in case you're bored of one, you can walk across to the other.
Hollywood Hills
Why go to the bar when the bar can come to you? Behold: "The Silent Woman" -- a 1920s guest house and speakeasy, all in one. Whaaaa? Yes, it's true. This Airbnb has all the essentials you would need to be a hermit: a 60in TV, kitchen, bar, and a fireplace (OK, maybe you don't need that last one considering "winter" in LA, but why not?). Cozy up, and learn how to pour yourself a mean cocktail at this historic pub (err, your temporary home).
Malibu
It's no secret that Malibu is the land of real-estate porn, and this gorgeous ocean view estate is no exception. After a three-mile drive up Corral Canyon, you'll arrive at this secluded, three-story stunner featuring all-glass windows, and an atrium in the master suite that retracts so you can feel the ocean breeze right from your bedroom. The breathtaking interior screams opulence. Grab a book from the floor-to-ceiling bookcase and fall into luxury in the Paul Evans Cityscape living room furniture with tufted silk velvet upholstery, or have a decadent meal on the Milo Baughman dining set (because everywhere you sit should be designer-made). The 2,700sqft oasis, named Scorpiesse, was completely rebuilt into this Malibu dream home after the 2007 Corral Canyon fires destroyed the original home. It also features incredible mountain and ocean views, so no matter what room you're in, you will feel on top of the world.
Silver Lake
You don't have to be a 10-year-old tween to fancy a treehouse hideaway. Even as a grownup, you can experience the joys of being surrounded by nature in this 1927 cabin-like treehouse, perched in the hills of Silver Lake. Included are views of the reservoir (currently under construction), the Hollywood sign, and Griffith Observatory. You'll also find a clawfoot tub sitting underneath a skylight, a fireplace, and a few musical instruments that were left behind from previous artists, so there are plenty of ways to chill amongst the trees. Of course, it wouldn't be a proper treehouse without a massive tree protruding through the house -- just don't complain if you see a few fallen leaves (or crawling creatures) on your pillow. This quaint treehouse is the perfect glamping getaway where we're pretty sure no one will find you.
Sign up here for our daily LA email and be the first to get all the food/drink/fun Los Angeles has to offer.