All of the Oldest Stuff in California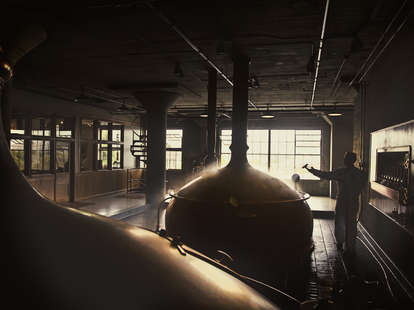 Courtesy of Anchor Brewing Company
Fine. Compared to places like Massachusetts and Virginia, California isn't very old. We weren't even recognized as a state until 1850. And compared to places like Egypt and Greece, we're basically a newborn baby who hasn't even learned how to crawl. Still, just 'cause we don't have pyramids and temple ruins doesn't mean we don't have a bunch of other cool old stuff. Like, uh, bars. And restaurants. You know, stuff that's USEFUL. And some of which is also the oldest in the world. The World!
Take that, King Tut.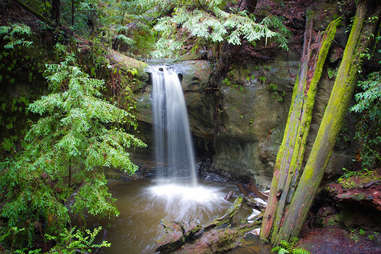 Oldest state park: Big Basin Redwoods State Park
Boulder Creek, CA
113 years old
It was originally called California Redwood Park, and though the name changed, this California Historical Landmark is still home to the largest continuous stand of ancient coast redwoods south of San Francisco. Also: that scene in Vertigo where they're supposed to be in Muir Woods? Yeah, actually Big Basin.

Oldest woman: Dominga Velasco
Oakland, CA
114 years old
The thing about being a woman and getting older is that it's not fun until you're, like, really, really old. Which at 114 is exactly what Dominga Velasco is. When asked what her secret to long life was, she said, "Be happy." AKA: eat that third slice of pizza and wash it down with a beer.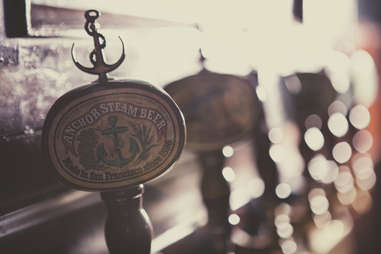 Oldest brewery: Anchor Brewing
San Francisco, CA
119 years old
In 1871, German brewer Gottlieb Brekle transformed an old saloon on Pacific St into the brewery that would become Anchor Steam, but that didn't happen for another 25 years when another German brewer, Ernst F. Baruth, and his son-in-law, Otto Schinkel, Jr. bought the brewery and named it Anchor. It all went awry in 1906 when Ernst suddenly died, the fire from the earthquake burned the brewery down, and then Otto was run over by a streetcar. Luckily some MORE German brewers stepped up and ensured we'd all be drinking Anchor more than 100 years later.
Oldest continuously operating hotel: The National Hotel
Nevada City, CA
151 years old
Built in stages from 1854 to 1857, the National Hotel was the site of a meeting in 1898 where PG&E was created. It's also allegedly haunted, because of course it is.

Oldest bridge: Bridgeport Covered Bridge
Bridgeport, Nevada County, CA
153 years old
If you think bridge tolls are bad now, the toll for this bridge, originally built as a link for freight being hauled from San Francisco to Virginia City, was TWO BUCKS. And while it enjoys being the oldest bridge in all of California, it also takes a lot of pride in being the longest-span (230ft) wooden covered bridge still in existence, period. Recently it's seen some troubled waters and is currently closed for renovations.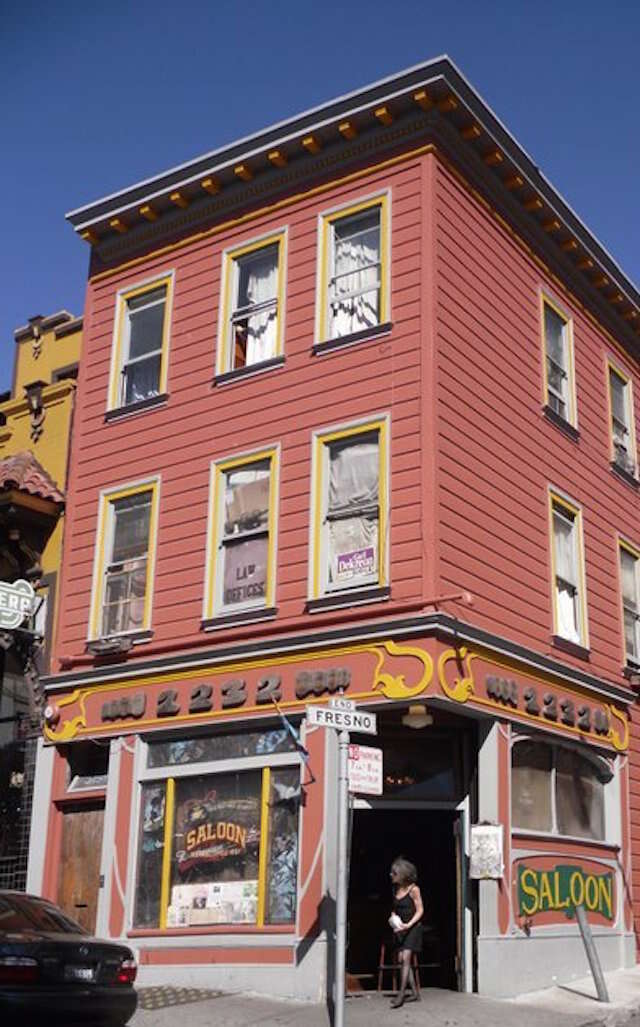 Oldest bar: The Saloon
San Francisco, CA
154 years old
The Saloon opened its doors in 1861 and has been serving delicious alcoholic beverages ever since. Unlike so many other places, The Saloon didn't burn down after the 1906 earthquake thanks to a US Navy frigate that extended a fire hose over Telegraph Hill and pumped water from the bay to help put out the flames (so while Old Ship Saloon may've opened in 1851, it also actually closed in 1906 because of the whole it-was-wiped-off-the-face-of-the-planet-'cause-of-the-quake thing). If there's ever a big fire in SF again, we can only hope preference is given to saving the bars. (Kidding?)
Oldest winery: Buena Vista Winery
Sonoma, CA
158 years old
The first winery in California was actually founded by a Hungarian named Agoston Haraszthy who called himself the "Count of Buena Vista." The Count actually came to California searching for "purple gold," the perfect terroir for exceptional wine, so next time you toast, maybe think of him and the fact that he died in an alligator-infested river in Nicaragua.
Oldest lighthouse: Point Pinos Lighthouse
Pacific Grove, CA
160 years old
Alcatraz Island Lighthouse could have had this honor since it preceded Point Pinos by eight months in 1855, but it was replaced in 1909, which means Point Pinos takes home the honor. It was automated in 1975, but even the lens, which was manufactured in France in 1853, is still original. The first guy who ran it made $1,000 a year, but was killed while chasing outlaws as part of the sheriff's posse. And that's why no one ever wants to do volunteer work!
Oldest prison: San Quentin State Prison
Marin County, CA
163 years old
Built on the waterfront that overlooks San Francisco, there probably isn't another prison in the world that has such great views or is located on such desirable real estate. It's the state's only death row for male inmates, and Johnny Cash performed live there in 1969, which seems like a pretty sweet deal for a bunch of guys who did terrible things.
Oldest college: University of the Pacific
Stockton, CA
164 years old
This college was chartered in 1851, but under the name California Wesleyan College. Then it moved to San Jose in 1871 and then to Stockton in 1923. At one point it was also called College of the Pacific, and yeah, even if you actually went to college, you might still have a hard time understanding how this qualifies as the oldest university in California.

Oldest newspaper: The Mountain Democrat
Placerville, CA
164 years old
The Mountain Democrat has been "covering the western slope of El Dorado County since 1851." In the very first edition, publisher D.W. Gelwicks wrote, "We shall not attempt to please all. By doing so we should please none. We seek to do good by pursuing an honorable and fearless course." It was one of 19 newspapers published in El Dorado county before 1858, but it's the only one that survived the Gold Rush.
Oldest city: Sacramento
Sacramento, CA
165 years old
Sacramento beats San Diego and San Jose by a month thanks to the fact that it was incorporated on February 27th, 1850, though, of course, Native Americans had been living there for probably thousands of years before that. Right after it was incorporated, Sacramento totally flooded and then there were both cholera and flu epidemics. Its reputation amongst Californians never quite recovered. (Now it's pretty cool, though.)
Oldest restaurant: Tadich Grill
San Francisco, CA
166 years old
Tadich Grill started as a coffee stand in 1849 on a pier that jutted out half a mile into the bay. The stand also sold fresh fish grilled over charcoal, but when bay fill started expanding the city east, it was forced to move. That happened a few more times thanks to fires and redevelopment, but it refused to die and to this day has hosted everyone from Herb Caen to Joe Montana to Groucho Marx to George H. W. Bush.

Oldest sourdough starter: Boudin Bakery
San Francisco, CA
166 years old
Boudin Bakery was founded in 1849, and they say their sourdough starter is that first one that was begun by Isidore Boudin. To be fair though, his was a blend of starters he borrowed from miners, so who knows how old it really is… Either way, the sourdough of 2015 is delicious, especially when it serves as a vessel for clam chowder.
Oldest building: Mission San Juan Capistrano
San Juan Capistrano, CA
239 years old
A lot of the buildings and structures have deteriorated, but Serra's Chapel has been standing since 1776, which makes this building super old by California standards.

Oldest tree: Bristlecone pine in the Methuselah Grove of the Ancient Bristlecone Pine Forest
White Mountains, CA
5,065 years old
Um, no big deal, but this isn't just the oldest tree in California or the United States or North America. Well, it is all of those things, but at 5,065 years old it's also the oldest tree in the WORLD. Bummer for everyone: it's exact location is a secret because humans can't be trusted with anything.
Oldest bush: King Clone
Mojave Desert, CA
11,700 years old
You thought that silly tree was old? This creosote bush ring in the Mojave Desert is estimated to be 11,700 years old, which actually makes it not just an old-ass bush, but also an old-ass bush that's one of the oldest living organisms on our planet.
Oldest lake: Clear Lake
Lake County, CA
480,000 years old
Sad fact: most lakes only live to be 10,000 years old thanks to sediment and declining water levels. Happy fact! Despite that, Clear Lake is almost half a million years old. It's all thanks to a geological fluke: the molten rock beneath the lake tilts a little bit every year, and all of the sediment slips in the gaps so the water levels don't change.
Sign up here for our daily LA email and be the first to get all the food/drink/fun Los Angeles has to offer.
Daisy Barringer is an SF-based writer. If she ever goes to prison, she really hopes Taylor Swift will come and perform. Follow her on Twitter @daisy.