Locally Approved Spots for Avoiding LA Tourists
Look, tourists are a fact of life in LA: we've been named the top-ranked tourist destination in the US and visitors spent a record-breaking $19.6 billion here in 2014, and there's no doubt that number will be higher when this year's over. But sometimes you either want to escape the horde of picture-takers yourself, or you've got a friend in town who just doesn't want to do the same 15 things all their friends did their first time in LA. That's why we've prepped this: your guide to avoiding tourists, but still having a good time:
Beach time
Instead of:
Venice
or
Santa Monica
Do this:
Manhattan Beach
Sure, your friends want to spend time on Venice, where they'll be accosted by Harry Perry and see more bongs and offensive T-shirts than they ever thought possible, and SaMo, where they can ride a ferris wheel and contemplate everyone else's life choices, but if you want to go to the beach and, you know, lay out/get in the ocean/play volleyball/relax, Manhattan Beach is only another 20 minutes south and is another world. Great restaurants like Fishing With Dynamite and The Strand House are legit dining options, rather than fish & chip shacks and overpriced burgers. The street performers won't accost you (because there aren't any) and you can actually bike and rollerblade and skateboard and hang without feeling like you're part of a fashion show.
Moviemaking
Instead of:
Universal Studios
Do this:
Warner Bros. Studios
It's true: Universal's a great amusement park full of history and Warner Bros. doesn't have anything like Springfield or Halloween Horror Nights or a roller coaster like Revenge of The Mummy. But what it does have is a studio tour on a working lot. Sure, you can also get that at Universal, but at Warner Bros., it'll also be attended by other movie nerds obsessed with the inner workings of Hollywood rather than a bunch of people impressed by fake Anthony Perkins.
Stargazing
Instead of:
The Ivy
Do this:
Chateau Marmont
So your friend's in town and you promised him you'd see celebrities at some point. It's the last day of his trip and you still haven't even had an isn't-that-the-dude-from-season-three-of-Road-Rules sighting yet. Screw The Ivy -- that's amateur hour -- and head up to lunch at the Chateau. At dinner, it gets intense about access, but you can have lunch in its lounge and you're guaranteed to see someone you both recognize; they may not be Clooney-level, but they very well may be close.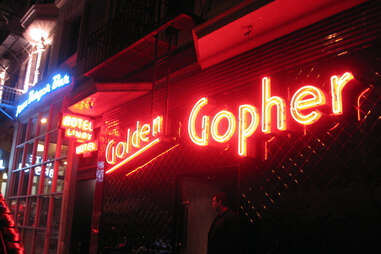 Barhopping
Instead of:
Hollywood
Do this:
Downtown
Look, if you've been living in LA for more than a year you know this already, but we're going to spell it out for you: barhopping in Hollywood, especially on a weekend, is hell on Earth, in no uncertain terms. Beat the here-for-the-weekend warriors and head Downtown instead; though certain spots can still be horrendously crowded, there are so many options now that you're bound to find a place or seven to get drinks (including many of the most beautiful bars in LA), and with Uber and Lyft, you don't even need to worry about the disaster that parking used to be. AND? AND? Lots of late-night food trucks and pizza from Pizzanista!
Hiking
Instead of:
Runyon Canyon
Do this:
Any of these hikes
Seriously, have you been paying attention? We've written about a ton of hikes that aren't Runyon. Unless for some reason you like crowds and dogs more than you like waterfalls and ABANDONED NAZI RUINS, there are a ton of other options out there.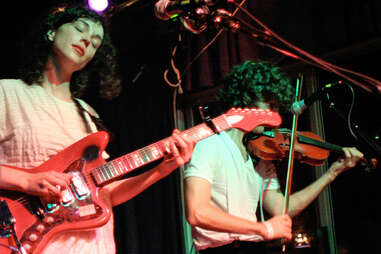 Live music
Instead of:
Sunset Strip
Do this:
The Eastside Music Crawl
It's almost hilarious that tourists still consider the Sunset Strip LA's live music hub. Though The Viper Room occasionally hosts a decent band and The Roxy's certainly upped its game since Goldenvoice took over a few years ago, the glory days of decadence are long, long, long gone. But every Monday on the Eastside, at The Echo, Satellite, Silverlake Lounge, and The Bootleg, music is both free and easily hoppable. Did we mention it's also really good?
We've seen just about every major breakout rocker of the last decade, from Silversun Pickups to Cold War Kids to St. Vincent (pictured at The Echo above) start at one of those clubs, often on their free nights. If you want to vet your music even more, you've got to read Kevin Bronson's Buzzbands LA, unquestionably the best local music resource out there, and plan your night around the set times posted daily via the Scenestar.
Stand-up comedy
Instead of:
The Improv
,
The Laugh Factory
, or
The Comedy Store
Do this:
Any of these under-the-radar comedy shows
, or
The Virgil
, or
El Cid
, or...
Look, LA has a rich stand-up scene, and we're not here to dis the legendary clubs in town; you can still get plenty of funny at the Improv, The Factory, and The Store, and it's often that very famous people take those stages. But there are lots of choices outside of the standbys, and hitting them up means avoiding Ohio's best hecklers. It's thanks to a renaissance of underground stand-up in LA, which means it's almost difficult to NOT see stand-up when you go out: it's at taco shops, Chinese restaurants, and people's backyards. The Virgil -- usually a mixology-and-Latin-music club -- hosts Kristen Schaal (from The Daily Show and Last Man on Earth) every week, and Reggie Watts pops up at El Cid regularly these days as well.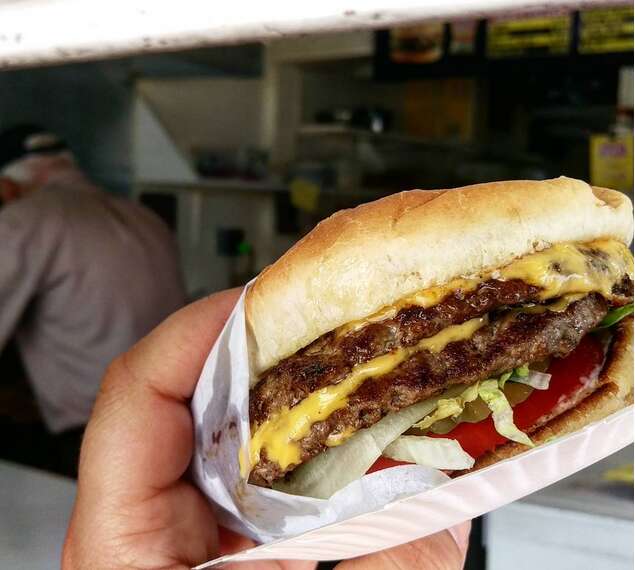 Burgers
Instead of:
In-N-Out
Do this:
Bill's
or
Irv's
or
Marty's
You're going to go to In-N-Out -- and you should, because Double Doubles are amazing, especially if you know what else to put on 'em. But LA's burger legacy runs deep, to these decades-old stands run by the same guys who opened them. You'll get a burger that tastes like love... and a well-seasoned grill. Plus, you won't even need to wait in a long line wondering whether it's worthwhile.
Hot dogs
Instead of:
Pink's
Do this:
Carney's
Yes, Pink's is an institution, but if you're more interested in the snap of a delicious dog than snapping a picture of a long line, head to the train car in Studio City or on Sunset. Carney's chili dog (you always get it with chili, right?) is equally classic -- and far less of a tourist-grabby headache.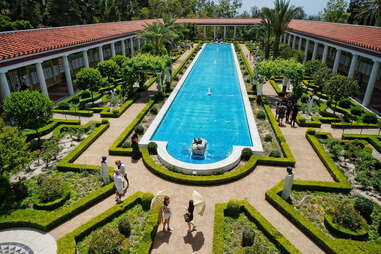 Culture
Instead of:
LACMA
Do this:
Getty Villa
or
The Broad
It's become all-too-cliche: anyone visiting LA has to get a picture on Wilshire with all those lights, or just off Wilshire with the giant rock. (Ugh.) But if you're living in LA, you know better than to deal with out-of-towners for those profile shots. If it's ancient history you're after, check out the Greek & Roman stuff at the absolutely gorgeous Getty Villa, or, if you're more modern, head to the just-opened Broad (you have to make a reservation, though the standby line moves pretty fast) to see iconic modern art... and get a photo in that room with all the blinking lights you've seen on all your other local friends' profile pics recently.
Huge outdoor performances
Instead of:
Hollywood Bowl
Do this:
Grand Performances
or
KCRW's Sound in Focus
Look, we're not saying not to go to the Bowl -- we LOVE the Bowl. We might actually love the Bowl more than anywhere else in LA. And you've got to go to the Bowl at least once a summer. But Grand Performances -- which happens all summer in a Downtown courtyard -- is an alternative that often features past Bowl performers, is free, and happens right in the middle of skyscrapers, giving an extreme locals-only feel. The same goes for KCRW's Sound in Focus series at the Annenberg, a park in the shadow of the massive CAA "Death Star," a location only locals could love.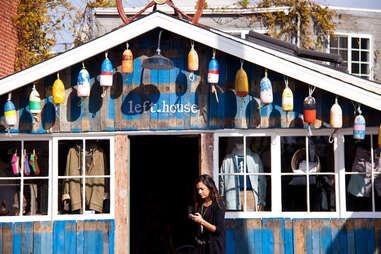 Shopping
Instead of:
Hollywood and Highland
or
Rodeo Drive
Do this:
Literally, anywhere else
Literally.
Sign up here for our daily LA email and be the first to get all the food/drink/fun Los Angeles has to offer.
Jeff Miller is the editor of Thrillist LA and really loves both In-N-Out and the Hollywood Bowl, tourists or no. You can see lots of photos from both places on his Instagram.