SoCal's Most Beautiful Places Will Help You Survive Post-Election Stress
trekandshoot/Shutterstock
Election Season 2016 was stressful. So stressful, in fact, that we forgot exactly how lucky we are to live in California. Our region of the state has no shortage of eye-catching landscapes and landmarks, so much so that it's almost impossible to keep track of all the beautiful places in it. Get out this weekend and relax, while you explore all the best of SoCal at the most beautiful places in the state that you never knew existed.
Los Angeles River Center & Gardens
Cypress Park
This Spanish-style complex and the adjoining gardens right by the LA River were formerly owned by... wait for it... Lawry's seasonings (?!?!?), but now function mostly as a wedding venue. When they're not in use for private events, the gardens are free year round, and what you'll notice most is the weird, much welcome quiet within their walls. Don't question it. Just enjoy.
Redwoods at Carbon Canyon Regional Park
Yorba Linda
Hiding out in a little regional park in Orange County, these 70ft-high coastal redwoods impart that "driving up PCH" feeling, without actually, you know, driving up PCH. They may not be as dense as the ones up north -- but they also don't require those zig zags up to Big Sur.
Malibu Hindu Temple
Malibu
This temple looks like it's been dropped straight out of Chennai -- from the architecturally impressive stacked entryway to the marble-inlaid worship complex it guards (we bet your Instagram followers will be fooled). And just in case you're not there to worship, anyone respectful is welcome, regardless of faith.
Lotusland
Santa Barbara
Lotusland is the former estate of garden-loving, slightly eccentric Polish opera singer, Ganna Walska. Within, the sizeable botanical gardens she curated (which take about two hours to see on a tour) are cohesively themed cactus gardens, flowers, and Japanese pools. It feels like walking through a very large, very green, very rich person's backyard. The tickets are a bit pricey at $45 a pop, but can you really put a price on inner peace?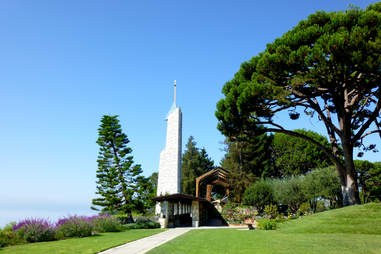 sanamoo/Shutterstock
Wayfarers Chapel
Palos Verdes
This indoor/outdoor, glass-panelled chapel is what forest fairy tales are made of. Built by the Swedenborgian Church, a Christian denomination posthumously inspired by 18th-century Swedish scientist-turned-spiritualist Emanuel Swedenborg, this chapel is welcoming of all faiths. There are still services every Sunday; if that's not your thing, just duck into the sanctuary any time during the day. It's particularly perfect at sunset, when the light catches the glass just so, setting the mood for meditation, or just chillaxing.
Los Angeles Municipal Art Gallery
Los Feliz
It won't seem like a secret if you've been there -- but it's surprising how many Angelenos have never ventured up the hill to Barnsdall Art Park, where art classes, galleries, and city views abound. The gallery space is small, but well-curated (and free!). When you're finished looking, you can visit Frank Lloyd Wright's Hollyhock House next door -- completed in 1921, the Mayan-referencing building was the architect's first Los Angeles project.
The Flower Fields at Carlsbad Ranch
Carlsbad
If your pupils are fatigued by LA's asphalt gray, take a trip out here and feast your eyes on Wizard of Oz-worthy ranunculuses (that's what the flower which populates the 50+ acre ranch is called). The vibrancy of color seems almost drug induced, but you'll be high on nature (riiiiiight). Call before you go -- it's only open from March through May.
Ken Wolter/Shutterstock
Paramount Ranch
Agoura Hills
This 2,400-acre, former Paramount Studios property is located between Santa Monica and Malibu, and was formerly used as a set for expansive Westerns. Its rolling hills and forest groves have also stood in for landscapes of China, the Sahara, and Montana. The two-odd blocks of Old West town, still standing, have served as the backdrop for MASH, and, among other shows, Dr. Quinn, Medicine Woman, if that's your thing. If it isn't, the three-ish mile loop is still a scenic hike for its own sake.
Wildwood Regional Park
Thousand Oaks
Wildwood is a huge park that boasts 14 trails through grasslands, meadows, and canyons. If you're lucky enough to come during a lush spring or summer, you're greeted with big sky and fields of green. Walk a little deeper in, and there are waterfalls to be explored (Paradise Falls is a picturesque 30ft spout), and even a massive cave.
Peace Awareness Labyrinth & Gardens
West Adams
This stone labyrinth is more a flat walking path than a hedge-like maze of Grecian fame; it sits in the backyard of the headquarters of the Movement of Spiritual Inner Awareness, amidst the hush of trees. (It's not a cult, as far as we can tell.) Labyrinths have long been used in ancient Christian traditions to meditate on a problem; maybe you'll find a solution for yours here.
Vermont Gurdwara
Los Feliz
Amongst the architectural mishmash that is LA, it's easy to drive by this dome-studded building (which serves as one of LA's biggest Sikh temples) without realizing that it's kind of a huge deal. Inside, the floors are marble, and the prayer hall is draped in white fabric; it's a beautiful place for respite. If you're interested in visiting, be sure to take off your shoes and don a headscarf as a sign of respect. If you come on a weekend, you can also get a taste of what is perhaps the homiest North Indian fare in the city.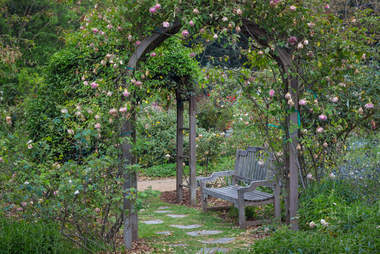 Ken Wolter/Shutterstock
Descanso Gardens
La Cañada Flintridge
These botanical gardens aren't exactly under-the-radar, but because of their far-out location, they seem out of grasp for tons of Angelenos who don't think the 30-min-or-so drive from mid-city is worth it. It is. Once the home of Los Angeles Daily News magnate E. Manchester Boddy, the 150-acre property is now county-developed and boasts a day's worth of rolling hills, a Japanese tea house, small waterfalls, and a lilac garden to wander about in.
Gaviota Nude Beach
Santa Barbara
Known as Santa Barbara's favorite nude beach, this stretch of sand within the park of the same name is frequented by men and women who desire freedom from fabric. While the actual beach is beautiful, the views here are more in admiration of the human form (in all its shapes, sizes, and colors, obviously). Be warned though, public nudity is still illegal, despite its frequency here, so you could get a ticket. Which would probably make a good story.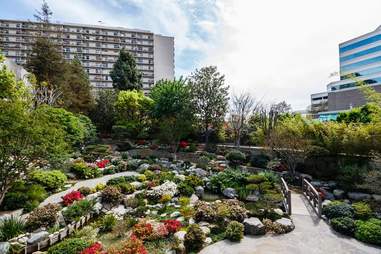 Courtesy of Japanese American Cultural & Community Center
James Irvine Japanese Garden
Little Tokyo, Los Angeles
Tucked within the Japanese American Cultural and Community Center in Little Tokyo and obscured from street view, this Japanese-style garden is surprisingly transportive. It's not big enough to walk around in for hours (or even twenty minutes), but it's big enough to make you forget that you're in DTLA -- and it's totally free.
Sign up here for our daily LA email and be the first to get all the food/drink/fun Los Angeles has to offer.