Los Angeles LA's Best Dispensaries (and the Freebies at Each!), Organized by Neighborhood By Eliza Deckard Look, let's be honest: it's 4/20, and medical marijuana in LA is code for "weed is legal if you've ever cracked your back or had a sleepless night ever." Which is why we've compiled this list of the best dispensaries, organized by neighborhood, although due to ever-changing laws and stupid politicians it makes sense to call first. Oh, and they've all got freebies -- which, obviously, we're letting you know about too: By Eliza Deckard
Recommended Video
This Pizza Has Fried Chicken for Crust
Los Angeles LA's Best Dispensaries (and the Freebies at Each!), Organized by Neighborhood Look, let's be honest: it's 4/20, and medical marijuana in LA is code for "weed is legal if you've ever cracked your back or had a sleepless night ever." Which is why we've compiled this list of the best dispensaries, organized by neighborhood, although due to ever-changing laws and stupid politicians it makes sense to call first. Oh, and they've all got freebies -- which, obviously, we're letting you know about too: More Stuff You Will Like
El Sereno
Purpolistic Med (address and info)   For one, this dispensary's logo a purple dinosaur smoking a blunt. But for two, they have a solid selection and deals every day. All patients get a free bottle of water while they wait in the lobby, which comes equipped with appropriately cushy checkerboard couches.
Freebies: There is such thing as a free lunch here on Mondays; a free gram with any donation on Tuesdays; a prize wheel on Wednesdays that you can spin with a $30 donation; a free blunt with donation on Thursdays; a free edible with donation on Fridays; a free gram of shatter to Saturday's first 25 patients; and a free joint with any donation on Sundays. And first-time patients will receive a free joint with any donation.
Silver Lake
CCA California Collective (
address and info
)   This shop is tucked into the second floor of a strip mall and is pretty small, so it can get busy. But if you're willing to wait a few minutes for your turn, a friendly staff is waiting to walk you through their reasonable selection of strains, edibles, vapes, and other products. It's in a safe location with plenty around, including Silver Lake Ramen, the Thirsty Crow and, uh, Moon Juice.
Freebies: First-time patients get a free edible and a free joint. (We got a little packet with four 20mg gummy bears that we're not unhappy with.) Daily specials include two grams of top shelf marijuana for a $20 donation.
Westchester
LAXCC (
address and info
)   This place has a nice selection of over 40 lab-tested strains, including a decent amount of hybrids and sativa strains, plus lots of edibles and other goodies. The shop is clean and well-organized, though the music can be a bit loud at times. But hey, sometimes you want to party. (For that, we suggest their sativa options -- a shop favorite seems to be the Lemon Cake.)
Freebie: First-time patients get $10 grams, up to seven grams. Two top-shelf grams are mix-and-match, for $30. Continue Reading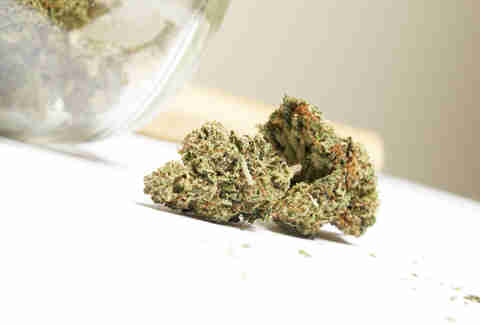 West Hollywood
Zen Healing (address and info)   They've been around since 2003, and have plenty of loyal customers. It's a welcoming space with free parking, and they consider Sunday their patient appreciation days, on which they offer compassion to those who cannot afford their medication. They also offer a military discount. They carry a decent selection of flowers, plus edibles, vapes, topicals, drinks, and cooking aids -- like weed hot sauce and olive oil.
Freebies: Free pre-roll for all patients on Sundays, goodie bag for first-time patients, a free gram for a referral. And if you buy three eighths, you get a fourth one free.
Arts District
Buddha Company (
address and info
)   A big selection of high-quality product, fair prices, an affable staff, and parking make this a pleasant stop for those in need of a refill. Buddha Company has many loyalists, who have made the switch from their old Silver Lake location -- called the Famous Healers -- to their Arts District spot. They also offer discounts for vets and seniors.
Freebies: No freebies, but specials include one gram for $15, two for $25, or 5 for $60. First-time patients get one top-shelf gram for $10, deals on wax and edibles, and a five-item goodie bag.
South LA
King Kush Collective (
address and info
)   It's a big shop with a friendly atmosphere, over 70 strains, and some fun, unique finds in the edible section, like Ganjalato Ice Cream -- they make an extremely special cookie sandwich. They're also open later than most shops, closing at 1am on school nights, and 1:30am on the weekends.
Freebies: First-time patients get a surprise gift bag. They'll also text you their deals if you text them your number and ask to be added to the list.
Hollywood
Hollywood High Grade (address and info)   This bright Hollywood dispensary came recommended to us as a shop that has just about everything. It's also an easy process to get signed up and become a member of the collective. Fun items include potted-up creamer for your coffee, glazed pecans, vegan macarons, frozen pizzas, and Mary's Rescue Tonic, for if you feel like maybe you tried too many of those temping edibles.
Freebies: First-time patients receive a free gift bag and free gram of OG Kush with donation.
Studio City
The W.E.E.D. (
address and info
)   W.E.E.D. stands for Wellness Earth Energy Dispensary, but we get the point. This clean, bright shop's dedicated patients rave about the selection, and the donation prices here are very reasonable. The knowledgeable, professional staff is more than happy to show you around and make you feel at home.  
Freebies: Happy hour Monday-Thursday from 4-6pm, offering $5 off an eighth, and $10 off a quarter, either flowers or hash. They give out one free joint on Fridays or a free gummy bear on Sundays with $10 donation, and free gifts for first-time patients, renewals, and referrals with $20 donation.
Pasadena
Pasadena Alternative Care (
address and info
)   This place has lots of variety, and even carries Foria products -- that's the company that makes weed lube and products for menstrual cramps. They're open late, too: until midnight on most days, and 2am on Thursdays, Fridays, and Saturdays.
Freebies: First-time patients get a goodie bag.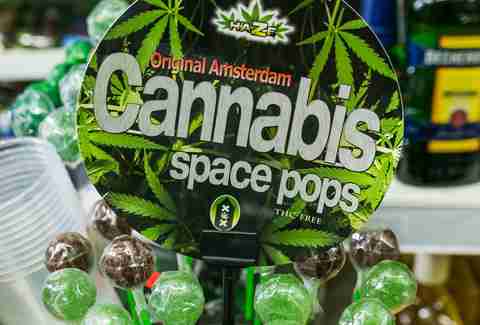 Harvard Heights/Koreatown
Priority Wellness (address and info)   Our old spot in Koreatown closed, and while this is a bit south of K-Town, it does the job. It's a comfortable place to go, with an elegant lobby, and the medicine room is a fun, vibrant green. Their edible selection is on the small side, but the TKO selections they do have can be potent.
Freebies: First-time patients get a five-item gift bag.
Sun Valley
Bonafide Collective (
address and info
)   In the Burbank/Sun Valley area, this sleek shop is known for its friendly, funny, knowledgeable budtenders and their ability to make patients feel welcome. They've also got lots of options -- especially when it comes to extracts and mighty edibles.
Freebies: First-time patients get deals on flowers and concentrate. You can text them to get on their deal list. Daily deals, weekly specials, and happy hour.
Reseda
Holistic Healing Caregivers (HHC) (
address and info
)   Find the red door and enter this little shop for nice prices and efficient, honest service. A decent selection, some strong edibles, and they've also got a deal on wax: three grams for $70, or five for $100.
Freebies: Goodie bag for first-time patients.
Mid-Wilshire
Sticky Medz (address and info)   With reasonable prices and a solid selection, this middle-of-the-city spot is a popular one. Collective members who are sorta hardcore rave about the $20 grams of shatter, and there are also daily specials for budget shoppers. They're probably one of the more responsive shops, allowing you to place phone orders before you arrive once you're a member, and encouraging patients to submit strain reviews on their website.
Freebies: First-time patients get a top shelf ounce with donation. Damn, that's a good freebie.
West LA
Happy Leaf Collective (
address and info
)   There's a huge variety here, including a few Cannabis Cup winning strains, and the shop is clean and pleasant. Their edible selection is vast and includes some vegan, gluten-free options and plenty of medicated beverages. It's street parking only, but ask the bud tenders for a few quarters and they'll gladly provide. And they offer a 15% discount to students.
Freebies: First-time patients get two free grams of OG shake with $35 donation, or a house joint if under $35.
Carson
Clean Green (
address and info
)   So, the South Bay and Torrance area is tough. City officials have been cracking down on dispensaries and one of our other frontrunners for favorite shop appears to have been shut down. But for now, we like Clean Green. They've got reasonable prices, lots of extract options, and you can get a house pre-roll for $5. They also open at 9am and close at midnight, every day. And it's next to an In-N-Out, which we suspect could come in handy.
Freebies: First-time patients get a free gift, and deals on top shelf grams or concentrates. They've also got weekly raffles, daily specials, and a free pre-roll during happy hour, which is every day from 9-10am and 6-7pm with a $10 donation.
Sign up here for our daily LA email and be the first to get all the food/drink/fun Los Angeles has to offer. Eliza Deckard is a reclusive writer who enjoys a nice bowl of Blue Dream before bedtime while playing point and click puzzle adventures on her phone.