LA Hotels That Are So Good Even Locals Should Book a Room
Since we all already live in LA, land of perpetual sunshine, perfect temps, and the country's highest ratio of avocado toast offerings to residents, it can be easy to forget that people actually come here to go on vacation -- and sometimes they're people you know, like your parents, or your sister, or your parents' sisters -- and it's likely that they're going to be coming by during the the current beach-going/rooftop bar-drinking/al fresco-dining season that is, uh, right now. Here are eight cool hotels that are pretty perfect for suggesting to those out-of-towners -- or, if you prefer, taking a local vacation yourself for a few days.
Koreatown
This groovy hotel has been generating non-stop buzz since it opened in a midcentury building a couple years back, not just because everyone can't get enough of Koreatown, but also because of its hot after-dark and dining scene. The place also recently added a new block of retro-style rooms called The Speek, which are designed by hospitality gurus Mark and Jonnie Houston -- the same dudes who put together Good Times At Davey Wayne's, No Vacancy, and a ton of other bars you probably go to all the time. The rooms are meant to reflect the Koreatown home the twin brothers grew up in, mixing '60s and '70s elements like shag throw rugs, graphic wallpaper, and freestanding Malm fireplaces.

What to do: Drive golf balls from the roof of the nearby "health center" Aroma Spa and Sports and take advantage of their saunas, baths, and massage offerings afterwards.
Where to eat: Inside The Line, Roy Choi's greenhouse-enclosed restaurant Commissary skews veggie heavy, while his Korean-inspired lobby restaurant Pot dishes up creations like uni dynamite rice, spicy chicken wings, and, yes, an array of big steaming pots including a version that combines tofu, instant ramen, and canned meats.
Where to drink: '80s-themed karaoke bar Break Room 86 (also a Houston Bros joint) is hidden in the back of the hotel, complete with retro-inspired amenities like Pac-Man and menus hidden inside VHS cases.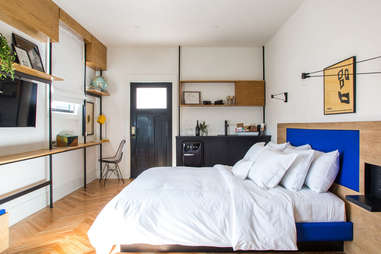 Los Feliz
All five of this tiny hotel's Americana-style suites are housed in the same '30s building as the affiliated Bar Covell and each room (or chapters as they're called here) are inspired by the imaginary author George Covell and come equipped with eclectic furnishings and kitchenettes with '50s-style Smeg refrigerators.

What to do: Take in the stars via telescope at the Griffith Observatory and then mingle amongst rocket science types at the All Space Considered program, held on the first Friday of the month, where staffers discuss astronomy and space science. You'll feel either feel really smart or really dumb by the time you walk out.
Where to eat: Gorge yourself on Zach Pollack's ridiculously fantastic house-made pastas (the squid ink strozzapreti is winner) at Alimento.
Where to drink: Stumble on downstairs to Bar Covell, of course, which offers up a no-joke lineup of 150 wines by the glass.
Santa Monica
This sleek and modern spot feels miles away from all of the gargantuan fancy-pants hotels right across the street. The Shore is LEED Gold certified, and everything -- from the pool heating system to the upholstery on the lobby furniture -- has been designed to be eco-friendly.

What to do: Stroll through Tongva Park, a six-acre conglomerate of green space, walking paths, observation decks, and sculptures that replaced a parking lot and was designed by the same guys who did the High Line in NYC.
Where to eat: You're less than a mile from Bryant Ng's lauded Cassia, so go straight there and order the velvety coconut-seafood laksa soup... and everything else on the menu.
Where to drink: It's not what it once was, but you still can't beat the martini you have to walk over peanut shells to get to at the nearly 60-year-old dive Chez Jay.
Beverly Hills
How can you possibly send someone on their vacation to Wilshire Blvd, you ask? Well, have them try spending a couple of nights at this Beverly Hills luxury hotel (formerly the Thompson) and get back to us. The clubby rooms have marble bathrooms, hardwood floors, don't-want-to-get-out-of-bed Sferra linens, and Dean & DeLuca-stocked minibars. Oh, and there's a Swarovski-lined pool on the roof.

What to do: Line up your in-laws' stay with June's annual Rodeo Drive Concours d'Elegance and check out the many insane rides. Or email the nearby Frederick R. Weisman Art Foundation ahead to set up a tour of a Holmby Hills estate filled with tons of mind-blowing modern art (including some original Warhols).
Where to eat: Get a steak and the seafood tower at Mastro's. You're currently hanging in Beverly Hills, so you might as well eat like you are.
Where to drink: Go for a rooftop cocktail at the hotel's Above Sixty lounge that also offers a menu by Caufield's, located downstairs.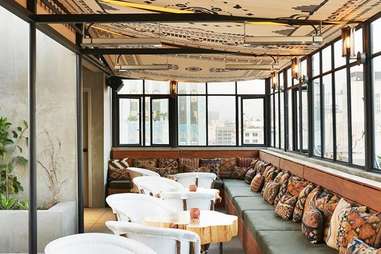 Downtown
Use one of the minimalist rooms at this hipster haven (located in the grand old former United Artists building) as a home base for a weekend living it up Downtown. Springing for one of the larger rooms either gets the use of a turntable with records chosen by the folks at Amoeba or an acoustic Martin guitar. (Sadly, you'll have to leave it all behind when you check out.)

What to do: Check out Yayoi Kusama's trippy Infinity Mirrored Room at The Broad, then catch a show at the Ace's awe-inspiring theater, a three-story gothic-style movie palace originally built in the 1920s. Depending on the night, there could be a big-time band, comedy show, movie screening, or podcast.
What to eat: The number of amazing food options is dizzying these days as Downtown has become the star of LA's culinary landscape, but it's still worth lining up for a seat at the sushi bar at Sushi Gen, the beloved bare-bones spot that's been turning out top-notch nigiri since 1980.
Where to drink: Down a cocktail on the glittery rooftop bar Upstairs (both name and location) that often hosts DJs, art installations, pop-ups, and other party-type things.
West Hollywood
The phrase "If these walls could talk" might as well have been invented for this 53-year-old fabled hotel, which was once synonymous with the Sunset Strip's rock scene, housing everyone from Aerosmith to the Guns N' Roses to the Foo Fighters over the years. The three-acre hideaway underwent a renovation a couple years back and offers swanky suites and villas to that were made for holing up for a bit.

What to do: Chill by one of the two pools, check out the hotel's basement recording studio (!!), or attend one of the monthly performances on the villa deck that are part of the summer Live@SunsetMarquis music series.
Where to eat: Try a three-course Sunday supper at Suzanne Goin's venerable Lucques where the dishes are dotted with seasonal everything from that day's farmers market.
Where to drink: It's right by Sunset Blvd after all, so check out an act at live music staples Viper Room, Whisky a Go Go, or The Roxy.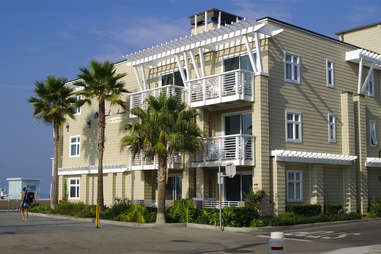 Hermosa Beach
It used to be that a stay in the South Bay meant choosing between a dated motel or one of those chain suites places (or more likely just not staying there at all), but this boutique hotel is worth spending the weekend at thanks to fireplaces in the rooms, balconies overlooking the ocean, and location that's a stone's throw from bar mecca Pier Ave.

What to do: Rent bikes and cruise a few miles north on the 26-mile Strand to Manhattan Beach while watching superhuman beach volleyball players and stopping for a few beachfront drinks along the way.
Where to eat: Hit Hot's Kitchen, purveyor of more than 50 taco varietals, from duck confit to grilled yellowtail to smoked brisket.
Where to drink: Sit for a bit at Hot's and try a local craft beer on tap from nearby Monkish Brewing or Smog City or head to the pier and get a jalapeño-spiked margarita on the patio of Palmilla Cocina y Tequila.
Venice
While a jaunt over to Venice usually means sticking within the confines of trendy restaurant and shopping streets like Rose Ave or the now over-gentrified Abbot Kinney, you and yours can get a dose of the good old crazy, kooky part of Venice with a stay at this beachside boutique hotel.

What to do: Brave the boardwalk, of course. Where else can you hit the beach, lift weights, buy a tacky T-shirt, and get a medical marijuana card without having to walk more than a few dozen yards?
Where to eat: Pick up some made-to-order poke from the takeout window at Ocean Front Walk's Poke-Poke, which was serving bowls of raw fish goodness long before everyone else in LA was.
Where to drink: Erwin's rooftop lounge High is perennially on every best outdoor bar list for a reason. There aren't a lot of other LA watering holes where you lounge on a couch and sip a cocktail while taking in views of the Pacific, the pier, and a bunch of other rooftop decks you're not allowed on.
Sign up here for our daily LA email and be the first to get all the food/drink/fun Los Angeles has to offer.
Lizbeth Scordo is a freelance writer who covers food and lifestyle and now wants to take a staycation. Follow her: @lalizbeth