Whether you call it "Oldchella" or "That-Classic-Rock-Bonanza-I-Blew-My-Rent-On," this month's Desert Trip is expected to be two of the biggest weekends in the Coachella Valley in history. Yes, possibly even bigger than those other music festivals in the desert. And while we can't guarantee that McCartney, Jagger, or Dylan will be lounging poolside at any nearby hotels, we've rounded up some of the best hotel options in Palm Springs and the surrounding area where you can lounge poolside -- even if you aren't going to the festival.
Recommended Video
Drink This Winter Bourbon Smash and Conquer Cold Weather Forever
Palm Springs
In a town that's all about groovy midcentury style, the rustic-chic vibe of the restored Sparrows Hotel feels like another world (albeit a world with an equally cool design aesthetic). There are just 20 rooms, each with wood-paneled walls, poured concrete floors, natural stone accents, and open-air bathrooms, most featuring horse troughs repurposed as tubs (no horses though, sorry). The hotel's intentionally mellow vibe pretty much ensures you'll just want to kick back and enjoy the seating areas scattered among the fruit trees, herb-filled planters, bubbling fountains, intimate pool, and big stone fireplace that's the site of nightly s'mores sessions. The casual Barn Kitchen does a curated lunch menu of snacks, salads, and sandwiches (we strongly recommend the Chicken Salad Sando) and hosts reservations-only, twice-weekly suppers (steak on Saturdays, chicken on Wednesdays) for guests and those in the know. The owners are also currently restoring a 1951 hotel close to Downtown and plan to reopen it as the 28-room Holiday House a few months from now.
Palm Springs
After one of the most anticipated hotel openings in Palm Springs in recent years (thanks in part to its backing by an early Facebook employee and design by notable local architect Chris Pardo), The Arrive is living up to the hype. The place has a modern, comfortable feel, featuring nods to Palm Springs' famous mid-century style via clerestory windows and butterfly rooflines. It also offers a chill-yet-fun vibe, eschewing a traditional lobby in favor of handing over your room key (along with a drink) via check-in at the bar. Guests can also request everything from ceviche to more towels by texting staffers. The grounds easily encourage socializing with group seating around fire pits, comfy cabanas, outdoor games, monthly poolside movie screenings and its #assistedliving Sunday pool party, which is free and open to the public. Chef Carmen Rodriguez recently took over the kitchen at the airy poolside eatery Reservoir, adding more signature mix-and-match taco offerings and new fusion-focused mains like chile-rubbed salmon with scallion fried rice. Customs Coffee serves up locally roasted Joshua Tree java and the Ice Cream Shop(pe), which doubles as a gift shop and scoops artisanal flavors like local date and pink ginger. Look for Draughtsman, the hotel's new next-door gastropub to open later this year.
Palm Springs
Back when the Ace first opened in 2009, the whole world may not yet have known about hipsters, but the hipsters definitely knew about the Ace. This renovated motor lodge started promoting DJ-spinning pool parties on weekends, hosting weekly tongue-in-cheek bingo sessions, serving up craft cocktails, and bringing in actual bands that wouldn't start playing until like 10pm (just like LA!). Seven years in, the Ace is still a go-to spot for those looking for good music, drinks, and a chill pool scene. With its modern roadside diner-style restaurant, retro bar, and a design that combines campy Americana and midcentury cool -- with a dose of "desert nautical" thrown in for good measure -- the Ace Hotel & Swim Club could only belong in Palm Springs. The place recently amped up its programming even further with wine tasting and craft beer weekends, a solid rotation of DJs, and a monthly drum circle like none you've ever seen. During Desert Trip's first weekend check out the sure-to-be-cool denim exhibit Jean on Jean with Jenny Sharaf and Amber Jean Young (that would be Neil's daughter), along with live music acts and sets by visiting DJs that will continue into weekend two.
Palm Springs
A two-year renovation by designer Steve Herman has turned this William Cody-designed architectural gem, originally built in 1952, into some of the most glamorous accommodations in town. It actually feels more like a private compound than a hotel with low-slung bungalows that boast floor-to-ceiling glass, post-and-beam ceilings, indoor and outdoor showers, luxe linens, and private patios with mountain views you could stare at all day. The serene setting also features an infinity-style pool, fire pits, and water features around the property, a guests-only cocktail bar and the sophisticated al fresco restaurant SO•PA. L'Horizon also has plans to begin building 25 more rooms and an additional pool this fall, bringing the total to a still intimate-feeling 50.
Palm Springs
Still one of the hottest hotels in Palm Springs (and the one voted most likely to provide a celebrity spotting), the Jonathan Adler-designed Hollywood Regency-style sprawling property -- which once belonged to old-time cowboy flick star Gene Autry -- is luxurious and quirky at the same time. Though the property is huge by Palm Springs standards, it doesn't feel that way, thanks to a labyrinth of pathways winding throughout the lush grounds that lead to hidden pools, a croquet lawn, Pétanque courts (it's like bocce, but fancier) and multiple regal-looking buildings. Inside you'll find perfectly luxe estate rooms with four-poster beds and cool art, as well as higher-end free-standing one-bedroom villas with wet bars, giant patios, and separate service entrances. The cheeky outdoor restaurant Norma's is best-known for its brunch, while the French-inspired (that's so dark you might need a flashlight) Mister Parker's restaurant is open for dinner only.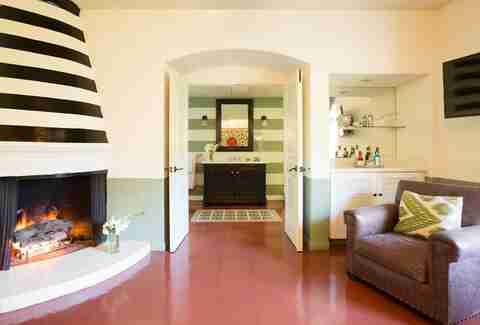 Palm Springs
In terms of location, you can't do much better than this boutique hotel that's within walking distance of all the fun to be had both Uptown and Downtown. The Spanish-colonial-style property, originally built in 1936, isn't giant but has everything you need, including a beautiful pool, mellow poolside bar, and restaurant serving breakfast, lunch, and dinner with a focus on local, California-style fare. (Bonus cool points: the restaurant is named The Purple Palm as a hat tip to the hotel's original owner, a member of the bootlegging mob The Purple Gang.) Rooms have a French-Moroccan flair with patterned wall prints and original tile work, and some have claw-foot tubs, fireplaces, and patios.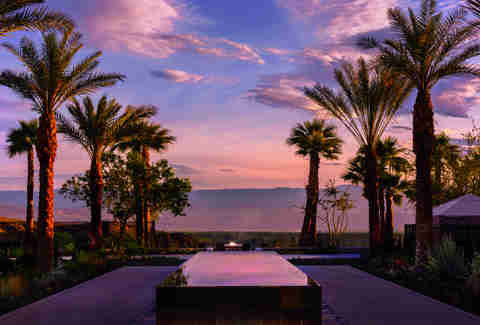 Rancho Mirage
As per usual, the Ritz-Carlton is keeping it classy with its luxury hotel hands on one of the best possible locations around, up a winding drive on a bluff just off the 111. With walls of glass everywhere, there's no possible way of missing the spectacular views of the expansive valley, neighboring towns, and mountain ranges. The super-swanky onsite steakhouse The Edge (where prices are as breathtaking as the views) is perched, yep, right on the cliff's edge, as is the adults-only pool, and one of the coolest fire pit areas we've ever seen. The stylish, desert-hued rooms have the expected glass-enclosed showers, soaking tubs, and Frette linens, along with balconies or patios with plush furniture.
Palm Desert
This mega resort pretty much has it all: man-made lakes, a gazillion restaurants (some of which you can get to by boat), two golf courses, a nightclub complete with both bottle service and a steady stream of bachelorette parties, a solid spa and gym, and a bunch of really cute pink flamingoes. All of the rooms have outdoor balconies and run the gamut from basic kings to a giant 2,000sqft Chairman's suite with living and dining rooms. Definitely check out the buzzy Lobby Bar with a killer scenic backdrop, lounge-y cover bands on weekends, and a sushi bar. During Desert Trip weekends, look for themed-spa treatments like the "Comfortably Numb" date-scrub-and-massage combo; a pop-up DIY Bloody Mary bar; and something called "The Wall of Donuts" -- inspired by Pink Floyd's The Wall and featuring flavors like s'mores, Froot Loops, and maple bacon -- that's sure to get some play in more than a few Instagram feeds.
Sign up here for our daily LA email and be the first to get all the food/drink/fun Los Angeles has to offer.