If you don't speak Korean, the world of Korean spas can be a bit intimidating. But once you're past the exterior of any of the myriad K-Town hangs, you'll find an actually awesome place to chill out, loaded with hot sauna rooms made of jade stone, clay, Himalayan salt, and binchotan charcoal, plus herbal steam rooms, body scrubs, milk baths, seaweed, and cucumber masks... that's why we skinny-dipped in (yeah -- you gotta be super comfortable with nudity in all of these spots) to take the mystery out of Koreatown spa life. Knowing a little bit of this low down will make you feel far more comfortable when stopping by LA's K-Town spas: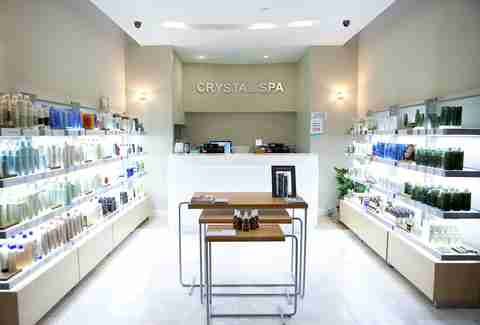 This little oasis on the third floor of a mall is good for couples to co-ed sauna and dine in the café together. It's not as decadent as the other spas -- however they've got natural skin and hair products by Aveda, and you can soak before a good body scrub, then dig into a hefty bowl of bibimbap in the café.

What to expect: Seaweed massages, body scrubs, aromatherapy hot towel massage, natural Aveda skin treatments, facials, and an Aveda shop.
Saunas: Salt, red mud, wood & charcoal, ice, steam.
Café: The Crystal Café serves traditional Korean fare and you dine on low tables at floor level with special back support seats.
What's unique: Reasonably priced massages ($60/60 minutes acupressure), body scrubs, Aveda products, 24/7 access on Fridays and Saturdays.
Hours: 6am-12 midnight, Sunday-Monday, 6am-1am Tuesday-Thursday, 24 hours Friday-Saturday.
Admission fee: $30 entrance fee, $15 with service.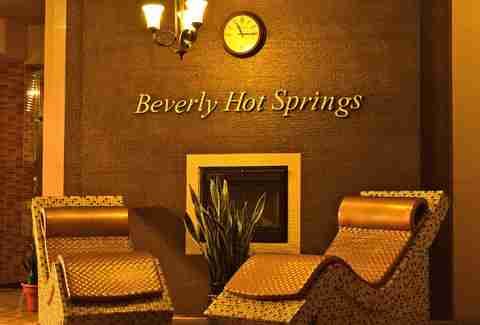 This is one of the more luxurious spas in Koreatown -- built atop a natural hot-spring, they offer slippers, robes, plenty of water, and tea. You might want to steam or soak in the mineral-rich hot water before you're scrubbed, rubbed, and slathered in oil upon a vinyl massage table, doused in buckets of hot water and washed like Cleopatra in warm gallons of milk (yes, seriously). Your name is your locker number, while your ahjumma (scrub lady) attends to every nook, cranny, and crevice of your naked body with her hands until you melt into a soft puddle like soon tofu. A mask made of ice-cold grated cucumber covers your face. Total bliss out. You can get used to this kind of thing.

What to expect: Peaceful serenity plus deluxe skin care treatments are why you go here: luxurious indulgences from body scrubs to the aforementioned wet massages with milk.
Saunas: Hot sauna and steam rooms are available, but the focus here is upon the natural-mineral spring waters and quality skin care.
Café: There's no food here, so make plans around that.
What's unique: The natural hot spring is what makes this place stand out from the other Koreatown spas. Their facialists specialize in microdermabrasion, peels, and other med spa facial applications.
Hours: 9am-9pm, Monday-Sunday
Admission fee: $30 weekday entrance fee (Monday-Thursday) and $40 weekend entrance fee (Friday-Sunday & holidays) for use of hot and cold pools and sauna/steam rooms. They offer free admission when booking treatments, with some exceptions, so ask the concierge desk. There's no co-ed area here -- men's and women's spa areas are always separate.


This enclave of a family-friendly, co-ed, 24-hour spa is more like a community center gym than a luxurious escape. You'll enter for a standard fee and get no-nonsense basics, but the scrub and rub offerings are just as good as any other K-Town spa. Bring your golf clubs, a swimsuit, your workout attire, and you're good to go.

What to expect: This place is no frills. Do not expect anything luxurious here: no complimentary water with fruit slices, no complimentary razors, no disposable toothbrushes, no hot barley tea, no fancy extras. The attendants will wash your hair during a scrub even when you tell them not to. Also, since this place is co-ed, wear your spa t-shirt and shorts in the co-ed area, though there are separate men's and women's spa areas, as well, if you'd rather be naked and anti-social. Just make sure you let the front desk know you won't use the co-ed jimjilbang and they won't charge you the $5 extra fee.
Saunas: Wet and dry saunas are the focus of this place -- such as the hot stone kiln sauna, the ice room, and sleeping rooms.
Café: Bonapio Cookbang serves sushi rolls and teriyaki bento (chicken, beef, salmon) all Japanese-style (not traditional) Korean fare here, aside from the kimchi fried rice, kimbap (veggie sushi) and kooksoo (buckwheat noodles)). They operate separately from the spa payment system, so bring your wallet upstairs to the café, located on the second level of the jimjilbang area.
What's unique: This place is like the YMCA of Koreatown. They offer a fully equipped gym, swimming pool, plus an outdoor driving range for golfers. Kids and families are welcome. Take a nap on the heated floor or relax while watching whatever they have on the Korean channel.
Hours: 24/7 access. Sleeping areas are plentiful in case you are partying late in K-Town and can't risk the drive home. If you stay, just shower in the morning, steam out all that soju, and have a bite in the café for breakfast.
Admission fee: $20 entrance fee plus $5 extra for jimjilbang use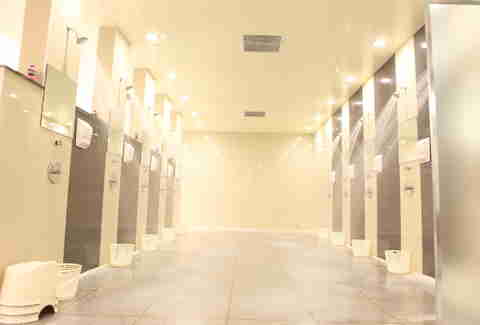 This 24-hour co-ed spa is the Disneyland of Korean spas. Not assuming Wi means "we" as in both men and women, but in the not-nude areas that's what you'll get. It's a family-friendly jimjilbang (communal) spa, offering a café with all the bibimbap, banchan, and spicy kimchi dishes you can handle. First, don't spa hungry. Feast before you indulge in any body treatments, such as the seaweed massage: an elaborate body scrub followed by a seaweed skin treatment. You'll be wrapped up like a burrito from a food truck with eyes covered in cool cucumber circles for a long time, so don't let a growling tummy wreck your chill. If you go for an exfoliating body scrub, be prepared: you'll be scrubbed, rubbed, and washed like a car when your ahjumma (scrub lady) is done. The suffering is totally worth having silky skin.

What to expect: To enter the jimjilbang areas (communal) those ugly shorts and that scratchy t-shirt they gave you at the entrance are required facility wear. Don't worry though; everyone else is wearing that same funky thing.
Saunas: Wi has five specialty sauna rooms: salt, clay, jade, ice and bulgama (literally "human oven" -- uh, no).
Café: Dine upon traditional Korean fare in the cafeteria, all of which comes with banchan (side dishes).
What's unique: There are flat screens everywhere you look (you just might dig on Korean soap operas) including inside the saunas. Kids' Zone, gym, a nail salon, and a nap room (!!) are also available.
Hours: 24/7, which means you can pop in after that K-town beer and BBQ crawl to sober up and wash off any the smoky odors.
Admission fee: $25 entrance fee (waived when you reserve a body treatment). $15 weekday entrance fee specials.
Underneath the historic I. Magnin building deep down in the basement exists a magical place where only an underworld of pleasure seekers can disappear from the hustle and bustle. Above, traffic and gritty gridlock on Wilshire Blvd. Below, a haven of heavenly tranquility. Usually classical music is piped into the dressing room, except for an unusual day we showed up and AC/DC's "Highway to Hell" was rocking all the Korean grandmas (our bet: either someone was fired or promoted that day).

What to expect: Standard-issue amenities such as flip-flops, robes, and towels are available, and you can cool your thirst down with massive citrus-infused ice water spread through the building, while the steam, saunas, and relaxing soaks in the hot tubs get your toxins all flushed out. Korean grandmas sit on plastic stools in the communal bath area and chat about their family while taking turns scrubbing each other. Others gather in the dry sauna to watch Korean television and sweat. The wet massage area is always busy, so wait awhile and enjoy the baths. Your number will be called out for any treatment you schedule at the front desk -- do not miss out on booking an acupressure massage, which includes being walked upon and kneaded into delirious bliss.
Saunas: Jade, clay, Himalayan salt, binchotan saunas, steam.
Café: Traditional Korean fare (seaweed soup, kimbap, dolsot bibimbap (stone bowl rice with vegetables and egg), samgyetang (ginseng chicken soup), abalone rice porridge).
What's unique: A literally underground spa with acupressure massages, a nail salon, facials, the café and lounge area.
Hours: 6am-11pm Monday-Thursday, 6am-12pm Friday and Saturday, 7am-11pm Sunday
Admission fee: $15 entrance fee (unless you choose a scrub & massage or any other treatment -- then the fee is waived). Parking validated at front desk.


Lots of people swear by this Koreatown fixture for their mugwort tea pool -- no bigger than a jacuzzi -- which is filled with herbal tea that allegedly regulates hormones, detoxifies, promotes beautiful skin and benefits wellness in numerous ways. Hot saunas, steam room, and an infrared sauna are also available. Their acupressure massage staff is exceptional, and their body scrubs and skin treatments are also exceptional.

What to expect: Hot and cold baths, saunas, steam, body scrubs, skin treatments (milk & honey body smoothie, aromatherapy massage & scrub, fresh cucumber face masks, seaweed body shampoo, scrubs, and luxurious lotions applied), facials, massage, plus extra amenities such as complimentary hot and cold barley tea, keyless lockers, hair dryers, heated floors, and resting areas to lounge or work from your laptop.
Saunas: Detox in the binchotan charcoal therapy room with infrared heat, jade sauna, and steam room.
Café: An extensive selection is available, serving raw cold-pressed juices along with the Korean menu. Try the tofu with scallion sauce, tofu broccoli salad, fluffy steamed egg in a stone pot, kimbap, dumpling soup (mandugook), bibimbap, dolsot bibimbap (rice and veggies in a hot stone bowl), and miyeokguk (seaweed soup).
What's unique: The body treatments with the scrubs (recommend the Pure Bliss and the Goddess treatments, though the simple milk & honey smoothie is fabulous), the acupressure massage, and a blend of deep tissue, shiatsu and Swedish massage techniques with hot Himalayan salt stones melt away tension in your back and shoulders, plus scalp therapy and an exfoliating foot scrub).
Hours: 9am-10pm everyday, café hours: 11:30am-8:30pm
Admission fee: $20 entrance fee, if you reserve any treatment over $75 the entry fee is waived.

Sign up here for our daily LA email and be the first to get all the food/drink/fun Los Angeles has to offer.

Stephanie Kordan is a Contributing Writer to Thrillist. She also writes about the pleasure of food on her blog The Sensual Foodie, and can be found wandering the farmers' market, fondling vegetables with shameless abandon. A native Angeleno, she knows how to spa in K-Town and drinks mattcha lattes while driving.