Everything You Can Do in Los Angeles on New Year's Eve
Welcome 2023 with a David Bowie-themed rooftop party, a century-old speakeasy experience, or a ride on a mechanical bull.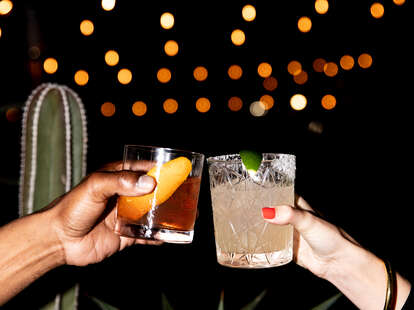 Photo by Adrian Martin, courtesy of LA Cha Cha Chá
Photo by Adrian Martin, courtesy of LA Cha Cha Chá
New Year's Eve can be a weird holiday—everyone wants to do something but no one knows exactly what, and the built-in expectations are so sky-high that they are tough to meet and almost impossible to exceed. Not to mention that LA is so spread out that when you and your friends all blast out a barrage of "Where the party at?" texts you'll end up spending more time chasing vibes around town than actually at the function.
This year, you may be better off skipping all that nonsense in favor of a New Year's Eve event, whether you're a black-tie speakeasy type, a one-night-only open-bar discotheque person, or you just want to stand around on a patio crushing light beer and eating paella all night. With events at LA's best new bars, sparkling rooftops, luxury hotels, and more, here are 12 of the best New Year's Eve parties in LA this year:
West Hollywood
The restaurant and rooftop bar combo EP & LP has grown from a new WeHo hotspot to an established WeHo hotspot, but you've never seen it like this. For NYE 2022 they're turning the whole thing into one big discotheque, a one-night-only extravaganza with disco balls and party tunes taking over the first floor dining room, in addition to the endless good vibes on the rooftop. Your ticket includes an open bar and passed apps from 8-10 pm, and access to the party all night. If you're feeling particularly flush, bottle service is also available.
How to book: Tickets are $75 and bottle service starts at $600 for groups of 1-4, available through their website.
Hollywood
If you're looking for a more eccentric, raucous, honky-tonk good time to chase 2022 out of town, Desert 5 Spot is the move. The rooftop bar brings '70s Palm Springs vibes year-round, and for NYE they're cranking the volume all the way up with a ticketed event that includes an open bar from 9 pm–2 am, passed apps, a mechanical bull, and live music. And if you had any further questions as to what kind of night it's going to be, the toast at midnight isn't champagne, it's tequila.
How to book: Tickets are $100 and available on their website.
Arts District
The Mexico City-import is lively even on a random weekday evening, a fun and celebratory spot for the after-work crowd in the Arts District, and for New Year's Eve this year they're pulling out all the stops for their Bandita Party. They open at 9 pm with trays of botanas passed around the dance floor, stations set up for mariscos and esquites, a DJ set from 11 pm to 2 am, and a toast at midnight all included with entry.
How to book: Tickets are $75 and available on Resy.
Downtown
2023 will mark the 100th anniversary of The Biltmore Hotel, and they're kicking off their centennial celebrations on NYE with a glamorous night of 1920s-inspired revelry with a Noir and Speakeasy bent. There will be more than 40 performers including live music and dancers, the drink menu will have stylized thematically appropriate cocktails and plenty of champagne, and they're opening the hotel's historic speakeasy tunnels for the first time in 40 years. If you want a rare slice of history with your dapper evening, this is the event for you.
How to book: Tickets range from $99 for entry and a specialty cocktail up through many levels of VIP experiences, which include things like Biltmore Bucks, priority tunnel and balcony access, a Biltmore Centennial Gift Package, and an overnight stay at the hotel. Tickets are available through their website.
Hollywood
NYE options abound in Hollywood, but the new elevated British pub The Chap has a fun night in store. Your ticket will get you access to a premium open bar from 9 pm–1 am, with passed appetizers and a champagne toast at midnight. There will also be a special performance from Dear Amy, a tribute band dedicated to the late London-born singer Amy Winehouse.
How to book: Tickets are $100 and available through their website.
Los Feliz
If the phrase "cover charge" gives you painful flashbacks to a misspent youth, you may want to look to Los Feliz's casual, Brazilian-style cocktail destination Nossa Caipirinha Bar. They're hosting a laid-back NYE event with no cover, no reservations, and lots of Brazilian bar snacks. That means Pāo de Queijo, Xixo Skewers, and Coxinhas alongside the usual list of wine, beer, and creative cocktails. But never fear—there will still be a complimentary midnight toast.
How to book: No cover and no reservations.
Hollywood
Well, you didn't make it to the French Riviera for New Year's this year. NYE doesn't have to be a total lost cause, though—you can still bask in luxe Riviera vibes at Bar Lis, the stylish rooftop lounge that blends Southern California comfort with South of France cool. Their New Year's party will include five hours of open bar from 9 pm to 2 am, passed appetizers, an extended set from DJ Awsumo, and a champagne toast at midnight.
How to book: Tickets are $150 and available through their website.
Silver Lake
Skip the black-tie thing in favor of the rumpled hipsters in a strip mall charm of excellent Silver Lake wine bar Eszett. The eternally cool spot is hosting a paella party out in front of the restaurant, a casual affair with a focus on laid-back mingling, like a house party that happens to be thrown by a badass chef. There will also be free-flowing champagne of beers, Miller High Life, to keep things classy. If you'd rather dine inside, they will also have a few NYE specials like a Whole Dungeness Crab, in addition to their regular menu.
How to book: Tickets for the paella party are $35.
Hollywood
If you're looking for Old Hollywood glamor, you won't find a better option than the Hollywood Roosevelt Hotel's New Year's Eve party—they've even set the dress code to formal gala attire. The elevated event will begin in the hotel's historic Blossom Ballroom with an open bar hour from 8–9 pm, before moving on to a luxurious four-course dinner. There will be dancing throughout the night and live performances including by vintage pin-up style group The Satin Dollz, who will lead a grand countdown to New Year's with a champagne toast. If you're still kicking after midnight, there will also be an after party in the lobby bar with a DJ.
How to book: Tickets start at $300 and are available on Eventbrite.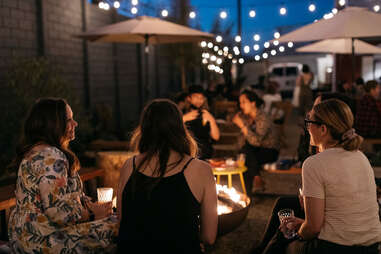 Lincoln Heights
The best combined brewery and cidery in LA has another perfectly casual option for your NYE. There's no cover charge and no reservations to celebrate the end of 2022 in their lovely beer garden just off the 5 freeway, and there will be two DJs, pop-up food from the killer sourdough pizza company Quarantine, an oyster and caviar bar by Perlitas Oysters, and at midnight they're doing a sparkling cider toast. And if you need some hair of the dog, they're also doing a hangover pajama brunch on New Year's Day with breakfast burritos, micheladas, and cider mimosas from Correa's Market.
How to book: No cover and no reservations.
Hollywood
Grandmaster Recorders is hosting a wide range of experiences for your NYE festivities, whether you'd like a five-course tasting menu in their dining room, a dance-y evening with creative cocktails at the attached 71 Studio Bar, or a glammed-out rooftop experience dedicated to David Bowie. That rooftop event is a hot ticket, with passed appetizers, an open bar from 8–11 pm, and DJs kicking out Bowie and Bowie-adjacent jams all night.
How to book: Dinner reservations start at $125 and are available on Resy. The rooftop party is $75 and can be booked through Eventbrite.
Silver Lake
For an appropriately fun and trendy Silver Lake NYE, the Palisociety property Silver Lake Pool & Inn is hosting a "Midnight in Milan"-themed event. There will be an open bar, passed appetizers, and dessert, to go with a DJ, fireworks, and 360-degree views of the glittering lights of LA around you. If you need a dance break, they'll also have a photo booth, an unspecified set of party favors, and to find out what's in store for your 2023 they will be doing tarot card readings throughout the night.
How to book: Tickets are $145 and available on Eventbrite. If you're staying overnight at the hotel or dining at Marco Polo, tickets are half price.
Ben Mesirow is an Echo Park native who writes TV, fiction, food, and sports. At one time or another, his writing has appeared in The LA Times, Litro, McSweeney's Internet Tendency, Los Angeles Magazine, and scratched into dozens of desks at Walter Reed Middle School.