2017 has been absolutely insane: one look at the year's memes, movies, restaurants and music videos is enough to make you wonder how 2018 could ever hope to compete. And, since what you do on New Year's Eve sets the tone for the 365 days that follow, it behooves you to choose your activities wisely. Fortunately, LA's full of liveliness at the changing of the year, so you're free to forego questionable house parties and half-cocked night-out plans in favor of a truly memorable NYE party. To help ease the burden of being the tastemaker for your group of friends, we've cooked up this helpful list of the best options for saying goodbye to 2017. Choose wisely.
Recommended Video
Fireball Whiskey Apple Pies: A Dessert Fit for a Frat Party
Malibu
We've already told you about Camp No Counselors, the boozy adult sleepaway camp that provides childhood nostalgia (archery, scavenger hunts, Slip 'N Slides) with a solid dose of 21+ (open-bar parties). Once New Year's Eve rolls around, though, there are three special options to choose from: the normal three-day package ($499), the NYE-only package ($199), or for the campiest campers, a five-day package ($699). Whichever you choose, it's likely to be the best New Year's Eve you've ever had, since there'll be a Color War, a special NYE dinner, and (of course) a lively party at night for the countdown to 2018. Private bunks are an option, too.
Cost: Between $199-$1,200
Hollywood
Watch the sun set both literally and figuratively on 2017, high up on Hollywood's best new rooftop. Filifera is ready to rock this year, with $150 tickets that include access to an open bar, plenty of hors d'oeuvres, and live music all night. If you're looking to up the ante even more then check out of the VIP packages, which include tables and cabanas with bottle service.
Cost: $100-$1,000
West Hollywood
Bryan Rabin & Adam Bravin have put together a multitude of ticket options for The Standard this year -- $150 gets you VIP open bar access, but if you're really trying to go all out, you can splurge for the $1k+ bottle service and table options. You only get to say goodbye to 2017/all the money you saved this year once, ya know?
Cost: $150-$1,500
Downtown
Are you a dance factory? Are you all about dancing on light-up floor squares? Honeycut (a dancey DTLA spot from the wizards behind Seven Grand, Arts District Brewing, and 4100 Bar) is the place for you. $80 snags you an open bar ticket, plus unlimited white and pink bubbly allllllllll night long. You want to go to there.
Cost: $80
The W Hollywood
There are a ton of options to choose from at the W this year, ranging from Open Bar, to Open Bar + Balcony, to couples packages and fire pit tables. Failing any of that, you could throw caution to the wind and double down on the Top VIP Sky Cabana package.
Cost: $139-$3,695
Union Station
Get your Roaring '20s on at Prohibition NYE, the sixth annual pop-up speakeasy in Union Station. In addition to the obligatory midnight ball-drop celebration, it'll have all the '20s goodness you're looking for, complete with theatrical burlesque, live jazz ensembles, DJs, and (of course) an open bar.
Cost: $175-$8,000
Hit up a NYE prix fixe dinner from some of LA's best restaurants
All over the city
Our best restaurants tend to go all out for New Year's Eve, so there's no reason why you shouldn't be able to find a great pre-fixe option to splurge on (like a tasting menu from the Jonathan-Gold-101-er Rosaliné, or a seven-course meal at EP&LP, or Tintorera's NYE special). The city is your oyster, so shuck it and slurp it on down.
Cost: Varies by restaurant
Egyptian Theatre, Hollywood
If you're looking to do the whole Hollywood Egyptian-y thing, check out Cleopatra's: two combined venues will host DJs spinning everything you want all night long right, next to a gigantic LED board, and there are tons of open bar options still available, too.
Cost: $89-$2,095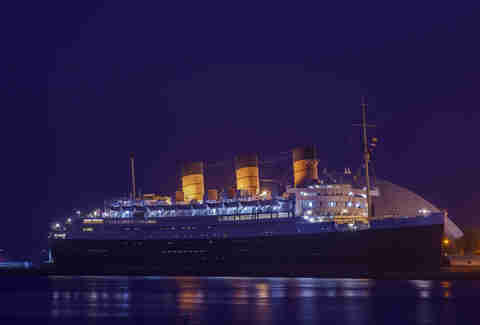 Long Beach
It's one of the biggest and best fireworks celebrations in Southern California, and you're on a dang boat -- what more do you need to know? Though food & drinks (sadly) aren't included, tickets will get you access to all on-board entertainment (DJs, dueling pianos, and of course the mother of all fireworks shows) as well as some always excellent (but still TBA) party favors.
Cost: $119-$199
Downtown
LA's biggest free party (and maybe LA's biggest party, period) is Downtown's non-alcoholic rager (yes, that's a thing) at Grand Park, which includes food for sale, photo booths, art, and three stages of TBA live music. Who says you need booze to have a good time?
Cost: Free
Resident
Bootie LA's following is fierce, and after you step inside you'll see why (read: balloons, confetti, Champagne, DJs, patios, and clientele of the "ready to mingle" persuasion). Bootie's reputation as a place for singles is strong, so this year you can dance 2017 away at Resident, one of the Arts District's best gems. Tickets are going quick, so snag 'em soon!
Cost: $20-$30
Various locations
Yeah, yeah, you told yourself you wouldn't ring in 2018 at a dumb bar like you did with 2017, (and 2016, and 2015)... but honestly, you could do a lot worse. Gather the rest of your plan-less friends, and figure out which of LA's best bars for NYE is right for you.
Cost: Varies by location
Sign up here for our daily LA email and be the first to get all the food/drink/fun Los Angeles has to offer.