It's summer in LA, and while we may take it for granted, every other city is losing their mind wishing they could spend their time on our beaches. We've got excellent water, excellent food, excellent bars, and excellent-looking people in bathing suits, which is exactly why we should be beach bumming it as often as we can. Happy summer everybody: Here are the shoreline spots you need to hit in and around Los Angeles, and the things you should be eating while you're there.
Recommended Video
These Three Water Gadgets Are Going to Upgrade Your Summer Beach Vacation
Oxnard
Low-key beach town with tons of activity options
For those of us who may actually be a little sick of the summer/borderline oppressive heat, a northern beach like Oxnard is a dream. It's generally at least 15 degrees cooler and the vibe is unbelievably relaxed. It's only an hour's drive from LA and there's a ton of fun stuff to do in Oxnard that ranges from jet ski rentals to backpacking trips through the Channel Islands. Thinking of renting a beach house for a weekend somewhere? You'll find plenty of beaches along Oxnard's coast, but Oxnard Beach itself might be the prize. The waves here are absolutely stunning, and it's just adjacent to Oxnard Beach Park, which is wonderful for lounging/bringing the kids/creepily staring at other people's dogs.
Where to eat/drink: If you skip Carnitas El Rey, you're doing it wrong. The move here is, of course, the carnitas, which are just about as good as anything you'll find anywhere. They're also the only thing on the menu, so it stands to reason they'd be good. Fisherman's Catch is a perfect spot for fresh seafood on the water, and the home of some truly life-affirming clam chowder.
Dockweiler
LA's go-to beach for bonfire parties
Bonfires are illegal in Los Angeles for the most part, but Dockweiler gives nary a care about that, because you can bonfire it up all you want over here. Grab your gear and hit one of the many bonfire pits laid out along the beach, but be warned: They tend to fill up fast, so arriving early is key. If you're looking for a challenge, take your BBQ game on the road -- grab some meats from Belcampo on your way up, and set up a makeshift grill over the fire.
Where to eat/drink: There's not much near Dockweiler (unless you're trying to eat at LAX), so it's gonna be a BYO picnic kinda day. Because of the aforementioned law enforcement, we absolutely do NOT endorse the idea of you bringing fast-food cups and filling them with liquids of your choosing. We would never, ever say to do that.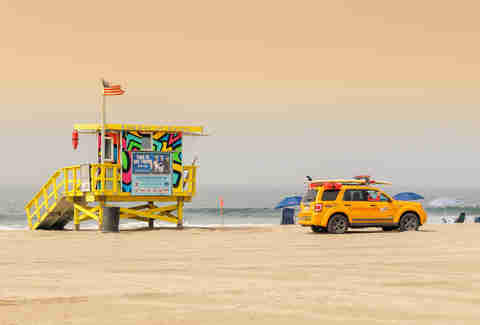 Zuma
Famous Malibu shoreline with even more famous surfing
Arguably Malibu's premier surfing destination, Zuma's the type of place people from the Midwest picture when they think of Los Angeles beaches -- in other words, they shot a whole lot of Baywatch here. Zuma's one of the biggest beaches in all of LA, so despite its popularity you should still be able to settle into a nice spot; it's also where you'll find Point Dume, a gigantic bluff that juts into the ocean. If you're a rock climber, get yourself to the top for a truly magical view.
Where to eat/drink: Any wonderful Malibu day needs to begin (or end) at Malibu Wines -- it's the gold standard for day drinking in Los Angeles. The grounds are completely gorgeous, and the clientele even moreso. If you've got the cash to burn, grab dinner at Nobu for an omakase tasting menu experience you won't forget from perhaps LA's most storied chef.
Ventura
Sleepy-yet-populous beach town packed with great food
A little farther up the coast from Oxnard sits Ventura Beach, a coastal town that somehow manages to retain a quiet and easygoing vibe despite its larger-than-a-town population -- the beaches are some of cleanest and loveliest you'll find, especially Surfer's Knoll. The surfing is extremely choice here, but even if you don't surf, the Knoll is a beautiful spot to lounge and even go beachcombing if that's your thing. Every summer you can get all up in the Ventura County Fair, too: it's just like the county fairs you know and love, except it's by the ocean, so it's infinitely better. If you're a watersports maniac, kitesurfing and kiteboarding are big here. Oh yeah, and one more thing… there's free parking. 'Nuff said.
Where to eat/drink: Spencer Makenzie's Fish Company is an elite-level spot for cold beers and fish & chips (don't skip on the fish tacos either). Ventura is also home to the dog-friendly Poseidon Brewing, and its Grapefruit IPA is absolutely something you need in your life. For a Nepalese meal that'll rock your bones, make Himalaya a part of your trip. That Sherpa Curry Chicken is out of this world. And whatever you do, don't skip out on great tapas and even greater wine at local haunt The Cave.
Santa Monica
Worthwhile tourist haven consistently buzzing with life
Is Santa Monica touristy? Yes. Is it generally overpriced? Yes. Is it full of attractive people and also a fun roller coaster and Ferris wheel that you just can't hate no matter how hard you try? Also yes. The gorgeous water paired with gorgeous people present all along the beach is the number one thing Westsiders have on Eastsiders. Santa Monica also manages to be cleaner and all around more pleasant than the neighboring Venice, so just skip Venice. We won't tell.
Where to eat/drink: Start your day at Jimmy's Famous American Tavern for a top-tier brunch that includes the legendary Meal Mary: a beastly bloody mary garnished with a blue cheese olive, pepperoni, jack cheese, shrimp, pepperoncini, and a deviled egg. Do your lunching at Curious Palate for some tasty sandwiches and a solid beer list, and make sure you end your day at Cha Cha Chicken: a BYOB Jamaican restaurant whose spicy jerk sauce is simply too delicious to be real. Chances are you've already been to Bay Cities for the Godmother -- a timeless front-runner for best sandwich in LA -- but if you haven't, now's the time. We've got a whole other article on Santa Monica's best restaurants, too, in case you need more options.
Rosie's Dog Beach
Hound-friendly beach that hosts many canine events
Rosie's Dog Beach, we're happy to say, is just what you're imagining it to be. Completely off-leash, you'll find it in the Belmont Shore area of Long Beach. Rosie's plays host to lots of fun dog events too, so any time you've ever received a Facebook invite for something like "Corgi Beach Day," chances are it was at Rosie's. It's for sure the only place where you can actually enjoy a wet dog.
Where to eat/drink: Long Beach, which is technically LA county, has a surprising number of grand slams in the eating and drinking department. Any craving for Mexican food should lead you to Lola's: it's extremely hyped, but deservedly so because the food is terrific. If you're of the "drinking on a rooftop" persuasion (and let's be honest, who isn't?), Bo-beau Kitchen + Rooftop is for you: board games, live music, great beer, and impossibly crispy Brussels sprout flatbreads await.
Hermosa Beach
Southern LA beach showcasing incredible sunsets
The sunsets at Hermosa are nearly impossible to top, and you can catch them from the edge of the long pier -- take somebody you love, and we can confidently say things will go well. Hermosa Cyclery is a great place to start your day if you're in the mood to rent some bikes and enjoy the sea breeze. If you're a comedy or magic fan, Hermosa Beach also has the Comedy & Magic Club, where Jay Leno still makes regular Sunday night appearances.
Where to eat/drink: Hermosa Beach is riddled with top-notch food and drink, especially Baran's 2239 (try the Indian Egg), and Palmilla Cocina Y Tequila (grab a cucumber jalapeño margarita). For a one-stop shop for all your various needs, hit Abigaile: the place starts as a brewery and restaurant downstairs, and turns into a rooftop dance rager upstairs.
Manhattan Beach
Beautifully maintained shoreline backed by upscale dining
Not to be outdone by Hermosa, Manhattan Beach will also showcase some crazy colors in the sunset department. It's not hard to fill up a day with activities here, what with the Marvin Braude Bike Trail, Polliwog Park (a superb place to disc golf), and Sand Dune Park, which is exactly what it sounds like. People use the huge hill for exercise, but you know what's more fun than exercise (besides everything)? Sandboarding.
Where to eat/drink: Manhattan Beach Post is a heavyweight brunch champion, with enough bacon cheddar biscuits and chimichurri skirt steak to defeat any hangover. Fishing With Dynamite is another must, thanks to what might be the best raw bar in the city.
Santa Catalina Island
Long Beach-adjacent island worthy of an entire weekend
The trip to Catalina begins with a ferry ride from Long Beach, which is always a winning start, and ends with a day on a beautiful island, which is always a winning finish. Since it's an island, the beach is essentially in every direction, and you have prime real estate to set up shop anywhere and just lie on the sand. The Descanso Beach Club is a primo beach lounging spot, with rentable cabanas and a full bar. There's plenty of more active stuff, too, like zip-lining with Zip Line Eco Tours, helicopter tours with Island Express Helicopters, and of course, dolphin-searching boat tours with Ocean Runner Dolphin Tours.
Where to eat/drink: Mt. Ada was once a palatial retreat owned by the Wrigley family, but now it's been turned into a friendly little B&B; spend the night, and you'll have access to a fully stocked butler's pantry with wine, beer, Champagne, hard liquor, and more. Oh, and you can't consider your Catalina trip a success unless you've had some Buffalo Milk, which is sort of a Catalina icon (it's basically just an alcoholic milkshake). Find 'em at the Descanso Beach Club, or basically anywhere else.
Newport Beach
Orange County shoreline famous for fishing and surfing
Newport Beach is pretty much the quintessential Orange County beach: You can whale watch, peep some seals from the Newport Pier, and even go all Point Break on the waves during a storm at The Wedge. Fishermen/fisherwomen/fisherpeople are also in luck, as deep-sea fishing is a big deal in Newport -- and consequently, boat rentals are a big deal here as well, so get ready to start living that #yachtlife. Or, if all else fails, just take in the majesty of the place where they shot lots of Arrested Development.
Where to eat/drink: We've spoken at length about Newport Beach's restaurants, and it's pretty obvious why.The food from Wildfish Seafood Grille has probably popped up in your Instagram feed at some point, but that's a good thing since the dishes are picturesque as hell, and even better tasting (be sure to order something from the raw bar). To amp up your nightlife experience, hit Johnny's Saloon: an outstanding dive bar with both a killer whiskey menu and some extremely dank pizza. It's pretty hard to top.
Sign up here for our daily LA email and be the first to get all the food/drink/fun Los Angeles has to offer.