A Definitive Guide to LA's Best Beaches
12 options for swimming, surfing, and lounging in the sand.
Memorial Day marks the unofficial start of summer in Southern California, meaning that beach season is now in full swing. And here in LA, where it's easy to take sunny days for granted, we've got plenty of options when it comes time to plan your next sandy adventure. So take advantage of our generous coast with its bounty of beaches perfect for paddleboarding, surfing, swimming, or simply sunbathing in the sand. We promise that you'll eventually adjust to the Pacific Ocean's cool temperatures, especially in the late summer months when the dry heat becomes unbearable. Here are the shoreline spots you need to hit in and around Los Angeles, and the places you should be eating while you're there.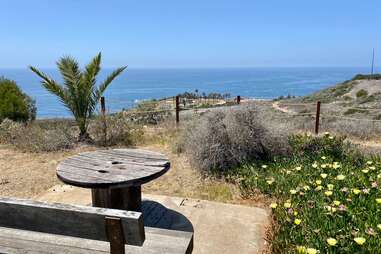 This quiet, mostly residential beach in Rancho Palos Verdes is unknown to most Angelenos, despite being an easy hour drive away. With plenty of hiking trails and a state ecological reserve with protected bluffs that make for a striking view of the Pacific, Abalone Cove is equally enjoyable whether you decide to make the most of available activities or lounge on the sand. It's got some of the best tidepools in California and a couple of large caves to explore.
Know before you go: Sections of the beach and tide pool areas have been closed due to falling rocks and unstable cliffs above so check the map to make sure you're in an area that's been deemed safe. Barbecues and fires are prohibited, as are dogs, unless they're on-leash in the adjacent upper picnic area or on designated trails. Parking is free for 30 minutes then increases to $6 for two hours, and $12 for more than two hours.
Where to eat/drink: The beach's proximity to Rancho Palos Verdes means that luxury dining is just a short drive away. You'll find a slew of restaurants within the oceanfront Terranea Resort; like Bashi for wok-style Asian-inspired dishes and Mar'sel for seasonal California fare with Spanish influences. Prefer something quick and casual? The family-owned Good Stuff chain is true to name, offering American standards that are sure to satisfy after a long beach day.
Roll down the windows and crank up some Natasha Bedingfield as you leave The Hills and head down the coast towards Laguna Beach. The small and picturesque Orange County town boasts seven miles of shore, with sea caves, tide pools, ocean side bluffs, and natural tide pools, in addition to plenty of sandy beaches if you just want to plunk down your umbrella and chill out for the day. As the birthplace of skimboarding, an activity similar to surfing that involves gliding across the water's surface to meet breaking waves as they roll in, there's no better place to try your hand at this extreme sport—or watch from the sidelines while locals show off their skills.
Know before you go: Be sure to double-check guidelines, as each beach has their own policy on what activities are permitted. Crescent Bay is a popular local beach where you'll see seals lounging about 100 yards offshore on Seal Rock, and skimboarding, scuba diving, body surfing, tide pooling, and numerous other activities are allowed. Thalia Street is a favorite amongst surfers, while Wood's Cove and Lover's Cove have deep waters ideal for diving and exploring tide pools.
Where to eat/drink: Head to the Laguna Beach's iteration of SoCal steakhouse chain Nick's for premium meats, fish that's filleted in-house daily, burgers, and strong house cocktails—pro-tip: bourbon drinkers will want to take home a bottle of their 107 proof Old Weller Antique. The Cliff, as you might expect from the name, offers stellar views alongside a seafood-heavy menu and a happy hour that runs from 3-6 pm Monday–Friday.
Most know Black's Beach in La Jolla, San Diego, as one of California's only nude beaches, but North Rincon (known by locals as Bates Beach) is another low-key spot where you can get rid of your tan lines, or take advantage of right-hand waves that make this beach the best surfing spot on the Central Coast. The three-mile beach is fairly narrow and rocky in some parts, so head across the street to Rincon Park County Beach if you prefer a wider stretch of sand. A bit further up the coast is the Carpinteria Bluffs Nature Reserve where you can take advantage of trails and the Carpinteria Seal Sanctuary Overlook where you can see seals sunbathing down below.
Know before you go: Naturists fought hard to maintain the clothing-optional section of the beach and in 2017, the County Parks Department and County Sheriff agreed to stop ticketing nudists unless there was a complaint. The "No Nudity" sign remains at the top of the ramp that leads to the beach, but about 1,200 feet to the west you'll find another sign that warns that you're "Entering Clothing-Optional Area," which marks the beginning of their approved area.
Where to eat/drink: Fuel up for the day with breakfast at the Worker Bee Cafe and its menu of hearty American diner fare, or cap off your evening at Zooker's to sample some locally-sourced seafood and veggies. Teddy's by the Sea is another local favorite for seafood, complete with a spacious patio that gives you a clear view of the town's main block Carpinteria Avenue.
For those of us who may actually be a little sick of the heat, a northern beach like Oxnard is a dream. It's generally at least 15 degrees cooler and the vibe is undeniably relaxed. Only an hour's drive from LA, there's a ton of fun stuff to do in Oxnard ranging from jet ski rentals to backpacking trips through the Channel Islands—which Oxnard's beaches provide a stellar view of. Thinking of renting a beach house for a weekend somewhere? You'll find plenty of beaches along Oxnard's coast, but Oxnard Beach itself might be the prize. The waves here are absolutely stunning, and it's just adjacent to the dog-friendly Oxnard Beach Park, which is wonderful for picnicking, kite flying, perching on sand dunes, and creepily staring at other people's dogs.
Know before you go: Parking is plentiful and cheap, at $5 for the whole day (cash only). You can bring your dog as long as it's on a leash, and since Oxnard Beach is located on the Pacific Coast Bicycle Route, it's a good place to bring your bike. Reservations are required for group picnics, so give them a call (at 805-385-7946) to grab a spot.
Where to eat/drink: If you skip Carnitas El Rey, you're doing it wrong. The move here is, of course, the carnitas, which they sell in individual tacos as well as by the pound. Fisherman's Catch is a perfect spot for fresh seafood on the water, and the home of some truly life-affirming clam chowder. Celebrate happy hour at 1901 Speakeasy, which sits below La Dolce Vita Restaurant in Oxnard's Heritage Square, and runs every day from 4–6 pm.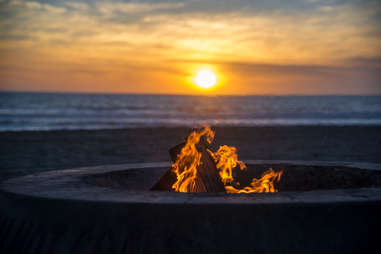 After a year of Dockweiler bonfires being closed, some have finally been returned to the beach and are available to use. Bonfires are illegal in Los Angeles for the most part, and their availability at Dockweiler is just one amenity that sets this beach apart—just make sure you stake your spot early as they tend to fill up fast. If you're looking for a challenge, take your BBQ game on the road—grab some meat from Belcampo on your way up, and set up a makeshift grill over the fire.
Know before you go: Alcohol is not allowed at Dockweiler, and you'll see a few police cruisers prowling around. We would never advise breaking the rules, which means we would never advise you grab some fast food cups before you arrive and fill them up with the liquids of your choosing, making it much more difficult for any lurking law enforcement to spot. No way we'd ever advise that.
Where to eat/drink: There's not much near Dockweiler (unless you're trying to eat at LAX), so it's gonna be a BYOPicnic kind of day.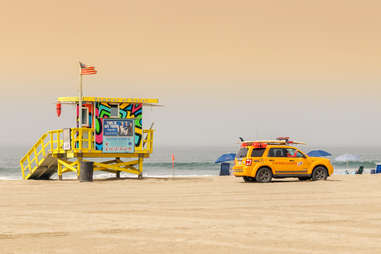 Arguably Malibu's premier surfing destination, Zuma's the type of place people from the Midwest picture when they think of Los Angeles beaches—in other words, they shot a whole lot of Baywatch here. Zuma's one of the biggest beaches in all of LA, so despite its popularity you should still be able to settle into a nice spot; it's also where you'll find Point Dume, a gigantic bluff that juts into the ocean. If you're a rock climber, get yourself to the top for a truly magical view with sea lions usually
Know before you go: There's tons of parking, but due to Zuma's hustle and bustle it can get a bit pricier than other beaches—summer rates can go up to $10 for the day (and no overnight parking is allowed). Be sure to take advantage of the perks though, like usually-not-very-gross bathrooms, showers, and volleyball courts.
Where to eat/drink: While food stands are located at either end of the beach, any wonderful Malibu day needs to begin (or end) at Malibu Wines—it's the gold standard for day drinking in Los Angeles. The grounds are completely gorgeous, and the clientele even moreso. Or if you prefer to sip wines and nosh on market-fresh bites with the beach as your background, head to Malibu Farm Restaurant on the Malibu Pier.
Is Santa Monica touristy? Yes. Is it generally overpriced? Yes. Is it full of attractive people and also a fun roller coaster and Ferris wheel that you just can't hate no matter how hard you try? Also yes. That gorgeous water, paired with gorgeous people along the beach, is the number one thing Westsiders have on Eastsiders. Yet, despite (or perhaps due to) the overload of tourists, Santa Monica manages to keep its foothold as one of the city's most powerhouse dining neighborhoods, year after year.
Know before you go: It's important to know that you're walking into perhaps the biggest hotbed of all LA tourism. If the Walk of Fame gives you anxiety, Santa Monica Beach is likely to do the same (but then again, you're at the beach, so how bad could it be?). Santa Monica is essentially the starting point of the Marvin Braude Bike Path, which goes all the way down the coast to Torrance, so bring your bike/rollerblades/souped up wheelchair, and enjoy some world-class west coast ocean air.
Where to eat/drink: Start your day at Jimmy's Famous American Tavern for a top-tier brunch that includes the legendary Meal Mary: a beastly bloody mary garnished with a blue cheese olive, pepperoni, jack cheese, shrimp, pepperoncini, and a deviled egg. Don't sleep on the Santa Monica Proper Hotel and its new rooftop restaurant/lounge Calabra, and make sure you end your day at Cha Cha Chicken: a BYOB Jamaican restaurant whose spicy jerk sauce is simply too delicious to be real. Chances are you've already been to Bay Cities for the Godmother—a timeless front-runner for best sandwich in LA—but if you haven't, now's the time. We've got a whole other article on Santa Monica's best restaurants, too, in case you need more options.
We never thought we'd say it, but after a year of pacing inside our apartments, we're actually excited to experience Venice and its famous boardwalk with all of its greasy spoon establishments, kitschy art stands, busking musicians, and souvenir shops. But there's so much more to Venice than its bustling boardwalk. The real Venice lies not only in the shops, restaurants, bars, and cafes that populate Abbot Kinney, but along the beach itself. It's always loaded with LA gems, from pickup basketball games and skate ramps to the always-changing public graffiti walls, and even the occasional collision with somebody on their rollerblades. Venice Beach is a community of artists, and it's about as LA as it gets.
Know before you go: There are many public graffiti walls in Venice, but you'll need to obtain a permit. The rest of the beach rules are pretty standard, like no alcohol, smoking, or glass bottles, but unfortunately they also don't allow animals, so you can't bring your pet ferret to this one. The sunsets in Venice are legendary—post up at one of the nearby rooftops (like High Rooftop Lounge) and take them in.
What to eat/drink: Venice's culinary scene is far and away one of LA's best, so you'll do very well here. For a beloved divey haunt, hit Hinano Cafe—Jim Morrison famously hung out here, and their burgers are some of the best in the city. Gjelina and Gjusta are two of our most iconic restaurants, and you'll find them both in Abbot Kinney serving incredible pizzas, bread, and more. Situated below the neighborhood's iconic VENICE sign, the recently reopened Gran Blanco is perfect for people-watching with Mediterranean-inspired bites and a cocktail. And if you're into pasta, you'd be remiss to skip Felix, where Evan Funke is serving what most people refer to as the best handmade pastas in the city.
Rosie's Dog Beach, we're happy to say, is just what you're imagining it to be. Completely off-leash, you'll find it in the Belmont Shore area of Long Beach. Rosie's plays host to lots of fun dog events too, so any time you've ever received a Facebook invite for something like "Corgi Beach Day," chances are it was at Rosie's. It's for sure the only place where you can actually enjoy a wet dog.
Know before you go: Hours for dogs are 6 am–8 pm, so technically your best friends aren't allowed on the beach outside of that time. Also take note that the beach is not fenced in and while some poop bags are available from dispensers, it's wise to bring your own.
Where to eat/drink: Long Beach, which is technically LA county, has a surprising number of grand slams in the eating and drinking department. Any craving for Mexican food should lead you to Lola's: it's extremely hyped, but deservedly so because the food is terrific. Newly arrived to the Belmont Shore neighborhood is chef Michael Mina's newest concept The Bungalow Kitchen, a 10-000 square foot space that bills itself as a social dining experience and community clubhouse, serving plenty of Cal-fresh fare including pastas, pizzas, and seafood dishes. And of course, if you're of the "drinking on a rooftop" persuasion (who isn't?), Bo-beau Kitchen + Rooftop is for you: board games, live music, great beer, and impossibly crispy Brussels sprout flatbreads await.
The sunsets at Hermosa are nearly impossible to top, and you can catch them from the edge of the long pier—take somebody you love, and we can confidently say things will go well. Hermosa Cyclery is a great place to start your day if you're in the mood to rent some bikes and enjoy the sea breeze. If you're a fan of beach volleyball or tennis, Hermosa's got courts for you.
Know before you go: Don't expect the Hermosa Beach Pier to be anything like the Santa Monica Pier—no rides and carnival games here, just a chill pier that sports some special views when the sun dips down. Hermosa is smoke free, which means that smoking and vaping (regardless of what it is you're smoking) are not allowed in any of the public spaces.
Where to eat/drink: Hermosa Beach is riddled with top-notch food and drink, especially Baran's 2239 (try the Indian Egg), Barsha (pair the La Goulette mussels with a refreshing white wine) and Palmilla Cocina Y Tequila (grab a cucumber jalapeño margarita and stare longingly at the ocean). For a one-stop shop for all your various needs, hit Abigaile: the place starts as a brewery and restaurant downstairs, and turns into a rooftop dance rager upstairs.
Not to be outdone by Hermosa, Manhattan Beach will also showcase some crazy colors in the sunset department. It's not hard to fill up a day with activities here, with the Marvin Braude Bike Trail, Polliwog Park (a superb place for disc golf), and Sand Dune Park, which is exactly what it sounds like. People use the huge hill for exercise, but you know what's more fun than exercise (besides everything)? Sandboarding.
Know before you go: With two miles of beach and almost 500 parking spaces, chances are high that you're in for an easy-going day. South Bay beaches are not the buzzy explosion of tourism that you'll find in Santa Monica and Venice, but that might be exactly what you're looking for. Last year the AVP Manhattan Beach Open was closed to in-person fan viewing due to you-know-what and no word yet on this year's plan although the courts are once again open for use.
Where to eat/drink: Manhattan Beach Post is a heavyweight brunch champion, with enough bacon cheddar biscuits and chimichurri skirt steak to defeat any hangover. If they're full, Fishing With Dynamite is another must, thanks to what might be the best raw bar in the city.
The trip to Catalina begins with a ferry ride from Long Beach, which is always a winning start, and ends with a day on a beautiful island, which is always a winning finish. But if you get seasick or prefer a hastier arrival, you can get there in 15 minutes with Island Express Helicopters. Since it's an island, the beach is essentially in every direction, and you have prime real estate to set up shop anywhere and just lie on the sand. The Descanso Beach Club is a primo beach lounging spot, with rentable cabanas and a full bar. There's plenty of activities too, like zip-lining with Zip Line Eco Tours, and dolphin-searching boat tours with Ocean Runner Dolphin Tours.
Know before you go: The ferry heads to and from Catalina Island about 30 times a day, and each ride lasts about an hour. If that sounds long to you, change that perspective: the ferry ride is actually great, and there's nothing quite like standing on the deck of a boat with a drink in your hand (there's a full bar) and ocean breeze in your face. An adult round trip will run you about $75. For comparison, the helicopter flight is $159 one-way or $318 roundtrip.
Where to eat/drink: Mt. Ada was once a palatial retreat owned by the Wrigley family, but now it's been turned into a friendly little B&B: spend the night, and you'll have access to a fully stocked butler's pantry with wine, beer, Champagne, hard liquor, and more. Oh, and you can't consider your Catalina trip a success unless you've had some Buffalo Milk, which is sort of a Catalina icon (it's basically just an alcoholic milkshake). Find 'em at the Descanso Beach Club, or basically anywhere else.
Sign up here for our daily LA email and be the first to get all the food/drink/fun Los Angeles has to offer.
Wilder Shaw is a native Angeleno, which means he'd rather go camping. Convince him to join your beach cult on Instagram and Twitter.
Danielle Dorsey is the Los Angeles Editor at Thrillist.