LA's Most Exciting Theaters to Catch a Movie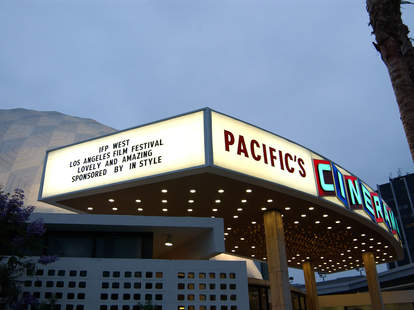 Robert Mora/Getty Images Entertainment
LA's obviously where most of the movies you see get made, so it's no surprise we also have a ton of insanely cool movie theaters buried among the generic multiplexes. Rather than watching Star Wars for the seventh time with a king-size box of Buncha Crunch on a boring-size screen, you could head to the theater where Tarantino likes to run movies from his personal stash. Here are the best places in Los Angeles to get your popcorn (and cocktails and maybe smell effects?!) on.
Editor's Note: We discounted places like the Los Angeles Theatre and the Egyptian that only show movies for special events, so don't yell at us in the comments about 'em, OK?
Courtesy of 4DX
Downtown
Perhaps LA's best-kept secret, seeing a movie at the 4DX theater at Regal LA LIVE (one of only two in the country) is like being on a virtual-reality ride for two hours: the seats both shake and float, there are smoke, water, and explosion effects, and even the smells are amped up. (Seriously: during The Force Awakens, when a spaceship crashed, the theater smelled like electrical fire.) Pro tip: tickets are usually in the $25 range, which is definitely worth it, but they're only $16 on Tuesdays, though the trade-off is that you can't pick your seat.
West LA
Not only does this inside-the-mall theater have killer snacks (wasabi peas!), but some of the theaters are "living room" style -- meaning they have ACTUAL COUCHES to watch movies on, but you won't need to worry about your remote getting stuck between the cushions.
Hollywood
Recently, Tarantino made news because he was angry The Hateful Eight was dropped from his favorite theater: the Cinerama Dome at the ArcLight, which has been around since 1963 and is truly one of a kind. The geodesic dome -- made of 316 hexagons -- gives a feeling of scope you can't get from any other theater in the world (literally); going to movies there always feels like a special event, even if you're seeing, say, a non-special-event-at-all (looking at you, $17 I blew on Dumb and Dumberer).
Koreatown
The US' first-ever multi-projector, 270-degree movie theater (yes, seriously) opened quietly this year in Koreatown; essentially, you're looking at the movie not just in front of you, but out of the corners of your eyes (yes, seriously).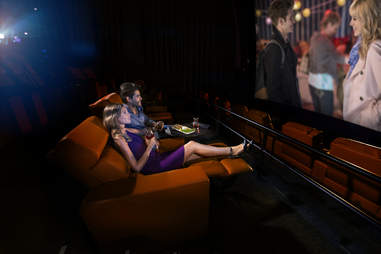 Courtesy of iPic
Westwood
There're definitely a number of places that've opened up where you can order food at your seat, but there's only one where you can order food from Sherry Yard at your seat, and that's iPic, which also boasts ultra-wide, cushy seats that recline like La-Z-Boys. Game on.
Hollywood
When Disney took over the El Cap in 1991 (first showing: The Rocketeer!) it committed to making every moviegoing experience there feel spectacular: the building retains its '20s-era splendor, the seats are cushy and comfortable, and before every showing a live organist plays hits from the Disney catalog (or music themed to the movie you're seeing) before disappearing under the stage. Added bonus: most movies also include pre- or post-screening stage shows, and, occasionally, even theme park-style rides behind the theater.
Mid-Wilshire
This formerly dilapidated theater was in danger of being torn down... so Quentin Tarantino bought it, refurbished it, and programs it, often from his own collection of vintage reels. That means an eclectic barrage of non-hits that've influenced the Tarantino ouvre as well as Q's own movies, all projected in "majestic" 35mm. Oh, and often the man himself is there, with reports of him even running the projector occasionally.
Hollywood
Not only is the Chinese probably the most famous theater in the world (thanks to handprints! And footprints!) but it's also home to the world's biggest IMAX screen -- an immersive beast that measures in at a monstrous 94'x46'.
City of Industry
There are a couple of other drive-ins in LA County, but none as close to the center of the city (not that it's close-close, but, y'know...) and none that operate seven days a week. At Vineland, you can also see two first-run movies for the price of one the way your parents did, with sound coming through the radio and fog (or is that vape smoke?) coming from the backseat.