LA's Newest Concert Venue Is an Indie Music Oasis
The venue just outside downtown LA has a thrilling summer lineup of big-name concerts from a diverse array of talent.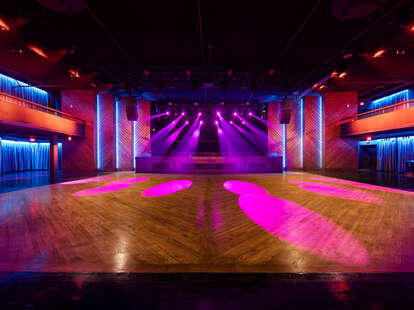 Photo by Josh Withers, courtesy of The Bellwether
Photo by Josh Withers, courtesy of The Bellwether
LA may not have a reputation for live music like Nashville or New Orleans, but the reality is that the talent in LA is on par. There's a reason influential scenes spring up here, from G-Funk to Noise Rock, and that so many Angeleno musicians from The Doors to 03 Greedo break out. Our best venues include stadiums, historic outdoor amphitheaters, and legendary small indie spots. But it's rare when a new midsize music venue opens, especially one fully dedicated to live music and purpose-built from the ground up. And it's even rarer to find one that a mega-corporation doesn't own. Enter The Bellwether, a new concert venue that's a collaboration between Teragram Presents and Another Planet Entertainment that opens this week with a fantastic lineup of shows this summer.
Opening night is July 11, and they're starting with a bang. The venue officially opens with a performance by the moody, dreamy electro-pop duo Phantogram, followed by an absolutely stacked inaugural week. They're putting on a star-studded series of shows, including Buscabulla, Tycho, Panda Bear + Sonic Boom, and Haim, all on consecutive nights. The hits will keep coming all through the summer and into the fall, too, with performances from Carly Rae Jepsen, Isaiah Rashad, Wilco, and a celebratory show for the 15th anniversary of Fool's Gold Records.
Those fantastic acts deserve a space worthy of their talents, and on that front The Bellwether is ready to deliver. The venue has been taking shape since before the pandemic, and after several years of twists and turns, it will debut with state-of-the-art sound and impeccable sight lines first and foremost. The 1600-seat venue also includes four bars, a restaurant, an open-air patio, a wraparound balcony, and a gorgeous wooden dance floor in the main ballroom. The plan is to fit right into the gap between midsize venues like the Fonda and the Belasco, which are slightly smaller, and the Wiltern and the Novo on the larger end.
The Bellwether's head talent buyer Nick Barrie came down from San Francisco after a long and varied run at Another Planet's venue, The Independent, where he started as a security guard and then rose to house manager before working his way around to the booking team. He describes their perspective on the buildout of this new venue as an experience-focused one instead of trying to maximize profit margins or capacity. "Being an independent promoter there was a lot of stuff, like focusing on the sight lines, focusing on the sound, making sure the audience has a good experience, making sure the artist is happy… that might not necessarily be the focus of a more corporate structure," he says.
That independent ethos also extends to Barrie's booking philosophy for The Bellwether. The initial lineup includes rock, hip-hop, electronica, and more, but it will only get more diverse from there. "A lot of the smaller promoters have a niche…" Barrie says, "but we've done everything from Skrillex to the Dalai Lama." In particular, he says, he's excited to focus on regional Mexican music, Reggaeton, and K-Pop, all of which are more popular here in LA than in the Bay Area. The venue's inclusive and diverse spirit is essential for their success and for the neighborhood, too.
The Bellwether is in an interesting part of town without much nightlife, between the high-density residential section of Westlake and the 110 freeway, which separates the area from downtown. It's not far from Echo Park, Historic Filipinotown, and MacArthur Park, but the immediate vicinity is probably best known for LA Center Studios, LAUSD headquarters, and the twin high schools Belmont and Contreras. That means parking is relatively easy at night, at least as far as downtown-adjacent areas go, but it also means they have to ensure that they're a destination venue—they won't be getting many people who happen to walk by.
To that end, Barrie says, "We want people to know who we are. And we don't want just indie rock bands... or dance bands… we want everyone to know who we are."