The Best Nude Beaches in California
Here are the best California beaches where you can bare it all, and what you need to know before you visit.
There are more than a few reasons why you might be curious about visiting California's nude beaches. Perhaps you're a naturist and are looking for a safe sandy escape where you can drop trou. Maybe you want to even out some pesky tan lines, or maybe you're just looking for a less-crowded beach where people will respect your space. Whatever the reason, the Golden State has plenty of options for beaches where you can bare it all.
Don't get us wrong—just because California is known by some as being super liberal and full of hippies doesn't mean you can go nude at any beach. In fact, the beaches that do allow you to go au naturel are usually tucked away in some pretty hard-to-reach or obscure locales so you'll need to know where to look to find them. That's where we come in with this list of the best beaches to be a beach bum and bare your beach bum in California, how to get to them, and everything you need to know once you're there.
Editor's Note: Please respect other people's privacy at clothing-optional beaches and be mindful when approaching strangers.
San Francisco
You likely won't find a better beach view in the entire world than the north end of Baker's Beach where naked people rarely bask in the sunshine but always bask in stunning vistas of the Golden Gate Bridge and the Marin Headlands. The southern part of the beach (accessed by the main parking lot) is very popular and decidedly not clothing optional, so either park there and wait to disrobe until you reach the north end (you'll know you're there because of the steep bluffs, the end of the beach, and, well, the people not wearing clothes), or park on Lincoln Boulevard and use the "sand ladder" to descend to the shore.
Non-nude attractions: This is SF, so there's no shortage of fun to be had, but since Baker Beach is close to the Outer Richmond, you might as well use that as an excuse to get the famous margaritas at Tommy's, a killer burger at Violet's, or some of SF's best pizza at (the very hard to get into during prime time hours) Pizzetta 221.
La Jolla
San Diego's famous warm weather makes Black's one of the best nude beaches in the United States. You'll want to park at the Torrey Pines Gliderport and take the main trail hundreds of feet to the black sand beach below; at the trailhead, you can go left to where surfers by the hundreds enjoy some of California's finest waves, or venture to the north where other nudists have set up their beach camps. While the whole beach is nude tolerant, north of the trailhead is where most people settle. On a hot sunny weekend, the nude end of the beach can get packed with hundreds of nudists enjoying the beautiful weather, so don't expect much privacy; weekdays are the move if you want a bit more breathing room.
Non-nude attractions: When you're not naked, you may want to rent a paddleboard from Everyday California and explore the amazing sea caves off of the world-famous La Jolla Cove. For dinner, check out some of our favorite restaurants in La Jolla, ranging from Mexican to seafood, Italian cuisine, and more.
Pismo Beach
Despite numerous rocky caves perfect for smuggling contraband, Pirate's Cove doesn't actually have much of a pirate connection. Rumors from the '60s about a buried treasure from Sir Francis Drake gave the place its name, but no treasure was ever found. Booty, sure, but no treasure. That being said, its privacy did make it the perfect spot for bootleggers who transported booze during Prohibition, which is enough of an illicit legacy to impress us.
Park at the end of Cave Landing Road and look for the sign directing you to either the beach or the pirate cave. Go the cave route for the best views, but note that the trail is kind of sketchy so be cautious when navigating your course. Once on the beach, you'll notice it isn't like the raucous Black's Beach experience—it's an older, mellower crowd known for its harmonious vibe. Plan your day around the low tide, because sand is at a premium once the higher tides hit.
Non-nude attractions: If you've made it to Pismo Beach, you have to try the world's greatest cinnamon rolls at Old West Cinnamon Rolls. For overnight excursions, check into the quaint but uber-cool Avila Hot Springs just off the coast and unwind in their heated pools that flow from an underground artesian well. Or, if you prefer ocean views, book a room at the Vespera Resort where you'll also find exceptional Mexican food at the hotel restaurant, Pequin Coastal Cantina.
Lastly, check out the expansive off-road area of Oceano Sand Dunes located south of Avila Pier; you can camp, drive on the beach, and ride dune bikes all in the same area.
Santa Barbara
Santa Barbara is a tale of two cities: half is the upper-crust senior citizen set, and the other half is under 25 and occupies UCSB and the community college. In the cracks between are folks like you, who just want a mellow afternoon of beachiness in the buff—luckily, More Mesa is waiting. Located north of downtown Santa Barbara, between Hope Beach and the UCSB campus, this small nude beach lies beneath the lovely SB bluffs. You'll see a gate with a private property notice; stay away from that, and follow the pedestrian access to the left, heading for the grove of eucalyptus trees to follow the path to nudity. Keep your bare-cheeked reveries to the north of the trail, as the south is heavily trafficked by families.
Non-nude attractions: Thanks to its competing demographics, there's plenty to do in Santa Barbara, ranging from top-notch dining options, including Michelin-starred sushi and New England-style seafood. There are also museums, an urban wine trail, the Funk Zone, and plenty of activities to help you discover the area, plus an assortment of wineries and tasting rooms.
Marin County
Red Rock Beach (known locally as Mickey's Beach) ranks up there as one of the Bay Area's favorite local nude beaches. If you're feeling a little shy, this is a great entry-point nude beach as the crowds tend to be smaller since you have to hike down a steep trail to access it. Take a short walk along the coast to Steep Ravine Beach where a communal hot spring is revealed during low tide. Word to the wise: Avoid the ocean if you're not a strong swimmer, as riptides abound when the tide goes out, and there aren't any lifeguards close to save your naked ass. Also, make sure you don't take a wrong turn and end up on Stinson Beach, as nudity there will land you in the pokey (or at least get you some raised eyebrows and maybe a ticket).
Non-nude attractions: Make sure you have pants on when you head to the Parkside Cafe for lunch in the garden, or soft serve ice cream from the snack bar, then head up to Mount Tamalpais State Park located just a short drive east in the Marin County mountains.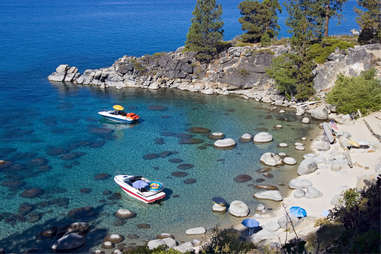 Lake Tahoe
It's not every day you can post up on a sandy nude beach and be nowhere near the actual coast. Located in Lake Tahoe (technically less than one mile over on the Nevada side), this small stretch of sand is the area's premiere nude hangout. Since real estate is at a premium here, if you haven't claimed your space by 10 am, you may have to settle for laying out on the boulders instead of the sand. The shallow water stays relatively warm in the summer, so bring an inflatable to float on and enjoy the mountain air and relaxing beauty that abounds at this fun wildcard of a nude beach.
Non-nude attractions: This beach is pretty far from good food or other fun activities, so plan on bringing whatever you need to have a great day. If you're headed back to the north shore after your day in the sun, pop into Jason's Beachside Grille in King's Beach for baby back ribs on the lakefront deck. If you're headed to South Lake, Edgewood is a special occasion fine dining restaurant with gorgeous lake views and worth a splurge. If you're looking for something healthy and casual, Sprouts Cafe is the place to go.
Half Moon Bay
This sliver of beach located underneath the towering bluffs of central California's gorgeous coast is one that you have to check out, if only because it actually features parking and bathrooms. The spot is also known as "Devil's Slide" because of the numerous landslides caused by erosion around the area, but it's more officially known as Gray Whale Cove Beach because of the easy-to-spot whales that pass by in the spring. Lay out and enjoy the warm days when they are here, but avoid the ocean, because it's cold and the area has no shortage of big great white sharks. Note that State Park rules apply, meaning nudity is only expressly permitted to the north end of the beach.
Non-nude attractions: Half Moon Bay is home to the legendary big-wave spot Mavericks, so stop by Pillar Point to look out at the 25 to 60-foot waves surfed by only the best and bravest. After your beach day, grab some dinner on the deck of Sam's Chowder House, or enjoy a meal of fresh and flavorful Peruvian food at La Costanera. There's also plenty to do in nearby Pacifica, from live music at Winters Tavern to museum-made Jack cheese.
San Mateo County
Possibly the first nude beach in the U.S, San Gregorio boasts safety, acceptance, and amazing topography, but you'll have to pay for parking. The huge shoreline offers many places to find some privacy among the warm sand and mysterious sea caves, but note that the adjacent State Park beach to the south is a no-go for nudity; keep yourself north of the beach access, or even further north if you're looking for a spot known for being more of a gay hangout. Also, just FYI, the driftwood structures built by fellow nudists are known for being used for privacy for acts that sometimes require privacy, so steer clear unless you're looking for a private space of your own.
Non-nude attractions: You're not far from the spots near Gray Whale Cove, as well as Dad's Luncheonette, a Half Moon Bay café with a truly excellent egg-topped burger, located inside an old train caboose off Main street.
Ken Lewis was born and raised in the Southern California beach town of San Diego. When not surfing, chasing kids, or planning camping trips, he's a full-time marketing director and freelance content creator.
Daisy Barringer grew up in SF and has been frequenting the north end of Baker Beach (albeit in clothing) since she was a little kid. Follow her on Instagram.