Here's the Lowdown on All Those LA Places That Keep Popping Up on Your Instagram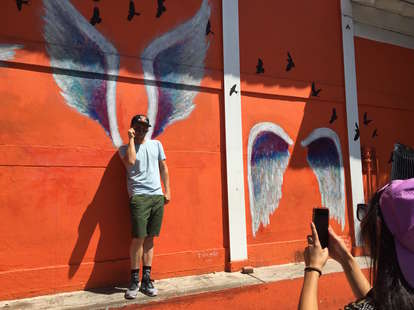 LA's street art and cultural eye-candy scene is strong -- and there's no question that's partially due to Instagrammers making some of those visuals extra famous. But where are the spots you see pop up all the time -- and what's the deal with them? Glad you asked: here are some of LA's most popular Instagram spots, and where to find them:
Where it is: Craig's, West Hollywood
What it is: Mural in front of restaurant
Description: If you're looking for a scene and to be seen, then look no further than Craig's in the West Hollywood Design District (or just look for the flock of paparazzi waiting outside). You're almost guaranteed to rub elbows with a celebrity at this high-end American restaurant, and you're just as likely to see lights flashing outside for an impromptu photo sesh in front of the mural. And no, those aren't Egyptian Hieroglyphics. That's LA street artist RETNA's signature graphic.
Where it is: Angel City Brewery, DTLA
What it is: The Heart of Los Angeles
Description: Throwback a cold one at this Arts District brewery that pours its own rotating craft beer on tap, and has a calendar of events like karaoke and game night year-round. Take a brewery tour and scope out the 27,000sqft warehouse and beer garden but don't leave without walking to the northwest corner towards Traction Ave to catch the glittery Heart of Los Angeles piece by antigirl so you, too can share your love for LA (get it?).
Where it is: St. Regis Wine & Liquor, Beverly Grove
What it is: Angel Wings
Description: You've definitely seen these wings all over your Instagram feed and all over the city because they're part of Colette Miller's Global Angel Wings Project. Passersby keep stopping to make sure they get their angelic shot because after all, LA is the City of Angels, right? Now you're proving it.
Where it is: Greenleaf Gourmet Chopshop, Venice
What it is: Bleeding Hearts
Description: This healthy, fast-casual spot is where Abbot Kinney hipsters go to get their kale and romaine fix. Their ahi & farro salad is a local favorite, but the real show-stopper is the vibrant "Bleeding Hearts" mural on Santa Clara Ave. Artist JGoldcrown, is best known for this colorful Lovewall that can be found on the side of Greenleaf -- and in alleys all over the country.
Where it is: Cisco Home, Melrose
What it is: Made in LA wall
Description: Cisco Home designs furniture that not only looks cool, but is friendly to the environment too. And in a city full of transplants, while most people may like to think they're "Made in LA," that wall outside their store is actually referring to the fact that all the furniture is made right here in our backyard.
Where it is: The Springs, Arts District
What it is: Polka Dot Wall
Description: The Arts District is basically one big spectacle for Instagrammers -- and this rainbow-colored polka dot wall is one of the most popular neighborhood spots. The whimsical wall painted by The Most Famous Artist is located off of Imperial St on the side of the vegan eatery/wellness center, The Springs, and has become a frequent stop for Instagrammers post-downward dog.
Where it is: Smashbox Studios, Culver City
What it is: Love wall
Description: The NY artist behind these love walls all over LA is Curtis Kulig, best known for his signature "love me" print. While this particular piece is in an area surrounded by office buildings, sometimes, love (and likely not a day job there) is all you need.
Where it is: West Hollywood
What it is: Stahl House
Description: Probably one of the most iconic LA homes, this house in the hills has been featured in numerous publications for its sleek design and architecture. With floor to ceiling panoramic views of the city and the kind of look-but-don't-touch furniture you usually only see in showrooms, it's basically what bachelor pad dreams are made of. You can sign up to take a tour of the property but they're booked almost a month out, so for now you'll just have to keep scrolling Instagram.
Where it is: Micheltorena Elementary School, Silverlake
What it is: Colorful stairs
Description: The multi-colored staircase is hidden, but it's on Micheltorena St and Sunset Blvd. Three friends decided to spruce up the stairs by giving them a little love (get it?) and while the city wasn't thrilled, the stair art is here to stay (at least, for now) so you can get your workout in AND your Instagram shot all in one. Boom.
Where it is: DTLA
What it is: Bradbury Building
Description: You might recognize this Victorian-esque building from movies like 500 Days of Summer or Blade Runner... but it also happens to be one of LA's oldest commercial buildings turned tourist attraction turned-Instagram-favorite.
Where it is: Artist and Craftsman Supply, Mid-City
What it is: Mondrian Wall
Description: This craft store is an artist's paradise with a huge selection of supplies for the next time you feel like letting out your inner Picasso. Naturally, they've painted their own masterpiece on the walls. This geometric design, modeled after the original Dutch artist, Piet Mondrian, can be found on their Mid-City location on the corner of La Cienega Blvd and Airdrome St.
Where it is: Pershing Square
What it is: "Liquid Shard" art installation
Description: This recently-installed 15,000sqft installation basically looks like one big wave of shiny confetti. The city of Los Angeles commissioned the art sculpture by Patrick Shearn as part of a continuous effort to support public art displays, but it's unclear what's more entertaining: the art itself or the crowds of people lying down trying to get the perfect shot.
Where it is: Alfred Coffee, Melrose and other locations
What it is: But First, Coffee
Description: It's still unclear whether people come here for the coffee or just to take that "I was here" Insta shot. This trending tagline covers everything from their walls to their coffee sleeves so you can find a backdrop for your photos in almost every corner of the shop. Well played, Alfred. Well played.
Where it is: Dangerbird Records, Silverlake Junction
What it is: Dallas Clayton Mural
Description: If this playful "Stand here and think about someone you love" art wall (which made a guest appearance at last year's FYF Fest) looks like it came out of a children's book, that's because the artist behind it is a children's book author. And a smart one indeed. LA 'Grammers wouldn't miss an opportunity to snap a selfie that prompts tagging a boyfriend, girlfriend, mom, dad, baby, cat, goldfish, etc, etc, etc.
Where it is: Arts District Co-op, DTLA
What it is: WRDSMTH art piece
Description: You've definitely seen at least one of WRDSMTH's inspirational memos plastered around the city. The feel-good messages are on everything from retail store walls to electrical boxes and often use clever word play to call out LA-isms that have to be shared with your 14 followers.
Sign up here for our daily LA email and be the first to get all the food/drink/fun Los Angeles has to offer.
One of Leila's favorite things about LA is stumbling upon street art. Check out her favorites around the city at @LeilasList.