The Best Getaways Within a 3-Hour Drive From LA
Because there's always an urge to keep driving when you are actually supposed to exit on the 10, 101, or the 5, here are the best road trip destinations within a three-hour-drive from LA -- far enough away to shake off the City of Angels, but close enough to remind you why you love it when you get back home:
Palm Springs
It's probably the most-popular LA getaway for a reason: the weather right now is great, there are plenty of pools to drink by, and there's always a ton of art museums, golf courses, off-road rentals, architecture, and fashion festivals to entertain you... if hiking isn't your bag. And if you're still trying to figure out what to do... we made an itinerary for you.
Stay: The classic party-and-golf hang is the JW Marriott, but the chilled-out relative newbie Sparrows Lodge is a Thrillist fave  
Visit: Bring ski clothes for the tram up to Mount San Jacinto State Park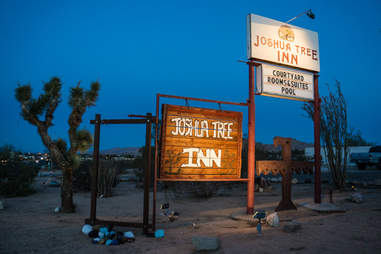 Michele Mcmanmon/Thrillist
Joshua Tree
The small remote artists-and-hippie town of Joshua Tree is nestled outside Joshua Tree National Park along Twentynine Palms highway, and is full of camping, hiking, and breath-taking scenery that are all worth a few days of exploration (as well as a surprising group of bars worth hitting). The Downtown is only a few blocks with great eats -- try David Bowie pizza at Pie for the People or a Tofu Scramble at Crossroads Café, and drop by the old film set-turned-real zip code Pioneertown and hit nearby Landers for a sound bath (without the pretension of the Beverly Hills version).
Stay: Joshua Tree Inn or Harmony Motel
Visit: Nearby Pappy & Harriet's and soundbaths at the Integratron... and tons of hiking trails
Michele Mcmanmon/Thrillist
San Diego
OK, it does not mean "the whale's vagina," but there's still a ton to do: the basics include SeaWorld, LEGOLAND, USS Midway, the Historic Tall Ship Museum (!!!), and lots and lots (and lots) (and lots) of drinking in the Gaslamp Quarter -- plus that little tiny comic convention thingy that takes over the entire city. Of course, there're also a ton of small festivals, hole-in-the-wall restaurants, and beaches (and beaches) but don't forget to go to Mt Soledad, perched up in La Jolla, where you can look down over the whole city.
Stay: Ocean Beach Hotel
Visit: Balboa Park -- the lush 1,200-acre park dubbed the "Smithsonian of the west"
Andrew Zarivny/Shutterstock
Coronado
Go beyond San Diego to the island of Coronado, Spanish for "crowned one" -- a quaint, romantic, island that's only a mile long and a mile wide, which makes it small enough to walk (so, like, no cars necessary).  The ferry from SD docks in Centennial Park, perfect to picnic at while staring at the San Diego skyline across the bay with rose garden scents wafting over you both. Stop by the 2014 World Beer Cup Champion, Coronado Brewing Company, and grab a Mermaid's Red. The public golf course is considered the best value in the country according to Golf Digest, so bring your clubs! Smoking is banned on most the island, so bring your vapors.
Stay: Marisol Coronado
Visit & stay: Beautiful, spooky Hotel del Coronado
Michele Mcmanmon/Thrillist
Encinitas
Encinitas was voted the No. 3 surf spot town in the US by Surfer Magazine, thanks in part to Cardiff Reef -- a stellar spot to drop the board. But it's not all water sports: bikers will want to cycle through the Batiquitos Lagoon Foundation, golfers can hit Encinitas Ranch, and gamblers (or horse-lovers) can spend the day at Del Mar racetrack -- a short 10 minute drive away.
Visit: Nearby Mission San Luis Rey
Bill Perry/Shutterstock
Santa Barbara
This beachside town's been a longtime Angeleno fave, thanks to mellow moods, Mediterranean-style architecture, and amazing food and booze options. It's also loaded with great excuses to go: many film and music fests occur here yearly, including The Wave Film Fest showing Pan Asians selections in May, and French films in July; and experienced surfers can hit world class waves at El Capitan off the 101.
Stay:Belmond El Encanto or Canary Santa Barbara
Visit: The Santa Barbara Bowl is easily among SoCal's best concert venues; this season includes a cavalcade of talent from G-Eazy to Bonnie Raitt.
Kit Leong/Shutterstock
Big Bear
Just two hours out of LA, Big Bear's known for snow -- and this year, they've been nailed by El Niño, which means feet (and feet) of Pow. During colder months, you can also hop into the hot springs, snowshoe, ski, or snowmobile -- and when the weather warms up, hiking, fishing, or hanging out under a pine tree with a picnic basket all make a trip up worthwhile. The food's pretty, pretty, pretty good too: you're going to want to hit the Teddy Bear Restaurant for comfort food like chicken pot pie and brown sugar glazed bacon, and wash it down at Nottingham's Tavern afterwards.
Stay:Lagonita Lodge  
Visit: In case you don't spot 'em in the wild, the Big Bear Alpine Zoo's home to 140 animal species.
Volt Collection/Shutterstock
Kernville
Located in Sequoia National Park, this historical gold rush town boasts excellent fly fishing, mountain climbing, and biking adventures. Known for its wild white water rafting in the Kern River (check out SoCal Rafting for great, knowledgeable tour guides), this wilderness town proves not all lumberjack beards are worn by hipsters. Once you dry off, you can peruse the Old West-styled downtown antique shops and hit the Kern River Brewing Company for a Big Daddy Burger with a Framboise Beer Float. Bonanza, The Waltons, and other Hollywood westerns have also filmed in this rustic getaway location.
Stay: River View Lodge or Pines Kernville
San Luis Obispo
They call it "SLO" because it is, so come here to unwind from LA. Hop on trolly cars or leisurely stroll through a town that's totally frozen in the 1950s -- like, you can literally stick your chewed gum on the walls in a bubble gum alley while playing faux Jimmy Dean. Fish for rainbow trout in San Luis Obispo creek for a man vs nature adventure, or watch a film at the solar powered Palm Theatre, and round out the trip dining on a Cuban panini at the front porch of Granada while you pick from a wine list that actually uses the word "bitchy" on it -- as un-'50s as that sounds.
Stay:Garden Street Inn or The Apple Farm
Visit:Freemont Theater after Doc Burnstein's Ice Cream Lab
<a href="http://www.shutterstock.com/gallery-60283p1.html?cr=00&amp;pl=edit-00">CrackerClips Stock Media</a> / <a href="http://www.shutterstock.com/editorial?cr=00&amp;pl=edit-00">Shutterstock.com</a>
Solvang
Located in Santa Ynez Valley, this unique tourist town began with a single windmill and has blossomed into the sister city of Denmark, which means you can ditch the car and walk everywhere or ride in a horse drawn carriage (!) after drinking steins of Blue Eyed Blonde Ale or a 1547 Porter at Solvang Brewing Company. Hadsten House boasts the best Jidori buttermilk fried chicken in town, with a side of bacon mac 'n' cheese that will knock you out, or just get super-duper fat sampling from alllllll of the bakeries on the main drag.  
Stay:Mirabelle Inn or Wine Valley Inn
Visit: Tasty fudge at Solvang Fudge and smorgasbord at Bit O' Denmark.
Sign up here for our daily LA email and be the first to get all the food/drink/fun Los Angeles has to offer.
Michele McManmon is a freelance writer/photographer at Thrillist, LA Weekly, Guardian, Playboy, and whoever else will pay! Music, travel, and men are her favorite topics. Follow her on Twitter, Instagram and Facebook.