The difference between taking an LA-based road trip in winter and taking a road trip in summer? Uh, you're definitely going to want to pack at least pants and a long-sleeve shirt... and you might see snow. Otherwise, there's not much difference, except each of these places especially shines in the colder months, with plenty to do that's not dependent on sunny days.
Recommended Video
Please Don't Hang Up: The Best Things to See, Eat, and Do in Nashville
Mammoth
Driving distance from LA: Five hours
What you're there for: Snow
Must-hits: Mammoth Tavern, Mammoth Mountain Inn
Via a quick flight or not-so-quick (but fun! Really!) drive you can hit one of the best ski slopes in the US, which means you thankfully don't have to nauseate yourself on the bumpy, wind-blown flight through the mountains to the teeny landing strip in Aspen in order to enjoy a ski weekend. Of course, you're gonna ski, but the apres-ski is where it's at: Mammoth Tavern has a killer cocktail scene, Mammoth Brewing Company makes its own IPA, and Lakanuki is a great dance spot for apres-apres-apres. Pro tip: stay at Mammoth Mountain Inn (great ski-in/ski-out-ness) and ask at the counter how to get to Travertine Hot Springs, a natural spring with (on average) 105-degree water.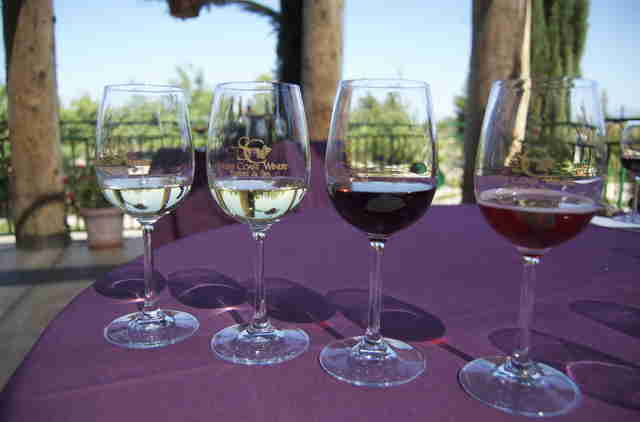 Temecula
Driving distance from LA: 90 minutes
What you're there for: Wine
Must-hits: Wine tour, Pechanga
OK, if you're a wino you've already been to Santa Ynez, but why are you ignoring Temecula? It's got a charming Western-style feel, and 50+ wineries, which you can sloshily navigate on foot, via Uber, via organized tours, or, if you want to stay on theme, by horse (yes, seriously: Saddle Up Wine Tours does horseback wine tours). The best ones rope in tourists via next-level snacks, like beef carpaccio and Creole-spiced fries at Leoness Cellars or chicken pesto pizza and calamari at Ponte Winery. And when you're done you can hit the 24-hour Pechanga Casino, which hosts great concerts and poker tournaments as well.
Solvang
Driving distance from LA: Two hours
What you're there for: Kitsch
Must-hits: Pea Soup Andersen's 
Why is winter the perfect time to hit this bizarre Danish town just two hours from LA? One word: Christmas. The myriad seasonal festivities begin on November 27th when Julefest returns starting with the holiday art show, followed by the tree-lighting ceremony, live nativity pageant, holiday wine/beer walk, and finally the Christmas tree burn (!!) on January 8th.
Indio
Driving distance from LA: 2.5 hours
What you're there for: Desert-ness
Must-hits: Indio International Tamale Festival
Are you shocked we're saying to go to Indio outside of Coachella? We are too, but here's the thing: when it's raining in LA it's often dry there thanks to the natural cloud-mountain barriers outside the valley, which means it can host things like the International Tamale Festival on December 5th-6th. There are also a ton of new hotels in the area, which means if you've played out the Ace and the Riviera, there are not-overdone options like the intimate, European-ish Chateau at Lake La Quinta.
Dana Point
Driving distance from LA: 90 minutes
What you're there for: Relaxation
Must-hits: St. Regis Monarch golf course
If you're in the mood to just chill out, brah, Dana Point -- just an hour and a half south of LA -- oozes beachside charm, and is jammed with R&R bonuses: you can stand-up paddleboard with seals, go whale watching on Captain Dave's underwater-glass-pod-abetted boat, or play a round of golf on the St. Regis Monarch Beach beachfront course. And when you're done? Open-air cocktails at 180blu at the Ritz-Carlton, or if you're not that fancy-pancy, tequila at the new rooftop bar Maquilla. Or hang on the beach and just be ultra mellow. (Pro tip: the boat parade is December 11th, and is amazing.)
Avila Beach
Driving distance from LA: Three hours
What you're there for: Romance
Must-hits: The boardwalk
Avilla and its neighbor, Pismo, are the sort of beaches where it's easy to imagine strolling the boardwalk holding hands with someone (we're not picky in the winter, to be honest) and hanging out, gazing into each other's eyes, which is what you can do when you're not busy heating it up at Sycamore Mineral Springs -- a natural hot springs resort -- or taking a wine tour of nearby central coast wineries.
Sign up here for our daily LA email and be the first to get all the food/drink/fun Los Angeles has to offer.
Laurel House is an international dating coach, online dating expert, and author of Screwing The Rules: The No-Games Guide to Love. She is also one of the few born-and-bred West Angelenos who has been taking road trips and skiing Mammoth since she could walk.