The Best Ski Mountains Within Driving Distance From LA, Ranked
Whether you're a powder hound or a beginner skier or snowboarder, given California's recent deluge of snow, right now is the time to brush up on your ski resort knowledge. LA has plenty of drivable mountain options, whether an hour away at Mt. Baldy or eight hours away at Lake Tahoe -- which is why we've ranked them all so you can figure out where to go to hit the snow:
Mountain High
9. Mountain High
This hill's biggest plus is that Mountain High is a quick hour-and-a-half drive from LA, attracting many, many Angelenos who are looking to get an easy snow fix, with flexible ticketing options from four hours ($64 or $69) to eight hours ($69 or $74) and even nighttime ($35 or $40). It's the most affordable hill on this list, but also, unfortunately, the most crowded as well. The runs also aren't all that spectacular. For beginners at best.
Snow Valley Mountain Resort
8. Snow Valley
Snow Valley is a hour-and-a-half to two hour drive from Los Angeles in Running Springs, and isn't quite as well known as Mountain High. This means there are fewer people getting in the way of you and a good time in the snow, though the vertical isn't as high. You can go all day for a $59 - $74 lift ticket, half-day for $49-$64, and nighttime for $26-$34. This is a good beginner hill with great access to the city, and college folks enjoy the $10 discount for young adults.
7. Mt. Baldy Ski Lifts
Mount Baldy Ski Lifts is a small hill that's only an hour drive from the city. A lift ticket is $69 for the whole day or $49 for the half day after 12pm. There are more skiable acres than Mountain High, so there's literally more room for learning. With a little lower base elevation, the hill requires better snow conditions than the other area resorts to remain open, however, so Mt. Baldy's snow season is a little shorter than the rest of these options -- knocking it down a few pegs on the list.
Bear Mountain & Snow Summit
6. Big Bear Mountain Resort
Big Bear is a great place for skiers who are out of the beginner range -- especially since the drive is a little further at two-and-a-half hours. The mountain is known for its state-of-the-art terrain park, with features such as boxes, rails, a variety of jumps, and the snowboard scene that goes along with it. It's got a higher elevation than its sister, Snow Summit, but more beginner runs. Half-day tickets are also available, and the best thing about tickets to Big Bear is that you also get access to Snow Summit since the two hills are connected and operated by the same people.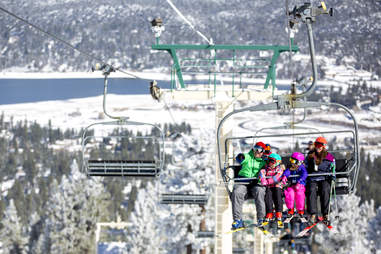 Bear Mountain & Snow Summit
5. Snow Summit
Snow Summit is the more family-oriented half of the Big Bear/Snow Summit family, and is where you'll want to take lessons should you need them. Multi-day tickets are also available and will save you cash over individual lift tickets, which start at $79 in early season or $84 during peak. There are less skiable acres than its sister, Big Bear, but a bigger share of advanced runs -- so unless you're into terrain parks, you'll want to ski or snowboard Snow Summit over Big Bear if you're out of the beginning stages.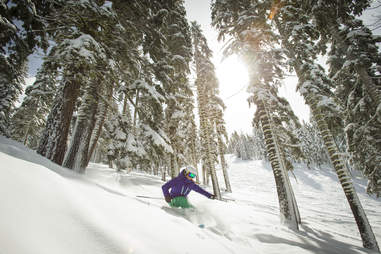 Northstar California
4. Northstar
If you're willing to take an 8+ hour drive from LA, regularly great conditions at Northstar in North Lake Tahoe make it worth your while. The resort is a winter mecca, with snowmaking abilities on their skiable 3,170 acres as well as its own Village, providing for a great overall winter getaway if you're traveling with non-skiers, since there are great dining options in the Village as well as an ice skating rink. You'll find plenty of terrain parks as well as long runs here, so it's well suited to a range of abilities for a $140 ticket at the window.
3. Kirkwood
You'll find some great skiing and riding terrain in South Lake Tahoe at Kirkwood, also about an 8-hour drive from LA. Kirkwood tends to have even better conditions than Northstar, making your long drive reap big payoffs. At 2,300 skiable acres and summit elevation at 9,800ft, Kirkwood is massive and offers a great variety of terrain. There are great lodging-ticket package deals available, especially after the holiday season; tickets start at $108 at the window.
2. June Mountain
Long considered the local mountain for Mammoth and June Lake residents, June Mountain is an unsung hero for its smaller crowds, which give it an intimate feel. It's a 5 ½-hour drive from LA and offers 1,500 skiable acres. Kids ski free, making it very attractive for families. The hill has a good amount of viable tree riding for advanced riders who like to duck in and out of the groomers, as well as terrain parks and an ultra-impressive run with huge jumps and a super pipe for pro riders.
Peter Morning
1. Mammoth Mountain
The prize mountain of Southern California, Mammoth Mountain is a 5 ½-hour drive from Los Angeles, offering 3,500 skiable acres of varied terrain, with multiple terrain parks and two or three half pipes in the peak season. Ski lifts are some of the most efficient (read: fast) in all of California, and the whole mountain -- including the peak, 11,0000ft up -- is epic when there's a good amount of snowfall during the season. There are many lodging and dining options in and outside Mammoth Village, but you'll want to stay close: There's great après-ski and dining right in the Village, making Mammoth LA's best ski-vacation destination, by far.
Sign up here for our daily LA email and be the first to get all the food/drink/fun Los Angeles has to offer.
Esther Tseng is a freelance writer based in Silver Lake. She's also a winter weekend warrior snowboarder who shreds Mammoth Mountain and Northstar, her second and third home.