Under-the-Radar Mountain Towns to See Snow in SoCal
After the next rain, head to SoCal's best mountain towns for skiing and snowboarding, or to chuck snowballs at your friends.
There are no official snow days in LA, no school closures or surprise whiteouts, but there are unofficial snow days—the first clear Saturday after it rains might as well be a holiday for powder hounds when the air is impossibly clean, and you round the bend on the freeway and catch a glimpse of the snowline creeping lower on the San Gabriel and San Bernardino mountains in the distance. That's the time to head for the hills and start climbing towards the snow. To help you get up there, we've rounded up our favorite places to see snow in Southern California, from tips on where to snowboard or ski to the best ways to explore the eclectic wintry woods of Idyllwild, family-friendly snow play in Big Bear, and beyond.
Green Valley Lake
San Bernardino National Forest
Drive time from LA: 2 hours
Drive time from SD: 2 hours 30 minutes
There is a gem hiding in the San Bernardino mountains, a small town tucked between popular Lake Arrowhead and Big Bear (both of which feature later on this list). Green Valley Lake is the adorable alpine retreat you didn't know you needed, a remote getaway at 7000 feet of elevation with an array of cabins and only 300 full-time residents. That means it's quiet, whether you're headed there in the summer for mountain biking, camping, and canoeing or for snow play, hiking, and solitude in the winter. There are plenty of empty hillsides for sledding and trails to explore, and it's just a few short miles from Snow Valley Resort for skiing, tubing, cross-country skiing, and snowshoeing.
Mt. Pinos
Tejon Pass
Drive time from LA: 1 hour 45 minutes
Drive time from SD: 3 hours 30 minutes
There are no major chair lifts in the Tejon Pass, no giant fire-lit lodge, and no cosmopolitan apres-ski cocktail scene. In fact, there's not much of a formal scene of any kind. But if you're looking for a quick getaway to slosh around in some snow, to hike or snowshoe around, and maybe to find a hill to sled, Mt Pinos and the surrounding towns are lovely low-key choices. It's close to LA, it's quiet, and it's also one of the best stargazing spots in Southern California. If you're looking for some unofficial skiing and snowboarding of a more extreme variety—backcountry, through the trees, with no trail markers—you can find that here, and there are also a few cross-country ski trails if you know where to look and who to ask. Just be mindful of the area's full-time residents; this isn't really a tourist town.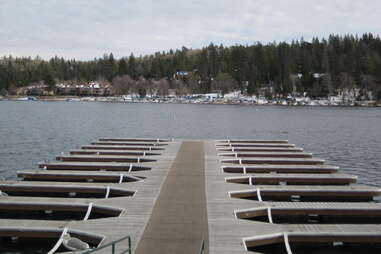 Lake Arrowhead
San Bernardino National Forest
Drive time from LA: 2 hours
Drive time from SD: 2 hours 30 minutes
In any discussion about a snowy escape from LA, Lake Arrowhead is one of the first spots that will come up. The charming mountain town is built around the (weirdly privately controlled) lake, of course, so it's a prime summer destination. But it's just as great in the winter, when you can still take boat tours of the lake; see a themed holiday show, or go to karaoke or jazz at Tudor House; hike, sled, and snowshoe around the area; or use it as base camp for the winter activities throughout the mountains, from the aforementioned Snow Valley ski area to the charmingly madcap adventure area SkyPark at Santa's Village. Because Lake Arrowhead is an established tourist destination and a larger town than some of the other options around, there are more restaurants and hotels, too—try Jetties for modern pub food right on the water, Lake Arrowhead Brewing Company for local craft beer, and check out the Lake Arrowhead Resort for a lovely hotel stay with lake access and lots of amenities.
Angeles Crest
San Gabriel Mountains
Drive time from LA: 30 minutes to 1 hour
Drive time from SD: 2 hours
It may sound a little sad to transplants who grew up with snowy winters, but there is a tradition among some Northeast LA-area youths to grab a couple of coolers and drive up Angeles Crest Highway after the first big rain of the winter, find some snow and fill the coolers with it to bring back down the mountain for an LA snowball fight. The winding, scenic Angeles Crest Highway is an easy gateway to snowy adventures, with hiking trails and plenty of turnouts where you can pull over and stomp around in fresh-fallen snow, and if you happen upon the right hill there's even some sledding to find. The road and the early turnouts can get crowded on weekends, so you may want to pick up a breakfast burrito from Lupe's Place, sandwiches from Berge's, or coffee and pastries from Constellation and prepare to head a little farther up the mountain. It might be wise to pick up some chains for your tires, too, but don't worry—you can still return them the next day if you don't end up needing them.
Idyllwild
San Jacinto Mountains
Drive time from LA: 2 hours 30 minutes
Drive time from SD: 2 hours
The chill mountain town is just a dash southeast of LA, making for a fantastic weekend getaway from the city. There's no skiing nearby, so it's less developed and corporate than other resort-centric communities in the LA-area mountains, with a much more chill energy. There's still plenty to do there with lots of culture, natural wine, local craft beer, and independent art. There's no shortage of outdoorsy winter fun, either—Idyllwild is great for hiking, sledding, and snowshoeing—and there are plenty of great places to stay too, from relaxing lodges and B&Bs like The Grand Idyllwild or Strawberry Creek to super funky themed-spots like the themed rooms at Hicksville Pines and plenty of app-based rental cabins available too.
Wrightwood
Drive time from LA: 2 hours
Drive time from SD: 2 hours 30 minutes
Mountain High ski resort is just outside the town of Wrightwood, a quick drive from LA, so it pulls in a lot of Southern Californians looking to get an easy snow fix. The slopes officially open on December 1, or November 30 for season pass holders, and they offer lift tickets for sale online in advance through the rest of the season. If shredding gnar on the full mountain isn't your thing, you can still engage your sense of adventure with a day of zip lining or go for some retail therapy by perusing the antique shops in town.
Mt. Baldy
Drive time from LA: 1 hour 15 minutes
Drive time from SD: 2 hours 30 minutes
Mt. Baldy Resort is a small ski hill only an hour from LA, though that can nearly double in traffic. It's the shortest commute to the chairlift from most parts of LA and has some of the best natural terrain after a storm, but it tends to open a little later in the season than the other local resorts due to its lower base elevation. This year, the snow play area for sightseeing and tubing is set to open on December 1, but skiing and snowboarding dates are still to be determined. When it does open, though, it's usually a more affordable mountain, with more skiable acres than Mountain High and a gentle terrain that's great for learning. Local lodging is relatively scarce, mainly because it's so close to LA proper, but there are a few options around.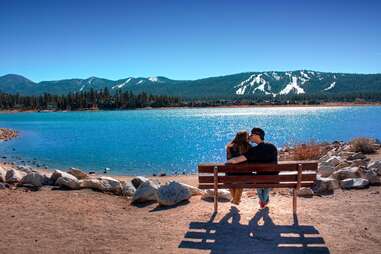 San Bernardino National Forest
Drive time from LA: 2 hours 15 minutes
Drive time from SD: 2 hours 30 minutes
Big Bear is among Southern California's most popular snow destinations, with many activities, restaurants, and places to stay centered around the mountains and the lovely Big Bear Lake. It is a particularly family-friendly destination, with options like tubing at Big Bear Snow Play and bobsledding at Alpine Slide. Visit Big Bear Alpine Zoo to take a gander at animals, and for hiking try the Pinenut trail, the Alpine Pedal Path trail, or the steep Castle Rock trail. If you prefer to ski, you have several options, including the connected properties of Big Bear Mountain Resort, Bear Mountain, and Snow Summit. Bear Mountain is a little more advanced, with a state of the art terrain park, and Snow Summit is a little more gentle for beginners.
Ben Mesirow is an Echo Park native who writes TV, fiction, food, and sports. At one time or another, his writing has appeared in The
LA Times
,
Litro
,
McSweeney's Internet Tendency
,
Los Angeles Magazine
, and scratched into dozens of desks at Walter Reed Middle School.