Hit the Road and Explore LA County's Best Suburbs
Everywhere that's worth visiting and everything that's worth doing on the outer edges of LA County.
Borders are slippery things in LA. Neighborhood lines are simultaneously extremely important and impossible to define; they slide this way and that over time, shifting with waves of gentrification and transplantation, a moving target for ambitious real estate people and also a hardline issue for loyal locals. An area's particular line of demarcation may seem like a weird hill to die on, but that hill is nevertheless strewn with corpses.
So it's tricky to define any part of the greater LA area as a suburb; any spot you choose on the mostly unbroken asphalt will surely piss someone off. And yet, some parts of town are clearly suburban, more residential, quieter, still culturally LA but with their own characteristic quirks and delights. There is a lot to love about LA's suburban areas, wherever you believe they begin and end. Here is a totally biased guide to a few of the best suburbs in LA, broken down by region instead of strict neighborhood, and some of our favorite things to do in the suburbs, too. You're going to hate it!
Inner Suburbs
West San Gabriel Valley
Drive time: 30 minutes
The west end of the San Gabriel Valley is a suburban stretch, but it still retains plenty of urban LA feel—it's dense in both residential areas and commercial sections, with a huge population spread across a wide swath of mostly flat turf. There are tons of restaurants and things to do, and it's pretty easily accessible, but you also get a lot of the benefits of the suburbs. The area is probably best known for its large Asian population and its significant percentage of relatively recent Chinese immigrants, which means it has perhaps the highest concentration of fantastic and specific regional Chinese restaurants in the country. The main reason to visit is to eat—dumplings, hot pot, boba, noodles, banh mi, and so much more—but don't overlook the area's parks, tennis courts, basketball courts, and golf courses, which are more plentiful than in other parts of LA and in better shape, too.
Arroyo Seco
Drive time: 15 minutes
The narrow concrete channel of the Arroyo Seco collides with the LA River just north of Chinatown, firmly in LA proper, but as you trace it back north and east, you run into some of the most charming and best-known LA suburbs. South Pasadena, Pasadena, and Altadena make a compelling stack, from the quaint almost Midwestern feel of South Pasadena's Mission Street through surprisingly lovely Pasadena and up into the funky and fun foothills of Altadena. The area boasts a boatload of cultural institutions, including the Norton Simon Museum, the Pasadena Playhouse, the Bunny Museum, and the Huntington Library. There are also architecturally significant homes, filming locations galore, fantastic hiking trails, and the historic Rose Bowl for college football, concerts, and a killer flea market.
South Bay
Drive time: 40 minutes
If you're looking to soak up classic California beach culture with less pretension and a chiller energy than you find at the more famous beaches around here, the South Bay makes a great day trip. Manhattan Beach and El Segundo on the northern end are fancy and cute, with a small-town feel on their respective main drags. Hermosa, Redondo, and Torrance are more casual and accessible, with some rowdier spots and a fun, laid-back vibe. In addition to all of the usual beach stuff, there's great eating throughout the South Bay, both right along the coast and further inland in Torrance, which has an incredible Japanese restaurant scene in particular because of racist pre-World War II housing laws and also thanks to a Toyota campus, which opened there in the early 1980s. There's a particularly excellent farmers market, and the South Bay is home to several of the best breweries in the region, including Monkish, Smog City, El Segundo, and more.
The Foothills
Drive time: 15 minutes
Take the best freeway in the greater LA area, the 2, all the way until it ends, and it dumps you right into the foothills of the gorgeous San Gabriel Mountains. The sleepy communities form a straight line from La Cañada-Flintridge through La Crescenta and into Tujunga in a narrow channel between the San Gabriels and the Verdugo Mountains, which separate the foothills from Burbank and The Valley. The nicest commercial corridor in the area is Honolulu Ave. in Montrose, an adorable street lined with small businesses and decent restaurants. If you're headed up that way, though, it's probably for the nature—whether a fenced-in version at the famous Descanso Gardens or for wild green space at Deukmejian Wilderness Park, Hahamonga Watershed Park, Whiting Woods, or driving up Angeles Crest to hike and explore.
The Deep West Valley
Drive time: 45 minutes
Is it possible to have a suburb within city limits? The quiet communities at the southwest end of the San Fernando Valley make a case for it. Encino, Tarzana, and Woodland Hills are all part of LA but are each primarily residential and out of the way enough to feel removed from the city. The areas south of the 101, in particular, are pretty fancy, with large single-family homes backed up against the Santa Monica Mountains. That gives them great access to the outdoor activities in the mountains and the beaches in Malibu. Being so far west also means the drive over the hill to Oxnard and onto Santa Barbara is a whole lot easier—this is already past the worst of the traffic on the 101. If you push out to include nearby Calabasas, no longer LA but right next door, you run into gated communities, luxury malls, and the celebrities who love them.
Southeast Cities
Drive time: 40 minutes
The city's official borders don't extend very far east, but places like Montebello, Commerce, and Bell Gardens are urban enough that they should probably be considered true LA. But Whittier and the surrounding cities are a little different. Uptown Whittier is a pleasant stretch of restaurants and shops that's great for an afternoon stroll, anchored by small private Whittier College. It's easy to get out to nature in places like Turnbull Canyon, Powder Canyon, and Hacienda Hills. Freeway access is a little tricky so the drive can take longer than it feels like it should when you look at a map, but it's hard to care too much when you've got beautiful canyons, good restaurants, and fun places like the La Habra Children's Museum right nearby.
Outer Suburbs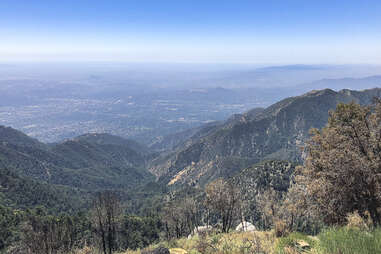 Foothills East
Drive time: 45 minutes
If you want to flee the dense asphalt sprawl and spend a little quality time on some charming small-town streets, the eastern foothills would make a great day trip. Sierra Madre and Monrovia both have quaint main streets lined with small businesses, with the San Gabriel Mountains leaning right over them. Sierra Madre is a little funkier and more eccentric, with craft beer, great coffee, stellar sushi, and hippy landmark Mary's Market hidden right around the corner from the trailhead of the Mt. Wilson hike. All of these communities, as you might imagine, also have great hiking and mountain biking, especially if you head out a little further to San Gabriel Canyon Road in Azusa or for the famous bike ride up Glendora Mountain Road.
Thousand Oaks
Drive time: 1 hour
Once you get into the Conejo Valley you're officially too far to think about regularly visiting LA proper, but the way-out communities of Thousand Oaks, Agoura Hills, Newbury Park, Westlake Village, and the rest have some nice things to offer in their own right. There's a great beer scene, with Tarantula Hill, Ladyface, and Figueroa Mountain, among others. Beach access is surprisingly easy, either south to Malibu or west to Oxnard. The famous Paramount Ranch filming location is nearby. And there's a reason the place is called Thousand Oaks—lovely California oak trees are dotted throughout the region. Long ago the Chumash people were the first to settle in the area, and the Chumash Indian Museum and Interpretive Center makes a fabulous visit to learn more about Indigenous culture and to take a docent-led nature hike through the surrounding oak woodland.
Santa Clarita
Drive time: 45 minutes
The suburban communities on the other side of the Newhall Pass are probably best known for a single landmark—Six Flags. The theme park stands just off the 5 freeway, and when you pass it heading south it feels like a signpost letting you know you're almost home. Santa Clarita also has CalArts, a wild art college known for producing talented animators at Disney and for a truly far-outgraduation ceremony. Angeles National Forest to the north and east provides some beautiful views and great trails, and legendary Vasquez Rocks is not far away.
Claremont
Drive time: 1 hour
If you're looking for the college town experience, quaint Claremont is just a scant 30 miles from downtown out the 10 or 210 freeways. The Claremont Colleges are seven separate schools in the area that have formed something of an alliance, uniting to share their 8,500 students and 3,200 faculty and staff within the relatively small area. Each one has a unique character, from preppy Ivy-League aspirants like Pomona and Claremont McKenna to chill Pitzer and mathy high-achievers like Harvey Mudd. Downtown Claremont is naturally student-focused, which makes it youthful and lively in a pleasant way. The California Botanic Garden is right nearby, and there's a shockingly convenient MetroLink stop, which makes it a fun destination for a car-free getaway.