Thanks to our collective unconscious Mexican history (and the number of frat dudes at UCLA), Los Angeles goes as hard for Cinco de Mayo as Boston does for St. Patrick's Day. And this year, this celebration of not-Mexican-independence falls on a Sunday -- which means the whole weekend is ripe for drinking/eating ceviche/celebrating in honor of the Mexican Army's 1862 victory over France at the Battle Of Puebla during the Franco-Mexican War (thanks, History Channel!) Here are our picks for the best food-and-drink specials going on in town -- and the best Cinco de Mayo events in LA as well.
Recommended Video
Debatable: Is Shake Shack Really Fast Food?!?
Atwater Village
Unlike other barstaurants that celebrate Cinco with specials for one, two, or even three days, The Morrison's celebrating from RIGHT NOW WHENEVER YOU'RE READING THIS until the end of the big day, with offers like the $12 Mi Chimichanga and $7 Tres Leches Cake and drinks like $5 Corona and Modelo.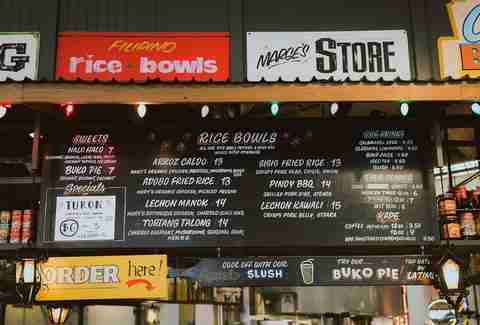 DTLA
Mid-city's Petty Cash Taqueria is taking over the counter at Sari Sari Store in Grand Central Market on Cinco Proper, serving up guac, chips, tacos, and flan at the normally Filipino stand.
Mid-city
As part of the LA Times Food Bowl series of events, Petty Cash proper's going to be dropping a one-day-only brunch on May 5, from 9am to 3pm. Said brunch will include mushroom sopes with jack cheese, black beans, avocado, and a fried egg, and steak and eggs with poblano rice; walk-ins are welcome, but you'd probably do well to get yourself a reservation.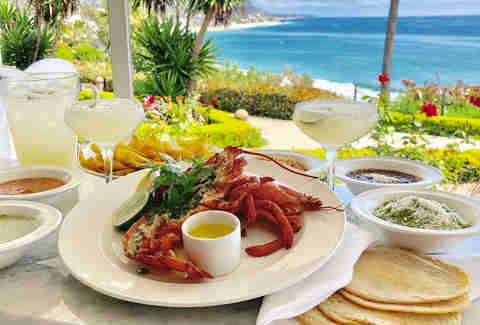 Laguna Beach
If you're in the OC on Sunday, hit this ocean-view restaurant for brunch -- they'll have a set-menu lobster for two with 2-2.5 pound lobsters, rice and beans, tortillas, chips and guac, and a full margarita pitcher for $115. Plus, there'll be live mariachi music all day.
Sherman Oaks
The Valley's ultra-casual Mexican spot is gonna have an all-day happy hour on Sunday, with $6 shots of Patron Silver, margs for $6, and bacon-wrapped street dogs for $6, among a ton of other specials.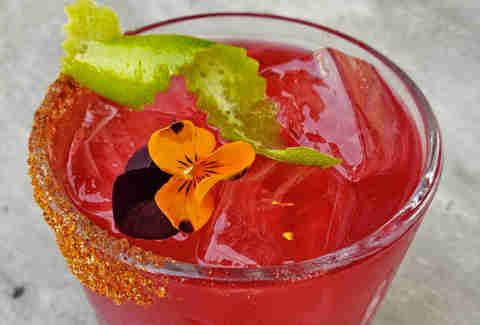 Culver City
Ricardo Zarate's newest Peruvian-meets-Angeleno restaurant is going big for Cinco, and by that we mean they're serving a $28 massive carafe of margarita that can serve up to six people. If you prefer your specials on a smaller scale, they're also doing the Peru-inspired Chica Morada Margarita (with purple corn, apple, pineapple, lemon, tequila, and spices) for only $7.
Multiple locations
OK, they're not alcoholic, but bear with us: if you're anywhere near any of the eight locations of The Pie Hole, pick up one of their special-for-Cinco Strawberry Margarita pie holes, each of which is stuffed with strawberry filling, topped with red triple sec icing, a candy lime slice and salt flakes. You'll have plenty of opportunities for boozing elsewhere.
Santa Monica
Cinco starts on the 4th at this neighborhood bar, which is offering its specials both Saturday and Sunday, when you can get Margs and Palomas for just $5. They've also got pedialyte-based mocktails, if you're coming in nursing a hangover on Sunday.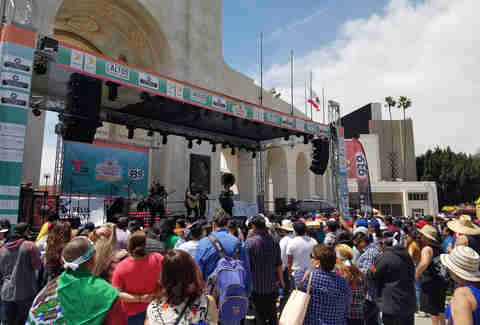 Sunday, May 5
Exposition Park
The Coliseum's hosting a totally-free rager on Cinco proper -- the festivities kick off at noon, including live traditional music, a beer garden, food trucks, and games with prizes. There'll even be a pepper-eating contest, in case you're looking for a non-hangover medical excuse to call out sick on Monday.
Saturday, May 4
La Plaza De Cultural Y Artes (Downtown)
It's actually happening on cuatro de mayo, but this tortilla-wrapped food festival/taco-domination tournament is back for its 10th year. Celebrate the decade by feasting on a total smorgasbord of tacos, including offerings from the top four bracket picks: Sonoratown, Bierriea Gonzalez, Tacos La Unica, and Macheen.
Friday, May 3 - Sunday, May 5
The Mayan Theater (Downtown)
It's hard to picture Cinco de Mayo in LA without the absurdity of over-the-top wrestling-and-burlesque-show Lucha VaVoom, and thankfully you don't have to. Lucha's running its tenth annual Cinco spectacular over three days this year, which means three days of chicken-cloaked dwarf wrestling -- and that's not even the best stuff. In other words, buy tickets now.
Saturday, May 4
Rolling Greens (Downtown)
The tequila band's throwing its sombrero into the Cinco celebration with this RSVP-necessary rager, which actually happens on the 4th. Not only will there be free booze, but you'll also get food from Tacos Delta and see a performance from an all-female mariachi band -- just make sure to note that guests must be 21+ to attend.
Sign up here for our daily LA email and be the first to get all the food/drink/fun Los Angeles has to offer.