Beyond The Streets Brings Iconic Street Art to a New Gallery on La Brea
The first exhibition features innovative work from modern graffiti artists and legends in the game, with collaborations, events, and more to come.
Published on 10/5/2022 at 12:08 PM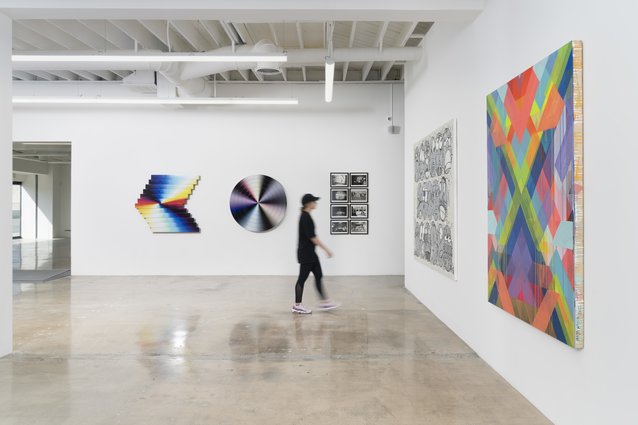 Post Graffiti Gallery Interior | Photo by Yubo Dong, ofstudio photography
There are no placards next to the artwork at Beyond The Streets, the new gallery space on La Brea from Roger Gastman, and that's no accident—this isn't a traditional art gallery. Beyond The Streets is dedicated to showcasing the history and the future of graffiti art, street art, and counter-culture art; the works on these walls are pieces you can live with, art that feels tangible, real, and connected to lived experience. According to Gallery Director Dante Parel, the lack of placards also encourages visitors to ask about the pieces, to start a conversation.
A curator, art dealer, filmmaker, and publisher in the street art space, Gastman started Beyond The Streets as a traveling graffiti exhibition in 2018, taking over warehouses to feature dozens of artists in a massive show with educational experiences, pop-up events, and the publication of art books and prints. The LA brick-and-mortar is designed to serve as a stationary cultural hub for the concept, with two gallery rooms—Beyond The Streets and Control Gallery, a collaboration with Sky Gellatly of the creative agency ICNCLST. There will also be a retail space, a newspaper box for zines and print media, and a series of events that feature both established talent and the next wave of street artists.
Exterior | Photo by Yubo Dong, ofstudio photography
The inaugural exhibition is Post Graffiti, a showcase of five decades of graffiti art, starting with artists who laid the groundwork in the '70s and '80s and moving through the history of the medium until it reaches present day. Today's graffiti artists continue to push the boundaries of the form, from interactive pieces to the use of drones and other new technology.
Featured among the many striking works are two by artist Felipe Pantone from the his "Chromadynamica Manipulable" series, pieces made of interlocking aluminum with UV paints such that they can be spun and slid into different configurations. Each time you look at them they catch a different ray of light, giving an altered perspective on the piece.
There is also work from Compton native Ozzie Juarez, a stunning piece called "Yohua-Tlanēx-tli" which turns ancient Aztec art into a psychedelic and modern work that utilizes water-based enamel, acrylic, flash, airbrush, and even earth gravel on canvas.
Another artwork reflects a collaboration four decades in the making, a combined piece by legendary street artists FUTURA2000 and Kenny Scharf that originally almost happened when they did a combined show in 1982. That link-up has finally come to fruition this year, a fusion of their two styles with spray paint and oil, abstract geometric shapes, and cartoonish faces in bright colors.
L-R Sky Gellatly, Roger Gastman | Photo by Luis Ruano
L-R Sky Gellatly, Roger Gastman | Photo by Luis Ruano
Post Graffiti is only the beginning for Beyond The Streets and Control Gallery. They will rotate shows every seven weeks, a tight schedule designed to highlight the depth of the modern street art scene—there are so many artists worth featuring in this arena.
The first major event is coming up on October 15, a Print Bazaar curated by Ozzie Juarez and his Tlaloc Studios gallery and workshop. The free bazaar will feature dozens of independent zines and other print media, with booths of artists, writers, and publishers set up inside the gallery and spilling out back into the parking lot, along with food from Monty's Good Burger and live music curated by Trust Records.
Retail Space | Photo by Yubo Dong, ofstudio photography
Their presenting sponsor Vista Print is covering a portion of printing costs for the exhibitors, and all of the proceeds will stay with the creators of the prints. This project is close to Gastman's heart, considering he got his start as a teenager in the late '90s after founding the counter-culture magazine While You Were Sleeping. Twenty and some odd years later, he's proud to continue supporting local artists and underground movements.
Beyond The Streets and Control Gallery is located at 434 N La Brea, LA CA 90036.
The gallery and the store are open Wednesday–Saturday 11 am to 6 pm.
Ben Mesirow is an Echo Park native who writes TV, fiction, food, and sports. At one time or another, his writing has appeared in The LA Times, Litro, McSweeney's Internet Tendency, Los Angeles Magazine, and scratched into dozens of desks at Walter Reed Middle School.