What to Do in California When It's Raining
Here's how to enjoy these 10 classic California beach cities even while the weather is wet.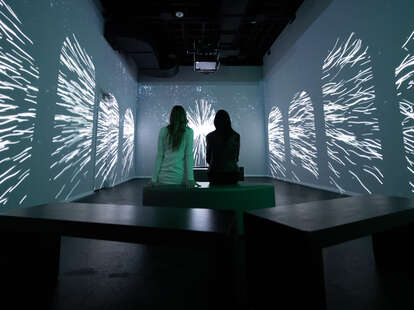 Photo by Tyler Curtis, courtesy of WNDR Museum
Photo by Tyler Curtis, courtesy of WNDR Museum
No sun? No stress! Storms won't dampen the spirits of these central and southern coastal California cities. Even when it might be too rough to surf, there are still plenty of opportunities to appreciate the history, culture, and culinary offerings by indulging in rainy day activities across these 10 towns in California. From San Luis Obispo County to southern San Diego, here are the best ways to still have a solid time exploring while the weather is wet.
Pismo Beach
The Central Coast's Pismo Beach is just as charming in a downpour. With inviting coffee shops like Kraken Coffee near the pier, or numerous wine-tasting rooms, if an adult beverage is more to a visitor's desire, it's easy to find somewhere to settle in and sip. Or, during certain seasons, tour the Chapman Estate. This local but hidden cultural and historical site serves as a private event venue, boasting breathtaking sea views, beautiful gardens, and gorgeous interior architecture and design. Get competitive and feel some nostalgic vibes at Pismo Bowl, a classic eight-lane bowling alley that has stood the test of time for 80-plus years. In fact, it's said to be one of the oldest continually running bowling alleys in California! in downtown Pismo Beach. Visit the Pismo Candle Bar and craft a handmade, one-of-a-kind candle by mixing, matching, and choosing from various scented oils and trimmings. And at Vespera Resort on Pismo Beach on-site restaurant, Pequín Coastal Cocina, it doesn't matter if it's raining outside because indulging in one of this coastal restaurant's "fiesta hour" cocktails feels like a sunny summer day.
Santa Barbara
In Santa Barbara, just because it's raining doesn't mean there's a lack of classic central coast California spirit to enjoy. Explore the legendary State Street and its abundance of shopping, dining, and drink offerings. Step into a welcoming spot on the end of State Street called Dawn Cafe at the new Drift hotel, which serves thoughtfully crafted coffee and tea drinks inspired by SoCal's iconic surf culture. Craving the tropics even when it's a torrential downpour? Visit Test Pilot, located two blocks from Stearns Wharf and the beach. This nautical-themed cocktail bar serves classic, exotic cocktails in a bright, upbeat environment. Nearby, history and architecture buffs will love The Santa Barbara County Courthouse, which is open for free to the public, rain or shine, and showcases a well-preserved example of stunning Spanish-style design elements. There are also a plethora of historic theaters and venues downtown to check in for a show, such as the Arlington Theater, the Granada Theatre, or the Lobero Theatre. Those who would prefer to reconnect internally can dive into a more upscale treatment at one of the city's luxury hospitality properties, like the Spa at the Ritz Carlton Bacara, Santa Barbara, or the Hotel Californian.
Ventura
Some wet weather doesn't dampen Ventura's eclectic surf city spirit. In fact, those pesky storms often usher in some great waves once the clouds clear. During the rough weather, however, you can take advantage of Ventura's plentiful indoor activities. Get lost in the array of thrift stores on Main Street. Explore the city's rich history by visiting the San Buenaventura Mission and the Museum of Ventura County. Dive into some arts and cultural activities with a show at the Rubicon Theater or the Ventura Music Hall. Snuggle up at one of Ventura's coffee brew spots, such as Lovewell Tea & Coffee, which is all about bringing together community rain or shine, or Prospect Coffee Roasters, a bright, family-owned spot with a bustling and friendly atmosphere bound to lift moods no matter the state of the sky. Those who prefer a beer brew can stop into the legendary Topa Topa Brewing Company, which has been a part of the community for nearly a decade, or MadeWest Brewery, which has craft beer offerings. And spirits fans can't miss Strange Beast, a newly opened downtown cocktail bar inspired by the izakayas of Tokyo but with an American rock-n-roll edge, vibrant drinks, and decor that will surely distract from the drab outside weather while sipping on an excellent drink.
Santa Monica
Rain in Santa Monica might just mean enjoying an equally uplifting alternative activity indoors. Cooking fans should visit The Gourmandise School, which offers budding chefs hands-on pastry, baking, and cooking classes for all skill levels. Or grab a warm cup of coffee! From the famed Third Street Promenade to the boutique-lined Montana Avenue, there are dozens of coffee shops to explore, including the vibrant La La Land Kind Café, known for its colorful lattes. And since it's never too dreary for a good beer, craft brew lovers can grab a cold one at Santa Monica Brew Works, which serves a collection of California-inspired beers like the PCH Golden Chocolate Porter or the 310 Blonde Ale. Finally, the wet weather can also be a perfect excuse to relax in a warm spa. Try Alchemie Spa, which offers massages and cleanses. And even though it's not LA's famous outdoor hiking weather, fitness fans can check out Exhale Santa Monica fitness spa & gym, which is tucked into within the upscale Fairmont Miramar Hotel and Bungalows property and hosts an array of fitness classes and indulgent spa opportunities.
Laguna Beach
When it rains in the Orange County artists's enclave of Laguna Beach, it just means the opportunity to enjoy the town's free-spirited indoor offerings. Galleries are always open, rain or shine, and the Laguna Playhouse is a great spot to hang out if there's a show happening. Those interested in diving deeper into the art world can step into the Laguna Art Museum, one of California's oldest museums focusing explicitly on featuring California artists. Holistic healers should visit the Chakra Shack, a woman-owned business focusing on wellness and spirituality that sells crystals, jewelry, incense, essential oils, tarot cards, and more. Next, warm up with coffee or tea at a spot like Tea and Turmeric. It's one of the only loose-leaf tea stores left in southern California and sources leaves and spices from all over the world to create in-store blends. And whether it's raining or not, the second-story bar Rum Social—nicknamed "The Treehouse"—feels like a summer vacation abroad and boasts some of the best cocktails in Orange County.
Newport Beach
Newport Beach is a hotspot for SoCal spirit even when the skies are gray. This Orange County city hosts several indoor attractions, such as the Orange County Museum of Art. Featuring a lineup of impressive works concentrating on art produced during the 20th and 21st centuries, the museum was founded by women more than 60 years ago in 1962. Dine on some local cuisine at A&O Restaurant & Bar, where the Instagram-worthy food and drinks are as impressive as the views of the docked yachts outside. Go shopping at one of the town's several shopping centers, such as Fashion Island, which offers fantastic, upscale retail outlets and also an enormous movie theater for indoor film indulgences. Newport Beach also boasts an impressive collection of spas and wellness centers to kick back, relax, and unwind in, such as the lavish, highly awarded Spa at Pelican Hill or the 14,000-square-foot SPA VEA at the brand new VEA Newport Beach. Or, for those who want to reconnect with their inner child, you can check out the Balboa Fun Zone Arcade & Game Room, which dates back decades of history and has always invited a competitive spirit hyped up with old-school games like Skee-Ball.
Dana Point
Rain or shine, Dana Point is America's only Whale Heritage Site and the Dolphin & Whale Watching Capital of the World, and because the whales don't seem to mind if there's water falling from the sky, businesses like Dana Wharf Sportfishing and Whale Watching and Capt. Dave's Dolphin & Whale Watching Safari run tours year-round despite the wet weather (with the captain making the decision based on the safety of the voyage and its guests). Indoors, have a mindful yoga session iHeart Yoga Studio which hosts classes for all skill levels, from yin and vinyasa flow to cardio sculpt. Those who want to learn about surf culture can enter the Surfing Heritage and Culture Center, home to some of the world's most valuable archives of surfing artifacts, surfboards, memorabilia, and educational materials from across the globe. Beer lovers can stop into Station Craft Brewery, which boasts nearly 20 of their own beers on tap alongside a selection of ciders, wines, and cocktails. Grab a bite at Outer Reef, and get some fresh West Coast seafood while having the unique experience of dining next to a 1,000-gallon shark tank.
Oceanside
It's almost always 70 and sunny in Oceanside, a north county San Diego city known for its laid-back surfer vibes and legendary tacos, beer, and pier. But when the weather is too rough for catching a wave, active locals and visitors needn't be deterred from breaking a sweat with a visit to Vital Climbing Gym Oceanside, which is a fun way to push fitness to "new heights." Or, anyone can connect a more primal version of themselves at AxeVentures, the local indoor axe-throwing experience. Oceanside is also a mecca for epic sips. From breweries to wine-tasting rooms, to coffee stops to tea shops and distilleries, it's a great way to keep up with it all is the free O'side Sips passport program which won't limit your explorations to just one spot. Go to Communal, which serves a complete craft coffee and drink menu in a fresh, creatively designed space featuring a styled lounge with comfy leather couches and a welcoming communal table. And those seeking a sheltered spa experience should visit Sunny's Spa and Beauty Lounge at the Seabird Resort, which offers numerous revitalizing treatments in a bright, immersive space with walls painted in vibrant yellow and light white, bringing the sunshine indoors.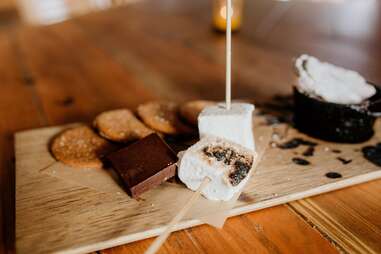 Carlsbad
In the North County San Diego city of Carlsbad, dreary days just mean it's time to get cozy indoors. Visit the Museum of Making Music. It's easily one of the underrated museums in California, hosting an array of exhibits and interactive displays made to learn about the history of musical instruments in America. Next, spend time exploring the charming shops and businesses of Carlsbad Village. Craft lovers will love Candle Bar or Handled Pottery, where visitors can unleash their artistic energy and make a creation to bring home as souvenirs. Wind down by stopping into Pure Project, a brewery designed to feel like a neighbor's familiar front porch serving craft beers in an equally welcoming setting. Wine won't be left behind, either. Carlsbad's location of The Carruth Carlsbad, a tasting room with a mellow environment and excellent wines, is one of the business' five tasting rooms sprinkled across San Diego. Eat dinner at Campfire. Famed for its broccoli, of all dishes, the restaurant uses the freshest local ingredients to offer guests a homey dining experience.
San Diego
In the urban oasis of San Diego, there's always plenty to do, no matter the weather. This southernmost California city's bustling food and beverage scene makes room for an enticing way to spend time indoors: eating and drinking. It's easy to spend hours on hours at Neighborhood. The comfy bar is sans windows, so you won't even have to see the raindrops outside as you dine from a menu of a constantly changing lineup of dishes spun off worldly pub classics and drink from curated taps that focus on featuring rare beers from small producers. Or, stop by WNDR Museum, which features more than 20 multi-sensory exhibits that offer visitors an immersive way to interact with various inspiring digital art installations. Those wanting to treat themselves can indulge in a spa experience at Spa Pendry at the Pendry San Diego, which is located in arguably the trendiest neighborhood in the city, the Gaslamp Quarter, giving spa-goers a chance to curl up in a cozy treatment room and ignore the outside weather for a while.
Sign up here for our daily LA email and be the first to get all the food/drink/fun Los Angeles has to offer.