Ditch the Coffee Shop, and Work at These More Exciting LA Places Instead
If you're a freelancer, screenwriter, or aspiring actor (so, if you're most people in LA), you've likely logged plenty of hours in coffee shops around LA. And while there's a handful of spots that are actually conducive to posting up all day (i.e. more than one outlet, free Wi-Fi, decent parking), who says your freewheeling work hours have to be limited to a coffee shop? Why couldn't there be some ridiculous rooftop where you could work, or maybe a breezy garden patio instead? Well, you're in luck. We tracked down the best coffee shop alternatives for those days when you're ready to trade in your soy cappuccino for a change of scenery. Welcome to your new office.
Playa del Rey
Right off the beach in Playa del Rey, this place has all the essentials to get some serious work done, even if you have to work through breakfast, lunch, and dinner. Owned by Top Chef alum Brooke Williamson and her husband/co-chef Nick Roberts, the multi-purpose space features complimentary Wi-Fi, abundant seating areas, and even outlets hidden under the booths at Dockside (the seafood-centric dining space). Start with a fresh-squeezed smoothie at King Beach, where you can also nosh on a casual lunch on the outdoor picnic tables, and then visit Small Batch for an afternoon ice cream or a beer float (Maui Coconut Porter & Coffee Ice Cream), just sayin'. You can also migrate to Dockside's spacious patio from 11am-5pm as long as you buy something to eat or drink. Once you've finally wrapped the work day, treat yourself to a stiff drink at Grain, the adjoining whiskey bar.
West Hollywood
This might be one of LA's best kept secrets... until now. Don't be distracted by all the flashy furniture; it's what's upstairs that counts. Walk up three floors until you lose your breath -- not because you need to step up your workout game (though there's that) -- but because of the spectacular panoramic views of LA that are bestowed upon you. You'll emerge onto a 10,000sqft rooftop park complete with trees, shade canopies, and the most luxurious lounge furniture that is just begging for someone to sit on it -- mostly because no one knows about this hidden oasis. But wait, there's more: specifically, a ping pong table AND a pool table, free Wi-Fi, and a killer playlist. The only thing this place is missing is a server taking your drink order. Throw away your coffee, and migrate your work day here. Immediately.
Venice
OK, hear us out: this technically is a coffee shop, but it's also an eco-friendly shoe retailer that has a sweet bohemian-style back patio. There you'll find regulars lounging on the AstroTurf with their dogs, and freelancers with headphones working on couches and chairs. Another reason we love this space? You're allowed to bring in food from local eateries, so you don't have to pack up when you get hungry and then set up shop again.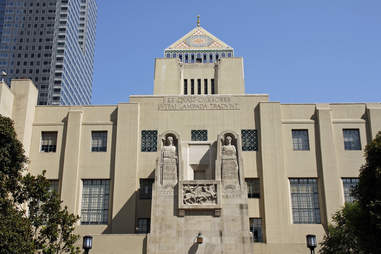 Alessandro Campagnolo/Shutterstock
Downtown
Dust off your library card and head Downtown to check out the impressive architecture and stunning murals painted inside the Central Library's Rotunda. Then find yourself a table where you can get down to business without the chatter of the coffee shop. Bury yourself in books, surf the web for free, and while you're there, sign up for the new, limited-time library cards designed by LA street artist Shepard Fairey. You won't find free parking here, but the library is just three blocks from Metro's 7th St/Metro Center station.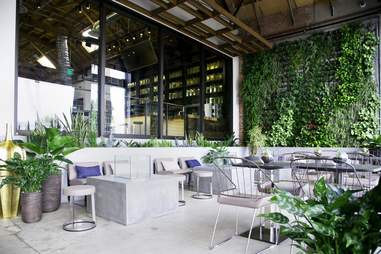 Courtesy of American Tea Room
Arts District
Move over coffee, it's tea time! This stylish and spacious tea room features over 200 rare and exotic global teas discovered during the owner's travels. Browse through the list on the 46in touch screen in the interactive Tea Zone, order from the brunch menu, or sip on a tea cocktail -- if you're able to drink on the job, that is. There's ample seating inside and out, but we prefer the outdoor tea garden oasis, which includes fire pits and a wall of lush greenery.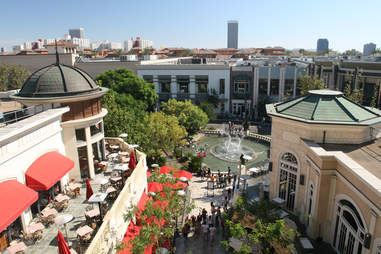 Steve Rosset/Shutterstock
Fairfax District
Thanks to Citi, The Grove offers free Wi-Fi, and, lucky for you, the touristy destination isn't nearly as crowded during the week as on the weekend. Try snagging a table in the park, or head indoors to one of the last remaining Barnes & Nobles in LA (or brick-and-mortar bookstores, for that matter) and finally finish that screenplay you're working on.
Courtesy of Vinoteca
Beverly Hills
This new espresso and wine bar inside of the Four Seasons Beverly Hills is the perfect place to post up. Why? Aside from free Wi-Fi and free valet parking (!!) with validation, you can upgrade your espresso for an aperitivo cocktail at the same counter starting at 11am. It also has an Italian-inspired lunch menu which features montanara (fried pizza dough with toppings), a daily fish menu that is locally sourced from the Santa Monica Farmers Market, fresh salads, cheese plates, and other light bites. Feel like enjoying some California sunshine? Sit on the patio where they have TONS of outlets (a rarity in most coffee shops these days).

Venice
You don't have to spend $48 on a white T-shirt to hang out at this Abbot Kinney retailer. Locals are welcome to use the small side patio equipped with bench seating, outlets, and free Wi-Fi, so you can work on your tan and get work done at the same time. Boom.
Sign up here for our daily LA email and be the first to get all the food/drink/fun Los Angeles has to offer.
Leila Najafi hasn't worked in an office in over five years and finally got tired of hitting up the same old coffee shops. Follow her on Instagram to see what she'll discover next.