A Stunning Modern Art Exhibition Led by LA-Based Artists of Color Opens at SoFi Stadium
"Continuum" features new photography, paintings, neon, and more, contextualizing the artists' lives and connecting them to moments throughout history.
Published on 8/9/2022 at 3:15 PM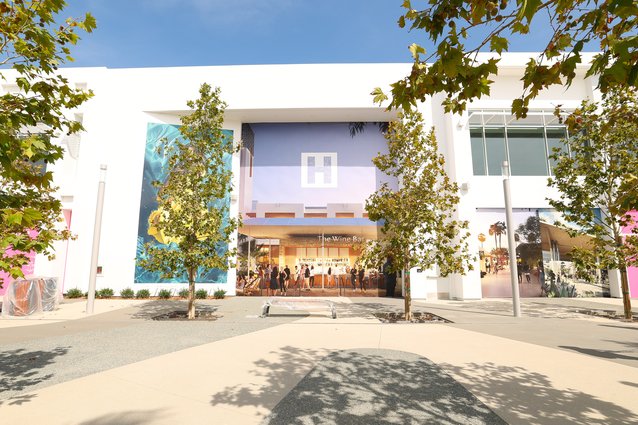 Exterior | Photo by Leon Bennett and Hollywood Park
Walk through the second level mezzanine at SoFi Stadium, past the Hilt wine bar and the Google Cloud suites, sneaking peekaboo glimpses of the turf where the Rams, Chargers, and Kenny Chesney play. Then, when you hit the stand that says 'Salumi,' you've almost arrived; Continuum, the new contemporary art exhibition by LA-based artists and curated by Khalil Kinsey and Rick Garzon, is just ahead.
Continuum displays work from more than 20 artists of color who call LA home, with a focus on new pieces that connect the artists' lives and experiences to history, locating them on a continuum of artists that stretches back centuries and also builds forward into the future. The show is a partnership between The Kinsey Collection, for which Khalil Kinsey is Chief Curator, and Residency Art Gallery, the Inglewood-based organization founded and led by Inglewood native Rick Garzon.
Interior | Photo by Leon Bennett and Hollywood Park
The show includes works by artists who are well established as well as artists who are still early in their careers, including Texas Isaiah, Genevieve Gaignard, Patrick Martinez, and more. Of particular note is a self portrait titled The Necklace by artist, curator, historian, and scholar Haili Francis, a layered oil on canvas piece which shimmers in shades of black and white on a wood-grain background. Here, Francis highlights her braided hair, a style that is a piece of her heritage that reaches back generations, which she displays wrapped around her neck like an heirloom necklace.
Photographer Joseph Louis Sherman, Jr. also has new work on view, a piece called Untitled, D (10 PTS, 10 REB, & 10 AST). Sherman has won acclaim for his basketball photography and even won a ring for it—he was in the NBA bubble in the fall of 2020, photographing the Lakers. This work incorporates that imagery, depicting a Black basketball player with one arm extended, reaching for an out of sight rebound, and splatters it with streaks and splotches of white latex paint, which Sherman applied to the canvas with an actual basketball. It's a striking work, and as Sherman explains it, it's a commentary on white profit off of Black bodies and Black labor. It takes on extra significance hanging here, in a magnificent gallery show of Black art, on a mezzanine in the football stadium that Stan Kroenke built.
Untitled, D (10PTS, 10 REB, & 10AST) by Joseph Louis Sherman, Jr. | Photo by Leon Bennett and Hollywood Park
Untitled, D (10PTS, 10 REB, & 10AST) by Joseph Louis Sherman, Jr. | Photo by Leon Bennett and Hollywood Park
Continuum is part of a larger display of The Kinsey African American Art & History Collection, a traveling exhibition of art and primary source historical objects that help tell the story of African American history and culture over the last 400-plus years. The works and objects on view at SoFi are moving and powerful, with inspirational quotes on the walls and an array of artifacts—from a photograph of an all-Black fire department to the World Series ring worn by the first Black umpire in Major League Baseball, and a stunning collection of artwork from artists like Ernie Barnes and Artis Lane. By placing history and art side-by-side, The Kinsey Collection codifies this African American as part of historical record. The fact that it contains so much new or underexplored information plays on one of Khalil Kinsey's recurring refrains: they don't teach this stuff in school.
Continuum is not the only new art at the SoFi Stadium complex, though. Across a lake of asphalt from the stadium, the under-construction Hollywood Park Retail Space has unveiled a new series of murals by LA-based artists as it approaches an early 2023 opening. There are new works by Marco Zamora, Alex Becerra, and Alfonso Gonzalez, Jr., which join existing murals and large-scale art pieces around the massive retail, sports, housing, and entertainment development.
Exterior | Photo by Leon Bennett and Hollywood Park
You can see several of the new murals from Prairie Avenue or Century Boulevard. The rest will be available for viewing when the Hollywood Park Retail Space and Apartments opens early 2023.
The Kinsey Collection will be at SoFi Stadium until March 2023, and can be seen during events or through SoFi Stadium tours.
Ben Mesirow is an Echo Park native who writes TV, fiction, food, and sports. At one time or another, his writing has appeared in The LA Times, Litro, McSweeney's Internet Tendency, Los Angeles Magazine, and scratched into dozens of desks at Walter Reed Middle School.