LA's Coolest Work Spaces Put Your Office to Shame
These days, the best modern-day workplaces offer open, collaborative spaces with ridiculous work perks, so you'll never count down the minutes to 5 o'clock again. Forget the water cooler, how about cold brew on tap? Cubicles and corner offices are becoming a thing of the '90s. Some of the top offices in LA feature game rooms, free snacks, and weekly happy hours -- essentially what you dreamed work would be like when you were in college. We've tracked down the coolest offices in LA with jaw-dropping architecture and flashy perks that beg the question, "Working hard? Or hardly working?" Maybe it's time to dust off that old résumé.
Movember
Culver City
Forget to shave that burly beard this morning? Not to worry. At the Movember offices, you can trade your office chair for the barber chair (though most of the dudes in this office sport a handlebar 'stache or some form of fuzz -- which is pretty much required come November -- so maybe just a trim). The entrance to the office is, in fact, a real barber shop -- open to the public on Monday - Wednesday from 11-7pm and Thursday & Friday from 12-8pm. And no, this is not a testosterone-only zone. There are women (called Mo Sistas) who are also on a mission to save the, um... nuts by addressing men's health issues, including prostate and testicular cancer. If the floor-to-ceiling mirrors or ballet barres aren't a dead giveaway that the space is an old dance studio (previously owned by Debbie Allen), then maybe the shiny disco ball in the middle of the high-beamed space is, which gives a whole new meaning to "Meet me on the dance floor." And don't worry about dashing out to catch the tail end of happy hour, because at Movember, there's a fully stocked, built-in bar, so you can pour yourself a stiff one and drink with your Mo Bros and Mo Sistas during the official Thursday happy hour or First Fridays, a nod to the Venice street festival, where they invite the community to join for a drink.
Hulu
Santa Monica
There are 900 Hulugans, as they're called, that get to call these stylish digs their office. We'd like to think of it more as indoor summer camp for adults -- beer on tap, arcade room (separate from the billiard room), massage room, and a screening room -- all of which makes it hard to believe people actually get any work done here. Adding to the whole "are-you-actually-working?" mystique is the fact that everyone's always on vacation -- these Hulu-gans are granted flexible paid time off (let me repeat...U-N-L-I-M-I-T-E-D vacation days)! They're also well-fed, with a rotating list of local favorites like Seoul Sausage offered on-site everyday at a discounted price; and well-rested, as all employees get a $40/month wellness stipend and a monthly opportunity to book a complimentary massage with the on-site masseuse. Free Hulu subscriptions are an obvious perk, but how about a private screening room where you can watch the latest Hulu shows? Are you feeling the office envy yet?
Edmunds.com
Santa Monica
You may not think an online car-shopping site would rank high on a list of the coolest headquarters, but the "EdQuarters" -- as the Edmunds offices in Santa Monica are known -- are anything but boring. The 143,000sqft state-of-the-art space is furnished with classic cars and parts, including the 1948 Cadillac Fleetwood that has been repurposed into a bar, and a 6,000lb installation of Corvettes from 1966 and 2016 hanging above the reception area. The futuristic-style office is conveniently located just two miles from the beach, but you can also check out over 160 sea creatures in their two 600-gallon saltwater fish tanks. They also have a well-equipped game room with foosball, air hockey, and video games, and if you really feel like letting out your inner child (or if you're just feeling lazy), you can take the 32ft stainless steel slide down to the first floor.
Laurel & Wolf
West Hollywood
It's only fitting that the online interior decorating service has an office that looks like an Architectural Digest spread. The three-story, 11,000sqft creative space in the West Hollywood Design District could easily be mistaken for a home -- the kind of home you aspire to have when you're adulting. The conference rooms look like dining rooms, and the nine breakout rooms feel more like living rooms. And no enviable LA home (err, office) would be complete without killer views, so employees can head to the rooftop garden when they want to take in views of the hills or just stock up on some vitamin D. While perks include monthly catered lunches and discounts at nearby Melrose retailers, employees also receive complimentary Laurel & Wolf packages (so maybe you can finally say goodbye to the IKEA couch you've had since 2007). Oh, and once a month, there's a fun, offsite team gathering that you actually want to attend, with themes like the White Trash Bash.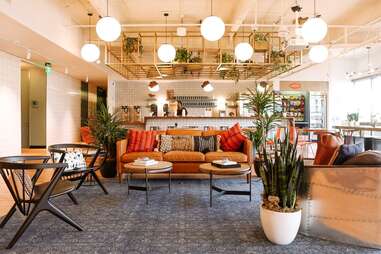 WeWork
Pasadena
Freelancers, startups, and entrepreneurs everywhere are giving up their offices to move into co-working spaces to share their daytime quarters with a like-minded community. At WeWork's 12 SoCal locations, members get access to the entire network through their app. This particular co-working space is inside one of the tallest buildings in Old Town Pasadena and takes over two entire floors, which overlook the mountains and feature tons of natural lighting. The unique, pet-friendly space has all the amenities you need to get sh*t done: fresh micro-roasted coffee, a kitchen, private soundproof phone booths, printing and conference rooms, access to weekly curated events, and the building's yoga studio. Namaste.
TOMS
Playa del Rey
The charitable shoe company not only has its flagship store on Venice's Abbot Kinney, but they're also headquartered in nearby Playa del Rey. There's always something brewing throughout the Western-themed office, whether it's their own freshly roasted coffee beans at the bar, a game of foosball, or employees skipping the elevator to take a ride down the slide -- the office is nothing short of one big playground. Feel-good mantras and inspiring words like "Coffee For You, Water For All" are painted on rustic walls throughout the space, and when employees get tired of the daily grind, they can head outside to play bocce ball, sit in a tent, or play with their furry friends on the green.
OpenTable
Hollywood
Like any restaurant, the best seat in the house is one with a view. The offices of the online restaurant reservation system were designed to closely resemble the dining experience, including a kitchen, booths and open spaces to encourage collaboration, and feature conference rooms with 360-degree panoramic views of the sprawling city. Walls are adorned with food quotes and photos, and you'll always find snacks and coffee in the kitchen.
Funny Or Die
Hollywood
The halls of the 26,000sqft digital production house for comics and writers is filled with weird props, pop culture posters, and obscene celebrity doodles on the Hall of Fame wall. And then there's Eduardo, the life-sized horse sculpture (gifted by Melissa McCarthy) dressed in costume, greeting you at the top of the entry stairs that no one in the office seems phased by. From ping-pong tables to arcade games and a virtual reality room, the Funny or Die office looks like one big playpen for the staff of 65 full-time employees. They also have weekly live comedy shows on the in-house stage, a vape room, "weekend access to Will Ferrell's garbage," monthly BBQs, and free laughs all day long.
Sign up here for our daily LA email and be the first to get all the food/drink/fun Los Angeles has to offer.
Leila Najafi doesn't work in an office right now, but definitely got a little jealous when she toured some of these cribs. Check out more photos from the office tours on her Instagram and Twitter.