I Went to Disneyland for the First Time -- As a Childless Adult. Here's What Happened.
Juliet Bennett Rylah/Thrillist
Juliet Bennett Rylah/Thrillist
Hello. I am a childless human adult, and I just went to Disneyland for the first time.
To be clear, the magical nature of the so-called happiest place on earth did not escape me as a child. I lived in the often snowy and frigid Midwest, and many of my classmates would depart for the West Coast come spring break. They would return with a tan and Mickey Mouse T-shirts and rhapsodize over the time they had. My parents were hard-working, blue-collar folks, and though we did have our share of vacations, as any middle-class family might, most were staycations. Not a one of them involved Disneyland, a place deemed expensive, hot, and full of interminable queues.
When I finally moved to California, the idea of spending a lot of money to wait in said queues seemed equally unappealing, despite Anaheim being a relatively short drive from Los Angeles. And besides, I had not grown into the kind of person who retained that much nostalgia for Disney, even though one of my favorite musical genres is Disney Villain SingsSly, Oddly Sensual SongIn Attempt To Beguile HeroInto Trusting Them. That is not to say I am too mature for Disneyland; I just prefer theme parks where monsters will chase you through the fog with chainsaws. I also have decided not to have any children, so I have no tiny creature begging me to take them to Disneyland. Yet slowly, I began to notice that nearly everyone else loved Disneyland -- even fellow adults who purportedly enjoyed Halloween and Norwegian death metal.
So, a couple weeks ago on January 3rd, I went to Disneyland for the first time ever.
I brought with me my friend, Noah Nelson. Nelson runs a podcast called No Proscenium that discusses immersive theater. We met because I love Halloween and he loves immersive entertainment, and somewhere in the middle, those two things often meet. And Nelson, I knew, loved the very immersive Disneyland. He is also someone I knew I could spend an entire day with and not get annoyed, and who would probably only be medium annoyed by me complaining, which is a thing I enjoy doing. I mean that sincerely: I like to complain. I find it soothing.
We got to the park at about 10am and took the tram in from the Mickey & Friends parking lot. It was a slightly chilly and overcast day, with gray skies and temps in the 60s. We were in a line with several annual pass holders, as the 3rd was the first day open to them after holiday blackout dates. As such, it was one of the most crowded days of the year. Many people wore Mickey ear headbands and Disney jackets with patches, and lanyards with carefully collected pins. Some of them were bummed that today was the first day that the beloved Tower of Terror -- the Twilight Zone-themed dark ride supposedly based on the Hollywood Tower apartment building -- was closed forever, soon to become some Guardians of the Galaxy attraction that not a single person seemed to be excited about. We spent 12 total hours at the park. Here are my adult observations: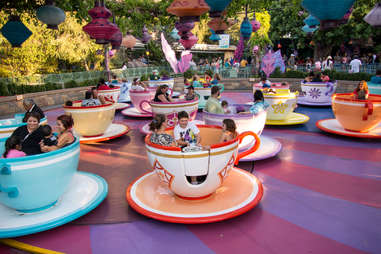 Not having children at Disneyland is not inherently weird
It's even less weird than being the person that goes to Chuck E. Cheese just to play arcade games. And honestly, Disneyland really does seem like a place for all ages. There's a lot of nostalgia, plenty of things to do that aren't kiddie rides, and you can drink there. There were only two moments where I felt like I was out of place.
We hopped in the single-rider line for the Radiator Springs Racers ride in Cars Land, which is an attraction I was particularly interested in because I had read an article about Jon Hale, a man who, as of November 2015, had ridden Radiator Springs Racers 5,096 times and was working towards his ultimate goal of 10,000 times. As luck would have it, I spotted Hale getting his photo taken with one of the Cars Land cast members while holding a sign that read 8,400. Getting close, Hale! Anyhow, being in the single-rider line means you get separated from your party and put in whatever next car has room. On this ride, Nelson and I wound up in different cars and I ended up with only children. Two petite sisters, perhaps ages 7 and 11, shared the front seat of our 'car' with me. The ride was one of the better ones I tried as the sandstone scenery that surrounded the 'race' is quite fetching, yet the entire time, the idea of being this tall adult sitting next to a bunch of children in a pretend car was mildly humorous and slightly embarrassing.
The second time occurred in the bathroom of the Carthay Circle bar, where a young girl of maybe 5 asked me if I would take off her long princess dress so she could go the bathroom. I wasn't even sure what she meant -- perhaps the skirt detached and she had leggings on underneath -- but my response was essentially, no, never, not if a thousand lives depended on it. I was not going to be the adult helping a strange child remove her clothes in a public restroom. I asked the child where her parents were and she said her dad was in "the boy bathroom." I stepped outside the door and spotted a man patiently waiting, and asked if he was the girl's dad. He did not think it was even slightly unusual that I would refuse to help his child with that particular issue and said he'd contact her mother. I then ran away, never to return. Then I spent the next day pondering what a weird society we live in, where no one questions an adult's reluctance to help a kid do something totally benign.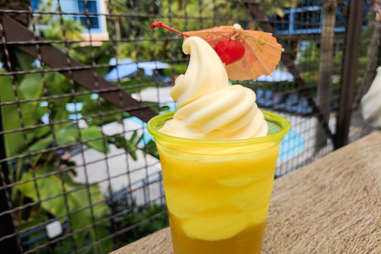 Dole Whips are delicious
While I found the chicken tamales I ate at California Adventure and the $8 slice of pizza I consumed at Pizza Port while waiting to go on Space Mountain -- I'm sorry, Hyperspace Mountain -- to be just OK, the Dole Whips really lived up to their reputation for me.
Drinking at Disneyland is fun
And, unlike the food, not actually that expensive if you are used to paying for drinks in Los Angeles. A Dole Whip with rum, which can be acquired at Coffee House near the Disneyland Resort, is only $8.95. It is the quintessential Dole Whip, with its surprisingly creamy non-dairy soft serve and pineapple juice, plus a shot of either Myer's or coconut rum. (I chose Myer's.) I greatly enjoyed consuming it as we looked over the hotel pool and marveled at a splashing child's constitution. Remember being a kid and always insisting it wasn't too cold to go swimming, even when it was? We also stopped off for drinks at Carthay Circle in California Adventure, where the bartenders will allow you to watch as they turn a block of ice into a perfect sphere using a machine that costs several hundred dollars and only does this one, specific thing. The end result is pretty and perfect ball of ice that chills the cocktail without watering it down. Get it in the Manhattan, a high-end one, with Bulleit Rye small batch American whiskey, Carpano Antica sweet vermouth, Angostura bitters, and maraschino cherries. Also, the ice sphere is made of "locally-sourced purified water," in case you were wondering. Our third and final drink of the day was consumed inside the lovely and ornate Grand Californian Hotel, where we grabbed drinks from the Hearthstone Lounge and sipped them huddled behind a giant gingerbread house while enjoying the tunes of a nearby player piano. I highly suspect a steady, yet not excessive drip of alcohol and coffee made the constant stroller dodging and waiting-in-lines bearable.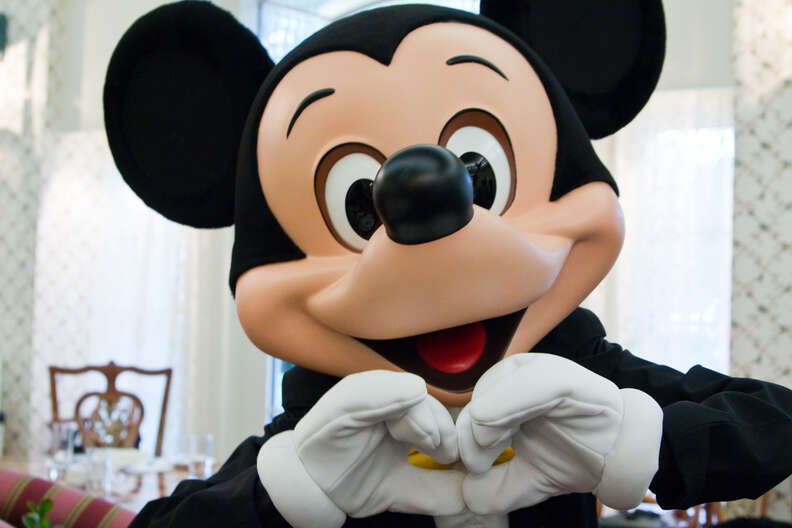 I never saw Mickey once
I did see a princess I did not recognize as well as a chipmunk, though because he did not have clothes on, I couldn't tell you if it was Chip or Dale. Nelson pointed out that one of them has a gap in his teeth, but the chipmunk turned away too quickly for us to check. (Rescue Rangers was definitely my favorite Disney cartoon show as a kid.)
Everyone was very polite
At least those who worked at the park. I am used to really gruff music festival and convention security guards that constantly yell at you -- which is typically fine by me, to be honest -- but I was surprised by how genuinely helpful and amicable many of the people we spoke to were. Nelson had an issue with his ticket where he couldn't get a Fast Pass, and everyone we spoke to was efficient and helpful. If only Comcast could be like Disneyland.
You know, a lot of Disney stuffed is pretty f*cked up
I know it's something of a cliché to be an adult looking back on childhood entertainment or beliefs and realize they were pretty bizarre. For instance, millions of kids think a man in a red suit who can watch them when they're sleeping is going to judge them every December. Disney is no different. My favorite Disney flick as a kid was about a mermaid who forsakes her family and kingdom and sells her voice to a sea witch so that she can grow legs, marry some dingus, grow old, and die. When she expresses some concern about selling her voice, the sea witch successfully convinces her that men don't even like it when women talk! I also realized that I watched, in grade school, a film about a weird, old man who pays a cat and fox to kidnap young boys -- even if they used to be talking puppets -- and deposit them on an island literally called Pleasure Island where they basically go on some kind of and turn into donkeys. Also, a minor character in that film is a sexy goldfish, if I remember the cartoon correctly.
That said, The Pirates of the Caribbean ride is also pretty strange, right? My first introduction to that entire theme or franchise, if you will, was via the Johnny Depp film, which I saw in a movie theater as a kid for someone's birthday. I was expecting lots of swashbuckling and skeletons, and the ride didn't disappoint there. I loved the effect of the ship suffering the storm, as well as the tableau of the skeleton pirate lounging in bed beneath a mounted skull and crossbones. (I once read that many like to claim that the mounted skull is a real human one.) What I did not expect was the odd trip through some port town where everyone was drunk. The strangest thing of all there was the part where -- right after you watch a man being tortured by being dunked headfirst into a well -- there is a group of kidnapped women being auctioned off as wives. "Take a Wench for a Bride," a sign reads. Their wrists are bound with manacles! They're tied together in a line! The auctioneer asks the bride-to-be on the auction block to turn around display more of her body to potential buyers. I get it. They're pirates. They pillage. They carouse. But, I thought this was for kids!
When I told Nelson about how weird I thought that portion of the was, he pointed out that at the end of Mr. Toad's Wild Ride, you die and go to hell.
Anyhow, it turns out that the Pirates ride opened at Disneyland in 1967, before later opening at several of the other Disney-owned parks around the world, and the auction scene has remained largely unaltered this entire time. However, there have been other changes to the ride. A woman who used to hide in a barrel from a perverse pirate has been replaced by Jack Sparrow, and that pirate has been replaced with one who is in search of a treasure map.
I get why people are obsessed with The Haunted Mansion
A lot of the adult Disney fans I know have a soft spot for the Haunted Mansion, a dark ride that whisks the guest through an old Victorian mansion full of dancing, cackling spirits. Even though our trip found the Mansion fitted with the seasonal Nightmare Before Christmas overlay, the attention to detail was still impressive. The scene where the rider looks down to see apparitions ballroom dancing in unison was quite enchanting. The Hatbox Ghost is so simple, yet clever. I think this ride -- which was the first I went on via a Fast Pass -- and my first espresso of the day set me up to be in a good mood. (If you want to know how obsessed people are with the Haunted Mansion, check out Foolish Mortals, an upcoming documentary by filmmaker James Carter about the Mansion's biggest fans.) Would I wallpaper my house in Haunted Mansion wallpaper? Maybe.
Phones are funny
I sort of wonder what it was like to be at Disneyland and see the majesty of Cinderella's castle before it rose out of a sea of illuminated smart phones. I am not one of those people who dislikes smartphones; I rather enjoy the ability to be able to capture memories so efficiently. But just think of all those identical photos, taken at the same moment, by hundreds of strangers. No, I am not high right now.
You don't have to wait in nearly as many lines as everyone says
Like I said, we spent 12 hours at the park. In those 12 hours, we went on five rides. Two of them -- Haunted Mansion and Space Mountain -- we had Fast Passes for, truncating our wait time from two hours to a matter of minutes. The other three rides we went on, we waited in line for with everyone else, spending probably about 2.5 hours total in lines. It seems like if you're there for the ambiance and in the company of people you like, you can find a lot of things to do that are not rides and still have a decent time.
It was very easy to go to the bathroom
I never waited in line once! This, to me, is very important as an adult. Especially because I drank a lot of coffee. And whiskey. These are the kinds of things that impress a grown-up, I suppose.
I am rotten to the core
There's a room in the Beast's Library (found inside the Animator's Workshop) where you can answer a series of personality questions and be assigned a Disney character. I said I preferred eating nice people for lunch over eating lunch with nice people -- why not? -- and was assigned Maleficent. I guess Hannibal Lecter is not a Disney property. Yet.
Star Wars!
See, as a kid, I outgrew most Disney things by the time I was 10-years-old. That's because that was about the time my dad decided we should watch the Star Wars trilogy, and from that point on, I was a dedicated Star Wars fan. Now that Disney has acquired the IP, it's lovely to see so much Star Wars stuff! This is capitalism at its finest, folks. We spent a great deal of time convincing ourselves that we didn't need Imperial Comlink Bluetooth communicators, ashtrays depicting the Cantina as a mod discotheque, Boba Fett hoodies, TIE Fighter bubble blowers, and so on. And I certainly don't need every item with that dreamy Mads Mikkelsen's face on it, no, sir. Do I want to go back when Star Wars Land opens? Well, yeah.
We went on two Star Wars rides: Star Tours, during which we went on an adventure to Hoth; and Hyperspace Mountain, which was a pretty fun medium-thrills coaster. I also think it was within the Star Wars areas of the park where I found that nostalgia that some people might feel for childhood trips to Disney or favorite Disney films.
People just don't know what walkways or doors are
They are access points. They are not where you stand and look at maps or discuss what ride you're going on. Why is this so hard for some people? See, this is the sort of thing that this curmudgeon loves complaining about. I complain about this in Larchmont Village a lot.
A good amount of adult disappointment and low expectations is the recipe for a good time
When you're a kid, everything is poised to be the best. You think you're going to marry the love of your life, get that dream job as an astronaut detective who is also a movie star, move into a big mansion in the Hollywood Hills, and possibly live forever thanks to technological advances you can't even begin to comprehend. I think that could be why you see so many children having meltdowns at theme parks. They were going to ride every ride, have a heart-to-heart with an anthropomorphic mouse, and it was going to be the best day ever -- and then it wasn't. It was just a pretty good day, and that breaks their little hearts.
But, as stated, I'm a grown-up. I graduated college into a recession. I've caught my partners in lies that shattered my heart. I've held boring jobs where I've been micromanaged by people with less experience and seniority until my ambition withered and died. I've lost competitions, my car keys, my phone, elections, and people I loved. I've had disappointing New Year's Eves and depressing birthdays. I don't watch fairytale movies; I watch the news. I'm not worried about having the best day ever. I just want to have a medium day with a good friend, and if there are moments of magic, then that's a success. And that's what I had at Disneyland: a medium-plus time. I had a good guide who knew how to navigate the park -- crucial -- and who babbled with me about stuff we like (Star Wars) in lines. We did some cool shit. We ate some OK food. We had some good drinks. We got to pretend we were X-Wing pilots fighting a Star Destroyer, just like when we were children. We both got to take the day off from work and hang out with a bunch of cranky kids and tourists at the happiest place on Earth. And it was sort of great. Would I go again? Sure, but give me six months.
Sign up here for our daily LA email and be the first to get all the food/drink/fun Los Angeles has to offer.