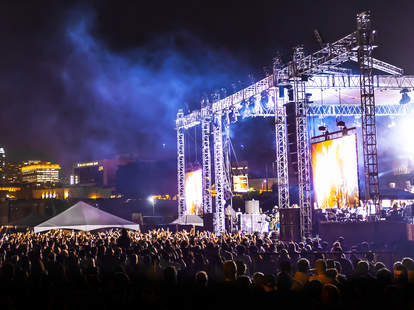 Everything You Need to Know to Rock Out at FYF 2016
Tod Seelie for FYF Fest
No longer confined to The Echo or the alley behind now-defunct Sea Level Records, the fest--much like Rams fans -- now sprawls out across the grassy lawns and parking lots of Exposition Park and inside the historic Los Angeles Sports Arena near USC, just southwest of downtown L.A.
Much of the FYF Fest now takes place on the lawns surrounding the Los Angeles Memorial Coliseum, a stadium built to honor WWI vets, and which over the years has hosted two Olympics, numerous sports teams, and the first Super Bowl.
The adjacent Sports Arena -- which will host many of the big acts of FYF indoors -- has been used by nearly every basketball team in town, political conventions, boxing legends, Wrestlemania, and every major musical act imaginable.
The 160-acre site also includes the Natural History Museum, the California Science Center, and the California African American Museum. All of this is to say, the Exposition Park grounds have seen some serious crowds and are a prime spot for FYF.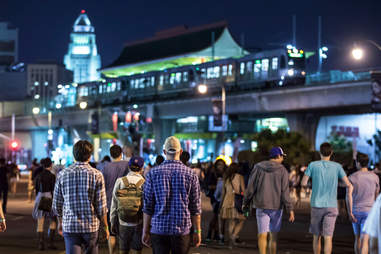 Gabriel Olsen/FilmMagic
Unless you go to USC or live in the immediate vicinity of Exposition Park, getting to FYF Fest is likely to be a journey. Thankfully, given the location's proximity to a Metro station, bike paths and two main freeways, you're like an early employee at a tech startup: you've got options. Besides, think what a great reward the festival will be after making the crosstown trek.
LA Metro
Yes, Los Angeles does have a subway system. Not only that, but it's clean, efficient, and -- depending on where you're going -- way less of a hassle than driving. Lucky for you, the Metro has an Expo Line station right across the street from Exposition Park – the eponymously named Expo Park/USC station. With the recent expansion of the Expo Line all the way to Santa Monica from Downtown L.A., taking the Expo Line is even more convenient than ever.

If you're coming from Points West, you can take a bus, share a ride, walk, or bike (you can also take your bike on designated trains) to the closest Expo Line station, head east and exit at the Expo Park/USC station.

If you're near a Red Line station, take the train to 7th Street/Metro Center and transfer to the Expo Line and exit at the Expo Park/USC station.

If you're near a Purple Line station, take the train to 7th Street/Metro Center and transfer to the Expo Line and exit at the Expo Park/USC station.

If you're near a Gold Line station, take the train to Union Station, transfer to the Red Line, then transfer to the Expo Line and exit at the Expo Park/USC station.
Driving & Rideshare to FYF
While we'd generally suggest that you avoid driving to the festival to save yourself the hassle of traffic and parking, prying the steering wheel away from some Angelenos is near impossible. If that's you, you'll find your options below, and you'll also find pretty ample parking at the venue. Alternatively, you could also take an Uber or other rideshare service, just be prepared for a bit of a surge and terrifying frenzy for return trips when leaving the festival at the end of the night.

Coming from the Westside – Take the 10 eastbound, exit at Vermont Ave. and head south to Martin Luther King Blvd. and follow signs to festival parking.

Coming from the North -- Take the 101 South to the 110 South and exit at Martin Luther King Blvd., head west past Figueroa and follow signs to festival parking.

Coming from the South – Take the 110 North and exit Martin Luther King Blvd., head west past Figueroa and follow signs for festival parking.

Coming from the East – Take the 10 westbound, exit to 110 South, exit Martin Luther King Blvd. west and follow signs for festival parking.
Biking & Walking to FYF
While you can't knock a good stroll to enjoy some fresh L.A. air, unless you live in nearby Exposition Park, we suggest saving your energy for tromping around the festival.

Riding your bike to the festival is, on the other hand, a pretty great option, just be prepared to get a bit sweaty even before you start doing embarrassing, sweat-inducing dance moves. There are a fair amount of bike lanes coming from most directions around Exposition Park/USC and once you arrive at the festival, they promise safe and ample parking for your bike.

If you don't own a bike, but still want to cruise to the fest, Metro is launching their Bike Share program this summer. Check out their site for details on renting a bike and pick up/drop off locations.
Everett Fitzpatrick for FYF Fest
Where do I get my FYF tickets?
Wristbands function as tickets for the festival and once you pre-order them online, they should be shipped to you around late July/early August. You'll receive a tracking notification email when your order is shipped.

When you receive your high-tech RFID wristband, you'll need to register it online before getting to the festival. Once you've activated your wristband and strapped it on, leave it be. Seriously. The wristband is non-transferable, and if it looks like you've messed with it in any way it will be voided and you won't be able to get into the fest, which would totally harsh your mellow for the weekend. So, don't even think about trying to share it with a buddy for the second day. Treat it like cash -- cash that has been securely strapped around your wrist. Don't let anyone gnaw off your hand for that sweet cash.

Should the band get lost, stolen, damaged or tampered with in anyway, it will have to be replaced by the original purchaser at the festival box office and there's usually a fee involved. So, again, leave it be.
What are my FYF ticket options for the full weekend?
Two-day general admission tickets are available for $199 (plus fees) and provides you with access to the festival, all of the stages, food and drink areas, shade tents and all the places you'll likely be inclined to dance -- which is everywhere, right? You read that inspirational poster.

Those looking for a more luxe experience -- and with money to burn or connections to be used -- can opt for the two-day VIP option for $339 (plus fees). Though at this point, those are sold out, unless you have some sweet connection, in which case bully for you. VIP wristbands give you access to the fancy VIP area with a special beer and liquor garden, exclusive food trucks, private toilets, comfy couches, great sight lines to the main stage and plenty more bells and whistles.

Kids 10 and under get in free, but need to be accompanied by an adult at all times, so don't let those little rockers roam free.
Can I get a single-day ticket to FYF?
The FYF Fest does offer single day general admission tickets ($125 plus fees) for those not interested in the entire weekend lineup or looking to save a few bucks, but those have sold out already.
What can I bring into FYF Fest and what should I leave at home?
Because you're going to want the freedom to cruise around to different stages and areas throughout the day, you're going to want to pack light.

You're allowed to bring in empty water bottles or you can purchase water inside for $2, and in both cases make use of the water fountains throughout the festival to refill. Don't arrive with any liquid of your own, though.

You can also bring in small backpacks, portable phone recharger, earplugs, labeled medical prescriptions. Given that you'll be spending a good amount of the day under the August sun, we also strongly encourage you to bring sunscreen, Chapstick, a hat, and sunglasses, all of which are permitted. And to make things run smoothly, consider bringing plenty of cash money (though there will be ATMs) and an extra layer in case it cools off at night. Less tangibly, bring your patience for the lines.

On the flip side, you're going to want to leave behind any outside food, booze (don't worry, there will be plenty for sale), cameras with detachable lenses. Basically, just keep things simple and you'll be fine.
Where can I stash my stuff during FYF Fest?
Whether you're stocking up on merch from your favorite acts or need a place to store extra layers of clothing if it cools off at night, you're going to want a locker. Really, it's bound to come in handy, so trust us and get one. Lockers can (and should) be reserved ahead of time, and are available in medium and large sizes, as well as a keyless option with passes that cover both days of the festival. Lockers can be reserved
here
.
If you listen to one piece of advice from this article, make it the one about drinking plenty of water. But if you listen to TWO pieces of advice, get a damn locker.
Where should I go once I'm inside FYF?
FYF organizers will release a map of the grounds closer to the dates of the festival, so keep an eye out for that on their site and on social media. The map will help you navigate where to go for food, drinks, all-important bathrooms, shade tents, medical assistance, and merch. And, of course, you'll want to get the lay of the land for the stages, which includes the Main Stage, The Lawn, The Trees, The Arena, and The Woods. Set times and locations of artists will also be released closer to the festival.

Chances are you already have in mind the big headliners that you plan to check out during the festival, but don't sell yourself short on some of the smaller-print acts that will likely blow your mind. So, yes, by all means, get as close as you can to see Kendrick Lamar, LCD Soundsystem, Tame Impala, Beach House, Grimes and Air -- who will be making their first U.S. appearance in five years. But don't sleep on some of the other highlights, you may just find your new favorite band:
Bow down at the altar of the genre-spanning demi-goddess from Jamaica
As one of the festival headliners, Grace Jones may be an immediate draw for some fans, but those on the younger end of the spectrum might not be as familiar with the hugely influential and innovative singer. A trailblazer in the worlds of pop music and fashion for decades, Jones has consistently pushed past cultural norms through disco, reggae, post-punk, new wave and beyond, not to mention shaking up ideas about feminism, gender norms, and sexuality. You'd be hard-pressed to find a musician at this year's FYF Fest that wouldn't credit Jones as a major influence. Bottom line: Don't miss out.
So, Interpol and the Wu-Tang Clan walk into a bar...
Speaking of genre-spanning sounds, this year's most hotly-anticipated debuts is Interpol lead singer Paul Banks and Wu-Tang's RZA as the outfit Banks and Steelz. Their first live show together will be at FYF, which means you'll definitely want to catch their debut so you can say, "I was there." And while their debut rap/rock hybrid album
Anything But Words
won't be released until August 26, we already have the first single
Love + War
stuck on repeat, so expect good things.
Where can I find the heavy guitar riffs?
In recent years, some critics have complained that FYF has strayed too far from their punk and indie origins in favor of more radio-friendly rock, hip-hop, and electronica. But fear not, all ye DIY rockers; this year's fest has some solid options for you to enjoy. From the streamlined, post-hardcore grit of Shellac to the jangly bounce of Black Lips to the mind-melting sonic trips of Explosions In The Sky, you'll have plenty of rocking out to do.
More than just your typical festival set
For a visually-stunning and politically-charged set, you're definitely going to want to carve out time for Hopelessness by Anohni, the lead singer of Antony and the Johnsons. She'll perform the entire album while accompanied by projections of original short films, and using masks and movement for a captivating performance.

And for those latent emo-rockers looking to relive the anthemic angst of their formative years, you'll want to stay where you are while Saves The Day performs their 2001 album Stay What You Are in its entirety.
Where to get your hip-hop fix while you're waiting for Kendrick
We get it, you're stoked to see Kendrick Lamar, and you're likely already planning on catching Vince Staples, but another impressive flow to come out of Compton recently is Boogie, whom you won't want to miss on Saturday. Oakland rapper Kamaiyah, at only 20 years old, has tapped into the style of '90s female rappers like Missy Elliot and MC Lyte, while also making her mark with clever lyricism amidst party anthems. Denzel Curry is another young MC who will keep you on your toes with a lightning-quick flow that will have you reeling to keep up.
Get sweaty and put some soul in your weekend
While there's generally a notable lack of anyone older than 50 on stage at FYF -- Moby is just toeing the line -- Charles Bradley is pushing 70 and his soulful showmanship puts performers one-third his age to shame. After years of performing as a James Brown impersonator known as Black Velvet, Bradley now focuses solely on original material and has drawn apt comparisons to soul legend Otis Redding. You're going to want to be there when he hits the stage.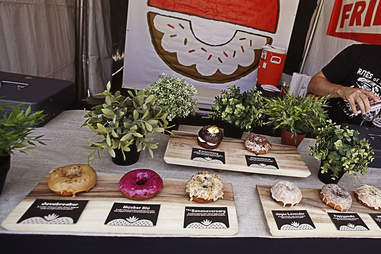 Tod Seelie for FYF Fest
From food trucks to beer gardens, you'll have plenty of options to keep you sated through the weekend at FYF. The organizers won't release specifics on which vendors to expect until later in the summer though, so check back here soon for that line-up. Based on last year's turn-out, you can likely expect everything from poke bowls to tacos, Canter's Deli truck to vegan options. The festival has partnered with Golden Road, so you can expect frosty suds from them, as well as vodka from Texas, which in 2016 sounds like a totally normal thing.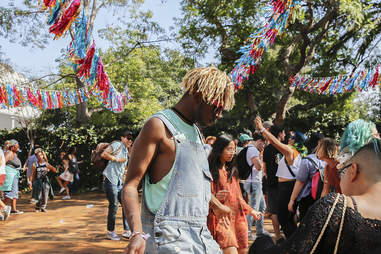 Tod Seelie for FYF Fest
With doors opening at 2 pm and sets that go until after midnight, your weekend will be pretty well-packed. But for those in search of great things to do and eat before and after, we've got you covered.
Where to fuel up for the day
Experts agree: nobody should start a festival day on an empty, uncaffeinated stomach. Fortunately for you, you can choose from some
excellent coffee options
no matter where in town you're starting your day. Though, should you find yourself near the festival in need of a cup, you could head to Grand Central Market for an award-winning cup from
G&B Coffee
and a breakfast sandwich from
Eggslut
(just be ready for a line) or breakfast pasta(!) from
Knead & Co.
Even closer to the festival,
Ignatius Cafe
offers a peaceful oasis in a residential area, perfect for starting the day with a bit of zen.
Lunch before heading inside
If you're looking to grab a bite where there are excellent options for even the pickiest of eaters, bring the crew to Grand Central Market. From old school tacos and pupusas to new school burgers, falafel and more, the options are nothing short of tremendous. If you're looking for a hearty meal and some vintage L.A. charm, you'll want to head to Langer's for some of the best pastrami in town (order #19!) or hit up Philippe's or Cole's for the iconic French Dip sandwich. And what day in L.A. would be complete without a taco? For a twist, you should definitely check out Revolutionario for North African tacos, located just down the road from Exposition Park or the nearby Himalayan House for great vegetarian options.
After-hours dancing and music venues outside the festival
Official after-parties, and possibly pre-parties, will be announced closer to the festival weekend, but in the meantime, you have some other options to explore. If you somehow feel compelled to see more music beyond the festival lineup, you'll want to head over to the recently-opened and Austin-inspired
Resident
in the Arts District for indie acts and a killer patio, or there's
The Hi-Hat
, another newcomer located in Highland Park. And there's also
The Smell
, the gritty and legendary punk venue that is currently threatened with closure. If you're looking to dance away the night, we'd suggest
Honeycut
in Downtown. Or for a very un-clubby dance destination,
Bootie LA
on Saturday night is sure to deliver.
Where to sleep
If you're not local and heading home at the end of the night or crashing at a, um, "friend's" place or some choice AirBnB digs, L.A. offers a range of hotel options. While you could search for the cheapest option, you might want to consider some of the city's
hotels that are cool enough
that even residents might want to consider them.
Shutterstock
Beyond the music, food and drinks, there are plenty of excellent options to explore L.A. during the festival weekend whether you're new to town or lived here your whole life.
Ride a glass slide 70 stories above Los Angeles
For a totally surreal and dizzying view of the city, you're definitely going to want to head up to the new
Sky Slide
, a completely terrifying/exhilarating glass slide 1,000 feet above street level.
Tickets
start at $19 and include access to the observation deck and the slide, a pretty worthwhile investment for a few minutes of sheer terror.
Take a mini-hike that overlooks downtown L.A. and Dodger Stadium
There are lots of sweet,
under-the-radar hikes
around L.A., but if you don't want to stray too far from downtown, while still getting above the fray, Elysian Park is your spot.
Angel's Point
is a relatively easy, 3-mile hike that delivers big on sweeping views of the city as well as a view of Dodger Stadium even many die-hard Dodger fans don't get to see.
Stroll over to the Natural History Museum and the California Science Center
Within walking distance of the festival the NHM and California Science Center are definitely worth checking out before you head inside. From NHM's dino hall and beautiful gardens to the Endeavor space shuttle and IMAX documentaries of the Science Center, both venues are great options to feel like a kid again and set the mood for the day.
Get weird at some of L.A.'s offbeat museums
If you're looking to burn some daylight before the fest and check out some of L.A.'s more bizarre cultural offerings, you have a few options. For those fascinated with the macabre and a strong stomach, the
Museum Of Death
is a must-visit. Or for an unexpected look at the darker side of love and dating, the
Museum Of Broken Relationships
should be on your list. Both museums are in Hollywood and easily accessible via the Metro Red Line.
Wander through an abandoned zoo and see the real stars of Hollywood
A short ride away from the festival (depending on notorious L.A. traffic),
Griffith Park
offers a host of really cool places to explore. From the spooky empty cages and caves of the long-abandoned Old Zoo to the stellar views of the city and the stars above at the Griffith Observatory, there's plenty to check out. Keep in mind, though, the park is
technically
closed from 10:30pm until dawn. You don't want to get locked in with the ghost of a dead panda.
Unwind at a spa in Koreatown
After spending your days and nights trekking around the festival, chances are you're going to want a chance unwind and detox. Even if you're not typically the spa-going type, kicking back at one of
Koreatown's spas
is definitely a worthwhile way to treat yo'self. After sweating it out in the steam room, getting scrubbed down and refueling with some traditional Korean bites, you'll be fully charged to take on FYF the next day and/or purged of all the toxins from two days of rocking out.