Your Essential Checklist for a Real LA Fall
Music Tastes Good
Music Tastes Good
Shh, don't tell the tourists: Fall is actually the best season to be in LA. The weather is more temperate than summer, but the things that make summer in LA great -- festivals, outdoor screenings, and overall fun -- are still in full effect. Plus, Halloween season in LA means the city's costume and set designers are spending their time figuring out how best to scare you, or better yet, create ornate, moody party spots. Get ready for the best fall ever:
Hit the beach
Tourists raid our beaches for summer, but in the fall? In the fall they're all yours, baby. You can park without a line, find a spot in the sun without fighting for space, and enjoy the fact that you live on an actual coast. For once.
Get scared, for real
Of course, you've got all the big-daddy amusement park scare spots: Universal Studios' Halloween Horror Nights (the new Shining maze is horrifying), Knott's Scary Farm, and Magic Mountain's Fright Fest. But LA also has a ton of other Halloween options, including the Haunted Hayride (this year's theme is clowns, for obvious reasons), The Queen Mary's Dark Harbor, and Creep LA, which has proven in the last two years that the effectiveness of its psychological as well as jump-type scares push it to the top of the class (this year, it's based on the Amazon podcast series Lore). And of course, if you're just into the idea of the season rather than the scariness of it all, you can always just hit a pumpkin patch -- they're on, like, every corner.
Rage all day at a music fest
No matter your taste, you've got a summer's worth of high-quality music-fest options this fall, including the Foo Fighters' rock-heavy Cal Jam (October 7); the hip-hop heavy Camp Flog Gnaw the weekend of (October 28-29); the EDM-leaning Dirtybird Campout (October 6-8); and Escape Psycho Circus (October 27-29). If that's not enough for you, Ween and Sleater-Kinney (and a ton of amazing food vendors) top the bill at Music Tastes Good in Long Beach on September 29-30, and The Growlers head up Growlers Six the weekend of October 28-29, with Modest Mouse, the Yeah Yeah Yeahs, and Mystikal all part of an eclectic bill. Who needs Coachella, anyways?
Hang in a harbor
Whether it's Marina Del Rey or Laguna (or, you know, your pick of any other harbor in SoCal), you can rent a paddleboard or small boat and chill out for a bit on the water.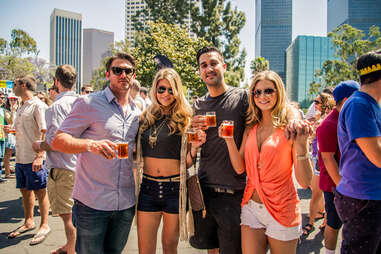 Stuff your face at a food fest
Options this fall include the seafood-heavy Off The Hook festival on the Santa Monica Pier on October 14, Taste of Soul on October 21, and the fall edition of the LA Beer Fest on September 30. (Yeah, there'll be food there, too.)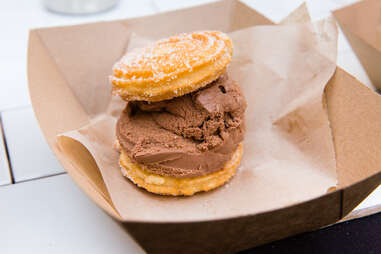 Gorge yourself on local food
The fall's definitely the best time to hit Smorgasburg, the Downtown-via-NY Sunday pop-up that's become a test kitchen for some of LA's best new restaurant concepts. There's also a theme day nearly every Sunday, so check the schedule to see what you're most into.
Spend the night wandering around a musical mansion
One of the most interesting-sounding events of the season is The Echo Society's VI: FAMILY, a three-day (October 20-22) musical takeover of a mansion in Silver Lake, with different soundscapes from world-famous composers being performed simultaneously in seven rooms of the house, which attendees are encouraged to freely wander between. Composers include the musicians behind movies as far-flung as Looper and 500 Days of Summer (will JGL be there? Time will tell!), though given the location it's sort of a bummer the organizers couldn't get Philip Glass to recreate the score from Eyes Wide Shut.
Head to the Griffith Observatory
Even if it's just to check "checking out the view from the Griffith Observatory" off your LA bucket list.
Never been to Santa Anita? Now's the time. Hermosa Beach? Traffic getting there lightens up in the fall, and taking a stroll around a new part of the city is never nicer than when there's a breeze and no chance of the temperature getting above 80 degrees.
Re-live your childhood, Wonka-style
November 3-4, the Hollywood Bowl's putting on a live stage-show of Willy Wonka and the Chocolate Factory -- featuring John Stamos as Wonka, Weird Al Yankovic as the Oompa Loompas, and Finn Wolfhardt (from Stranger Things) as Charlie. You know you want to go.
Drive Mulholland at night
Wait for the fog to roll in for an extra dose of creepiness -- or don't, if you want to get all romantical.
Get sporty
We've got TWO football teams now, and apparently no one is going to their games, which means it's really, really cheap to go to a pro football game... for now, until the Chargers or the Rams decide to start winning. Also: there's a big Polo match, which sounds both absurd and fantastic. And maybe the Dodgers are going to make the Series? Maybe?
Throw a Friendsgiving
Though it's too early to get all the details, tons of restaurants around LA do Thanksgiving takeout all week before Turkey Day itself -- keep an eye out, invite some friends over, and avoid awkward conversation with your MAGA-hat-wearing uncle.
Sign up here for our daily LA email and be the first to get all the food/drink/fun Los Angeles has to offer.