The LA Dog Instagrams You Need to Be Following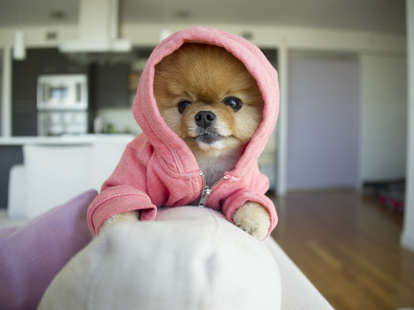 For many, many people in LA, the past few weeks have been a scourge of bad news, with nary a smile to be found. Well, it's time to lighten up, at least for a bit: We've scoured the internet to present to you the most Instagram-famous pooches living the most LA lives, from an adopted dog that now dines at the best LA restaurants, to a corgi that's all fluffy butt, and a Pomeranian that became a Hollywood star.
Sure, Boo the Pomeranian may have been first to reach internet celebrity status, but Jiff -- another Pom with a seriously good haircut -- takes it to the next level. Not only does this teddy bear-like dog have 3.8 million followers on Instagram, he's accomplished more things than most humans have. He can skateboard and do handstands, and has been awarded two (two!) Guinness World Records. And as far as Hollywood stardom goes, this one is doing pretty well: He scored a cameo in Katy Perry's "Dark Horse" music video. We're pretty sure there's a lot more to life than being really, really, ridiculously good looking -- and Jiff proves it.
Tuna the Chiweenie may not be like one of those supermodel pooches who get to strut their stuff at the annual Westminster Kennel Club Dog Show, but this Chihuahua-dachshund mix with a serious overbite gets our vote for "best in show." Scroll through his Instagram feed, which by the way has a whopping 1.8 million followers, and you'll find him looking like a Poindexter with his bow tie and suspenders, or adorably decked out for Halloween as a tuna sub from Subway. There's even a book about him on Amazon with a five-star rating, and a viral meme created in his honor. It's hard to imagine that this loving pup was once abandoned by his former owner on the side of the road in San Diego, but luckily his current BFF Courtney Dasher adopted him from an LA farmers market and turned him into a megastar. It must have been love at first overbite.
Popeye the Foodie has one of those rags-to-riches stories that seems to be plucked from a Hollywood movie. Once a stray, this now dapperly dressed mutt is often found out and about with his owner Ivy Diep on foodie adventures at the hottest restaurants in the city. With one of his furry ears pointing upwards towards the sky, and donning everything from denim jackets to plaid button-downs, his eyes are always on the prize: the delicious plates of food placed in front of him. In an interview with Bored Panda, Diep said that her well-behaved Popeye never lunges for the dishes. We might need to ask Popeye for some tips on how to keep our New Year's resolutions.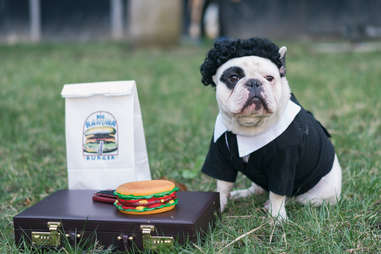 Pierre is one special Frenchie. Oui, he is. Not only does this adorable pup give us cute aggression, but he's also a good boy: a volunteer therapy dog. He'll let his owner dress him up in any outfit, like portraying Marty Mutt-Fly of Back to the Future, to doing couples costumes as characters from Forrest Gump and Pulp Fiction. Oh, and he hates Trump, too.
Nothing gets us audibly aw-ing more than interspecies friendship. On this Instagram, Puka, a mixed-breed pup with a cleft lip, and her African Sulcata tortoise buddy Rocket Larry are often seen chilling together. Scroll through their Instagram feed and you'll see that the sweet-natured pooch will let her owner Christine Hilberg put anything on her head, from a unicorn horn to top hat. Puka and her owner also go on road trips together to some of the most beautiful places in America. Please, take us with you guys.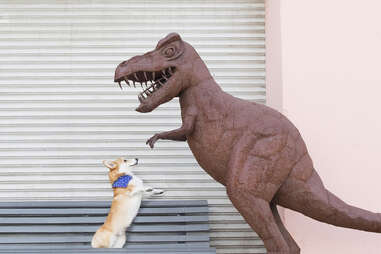 If you want the most beautiful and artistic photos of a corgi in all its glory -- fluffy peach butt and all -- this is the account to follow. Geordi La Corgi (yes, that his name) and his behind are the main attractions here. This IG is perfect for a game of "corgi butt or loaf of bread?" What we love the most about this dog is that he's named after one our favorite Star Trek characters -- and even gets into uniform as a member of the Enterprise. He also sports other costumes, doing his own versions of CSI: Miami's Lieutenant Corgratio Caine, and is often found in incorgnito.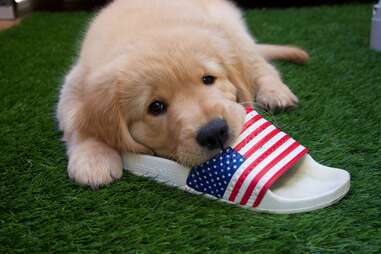 If you're a dog named Dagger Cannonball Thunderfang, then you've already got Instagram-famous written all over you. This fluffy, fox-like Pomeranian is seen on his account being a regular Angeleno, taking walks at Echo Park Lake and by the Hollywood Sign. The pooch also just happens to belong to two equally social media savvy parents, photographer Jessica Zollman and YouTuber Anthony Carboni.
These adopted border collies are living the chillest LA life possible. They're constantly running at the beach, playing fetch, and hanging with other Instagram-famous dogs. Their owner captures the simple and happy life of a dog perfectly in these photos, of the the pups getting major air catching frisbees, and giving hilarious micro-facial expressions when a snack comes their way.
Rising-star comic Iliza Shlesinger has three massive Netflix specials and tours constantly -- with her dog, Blanche, who is arguably more famous than she is. Sometimes, Blanche trespasses on farms; other times, she's politically active, but the half-long-haired dachshund, half-Chihuahua is always inquisitive -- and adorable.
These two brothers, a French bulldog endearingly named Stinky Link (aka Link) and a terrier-shepherd Clark, are the the fur children of fitness buffs, husband-and-wife duo Sean and Stephanie Sarantos. They live just a little outside of LA, in Orange County, but we wanted to make an exception for them and include them on this list based on their sheer volume of cuteness. Link is a playful pooch, whose video of him playing ruff with his dad went viral, and his older brother Clark is the more sage, zen-like master, who is so good at tricks and restraint that he can balance snacks on his snout without immediately devouring them.
Sign up here for our daily LA email and be the first to get all the food/drink/fun Los Angeles has to offer.
Jean Trinh is a Thrillist contributor who is often seeing hanging out with dogs more than people at parties. Follow her on Twitter and Instagram.