Totally Free, Last-Minute Date Ideas for Valentine's Day This Weekend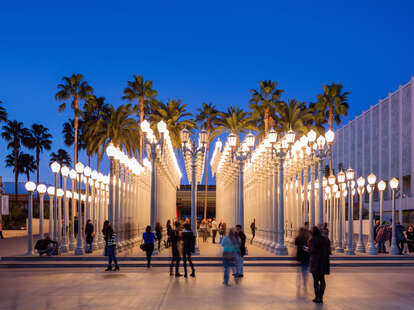 <a href="http://www.shutterstock.com/gallery-1167089p1.html?cr=00&pl=edit-00">MR. INTERIOR</a> / <a href="http://www.shutterstock.com/editorial?cr=00&pl=edit-00">Shutterstock.com</a>
Look, they say LA's a city where money is everything, but the truth is nothing's less romantic than blowing tons of cash on Valentine's Day while listening to some OTHER couple fight at a fancy restaurant, especially when you have four courses left in your $130 prix-fixe dinner that doesn't include any booze. That's why we think you should save your money, and hit one of these totally free, totally romantic dates on February 14th... and save the fancy dinner for Feb 15th.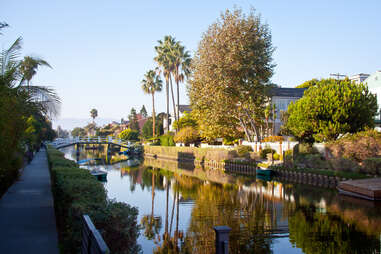 Take a walk down the Venice Canals
Venice
A hand-holding stroll through the gorgeous Venice Canals can lead you to a sunshine or moonlight walk on the pier; you get extra points if you bring a guitar and serenade bae. Or you can head to the Boardwalk and let some other ham do it (although, yeah, in that case, you're gonna wanna tip. You're not THAT broke... right?).

Hollywood
The 7pm Asssscat show at this beloved comedy theater is free on Sundays including Valentine's Day, and it's not even a second-rater: comics include Veep's Matt Walsh, Orange is the New Black's Lauren Lapkus, and Matt Besser, the founder of UCB.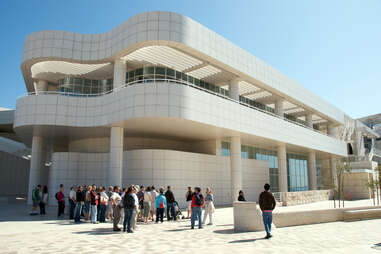 West LA
Even on Valentine's, the Getty isn't charging a cover, which means you two (or three, we're not judging) can get some art in before the show from this Iranian chanteuse, who has two run times, first at 3:30 and then at 7pm.

Downtown
If you or the person you're trying to impress is an art/design freak, you'll want to hit this Arts District "installation," which is the pet project of a Berliner who had the assignment to create the most amazing apartment ever -- which means the home of fictional man Herbie Buttenscheimer is full of incredible art, furniture, and more.
Los Feliz
Unfortunately, the legendary spot from Swingers doesn't have Marty and Elaine this Sunday (they only play Tuesday-Saturday), but they do have jazz from The Ready's in their dark-lit lounge... which is totally free, so long as you're comfortable getting dirty looks from the bartender when you don't order anything.

Century City
The always-free photography gallery near the CAA Death Star building currently has two exhibits: "Life" and "Pearls of the Planet," both of which will inspire getting-to-know-you-better questions like "why are we here" and "what are we gonna get for dinner after this?"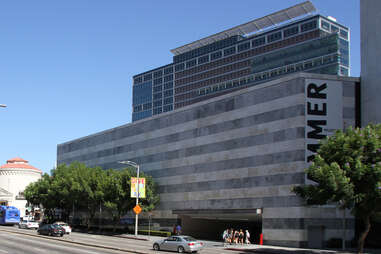 Westwood
The beloved Westwood sculpture/photography museum is beautiful, free, doesn't have the lines that the Broad does, and has a beautiful patio space. More importantly though, it is great at making you look cultured.
Work up a sweat on Runyon
Hollywood
Runyon's not just a great place to pee, it's a great place to people-watch, and, of course, you can also bring a picnic and have a romantic moment with your +1. Just, y'know, avoid the wet spots. Which is always a good rule.

Hollywood
This cozy coffeehouse in Hollywood has a free poetry open mic night on Sundays, which means, if you're brave, you can read your own version of "Roses Are Red" to your sweetheart in public. Otherwise, you can bond in shared second-hand embarrassment during the readings.
Take a drive up PCH to Zuma Beach or along Mulholland
Westside to Hollywood
It's a classic, but it's a good one: rev up your car for a moonlight drive along the ocean on Pacific Coast Highway, or to take in breathtaking city and Valley views from Mulholland with a mixtape of your SO's favorite music pumping. And then have a deep conversation about how your car still has the ability to play mixtapes.

Mid-Wilshire
Don't expect covers of "Don't Stop Believin'" from the dueling-piano duo John and Mina Perry -- they've travelled the world playing classical piano separately, though they'll be performing "four hand" work for free at LACMA, which means you and your date can experience what fast-fingers can do together early in the night... and hopefully later as well.
Sign up here for our daily LA email and be the first to get all the food/drink/fun Los Angeles has to offer.
Michele McManmon is a freelance writer/photographer at Thrillist, LA Weekly, Guardian, Playboy, and whoever else will pay! Music, travel, and men are her favorite topics. follow her on Twitter, Instagram and Facebook.