The Craziest Requests From Los Angeles Hotel Guests as Told by LA's Concierges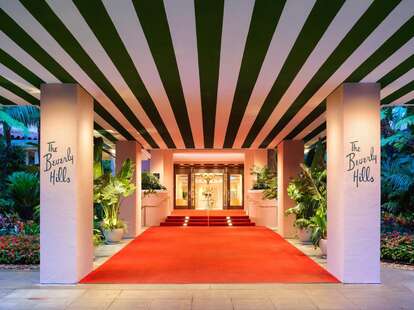 Courtesy of The Beverly Hills Hotel
Courtesy of The Beverly Hills Hotel
During your last hotel stay you may have called the concierge at some point and maybe asked for recommendations for a great Italian restaurant for your anniversary dinner or where you could pick up a pair of the new Yeezys before they sold out. But we bet you probably didn't ask where you could buy a pet goat or if they could install a stripper pole in the suite, right? (Or maybe you did, in which case please let us know in the comments which hair band you played drums for in the '80s.) All of the above, however, were actual requests to the staff at the Montage Beverly Hills.
LA is home to some of the most iconic hotels in the world that are not only rich in history, but also ooze juicy tales that would give any gossip magazine a run for their money. Demanding hotel guests can range from high-profile celebrities to Middle Eastern royalty to your-not-so-average filthy-rich jet-setter, many of whom often have very particular requests during their hotel stays. With that in mind, we spoke to concierges at some of the top hotels around town to find out what they so desperately needed in the wee hours of the night.
Here are some of their most ludicrous hotel guest requests, straight from the concierge desk (which may leave you questioning the human race):
"Please only talk in 'dog language'"
Beverly Hills' legendary "Pink Palace" (and its red carpet entrance) has attracted Hollywood legends and their four-legged friends over its 100 years of operation. One of the most outrageous requests from a guest was to arrange a $15,000 wedding for her two dogs, complete with a minister and catering. Seems normal, no? But perhaps the one request that stands out the most involves a particular guest who preferred that the staff speak to his dog "in dog language" instead of English (trust us, we couldn't even make this up if we tried). Whether or not this was an episode of Punk'd or just another absurd request, the staff started practicing their best bark and made his wish their command. Woof.
-- As relayed by Edward Mady, Regional Director and General Manager of The Beverly Hills Hotel since 2011.
"Lock up the mini-bar"
When you're a luxury, extended-stay residence in the heart of 90210, the home of the beautiful (and vain), your regular guests are typically "celebrities and entertainment professionals" and "patients receiving medical treatment" -- which seems to imply plenty of facelifts, tummy tucks, and boob jobs. And while the staff at AKA Beverly Hills have heard plenty of exacting requests from their demanding clientele, the most unusual request came from a "very wealthy and eccentric daughter and heir to her late oil tycoon father's fortune." The "body conscious socialite" requested that permanent locks be installed on all the cabinets and the refrigerator. For eight months, the young woman, by her own orders, was only allowed the key to the locks at the exact same time every day.
-- As relayed by Michael McCain, Front Office Manager/Concierge of AKA Beverly Hills since 2006.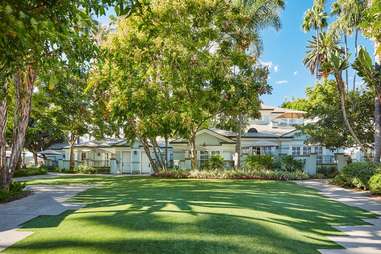 "A feast fit for a lion"
Santa Monica's Fairmont Miramar has had its fair share of high-maintenance guests over the years, but one couple was particularly ferocious with their demands. While requesting dinner reservations, the husband and wife ripped into the hotel's concierge for foolishly not including the wife's plush stuffed lion in the dinner party. The wife berated the concierge and roared, "Excuse me, it's a party of three, and how dare you not acknowledge Leroy when I speak to you?" Impressively, the unflappable concierge remained unfazed while accommodating the couple's request, explaining that, "[Leroy] came fully dressed to dinner, sat at the table and the guests demanded the staff speak to him like he was a person."
Of course, every now and then a guest will realize the magnitude of their idiosyncrasies and call the concierge desk to order 200 pizzas for the entire hotel staff as an apology for being a complete a-hole as one high profile celebrity once did at the Fairmont.
-- As relayed by an anonymous concierge at Fairmont Miramar Hotel & Bungalows, Santa Monica.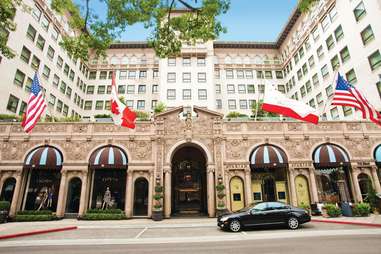 "Mickey Mouse pancakes on a private Disney cruise"
The concierge team at the legendary Beverly Wilshire Hotel -- which played a starring role in Pretty Woman -- are willing to move mountains for their guests. And for one young guest, they were even willing to play genie to grant a magic lamp birthday wish. When a family couldn't get a reservation to the sold-out princess Disney cruise for their 6-year-old daughter's birthday, the team at the Beverly Wilshire helped the family design their own custom Disney-themed cruise aboard a private yacht. The yacht was equipped with a chef on deck whipping up Mickey Mouse pancakes, music piped in to play the Frozen soundtrack, and a cast of Disney characters dressed in costume frolicking on deck with the birthday girl. It's no wonder the Beverly Wilshire concierge team includes "nine members of Les Clefs d'Or -- literally, "keys of gold" -- a professional organization for the top hotel concierges around the world."
-- As relayed by Jeanne Mills, Chef Concierge at The Beverly Wilshire, A Four Seasons Hotel, since 2013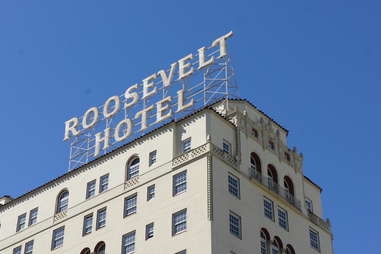 "Custom tailored for the Oscars"
There are everyday concierge requests, and then there are Oscar Sunday requests. One year, an unnamed celebrity asked The Hollywood Roosevelt staff to hem her Italian silk/lace blouse -- a pretty standard order most days, but not when it's just 30 minutes before showtime at the Academy Awards where the guest was to appear. And considering the fact that The Hollywood Roosevelt is right across from the awards ceremony at the Dolby Theatre and the surrounding streets were closed, the staff was presented with a bit of a time crunch. So they did what any other hotel with celebrity clientele would do -- they sent a bellman running a half mile down the street with the blouse. Luckily (for him), he made it back at the eleventh hour "... with just 2 minutes left before they drove off into the Oscar World in a golf cart," and onto the red carpet.
-- As relayed by Bre Smith, Director of Guest Relations at The Hollywood Roosevelt since 2014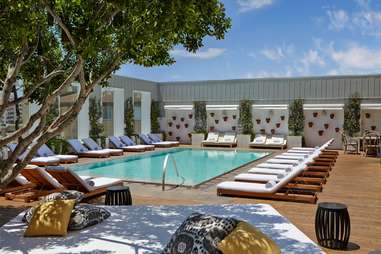 "Looks like Muskrat Love"
If you can't remember lyrics to a song these days, you can always count on an app -- OR this website called Google -- to find them. But, there was a time when those handy options didn't exist, so when supermodels like Claudia Schiffer, and her then boyfriend, call you because they can't remember the lyrics to the 1976 Captain & Tennille hit "Muskrat Love" you hope and pray you know the lyrics by heart. Not only did Greg Hall, the concierge at the Mondrian in West Hollywood, know the lyrics, he "did an inspired rendition, complete with the warbly, sounds of Muskrat Sally & Muskrat Sam's love making." Greg was Claudia's hero (and he's now ours).
-- As relayed by Greg Hall, Concierge at the Mondrian Los Angeles since 1997
"Champagne wishes and caviar dreams"
VIP guest often think that concierges are wizards who can snap their fingers and have a helicopter waiting to fly them to a private vineyard in no less than 10 minutes. Well, it turns out that at The Montage, they can. The hotel arranged for one particular guest to be whisked away in a helicopter for a private dinner at the highest vista in Malibu, Malibu Rocky Oaks Estate Vineyards. And if that wasn't enough, they also chartered a luxury five-bedroom yacht and flew him to the yacht's helipad for a day trip to Catalina Island with a private tour guide. Just another Tuesday in Beverly Hills.
-- As relayed by Joyce Louie, Chef Concierge at the Montage Beverly Hills since 2014
"But can you pull a rabbit out of your hat?"
Asking a concierge to purchase lingerie for a girlfriend (how romantic) or to help decide on a permanent tattoo design both seem like perfectly reasonable requests to leave in the hands of a complete stranger, right? Well, those requests are a walk in the park for the staff at The London West Hollywood, compared to the time a guest requested "a private magic show in his room for an anniversary." And this guest wasn't looking for amateur hour, he wanted David Copperfield-caliber, disappearing acts. Sarah Dandashy, the hotel's Head of Concierge, started vetting magicians, watching videos and pulled a few tricks up her own sleeve to have a first-class magician, a bunny, and a dove appear in the guest's room. Voila!
-- As told by Sarah Dandashy, Head of Concierge at The London West Hollywood since 2011
Sign up here for our daily LA email and be the first to get all the food/drink/fun Los Angeles has to offer.
Leila Najafi is an LA lifestyle and travel writer. She's not great at writing bios but is a pro at traveling. Follow her around the world on Instagram and Twitter.