Meet Furlesque: The Burlesque Troupe Who Are Also Furries. And Movie Stars. Maybe.
Perhaps you were lucky enough to witness a clowder of human-sized cats prowling the aisles of the Downtown LA Whole Foods a few months ago. These vibrantly colored, anthropomorphic kitties mewled their way through the store in the company of Granny, their benevolent owner, whose heart swells whenever a wayward feline needs a home.
And if you were wondering what kind of acid trip flash mob you'd just stumbled upon, well, it wasn't just a random act of performance art: It was the making of a short film about Furlesque. And Furlesque, according to co-founder Jill Evyn, is a multimedia production company that focuses on immersive entertainment, film, web, and TV content. The cats are just the beginning.
As you may have presumed, "furlesque" is a portmanteau word combining "furry" and "burlesque." Burlesque, of course, is the time-honored art of the elegant striptease. For modern audiences, it's been turned myriad ways, from the grotesque to the humorous to the downright bizarre. Furries, on the other hand, are people who appreciate the idea of animals with human qualities, similar to those found in cartoons. Many create their own anthropomorphic characters and either depict them on badges at conventions or go all out on their own impressive costumes, known as fursuits. Furries have often falsely been accused of being strictly fetishists, though for a majority of furries, there's nothing sexual about it. Furlesque, in its own way, combines the ideas of both furries and burlesque -- which, honestly, does add a certain level of salaciousness; as Julie Newmar, Eartha Kitt, and Michelle Pfeiffer have proven, there's just also something inherently sexy about a woman in a cat outfit. But while Furlesque toes many lines in both communities, its creators do not specifically identify as furries.
The whole thing began when performance artist and actress Jill Evyn and Colombian actress Paola Baldion decided to put on a show at a small festival thrown by a friend. They dressed in onesies -- Pikachu and Totoro, if you were curious -- and put on a burlesque striptease that escalated into a fire dance performance. When someone mentioned that the routine was sort of like "furry burlesque," the idea immediately blossomed. Soon, Evyn and friends were dressing up in neon cat outfits, performing at various events and musical festivals, including Nocturnal Wonderland. At each performance, they commit to being cats. They don't speak when in costume -- only vocalizing their feelings via meows and purrs -- and engage in cat-like behavior, such as rolling around on the floor and delicately grooming themselves with a bent 'paw.'
But Furlesque didn't want to be just "women in catsuits," Evyn explains.
"From the moment we had the idea, we decided to start experimenting with capturing it, and we did several promo shoots," Evyn says. "[For those], we picked a few themes and created a few storylines. But as it grew, we got a little more serious about it and said, 'let's fine-tune this.'"
They soon developed a full narrative and a completely engaging world in which the cats thrived. It was designed in such a way that stories could span multiple timelines and locations, a concept familiar to fans of world-building epics like Star Wars or Game of Thrones.
In that way, Furlesque entered the realm of immersive theater, an artform that has grown substantially in LA in the last few years. Immersive theater, unlike your typical stageplay, puts the audience in the center of the action, often requiring guests to complete tasks, move through the space, or engage in one-on-one interactions with actors. While New York has its Sleep No More and Then She Fell, Los Angeles has been putting up a strong showing with offerings like The Speakeasy Society's Johnny Cycle and director Annie Lesser's ABC Project. Perhaps a crown jewel of our immersive theater scene remains Delusion, an interactive haunted play that's been selling out since it originated in 2011. Evyn played a vampire heroine in Delusion's latest tale, His Crimson Queen, which promptly sold out this past Halloween.
In Furlesque's first immersive show Animal Skin, formerly held at the Syrup Loft in Downtown Los Angeles, guests met Granny, an archetypal "cat lady" who lost the love of her life many years ago. She lives in an apartment with six cats and her granddaughter Bella, who is described as "the classic ingénue with a twist." That twist may be that Bella has adopted a stray dog who followed her home one day, only to find out he's more than a simple mongrel. The building where the women and their menagerie reside is owned by another woman, Angelique, a Cruella de Vil-meets-Elizabeth Báthory type who serves as the story's villain. Angelique is obsessed with fur and skin and has developed a formula for skin regeneration that allows her to harvest pelts from an animal many times. When she spots Granny's colorful pets, she becomes set on luring the cats into her home for her own devious purposes.
The dark fairytale blurs many lines. It's over-the-top and funny, but touching in the way that it explores loneliness and humans' tendencies to personify their animal companions. It's dark, too: The inherent sexiness of a burlesque striptease comes at the price of watching an animal lose her skin via a BDSM-tinged performance. Though meant for adults, it's not unlike the original fairytales that would become our Disney classics: the Little Mermaid was meant to turn into sea foam, while Cinderella's evil stepsisters chop off sections of their feet to fit into glass slippers, only to have their eyes pecked out by birds for their deception. OK, so maybe Furlesque isn't quite that dark.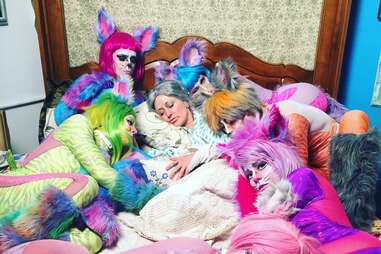 "The challenge with any kind of theater is always that audiences are looking for a different kind of interaction from their entertainment. Part of what made what we were doing that was so special was that we really wanted to facilitate that in a face to face kind of way. Performer. Audience member. Right here. Linked in," Evyn says.
To add immersion, guests could find flyers for Lost Cat, a feline character played by Baldion. Calling the number on the flyer would lead to Bella's voicemail, where she informed the caller that Lost Cat was safe with her and Granny, but if you knew or were the owner to please let her know. Guests might also encounter anthropomorphic rats, dogs, and birds in the alleyway outside, or mice skittering around the performance space prior to the show. Unlike the cats, these other animals were not strictly portrayed by woman.
After a deal with an investor failed to pan out, Furlesque decided to put the show on hiatus and instead create a more shareable short film that showcases the troupe and their ideas.
The film, titled "Granny's Birthday" is scheduled to premiere early this year. The company employed cinematographer William Walsh, who has a background in filming music festivals and understands the challenges of translating a live experience to film; Granny is played by actor and director Jesselynn Desmond, who is familiar with the immersive world as a founder of Bijoulette, an interactive clown troupe, and an original member of vaudeville/cirque troupe Lucent Dossier. She also teaches immersive techniques at universities and to private students.
"I had already been working with [Evyn] when she was a part of Bijoulette in the early days and knew we worked well together by the magic that we created," Desmond says.
The film follows a single day in the life of Desmond's Granny. That day just so happens to be her birthday, but she's forgotten, so she begins the day like any other. She feeds her many cats, then takes them to the grocery store. Hijinks ensue before Granny returns home and is surprised by her friends who want to take her out on the town to celebrate another year around the sun. To film those scenes, Evyn says many Grannies descended upon an event at the Belasco Theater where they performed a dance surprisingly, yet fittingly raunchy.
"In the nature of what we do, the Grannies were in character as soon as we left home base," Evyn says. "We wanted to try to capture that immersive magic in this film."
The film also contains numerous cameos, including one by internet favorite, Sergio the Sexy Sax Man. The song and dance numbers, which were conceived with help from choreographer Kiani Del Valle and musician Jarina De Marco, are meant to show how animals in the Furlesque world perceive their surroundings.
"Part of what we wanted to do [with the film] is show how the animals see the world as a magical place," Walsh says. "We alternate between how humans and animals experience the world. The animals' points of view [contains] musical numbers."
If all goes well, Furlesque has many other stories to tell, all of which fit into the same world as Animal Skin. Some stories take place when Granny is younger and involved in the circus life. Naturally, those animals are the sorts one would find in a circus (Evyn envisions that proceeds from this show would go to charities dedicated to ending the mistreatment of animals in modern circuses). Another involves Bella and her true love and their children, set years after the events of Animal Skin.
It all sounds weird... and tantalizing, right? You can watch some previews now on Vimeo and follow them on Facebook -- and, maybe, see them in the aisles at Whole Foods.
Sign up here for our daily LA email and be the first to get all the food/drink/fun Los Angeles has to offer.