Your Guide to Getting the Most Out of Springtime in LA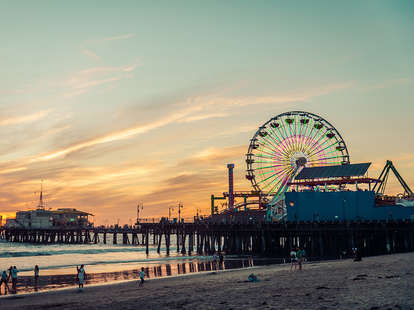 oneinchpunch/Shutterstock
With the possible exception of Eden, no city rivals Los Angeles in terms of spring splendor. Suddenly there's no stopping the sun, there's no end to your excuses for beach days, and bougainvilleas erupt in a riot of insane colors as far as the eye can see. Thanks to winter rains, Los Angeles is looking lusher than ever. From idyllic waterfall hikes to artisanal cocktails laced with dandelion to starlit movie screenings, soak up the balmy months ahead with this definitive list of spring must-dos in LA LA Land.
Eat In a Secret Garden
If you've already done every patio brunch and rooftop date in LA, now's the perfect time to hit up the city's clandestine gardens.
Topanga Canyon's Inn of the Seventh Ray easily claims the title for the classic romantic garden spot. At this bohemian creekside mecca, hummingbirds dart over dishes, gnarled Sycamore trees overhang tables, and seasonal starters like sweet pea risotto and scallop crudo are just the thing to usher in spring.
Already done Salazar in Frogtown? That's okay. The word is still not quite out about its refined neighbor, Elysian. With a sprawling 4,800-foot outdoor space, this airy outpost plies plenty of shareable small plates like smoked mussels in red curry and ricotta gnocchi with hothouse squash, ideal for noshing among the garden's towering bamboo.
If Los Angeles boasts a Central Park equivalent it may very well be Descanso Gardens in La Canada Flintridge. Descanso, an epic sanctuary of oak forests and acres of California natives, also holds the country's largest camellia collection. As of 2016, it's home to Maple, an inventive garden patio haunt that affords visitors the chance to brunch on Fried Chicken n' Beignets and Red Velvet Waffles a stone's throw from the Cherry Blossom Festival that overtakes the grounds in the spring.
These three garden gems are just the beginning of Los Angeles' love affair with dining en plein air. Experiment further with more garden eats at Speranza in Silverlake, Eveleigh in West Hollywood and The Raymond in Pasadena.
Make the Most of Moonlight
Yes, Moonlight the movie deserves all its accolades but so does moonlight, the real thing. After a long stormy spell spent zombied out in front of Netflix and CNN, Angelenos have every reason to step outside after the sun sets.
To name a few in Griffith Park alone: The Los Angeles chapter of the Sierra Club orchestrates night hikes through Griffith Park on monthly Fridays closest to full moons and Sunset Ranch leads horseback rides up to the park's peak every single Friday. The peak's Observatory even hosts free, public star parties one Saturday a month with access to its plethora of telescopes and guidance from amateur astronomers.
Ready to kick back and relax? The cocktails and rooftop views at 71Above and the Ace Hotel in Downtown Los Angeles can't be beat. And Street Food Cinema makes it absurdly easy to get an entertainment fix under the stars with its mobile pairings of local street food vendors and iconic movies. Bahn mi and The Breakfast Club on a blanket in West Hollywood's Poinsettia Park, anyone?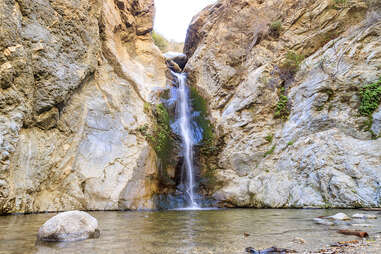 Ditch the Gym
Why workout inside when the city's predictably pleasant weather makes outdoor workouts a no-brainer? No need for a gym pass. Los Angeles offers its citizens an all-access athletic membership to its craggy peaks, sweeping valleys, and sandy shores.
Goodbye, elliptical machine. Hello Roga: local yoga gurus now lead running + yoga classes every Saturday at 8am at the Santa Monica Pier. So long, spin class. Nice to meet you, CycLAvia: join bands of cyclists during free, public biking days down closed city streets from Pasadena to Venice Beach. C'est la vie, CrossFit. 'Sup salsa dancing: break a sweat and some moves with salsa nights at La Granada in Alhambra. As if, Stairmaster. Good to see you, hiking: explore gushing waterfalls along the many paths at Eaton Canyon. So sorry, climbing wall. Actual rock climbing just called: Malibu Creek State Park offers over 100 bolted climbs on steep volcanic rock. It's been fun, pilates. It's been far too long, surfing: after all, every Angeleno deserves to learn how to surf and paddleboard with a little help from Venice Beach Surf School.
Long Days Mean Happier Hours
Springing forward may suck for mornings but on the (literal) bright side, more sunlight on the pre-sunset side paves the way for bustling happy hours. Luckily, Los Angeles' prime restaurants are heeding the call of the wild with daring new offerings.
It seems almost impossible that Petit Trois, Ludo Lefebvre's happening French haunt, offers $9 steak tartare frites from 3-6pm on weekdays, but there it is. Not to mention: $8 seasonal cocktails like the Afternoon Reviver, garnished with dehydrated Meyer Lemon, and a Dandelion Gin and Tonic. At Eagle Rock's glamorous new scene stealer, Red Herring, an English Pea salad tossed with goat cheese costs a mere $5 so why not wash it down with The Paramour, a refreshing cava libation laced with orange and Aperitivo Cappelletti? Gwen in West Hollywood is featuring a new champagne cocktail with guava and ginger and a tequila/port combo with pineapple and elderflower. The Pikey's even paying a tribute to Prince with its new Raspberry Beret: part rum, part lime, part raspberry, part Coco-lada, and all soul.
Get in Touch With Your Inner Eco Warrior
In Los Angeles, it's Earth Day, every day. The region's flora and fauna are in full swing throughout spring and could use a little help from local humans.
Brush up on native plant knowledge with a class at the world-renowned Theodore Payne Foundation, established to promote, preserve, and restore local habitats, then score a drought-tolerant beauty like Chaparral Bush Mallow or Scarlet Monkeyflower. Or, opt for a California Bay bush instead, then learn how to spruce up recipes with its leaves in a "Cooking from Your Garden" class at the Los Angeles Natural History Museum, the largest of its kind in the Western US. Like the oxygen? Want to help LA defeat its telltale smog? Join TreePeople, a local non-profit, for forest restoration outings and park plantings, from Angeles National Forest to Laurel Canyon. Love the beach? Then show the beach some love in return and volunteer for one of Surfrider Foundation's roving beach cleanups to help clear LA's shining shores of garbage and debris. The options are endless in the City of Angels.