Griffith Park Turns 120 This Year: Here's Why It's LA's Most Important Park
At over 4,000 acres, Griffith Park is undoubtedly one of largest and most majestic urban parks in the United States. It holds many of Los Angeles' greatest treasures: the Greek Theatre, the Hollywood Sign, the Griffith Observatory, and a whole lot of vintage railcars. On any given day, both locals and tourists of all ages can be found hiking, biking, enjoying a picnic, watching a free Shakespeare play, meditating, taking in an incredible concert, or pondering the depths of outer space. Like most things of a certain age, the park has had its shining moments as well as some pretty grim situations. There's been disaster, crime, triumph, community, beauty, and achievement. There's even a fictitious curse that some swear by.
Joe Salaices, superintendent of Griffith Park, says this park is "a park for people from all over the world. When Colonel Griffith deeded the park to the people of Los Angeles, he intended to have people recreate themselves through nature, education and entertainment. And I think today, the Department of Recreation and Parks, [in accordance with] his wishes, has made that a reality. We have programming and all sorts of exciting things going on in the park at all times, and people come from all over the world to visit. I think it's our obligation, as a department and as a community, to commit ourselves to the continuation of Griffith Park. Forever."
Forever is a long time, but the park recently celebrated its 120th birthday on December 16th, 2016, lasting longer than any of us (probably) will. This birthday refers to the day the land became a city-owned park, thanks to a controversial figure who had the same first and last name. But let's start our trip down memory lane even earlier than that.
Griffith before Griffith
Spanish explorer Juan Bautista de Anza led a group of colonists and soldiers on a very long journey from Mexico to what would become San Francisco, which led them to pass through Griffith Park. In January of 1776, they spent a night camping on what is presumably today the John Ferraro Athletic Fields, according to Mike Ebert's Griffith Park: A Centennial History (2006). One of the soldiers was José Vicente Feliz. The journey was not easy for him or his family. His wife died in childbirth in Arizona after delivering their eighth child, and his newborn son would die only nine months later. Feliz would eventually return to the area in 1787 to keep order among settlers in what would become Los Angeles -- El Pueblo de Nuestra Señora la Reina de Los Ángeles (the Town of Our Lady and Queen of the Angels). Towards the end of his service, he received over 6,000 acres via a Spanish land grant, which became known as Rancho Los Feliz.
After Feliz's death, the ranch ended up in the hands of Maria Ygnacia Verdugo, who married one of Feliz's late sons. It was she who secured the ranch's water rights and though she worried that Mexico's independence from Spain might have an impact on the land, her fears were unfounded. She received a confirmation of the land grant from the Mexican government in 1843. The land remained with her family following the Mexican-American War, after which California was ceded to the United States.
Around Halloween, people like to talk about Griffith Park being cursed, ostensibly by the teenage niece of Verdugo's son, Don Antonio Feliz. Antonio Feliz lived with his sister, Soledad, and his niece, 19-year-old Petranilla. To buy into the curse, one must believe that Antonio's friend, Antonio Coronel, and an unknown lawyer tricked Feliz into willing Coronel the land as Antonio lay dying of smallpox. Petranilla, who was supposedly willed a grand sum of nothing, was furious and cursed Coronel, rasping, "A blight shall fall upon the face of this terrestrial paradise, the cattle shall no longer fatten but sicken on its pastures, the fields shall no longer respond to the toil of the tiller, the grand oaks shall wither and die! The wrath of heaven and the vengeance of hell shall fall upon this place."
Various calamities that would later occur on the land would be attributed to said curse. The largest disaster was the fire of 1933, which claimed the lives of at least 29 workers. But while Petranilla's curse has the makings of a fine doom metal track, it's unlikely she ever uttered those words. The curse has instead been linked to the wild imagination of journalist Horace Bell. The real story is likely much less tempestuous, despite elements of truth: Antonio Feliz did die of smallpox, and Coronel was willed a large portion of the land in 1863, on top of buying some from Petranilla's mother, Soledad Feliz.
Enter Griffith. Squared.
Coronel would sell the property several years later, and it would change hands more than once before finally being purchased in 1882 by capitalist, philanthropist, and all-around man-about-town Griffith J. Griffith. Yes, that was actually his name.
Griffith came to the United States from Wales in 1865. He was not a man of means and after coming to the United States as a teen, stayed with a couple in Pennsylvania, helping out around the house while he attended school. By 1873, he'd relocated to San Francisco, where he took a job as a business manager for a newspaper. Yet it was not the publishing industry where he made his fortune; rather, it would be mining that lined his dapper pockets. He worked as a mining correspondent for the Daily Alta California, which led to mining syndicates hiring him for lucrative special projects. His affluence grew and in 1882, he was able to purchase 4,071 acres of Rancho Los Feliz for an unknown sum that some have speculated to be as low as $6,500 and as high as $50,000.
In 1885, Griffith and Charles Sketchley, a naturalist who had already started one ostrich farm in Orange County, opened another ostrich farm that took over 680 acres of the land and invited the public to come see the massive birds. A railway took visitors to the farm where they could buy ostrich feathers for a few dollars each. The farm was short-lived, shutting down in 1889. In 1891, Griffith survived an assassination attempt by Frank Burkett, an angry tenant of the ostrich farm who claimed that a series of lawsuits filed against him by Griffith after he fell behind on his rent sent him into ruin. Though the first of two rounds Burkett fired at Griffith with a double-barrel shotgun connected, he had mistakenly loaded his weapon with birdshot, not buckshot, and Griffith survived. Burkett shot himself with a revolver after the failed attempt, ending his life.
Griffith was a well-known figure in Los Angeles, sporting a handlebar mustache and carrying a gold cane (perhaps he was actually a time-traveling mixologist -- who knows!?!). Though a philanthropist and a man of affluence, Burkett was not the only person who did not care for him, as many deemed Griffith to be pompous. He would become known as Colonel Griffith, though it's not clear if he ever was, in fact, a colonel. He met Christina "Tina" Mesmer, the daughter of a wealthy hotelier, and married her in 1887.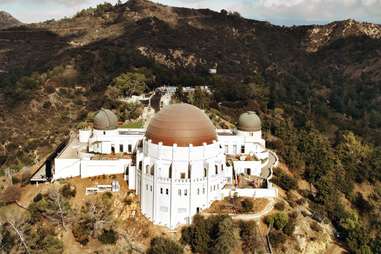 Griffith's greatest contribution to Los Angeles and the thing that would cement the positive aspects of his enduring legacy would come on December 16th, 1896. On that day, Griffith was 46 years old when he handed Los Angeles mayor Frank Rader a stack of papers offering the city 3,015 acres of Rancho Los Feliz, which was, at the time, located outside of LA city limits. He had already sold the city the land's crucial water rights in '84 and '85. (Salaices also says it's important to remember the work of William Mulholland Fred Eaton, who built the Los Angeles Aqueduct, but that's its own long and convoluted history. Relevant to our purposes is the The Mulholland Memorial Fountain -- the massive water feature that resides near the entrance to Griffith Park, and which was completed in 1940 in Mulholland's honor.)
Griffith's gift included 5 miles of riverfront and a water plant. He believed that people living in sprawling metropolises like the one Los Angeles was destined to become needed a place to absorb nature. He declared that the park would be a "place of recreation and rest for the masses," and "a sort for the rank and file, for the plain people."
He wrote: "This park will include over two thousand acres of tillable land, and some of the most romantic scenery of any park in the world. Not only will it be the largest city park in the world, but its diversity of picturesque valley, hill, river and mountain, with its many varieties of tree and its rich undergrowth, render it susceptible of being cultivated into the most beautiful of parks."
Griffith also had two rules: Rail fares must be capped at a nickel so that the park could be accessed by all regardless of income level, and it had to be called Griffith Park. Forever.
A great gift it may have been, but no one knew what to do with the untamed park. Its wild, hilly expanses full of chaparral were not the easiest to manicure into something scenic and tidy. The funds to cultivate the grounds were not immediately present, and Griffith spent much time accusing the city of not taking care of the land and allowing wood cutters to chop down many of its trees. There were many propositions that failed to pan out. For instance, Colonel James W. Eddy, builder of Angels Flight, proposed an observatory and a funicular, the latter of which was never built. It seemed that something would happen when Griffith finally became commissioner of the park in 1903, but the something that happened was vicious, violent, and completely unexpected.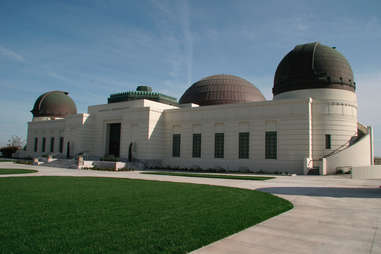 Tina Griffith (née Mesmer) was a popular socialite who was active within her community, and was generally better liked than her husband. On September 3rd, 1903, the Griffiths and their teenage son, Van, were vacationing in Santa Monica. In the Presidential Suite of the Arcadia Hotel, Griffith ordered his wife get down on her knees and pointed a gun at her. He asked her numerous questions indicating a deep-seated paranoia, before shooting her in the head. Miraculously, Tina jerked her head to the side, causing the bullet to take out her right eye, but not kill her. She then threw herself out a window and landed on a roof a floor below her, placing her in front of the hotel owners' window. They took the bleeding woman inside and Tina survived.
Griffith, who portrayed himself as an austere tee-totaler, was revealed to be a violent alcoholic prone to paranoid delusions. He was suspected of drinking two quarts of whiskey a day. His attorney Earl Rogers (who would later die from alcoholism) argued alcoholic insanity caused Griffith to nearly murder his wife, while prosecutors relied on sympathy for Tina, who unveiled her ruined face in court. Griffith was found guilty of assault with a deadly weapon and sentenced to a mere two years in prison and a fine of $5,000. He spent those two years in San Quentin and came out a devoted advocate of prison reform, stating that while he might have been a better man for his sentence, others were trapped in "a breeding school for crime."
Griffith Park became part of Los Angeles via annexation in 1910. In 1912, Griffith attempted to give Los Angeles money to build an observatory, but the city wasn't interested in his money. No one liked Griffith anymore; they had even renamed Griffith Peak, where the observatory would be built, Mt. Hollywood after the shooting. But when Griffith died in 1919, it was revealed that he had left the money to the city in his will. Legal issues over the will bogged down the controversial philanthropist's final wish, but they would both come to fruition. The Griffith Observatory opened in May of 1935, and the theater would have its first show, attended by 4,000 people, in June of 1931. In that time, Angelenos had discovered how ideal the park was for hiking, and the Audubon Society championed the park as a great place to observe birds. Though Griffith died a shattered and reviled man, his dream for the park had been realized.
Kim Cooper of Esotouric, a tour company that frequently delves into the true and often grim histories of Los Angeles landmarks, describes Griffith as a "fascinating early L.A. character, a civically-minded American Dream success who descended into paranoid, drunken demons that tragically left his wife Christina disfigured and socially shamed for the remainder of her long life" and his trial as "a scandalous sensation."
"But in the end," she said, "what matters is that Griffith gave his adopted city one of the world's great parks. While we are big proponents of sharing the true stories of old Los Angeles, we actually like the fact that this attempted murder has been largely forgotten, and the Griffith name has happy associations for generations of Angelenos. We think that's what the Colonel would have wanted in his sober moments, and what Christina would have wanted, too."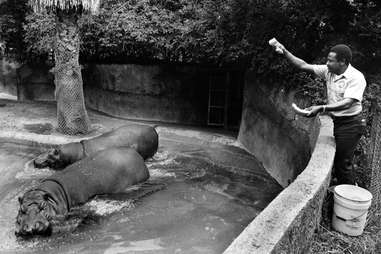 But wait, there's (a lot) more!!
The Griffith Park Zoo came about in 1914, featuring a menagerie of animals. A famed resident was Old Topsy, a camel who had two broken humps, according to KCET. He had reportedly suffered the injury in a train crash while in the employ of the Ringling Brothers' circus. Topsy passed away in 1934 but would outlive in his caretaker, Otto Beyer, who died in 1933.
Griffith's son, Van Griffith, was never a fan of that particular zoo, much preferring his never-manifested idea for a zoo near Vermont Canyon. Over time, the zoo became woefully unsuitable for its many animals, and finally shuttered in 1966. The animals were moved to a new zoo a few months later, located 2 miles away. At that time, the new LA Zoo was the fifth largest in the United States. Remnants of the abandoned zoo remain, and are popular with hikers as well as guests of LA Haunted Hayride, which has in the past utilized the forsaken habitats in their annual haunt.
In 1923, a massive sign reading HOLLYWOODLAND was erected on a what is now called Mount Lee. The sign was meant to advertise a real estate development of the same name, and should have lasted only 18 months. But while the development itself succumbed to the Depression, the sign endured.
For many years, a German immigrant named Albert Koeth lived in a modest shack behind the 'L'. He would replace the bulbs that illuminated the sign. But by the 1940s, Koeth had left and the sign was in disrepair. In 1944, the real estate developers gave the sign, plus 444 acres of land, to the city. Over the years, numerous famous Angelenos, including Playboy founder Hugh Hefner and musician Alice Cooper, have donated funds to restore and maintain the landmark.
Hefner also donated money to purchase over 130 acres around the sign, an area known as Cahuenga Peak, from a group of Chicago-area investors who had wanted to build luxury housing on the land. Howard Hughes had purchased the land in the 1930s, where he had once intended to build a home for movie star Ginger Rogers. The home was never built and Hughes' estate sold the land to the investors in 2002, long after Hughes' death in 1976. A popular hike in this area involves a trek to a lonely pine tree that some have named the Wisdom Tree. Hikers have been known to leave notes behind in a green ammo box placed near the tree after taking in the sweeping views.
The sign's most tragic story hails from 1932, when a 24-year-old aspiring actress named Peg Entwistle jumped to her death from the 'H' after becoming frustrated with her career. Entwistle is one of the park's most famous "ghosts," and some claim she still roams the park leaving a hint of gardenia-scented perfume in her wake.
Salaices said many of the roadways and walkways in the park were also built in the 1930s as part of President Franklin D. Roosevelt's Works Progress Administration (called the Work Projects Administration after 1939), meant to help put people back to work following the Great Depression. This made the park accessible via car and easier to navigate. The Observatory itself was also a WPA project.
Travel Town came about in 1952, displaying various pieces of transit history, including several trains. The idea came from William Frederickson, Jr., then the superintendent of recreation, who wanted children to be able to see airplanes up close. His quest to get a surplus airplane to display in a public park never came to fruition. However, Charles Atkins, a Parks department employee, pushed to get surplus rail cars for display, writing a letter to the D. W. Russell, president of the Southern Pacific Company. Russell agreed to give the City Engine 3025, a 115-ton locomotive that once ferried presidents and politicians. After Travel Town received its first locomotive, other cars and vehicles began to roll in, including a circus wagon from Beverly Amusement and a one-horse shay from Knott's Berry Farm. Travel Town now boasts a vast collection of railcars and vehicles, though you can still pop by Engine 3025's cab.
"The most interesting recent Griffith Park discovery for [Esotouric] is that Travel Town was for many years the home of the 18th century French siege cannon captured during the Spanish-American War that was removed from Pershing Square in 1951, and long thought to be lost. In fact, children like myself were using it like a jungle gym until a curator at the Maritime Museum in San Pedro realized what it was and had the city move it to their back deck," Cooper said. Cooper added that she'd like to see the cannon moved from Travel Town back to Pershing Square.
One of Salaices' favorite trails, though one he says is often overlooked, can also be found near Travel Town: the Oak Canyon Trail. "It has these beautiful sycamore and oak tree groves that you can walk through. It really feels like you're out in the middle of nowhere. It's amazing." It's a relatively easy trail in the beginning, but serious hikers can take it the way to the Mineral Wells Trail. (Modern Hiker offers a good explainer here.)
The post-WWII years were good for Griffith Park, and not just because of Travel Town. James A. Doolittle took over the Greek and booked noteworthy headlines like Judy Garland and Harry Belafonte, as well as dance companies like Joffrey Ballet and Mikhail Baryshnikov's White Oak Dance Project. When Doolittle died in 1997, Michael Blachly, then the director of the UCLA's Center for the Performing Arts, said, "[Doolittle's] vision, his commitment and his dedication to making Los Angeles a rich cultural treasure for California and our country was unparalleled. Jimmy took risks on presenting the performing arts before Los Angeles had a true cultural profile. For this we are indebted to him and can thank him for setting a foundation of culture in Southern California."
In the '60s, the park began to be a haven for counterculture. It attracted hippies, who held love-ins at Park Center, near the merry-go-round. They practiced yoga and formed drum circles. Then came motorcycle gangs and beatniks. In 1979, the Tetrick Trail Run emerged in Griffith Park. It was an 8-mile run on an old fire road that, on paper, seemed innocent enough. However, the mile markers were nude people who would pose for photos with runners as they reached each goal. A ranger later stated that event organizers did not mention that the mile markers would come in the form of nude models and noted that that little detail was against policy.
The Autry Museum of Western Heritage opened on November 22nd, 1988. Singing cowboy and entrepreneur Gene Autry cut a rope with a Bowie knife in front of guests including Willie Nelson and Charlton Heston. Today, the Autry contains a 7,000sqft garden that contains over 60 plant species native to California, in addition to its other gallery spaces.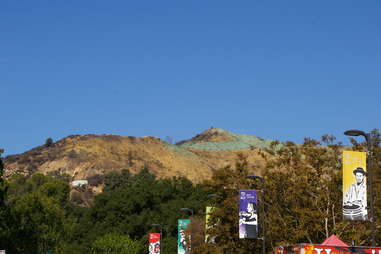 Heading into the future
As the park heads into its 120th year, Salaices said the department is particularly proud of new signage and maps that they've been able to supply to visitors, who beforehand, were getting lost in the sprawling grounds.
"We did it because we were constantly rescuing people who were getting lost while hiking in the park. There were no injuries or anything, they would just get turned around," Salaices said.
But perhaps their most exciting plan is one which will reduce the amount of car traffic to the Griffith Observatory.
"We have 7,000-plus cars a day going up to the Observatory, and it becomes a traffic nightmare. So to reduce that, we've partnered with MTA and DASH... and we're going to be adding some pay stations at the Griffith Observatory parking lot and on east and west observatory roads, and people will have to pay to park. But the good news is, with that money that comes from the party, we'll reinvest into a robust bus system," he said.
The DASH bus, which now only runs on weekends, will run every day, which will allow people who don't have a car or who would prefer not to drive to easily access the Greek Theatre or Observatory. The go-to place to connect will be the Sunset/Vermont Red Line station. Towards the end of the 2017, Salaices said that ADA-compliant electric shuttles will circulate the park and ferry guests between the zoo, observatory, travel town, and other key landmarks, free of charge. Access to the park and Observatory will remain free.
"We want to say, don't park at the Observatory where you have to park on a hill, pay $4 an hour and walk a mile up to the top with your grandmother and your kids. Instead, take the diamond way of getting up to the Observatory. Leave your car at the Pony Train Ride and we'll drop you off right at the front door," Salaices said.
In this way, Griffith Park remains accessible (even to car-less Angelenos like me), just as its mercurial founder intended. Throughout each chapter of the park that could have ended in ruin -- Griffith's fall from grace, devastating fires, the Great Depression, and the bureaucratic hangups and squabbles -- it has been repeatedly restored, preserved, and enhanced to continue to be a park for all people.
(Many thanks and extra credit to Mike Eberts' Griffith Park: A Centennial History, which you can find on Amazon or at one of LA's public libraries if you'd like to read more.)
Sign up here for our daily LA email and be the first to get all the food/drink/fun Los Angeles has to offer.