Halloween falls on a Tuesday this year, meaning most of the ragers will be taking place the weekend before -- but that doesn't mean you have to put your Sexy Sean Spicer or Sexy Jon Snow costumes away once Monday hits, though. There are still more scares to be had on Halloween night itself, including horror film screenings, a costumed ball, and a séance to reach one of history's greatest magicians.
Walt Disney Concert Hall
When it's happening: 8pm
Cost: Tickets start at $32
Long before there was a musical, there was Universal Pictures' 1925 adaptation of Gaston Leroux's gothic horror novel, The Phantom of the Opera. Universal's silent classic stars Lon Chaney as the eponymous villain who becomes obsessed with aspiring opera singer Christine Daaé. Chaney's ghastly Phantom face is one of the most enduring creepy visages in horror, and far more frightening than Gerard Butler in a white half-mask. The Walt Disney Concert Hall will screen the film on Halloween, while organist Clark Wilson will provide the live score.
Dearly Departed Tours & Museum, 5901 Santa Monica Boulevard, Hollywood
When it's happening: 7pm
Cost: $25
Dearly Departed Tours brings us macabre history tours all year long, but on Halloween, they team will be joined at their Hollywood museum by Jill Marie Morris, an "investigative psychic medium" who will attempt to contact the spirit of legendary magician Harry Houdini. Houdini died on Halloween in 1926, after being punched several times in the stomach in Detroit by a student who wanted to know if the claims Houdini could withstand the blows were true. Though laid to rest in New York, the Harry Houdini Museum, located in Scranton, Pennsylvania, has been asking people across the world to attempt to make contact with the magician via Halloween séances for the past several years.
Even if Houdini doesn't grace Los Angeles with his spectral presence, you never know who or what spirits might -- insert spooky theremin here. Dinner's included in the ticket price, as is the opportunity to poke around Dearly Departed's collection, which includes items like Marilyn Monroe's telephone bills and several of drag queen Divine's personal effects.
Vintage Enoteca, 7554 W Sunset Boulevard, Los Angeles
When it's happening: 5-11pm
Cost: $30
You might be too old for trick-or-treating, but that also means you're old enough to drink wine, and Vintage Enoteca is back with its annual candy and wine tasting: a casual event that's perfect for when Halloween happens to fall on a Tuesday. Expect pairings like Sour Patch Kids and Skittles with an Italian prosecco, or Raisinettes and Twizzlers with Vintage Enoteca's signature sangria; each ticket nets you your own bowl of candy, plus four half glasses of wine. Regular menu items will also be available for purchase for those who cannot subsist on sugar and wine alone, and reservations in advance are advised.
The Edison, 108 W Second Street, 101, Los Angeles
When it's happening: 7pm
Cost: $25 (if you're in costume)
The Edison, with its steampunk vibes and vintage sensibilities, is already the sort of place one might go to detach a little from the real world, but on Halloween, the venue will host a costume ball featuring a variety of "Attractions Diaboliques." What are those, other than diabolical attractions in French? Well, they'll likely include musicians, stilt walkers, tarot readers, dancers, and other curious purveyors of spectacle.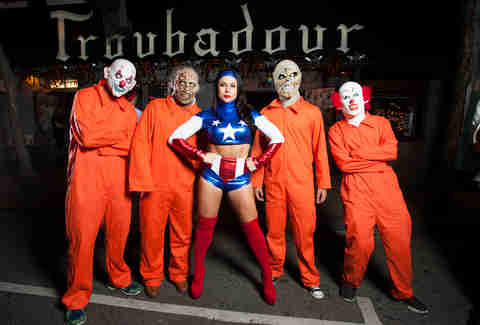 Santa Monica Boulevard, between Doheny Drive and La Cienega Boulevard
When it's happening: 6pm
Cost: Free
This is one of the biggest Halloween parties around, and it all takes place in the streets of West Hollywood. If you love seeing some of the most creative costumes LA has to offer, this is the place to be -- unless you hate crowds, in which case you'll want to stay far away. The street party is free, with live performances along Santa Monica Boulevard throughout the night. When you get tired of gawking at costumes, nearby bars often offer drink specials to lure in passersby. Though the event kicks off at 6pm, organizers advise that this is more of an adult-oriented party that is neither kid- nor pet-friendly. We'd also suggest taking public transit or a Lyft to a nearby area, and walking the rest of the way. Check out the website for rules (like no backpacks) and more information.
UCB Sunset
When it's happening: 7:30pm, 9pm, and 10:30pm
Cost: $7
UCB is offering an immersive "comedy escape room" on Halloween night only. The event is sponsored by LAX Airport Ramada Inn & Suites, and the hotel is also the setting for the show. However, the show actually takes place at UCB's Sunset location, with various rooms standing in for hotel rooms. Each room contains some kind of escape room element, be it a puzzle or a physical feat of some kind, which a small group of audience members must complete within a specific time limit. Each room will poke at the "horrors of living in LA," but they're all more humorous than scary.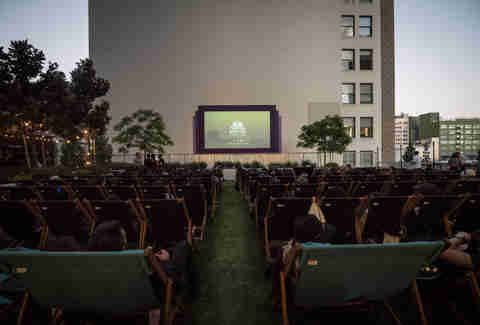 LEVEL and The Montalban
When it's happening: 8pm
Cost: $19-35
Film series Rooftop Cinema Club turns to horror come late October and on Halloween, they're offering not one, but two horror classics. At LEVEL in downtown LA, there'll be a screening of Stanley Kubrick's The Shining. Adapted from the Stephen King novel of the same name, this iconic horror film takes place in a very haunted Colorado hotel during its winter off-season, pitting the family that signed on as caretakers against the spirits that lurk its halls.
Over at The Montalban in Hollywood, it's John Carpenter's Halloween (1978). The first in the franchise, Halloween introduces us to Michael Myers: the masked, knife-wielding antagonist of Haddonfield, Illinois (or South Pasadena, for those of you who've tracked down the actual filming locations).
Both screenings involve comfortable deckchairs, wireless headphones, and gorgeous views, though LEVEL requires any adult beverages to be preordered in advance, which you may do online when you buy your ticket.
Hollywood Palladium
When it's happening: 7pm
Cost: $45-$200
Director/composer John Carpenter is one of the most influential names in horror, and a significant chunk of that has to do with his memorable scores. Carpenter recently announced both an album and a tour; Anthology: Movie Themes 1974-1998 is a collection of new recordings of Carpenter film scores, including themes from In the Mouth of Madness, Assault on Precinct 13, and They Live. The accompanying tour kicks off in Las Vegas before landing in LA on Halloween. Given the album's track listing, we're pretty sure that yes, the theme from Halloween will make an appearance.  
Aero Theatre
When it's happening: 7:30pm (signing at 6:30pm)
Cost: $12 ($8 for members)
Carnival of Souls is a 1962 indie horror film that's become a cult classic. Candace Hilligoss stars as Mary Henry, a young woman who survives a car crash, but does not remember the incident. As she tries to move on with her life, she finds herself increasingly drawn to an abandoned carnival.
Hilligoss will be in attendance, both for a discussion after the film and to sign copies of her recently released memoir, The Odyssey and the Idiocy: Marriage to an Actor -- A Memoir, beforehand in the lobby.
Grand Hope Park at FIDM
When it's happening: 5-8pm
Cost: $6 online pre-sale, or $9 at the door. Kids 2 and under are free.
For those who want to take a youngster trick-or-treating but find Downtown's high-rises a challenge, there's a family-friendly Halloween party at Grand Hope Park. There will be a bounce house, face painting, crafts, snacks, beverages, and "trick-or-treat doors" where one can safely procure candy. There will also a Wonderland area featuring Alice and the Mad Hatter, and a Nightmare Before Christmas zone where kids can meet Jack Skellington and Sally. Costumes are mandatory for kids, but optional for adults. Children are also encouraged to bring a bucket or sack for collecting candy.
Sign up here for our daily LA email and be the first to get all the food/drink/fun Los Angeles has to offer.