Surely you've heard by now that the Harry Potter universe has been planted with meticulous detail at Universal Studios Hollywood, and it's officially open to the public this week, on April 7th. But, like, what exactly can you expect when you go there, other than themed food and drink? You Muggles better get ready: this place is like living all your high school dreams at once (except that one with that one cheerleader/football player/drama nerd/insert trope here): 
It's all true: one of the first things you see upon entering the land is the Hogwarts Express, billowing smoke but not going anywhere. In the station next to it is a photo booth (natch), where you can send friends pics proving you're off to see about a wizard.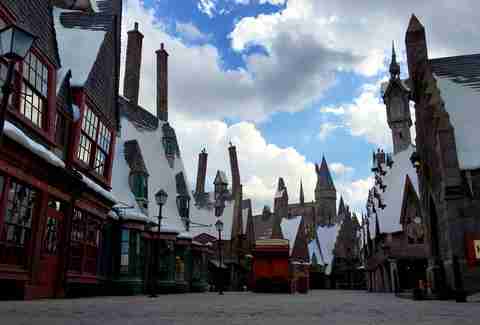 A walk through the streets reveals stores you'd never thought you could actually set foot into, each loaded with easter-eggy, for-fans-only stuff like...
Honeydukes Clippy's Clip Joint -- which actually works...
... world-specific treats like Butterbeer fudge...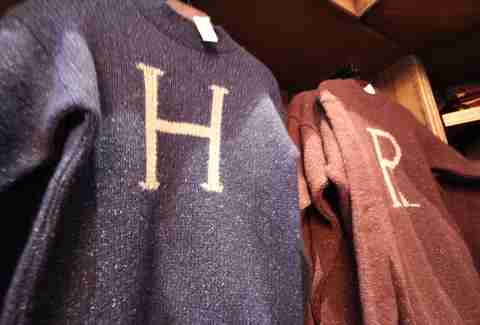 ... merch, made from the same wool as the uniforms in the films...
... and, of course, a real-working post office, where you can send your postcards via owl (OK, that part's not entirely true, but how cool is this stamp??)
Of course, Ollivanders Wand Shop also exists, and once you walk through a hidden door in this room...
... you end up in this (much darker) room, where a real-life wizard helps a little-bitty wizard find the wand that's right for him, by casting a buncha spells that are actually really, really awesome.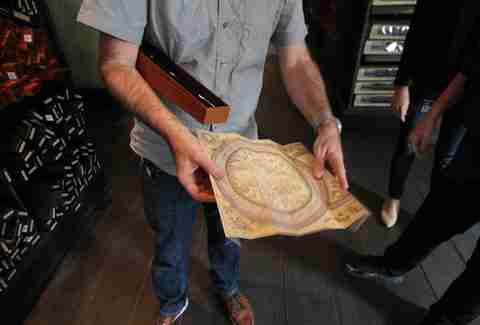 Speaking of awesome, some of the wands actually perform magic in the park. Seriously...
Just find a logo on the street, like this one...
... do the spell as it's laid out...
... and windows will open, gadgets will move, hourglasses will turn, and more secrets will be revealed.
On your way to the rides, you'll come across themed shows -- like these singing toads...
Yes, we said rides -- there're two, including this outdoor rollercoaster, Flight of The Hippogriff, which is sort of a mini-coaster for thrill-ride beginners, and the more intense 3D + movement ride Harry Potter and the Forbidden Journey, which is in Hogwarts Castle. Yep: inside. Hogwarts. Castle.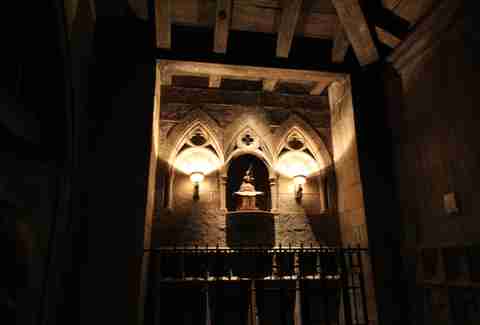 In fact, the whole world, including Hogwarts, was designed with the team from the movies, so everything will look, well, awesome...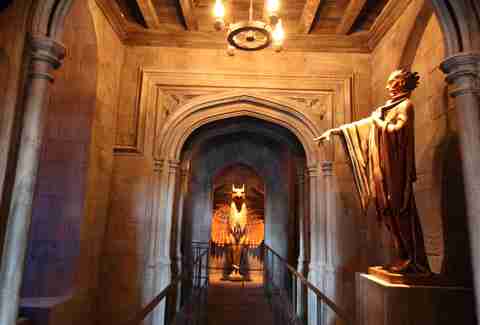 ... including foreboding griffins at the end of hallways...
... lab setups that reveal secrets about dark magic...
... dragon bones perched above you...
... and even a whole hall of talking portraits. Yes. For real. Just like all the rest of this stuff. Believe. And get your ass up there.
Sign up here for our daily Thrillist email, and get your fix of the best in food/drink/fun.
Jeff Miller really needs to reread the whole series stat. See if he does on Instagram at @jeffmillerla and Twitter at @ThrllistLA.