How a Cemetery Became LA's Favorite Movie Theater
The glow of another perfect sunset slowly dims behind palm trees and mausoleums as you lean back and prepare yourself for a film screening among tombs and headstones. What could be more LA than this?
Beginning as small screenings of cult classics in the iconic Hollywood Forever Cemetery over 15 years ago, Cinespia has since blossomed into a massive local phenomenon that's become required viewing for Angelenos. Surrounded by the gravestones of Hollywood legends, a sold-out crowd of 4,000 people gather with picnics and booze in tow to watch their favorite movies on weekend nights. With elaborate movie-themed photo booths, notable DJs and dance parties, and occasional all-night marathons, these Cinespia screenings offer a giant living room for all of LA.
"That for us is the ultimate success, to introduce young audiences to the great movies from the past."
For the uninitiated, the Cinespia experience is totally unlike your typical night at a generic multiplex, where you just plop down in a pre-selected seat with a tub of popcorn in hushed darkness. To begin, there's the serpentine line that gathers in front of the cemetery gates, sometimes hours before they even open. The crowd is mostly filled with 20- and 30-somethings, though it's not uncommon to see fans both younger and older, and depending on what's showing that night, many decked out in creative, themed costumes.
Once the gates open, attendees stream in along the roadways, passing the headstones of Rudolph Valentino, Peter Lorre, and Jayne Mansfield. Maybe you'll spot Golden Girl Estelle Getty, Toto on his way home to Kansas, or Johnny Ramone eternally shredding atop his gravestone. Past the tombstones is the large, grave-free Fairbanks lawn, where films are projected on the side of a large white mausoleum. Sure, it's a bit creepy, but mostly it's a cool tribute to the silver screen icons of the past.
The birth of Cinespia
The first cemetery screening was Strangers on a Train in 2002, which drew a crowd of around 400, most of whom belonged to Cinespia founder John Wyatt's cinema club; the name Cinespia itself is a portmanteau in Italian that roughly translates to "cinema spy." A hat was passed to cover expenses, with a portion of the funds going to maintain the cemetery grounds, just as it is today. As word quickly spread of the screenings, the crowd grew to more than 1,000, though invitations were still sent via physical mailers and tickets were bought at the gate. In the past few years, however, every Cinespia screening has sold out online in advance with 4,000 people in attendance.
As Cinespia dives into its 16th season this summer, Wyatt takes stock of the cultural impact he hopes to have made on Los Angeles. "Creating a fun atmosphere, showing undeniably good movies, booking great DJs, our photo booths and other extras have been ways that transformed the experience for moviegoers. Alia Penner, our Visual Director, creates a whole world themed to the movie with props, decoration, installations and our portrait studios." Penners' photo booths really are thoughtfully designed portrait studios, featuring props and furniture worthy of the movie sets to which they pay tribute, like a hotel bar for The Shining and a campsite for Moonrise Kingdom.
The fans behind the phenomenon
Of course, a movie night is nothing without the people in the seats, and Cinespia has a faithful group of followers who continue to come year after year, and help spread the gospel of the experience. "They love movies, and they're creative, fashionable, joyful people from all walks of life. Our fans' passion is electric," says Wyatt.
For fans like Patrick Shin, the overall experience of attending the Cinespia screenings practically outshines whatever film is playing. "It's a perfect summer activity with a big group of friends, getting there really early to picnic and hang and listen to the DJ," Shin says. "Just running into tons of people you know, too, and just people watching alone there is a treat... It's almost akin to going to a concert."
"This is something streaming can never replicate."
Shin acknowledges that the film selection can definitely help bring the crowd together. "As a cinephile myself, I think the screenings are very important for Los Angeles as it really gets people from all over LA together in one place to enjoy some of the best movies ever," he says. "Sometimes people are seeing that particular film for the first time (which I've done many times as well), or seeing their favorite movie for the millionth time."
Choosing films that challenge the audience
At first glance, Cinespia's generation-spanning selection of films seems to defy any unifying characteristic or theme. For instance, this summer, you'll find film legends like the Hitchcock thriller North by Northwest followed by more recent cult favorites like Clueless, and The Wizard of Oz fast on the heels of Wayne's World. According to Wyatt though, there's a rhyme and reason to each season's selections. "I have a very specific formula for choosing movies that I've developed over the years," he says. "A great story and storyteller are very powerful. Their movies are timeless and universal; they can entertain an audience 80 years after they were made... I've found it's much better to challenge an audience with a thought-provoking movie, a film that has a radical style or opens questions."
Wyatt also gives tremendous credit to an open-minded audience for embracing his eclectic selections, particularly when the younger fans who appreciate the older, deeper cuts. "Audiences everywhere are smarter than they get credit for," he says. "Our fans trust us and will try a movie they have never seen... That for us is the ultimate success, to introduce young audiences to the great movies from the past. It shows them what can be possible in film."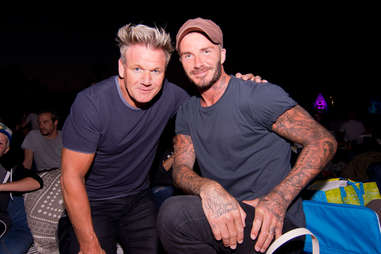 Celebrities on the screen and in the crowd
Cinespia's atmospheric screenings attract fans from all walks of life, including figures from the movies themselves. As fan Ben Anderson recalls, "I went to the Showgirls screening on the first Saturday I'd moved to LA. Elizabeth Berkley introduced the movie and said that her character of Nomi hitchhiked to LA, and if that's where she ended up -- that ain't bad. For me, it was a moment where I realized I'd also made the right move (... while comparing myself to an exotic dancer)."
The allure of the cemetery screenings doesn't just draw celebrities to the stage, though. Anderson also recalls another celebrity sighting, this time off-stage: "During the Mean Girls screening, someone behind me wouldn't shut up," he explains. "All through the movie he was misquoting the lines loudly. I turned round to give the guy a stank face – it was the actor who played Aaron Samuels [in Mean Girls]."
"I turned round to give the guy a stank face -- it was the actor who played Aaron Samuels [in Mean Girls]."
While spotting a celebrity in the crowd is not uncommon, the laid-back atmosphere of the screenings discourages fans from approaching. In most cases nobody seems to really care that a celebrity is sprawled out on an adjacent blanket, and the stars seem to appreciate the low-profile experience where they can enjoy the movie just as the rest of the crowd does. There's a VIP section, yes, and it does offer a front and center viewpoint, but there are no velvet ropes or walls to be found -- mostly just some additional blankets and pillows.
Cinespia goes beyond the cemetery
Attending a screening at the Hollywood Forever Cemetery is undoubtedly a unique experience, but Cinespia has also managed to bring that special experience to the screenings it hosts at Downtown LA's historic movie palaces, like the Los Angeles Theatre, The Palace Theatre, and the Million Dollar Theater. The iconic venues are mostly used by Cinespia from November to early May, when it's a little too chilly outside (by LA standards) for screenings in the cemetery.
Expanding to the movie palaces makes perfect sense: They're almost like mausoleums for the old studio system. For Wyatt, "the movie palaces represent a bygone era that is a huge part of Hollywood history. It's hard to believe they're still here once you're inside, they're so opulent and beautiful. The theaters need tender loving care and the best way to do that, I think, is to fill them up with an audience."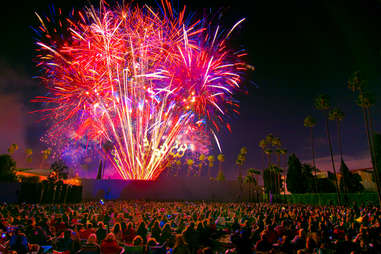 Survival in the age of Netflix
Using a cemetery to hold movie screenings is almost too perfect, given the number of think pieces proclaiming the deathofmovie theaters, and streaming services like Netflix and Amazon that make it easier than ever to binge watch whatever and wherever you want. Nevertheless, Cinespia continues to successfully draw audiences away from their couches -- a fact that doesn't surprise Wyatt. "This is something streaming can never replicate. Theatres have survived the advent of television, home video, and now streaming. Nothing will ever stop people from getting together to have the shared experience of a great film on the screen." Case in point: Cinespia teamed up with Amazon Studios as a presenting partner last year, a clear indication that the cultural impact of these screenings is being felt elsewhere in Hollywood.
"The passion and love for movies by the Cinespia team and the audience got our attention immediately," explains Bob Berney, Head of Marketing & Distribution for Amazon Studios. "The consistent size of the audience and expansion of the program to new venues around the city give us a perfect way to introduce our movie program in general, and specific titles, to this rabid and frequent movie-going community."
While the partnership clearly helps Amazon reach a large and enthusiastic audience, Wyatt says teaming up with the studio also affords Cinespia opportunities to offer its fans a more a robust line-up, like premieres of the studio's films. "[Amazon] has stepped into a space that a lot of the major studios are too afraid to occupy because of the bottom line... They respect the integrity of what we do, they trust us, and appreciate that we expose a younger audience to classic film."
"As for me," says Wyatt, "I'll be continuing to bring people together for great films as long as I live" -- a sentiment that many of Hollywood Forever Cemetery's permanent residents would likely have agreed with.
Sign up here for our daily LA email and be the first to get all the food/drink/fun Los Angeles has to offer.
Danny Jensen is a regular Thrillist contributor who always keeps a blanket and picnic basket at the ready for outdoor movie screenings. Follow his photo booth antics on Instagram and Twitter.