You've got college friends/parents/strangers-you-met-on-the-sidewalk coming to visit LA, huh? Well, it's your duty to show them a great time; but even more than that, show them what LA is really about. You're their tour guide, so why take them to the predictable places they'd go without you? Instead, we whipped up this handy guide to help you really dig into the heart of our fair city (and help you convince your dumb friends to move here), while skipping out on the touristy, obvious choices.
Recommended Video
These Tacos Are Made for Dunking
Instead of In-N-Out, hit up an under-the-radar burger joint
If they're not from the West Coast, the obvious answer is to take them to In-N-Out (there's one by the airport for maximum convenience). But chances are they're already familiar with the beauty of the Double-Double, so hook 'em up with some under-the-radar burgers that are truly LA -- Bill's Hamburgers and Jack's Classic in the Valley are great options, as well as Carney's in West Hollywood.
Instead of the Hollywood Bowl or the Greek, find a more intimate venue
LA is undeniably a music town, and the city is filled with incredible spots to catch live acts. But instead of relying on one of the huge venues, consider some of the smaller local spots full of LA history, like the Kibitz Room (where Guns N' Roses and the Chili Peppers got their start) or even Rainbow Bar & Grill (where legends like Elvis and Lemmy would hang). You should also consider one of the many amazing venues with free music nights where you can catch up-and-coming stars and sometimes surprise appearances from big names. You can even split the difference between huge & tiny venues with excellent, intimate shows at the Troubadour or the Teragram Ballroom.
Instead of fast food for a late-night fourth meal, eat tacos from a truck
Tacos are essentially LA on a plate, and there might be nothing more perfect for out-of-towners to get the full experience than posting up outside of a taco truck (bonus points if it's after you've taken them to one of LA's infamous dive bars). Don't settle for the first truck you find (though chances are it'll get you through) -- hunt down Leo's or El Flamin' Taco for that legendary al pastor, or any number of the exemplary tacos that can be found across LA. If it's mid-afternoon and you're looking to get a little more artisanal with your tacos, get over to Guerrilla Tacos or Kogi BBQ in a hurry. And explain to your guests who Roy Choi is while you're at it.
Instead of eating fancy, Americanized sushi in a trendy area, go old-school in a strip mall
If there's one thing that makes LA what it is, it's our limitless amount of incredible food in strip malls. Sushi especially. The long drive to Canoga Park is beyond worth it for Go's Mart (Go's fish is imported straight from Tsukiji Fish Market in Tokyo) though the entire SF Valley is packed with gems like Katsuya, Sushi Spot, Chiba, and more. For a non-Valley option, Hamasaku certainly won't let you down.
Instead of a dumb, predictable club, go to a Houston Hospitality speakeasy-style bar
It might sound odd to endorse an entire hospitality company, but fraternal twins Mark and Jonnie Houston have done something kind of incredible for LA's nightlife scene: They've created an enduring brand of genuinely fun destinations. When fans hear they're opening a new spot, they tend to geek out like a new Star Wars movie is on the way. Almost every HH bar is defined by a secret entrance, excellent live music, some sort of live show, and an insanely attractive clientele. Take a gander at No Vacancy to start off, as it probably best defines what Houston Hospitality stands for (and don't spoil the entrance!).
Instead of drinking beer at Dave & Buster's or 33 Taps, drink beer in LA's booming craft beer scene
Though LA doesn't have historical roots as a major beer capital, that is quickly changing. Breweries have been popping up like mad, finally helping to give LA some recognition in the beer world. Guests staying in the Valley? MacLeod Ale Brewing Company has you covered. More Eastside? FrogTown Brewery is one of our best newcomers, as well as Boomtown Brewery in the Arts District. You can even plan your own Arts District beer crawl -- make sure you hit Boomtown, Mumford, Iron Triangle, Angel City, and Arts District Brewing for the grand finale.
Instead of the Dodgers/Lakers/Clippers/Kings, go to a Rams game
The Rams are back, ladies and gentlemen. We had them from 1946-1994, and starting this year they're ours again. Though they will be playing at the Coliseum (where you can also find some great food options) until the new Inglewood-based arena is finished, it's still crazy exciting to watch a pro football team in LA. *Insert ram bleat here*
Instead of the boring 3rd Street Promenade, eat some Korean BBQ in Koreatown
LA has the largest Korean-American population in the country, and our Koreatown is a mecca of limitless wonders that many visitors miss. LA simply wouldn't be what it is without Koreatown, and one of the best ways to truly experience it is to go all-out on a huge KBBQ meal (which somehow tastes even better later at night). We have a slew of knockout meat havens, but you'd be remiss if you didn't consider Hae Jang Chon, Soowon Galbi, Kang Ho Dong Baekjeong, or J-Gold favorite Park's (by now you should have explained to your guests exactly who Jonathan Gold is). Stuck with a bunch of vegetarians? No problem, K-Town can still be explored. Try out Beverly Soon Tofu or BCD Tofu House, for some soondubu, or tofu stew. And last time I checked, vegetarians can do karaoke, which is another essential part of the K-Town (and LA) experience.
Instead of seeing comedy at The Comedy Store or the Improv, check out an indie show
Though our traditional clubs are filled with comedy legends that you know and love, our underground scene is unstoppable. You'll catch superstars and up-and-comers alike in people's backyards, taco shops, and even secret locations that you can only find by getting on an email list. These shows make for much better memories for both visitors and locals.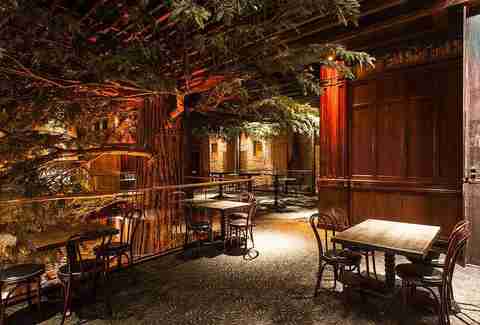 Instead of taking a studio tour, take a tour of Clifton's Cafeteria
Clifton's was around for 80 years before its recent stunning, $10 million renovation -- helmed by the guy behind The Edison -- so the place is rich with LA history (and the more you explore, the more subtle nods to LA history you'll find). Four floors of mysteries and curiosities await you inside the legendary so-much-more-than-a-cafeteria. And with the newly opened Tiki bar? Forgetaboutit.
Instead of waiting in line at Pink's, eat dumplings in the San Gabriel Valley
Pink's is great, but your guests probably have hot dogs where they come from and you don't have time for that line. An SGV visit will be a lot more memorable -- what Koreatown is for Korean BBQ, the San Gabriel Valley is for Chinese & Sichuan food. No trip is complete without hitting Din Tai Fung for soup dumplings or Chengdu Taste for… well, literally anything. That place really can't miss.
Instead of hiking in Griffith Park… actually, just go hiking in Griffith Park. It's great.
For real, Griffith Park is so gigantic that you don't need to see the Hollywood sign to have a great time. Check out the Wisdom Tree, or if all else fails, any of these secret hikes.
Sign up here for our daily LA email and be the first to get all the food/drink/fun Los Angeles has to offer.