Check Into Hotel Who for an Immersive Mystery Experience
This roving murder mystery party invites guests to uncover the killer among them.
Photo courtesy of Hotel Who
Photo courtesy of Hotel Who
Last fall, Instagram ads started appearing for a mysterious experience in Los Angeles called Hotel Who. There have been many immersive experiences, from art shows to themed bars to haunted houses, but Hotel Who promised something new.
Launched in time for Halloween, Hotel Who was LA's first overnight murder mystery experience at the historic Hotel Normandie over five weekends. The backdrop of that immersive experience was a wedding in the 1920s of the hotel owner doubling as a celebration of the hotel's opening (fun fact: The Hotel Normandie was indeed built in 1926). Guests came dressed in roaring twenties costumes, and interactions with cast members flowed along with drinks during the one-hour open bar. After the murder event at dinner, guests spent the next two hours searching the designated hotel rooms for motives and the murder weapon before retiring to bed. The murder was then solved during brunch the next morning, with the cast impressively staying in character the entire time.
Long-time friends Monica Sharon and Angela Fegers, who are both from dance and performance backgrounds and have been doing interactive performances together since college, started Hotel Who. Sharon moved to Los Angeles for work but found herself missing the performance art. When the two began discussing doing a show together, they decided they needed to make one that would be viable as a business instead of simply a space to share art.
It was then that Fegers brought up the idea of doing the show at a hotel. "That's actually brilliant because there's so much that we can use at a hotel. It's a sustainable model since you don't have to build a set and break it down each time," said Sharon, "We can make different shows inspired by different hotels."
Everything fell into place for their first show last October with Hotel Normandie. "It was a new thing so it was hard for us to explain what we wanted to do, because we haven't done it yet. We got really lucky with the Normandie, they were really open and interested in what we wanted to do," said Sharon.
Despite the slow start in marketing last year, the show gained traction, and Hotel Who is returning for an entirely new immersive experience in April. This time the event will take place at the historic and opulent Millennium Biltmore. While all guests had to stay overnight during the first iteration at Hotel Normandie, awaiting the murderer reveal at brunch, because an overnight stay may be prohibitive to some, Sharon and Fegers decided to offer three different ticket types this time around, so more people can join part of the experience.
The VIP ticket offers an overnight experience and includes a suite stay at the Biltmore, costing $350 per room for single occupancy and $425 per room for double occupancy (up to 2 additional guests can be added for $215 per person). The mid-tier admission for $150 includes access to activities on the first night, while the general admission ticket is $50 for the 1950s ball.
The new show is a love story in four acts, and similar to the first one, it centers on an engagement party. The engagement party is set in 1955 between two characters named John Sunflower and Judy Rose from two rivaling families, à la Romeo and Juliet. There will also be supernatural components to the storyline, with fairies and magical elixirs making an appearance.
While there won't be a murder in this particular show, there will still be a mystery that needs solving, and the show will have a heavy interactive component. The night will start with a cocktail hour and passed hors d'oeuvres in the hotel's ornate Gallery Bar, where guests will meet some of the characters. During this cocktail hour, the VIP and mid-tier ticket holders will receive two drinks, and additional drinks will be available for purchase. Guests will then move to the penthouse for a more intimate, interactive part, where the mystery will be introduced. VIP ticket holders, however, will have the opportunity to become one of the characters in the story themselves. They will be assigned a character complete with their own background story and instructions on how to act. These characters will be tied to a second mystery that other guests cannot access.
The night's finale will be a 1950s ball with treasure hunt-style puzzles, performative moments, and a live band. This ball is the only act included in the general admission, with drinks available for purchase. The first mystery will be solved at the night's end, and those staying overnight will reconvene for brunch the following day to solve the second mystery, which is tied to their assigned characters from the night before.
The first Hotel Who show attracted people who love hands-on puzzle solving, immersive events, and, most of all, dressing up according to the theme. With the new show, Sharon and Fegers made sure they incorporated those elements the guests loved, with hands-on tasks required to solve the mystery and a ball to dress up to the nines for.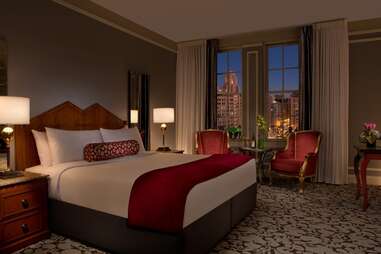 Each of Hotel Who's new shows will be performed at a different historic hotel because one of its central concepts is that the performance and the space depend on each other, and each show is tailored to the hotel's history. Fegers loves history and digging into newspaper archives to find as much information about the hotel's past as possible. The two create characters based on real-life figures. Hotel Normandie was originally a residential hotel, so most of the characters were based on intriguing locals from the past. The Millennium Biltmore, on the other hand, has a much more storied history.
"For example, we know that Al Capone used to frequent the Biltmore, so we have a character that's inspired by [him]. The Biltmore has a very interesting array of people that used to hang out there throughout the decades just because in the 20s and 30s it was the epicenter of the Academy Awards and there were a lot of celebrities and people that we know about," Sharon explained. "It would be interesting to see how that changes things from the audience experience," said Fegers. Only cast members and guests will know how a love story, the mob, and fairies come together in one storyline.
Sharon and Fegers are also looking to expand Hotel Who beyond Los Angeles. They're in the process of finding hotels on the East Coast for a summer show or two before returning to LA for another Halloween murder mystery. Hotel Who at the Millennium Biltmore will start on April 15 and run through July 15. Ticket information will be available on thehotelwho.com.
Fiona Chandra is an Indonesian-born freelance food and travel writer but she now calls Los Angeles home. When not eating and traveling, she's probably watching crime shows.