The Best Burlesque Shows in Los Angeles
When you're in the mood to be teased, but you want something a bit more theatrical than you'll find at the local strip club, there's only one solution: a burlesque show.
LA's home to many talented performers, some of whom twirl from the ceiling on hoops, while others gyrate around the room dressed like Donald Trump. Whatever your fancy -- be it a smoldering striptease or a raucous vaudeville act -- LA's got a burlesque show for you. Here are 11 of our favorites.
Multiple locations
The LaLas are seven women who put on a 75-minute show of tight choreography and eye-popping moves. They're based in LA, so assuming they aren't on tour, you stand a good chance of catching them at one of their many shows -- they frequent Federal Bar, both in Long Beach and NoHo. These talented dancers are all pros, with a list of film and TV credits under their garters that include Beyoncé's "Who Run The World?" video, X Factor UK, and America's Got Talent.
Multiple locations
This unconventional show features songs with themes drawing from horror, '90s nostalgia, and things you might not normally associate with a burlesque act. Jessica Rabbit? Sure, makes sense. Chucky the killer doll, and Capt. Jack Sparrow (complete with glued-on facial hair) popping out of a treasure chest? Not so much, but WTF-lesque makes it work, marrying sexy sashaying with a keen sense of pop culture-infused humor. It's one of the only places where you'll see someone do a striptease to Rebecca Black's "Friday," as they slowly transform from a pop singer into a certain hockey-mask-wearing serial killer who also loves Fridays.
<em>Hollywood</em><br />
This weekly show bills itself as LA's longest-running burlesque, going strong for over a decade at Hollywood's Three Clubs. A rotating cast of sexy dancers undress to myriad themes, from classic burlesque to more... contemporary choices (someone once did a Pennywise the Clown routine). The atmosphere is festive and fun, so expect a vaudeville vibe with lots of innuendo from busty host Lili VonSchtupp -- and if you go on your birthday, expect a spanking.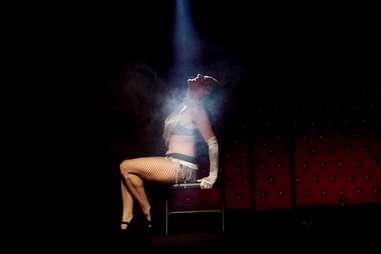 <em>Long Beach</em><br />
Every week,&nbsp;<a href="http://longbeach.harvelles.com/&quot; target="_blank">Harvelle's in Long Beach</a>&nbsp;hosts Underground Comedy &amp; Burlesque with the The Dirty Little Secrets Burlesque. However, it's not uncommon for there to be more burlesque on other nights of the week if you check the bar's events calendar. The Dirty Little Secrets call themselves the "Chinatown of burlesque," in that there's a little something for everyone (including classic burlesque, ballet, and belly dancing) among over 20 performers. If you can't make it to Harvelle's on a Tuesday, the troupe performs regularly around Orange and LA counties, and hosts the occasional class or workshop for the burlesque curious.
Multiple locations
Performing frequently around Los Angeles, this troupe (led by Penny Starr, Jr.) can get pretty wild and risqué, and is specifically known for pushing the envelope with subversive routines. There's even an act titled "The Wrong Show," which consists of the most politically incorrect acts you can imagine -- working titles for skits include "FoXXX News," "Interracial Freaky Friday," and "The Care and Feeding of Your Vagina."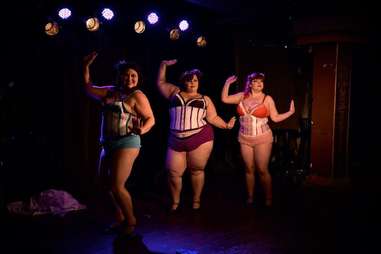 <em>Los Feliz</em><br />
For magic, burlesque, and even boylesque, check out the Hollywood Jane Revue. Created by Blanche Bourgeois, this group's been twirling tassels at Rockwell Table &amp; Stage in Los Feliz for the past three years, with fun, nerdy themes like I Spy and Fantasy Adventure. They've even done a Bob's Burgers group tease, which is either way sexier than you'd think or exactly as sexy, depending on your sensibilities.
<em>Downtown LA</em><br />
Found by Rita D'Albert and Liz Fairbairn in 2012, this fantastic show combines striptease with Luchadores -- authentic masked Mexican wrestlers -- and comedy (of course). In classic lucha libre fashion, you will watch dramatic tales of good and evil unfold in the ring through thrilling stunts, interspersed with scintillating performances by aerialists, hula hoopers, pole pros and sensuous shakers. Plus, you'll get a good laugh from hosts Tom Kenny, Dana Gould and Blaine Capatch, as well as the occasional guest comic: Jack Black, Drew Carey and Chris Hardwick have stopped by in the past.
<em>Hollywood</em><br />
Devil's Playground, produced by burlesque performer Courtney Cruz, is best known for its Star Wars-themed shows, during which you can watch Storm Troopers, Kylo Ren, Luke Skywalker and even Wookies and droids strip down. Of course, there's more than just "Star Girls," as it's called: there's also a trippy Wicked Oz show, because who hasn't wondered what's underneath that Tin man costume?&nbsp;
<em>West Adams</em><br />
Each month, Peepshow Menagerie puts on a provocative homage to a different theme. Some are more modern, like the upcoming "Sintendo" show, while others draw from retro motifs like pulp detective novels and sci-fi flicks from the '50s and '60s -- and it gets even nerdier still, with themes like Lord of the Rings and Harry Potter. The monthly shows go down at Fais Do-Do on West Adams, though you can sometimes catch them at alternative venues.
<em>Silver Lake&nbsp;</em><br />
Formed in 2012, Sultry Sweet combines burlesque, contortion, aerialists, comedy, magic, and vaudeville with a live, 8-piece band. The show's found a perfect venue in El Cid, Silver Lake's gorgeous Spanish flamenco bar, occasionally dabbling in fetish-y, BDSM-inspired, or horror-themed shows, like the Drop Dead Gorgeous show -- and really, why not do a Linda Blair act if you've got a contortionist on hand?&nbsp;
<em>Santa Monica</em><br />
The Dollface Dames take the stage for TRiPtease Burlesque on the first Wednesday of every month, which sees them work their magic accompanied by live music (courtesy of Lounge-O-Rama). On the off-chance you're not able to make that show, have no fear: the remaining Wednesdays offer a rotating cast of LA's finest vixens and variety acts, all hosted by the original Dame herself, Lola Boutée.<br />
<br />
<em><a class="vortex-open" data-campaign="2839" href="https://signup.thrillist.com/&quot; target="_blank">Sign up here</a> for our daily LA email and be the first to get all the food/drink/fun Los Angeles has to offer.</em>
Eliza Deckard is a reclusive journalist who loves horror films and is actually the one who has confused feelings about that Pennywise the Clown striptease.