This Immersive Experience Takes Dinner and a Movie to a Whole New Level
Multi-course meals with dishes identical to the ones on screen are served to the audience, perfectly synched with the film.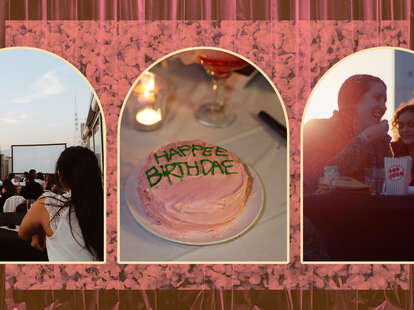 Photos by Athena Alvarado, Francesca Duncan, and Blanca Vigueras, courtesy of Fork n' Film | Design by Maitane Romagosa for Thrillist
Photos by Athena Alvarado, Francesca Duncan, and Blanca Vigueras, courtesy of Fork n' Film | Design by Maitane Romagosa for Thrillist
There may be no word with more cultural force right now than "immersive," an aspirational concept for every kind of experience, from art galleries to live sports. Maybe it's a post-pandemic, pre-apocalypse crisis of the collective soul, an earnest attempt to interact and reconnect with three-dimensional public space, or perhaps it's just a warmup for the singularity and our inevitable techno-physical merging. Either way, immersive events are all the rage and the coolest one in LA ties together the twin pillars of a great date night—dinner and a movie—into a fantastic ongoing event series. Fork n' Film is the best immersive experience in Los Angeles right now.
The concept is simple and ingenious in the way that everything successful seems simple once it's already a hit. You arrive for a movie screening on a rooftop in downtown, settling into your own tables with about 30 other guests. The movie begins, and as key events happen on screen, the team at Fork n' Film delivers a coursed-out series of fun and interactive dishes inspired by and timed up with the action.
Hagrid delivers Harry Potter an iconic birthday cake, and suddenly, a perfect replica lands in front of you, too. Remy the rat makes potato leek soup, and you are delivered a little pot of broth with fistfuls of herbs and spices to drop in yourself simultaneously. Dishes are playful and creative, with lots of flash and smoke, trickery, and whimsical touches like edible paper or a dish served with a lit sparkler.
They started in April of this year with Harry Potter and The Sorcerer's Stone, which features the aforementioned cake. The whole meal covered 10 courses, including Butterbeer; a Hogwarts Grand Feast of Creole-inspired drumsticks, pommes puree, and red pepper coulis; and a chocolate and hazelnut Golden Snitch in an ornate box. That movie carried them through the summer, winning a legion of fans who continued to snap up tickets within minutes of each drop and prompting them to bring it back for a short extended run in September.
The Harry Potter dinners were a huge hit and an attention-grabbing win that kept them booked for months. And for their next trick, they intuitively transitioned to an eight-course dinner paired with an iconic food movie, Ratatouille. Of course, the namesake dish is the piece de resistance, but there is also that Potato-Leek Soup, the sparkling mushroom skewer, a salad served in a miniature trash can, and more.
The immersive dinner experience comes from Nick Houston and Francesca Duncan, two creative types—Duncan is a singer-songwriter, and Houston is a writer—who love food and movies and share an entrepreneurial spirit. The couple had been looking to make a professional move into the food world in one way or another, toying with a few different projects, and the vision for this one was evident to them both. There was a logical, actionable path forward: Find a venue, put on a movie, and serve dinner. So they tried it out, hopeful but not exactly expecting it to blow up—but blow up it did.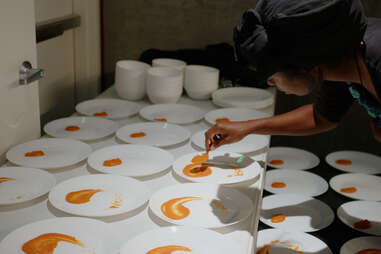 Thanks to the clever concept and some savvy choices, like picking an iconic movie (even if it's one with some baggage) and creating fun and photogenic dishes that are particularly appealing to an online audience, Fork n' Film was an instant hit on social media. Posts featuring the experience got millions of views, and suddenly they were selling out every date within minutes of going on sale. Celebrities like Keke Palmer and Kristen Bell started coming through, and it grew into a certified hit almost overnight.
"We literally thought that it was just going to be our friends and our parents," Houston says. But it's been way, way bigger than that. And there's a lot more in store for them, too.
First on the agenda is an expansion across the country to a new location in New York which will debut on September 29. It may seem like a big jump, but it's a homecoming for the NY native Duncan, a special chance for her to bring a project back across the country. They're also looking into jumps to other cities, maybe San Francisco or Las Vegas, and they plan to add a second LA location soon too. That would help ease the burden on ticket sales and allow more people to experience the fun.
It's been a tough ticket to get, but if you're planning to try to snag some seats, the next drop is coming soon. They're releasing tickets for the next run in both LA and New York on September 1st, with screenings starting September 29th and continuing through the holidays and into the new year. Of course, the movies are set to turn over with the season too, and they've got another round of perfectly on-brand choices: Christmas classics Elf and The Polar Express will start in November.
They've only been doing this a few months, and Houston and Duncan are both still a little bit in shock. "There's a new moment every day where we're like 'oh my god, oh my god, oh my god," Duncan says. And for Houston, he says, "every day I wake up and I'm like 'are we really doing this? Is this real?'"
But it's more than real, and there's much more to come. They're in the early stages of developing partnerships with major media companies, which could include official toys or merchandise as a 'course' of the event or closer collaboration with the filmmakers and producers. But whatever they do, it will be centered on great food and infused with the magic of the movies.