How to Talk to Celebs in LA, According to Celebs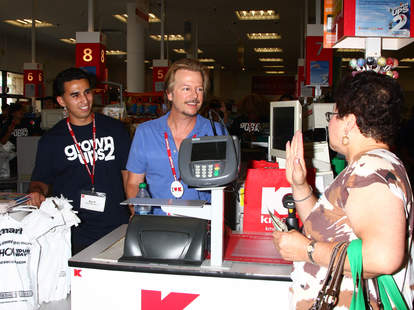 <a href="http://www.shutterstock.com/gallery-564025p1.html?cr=00&amp;pl=edit-00">Helga Esteb</a> / <a href="http://www.shutterstock.com/editorial?cr=00&amp;pl=edit-00">Shutterstock.com</a>
No matter what, if you live in LA long enough, you're going to see a celebrity, whether it's at the Coffee Bean on Melrose, or, uh, the Coffee Bean on Ventura. And the thing is, at some point you're going to want to interact with them -- which can either be a great thing or a terrible thing, depending on their reaction. So we hit the red carpet and asked a ton of celebrities how they'd best like to be approached -- and exactly what NOT to do:
Joel McHale
Best known for: Community
He says: "It's weird when people shove their phones at me and go, 'My sister loves you! Talk to her!' And then I say something horrible to her like, 'Why did your brother say you were so fat?'" Also, pop an Altoid first. "Bad breath is really bad. That's a standard."
Wikimedia
Sarah Paulson
Best known for:The People v OJ Simpson: American Crime Story; American Horror Story
She says: Paulson is totally down to take photos with you and sign autographs -- but her one condition is that you promise not to ink her signature on you for all eternity. That creeps even her out. 
"The weirdest thing that ever happened was somebody asked me to autograph something with one of Lana Winter's lines, which was 'I'm tough but I'm no cookie,'" she says. "I did it and the next thing I know, that person came to see me in a play and had tattooed my writing on her arm. That was a wild thing. I was like, 'That's there forever.' It was ultimately flattering and also like, 'Nice to meet you... Thanks for coming out... and have a great day!'"
Wikimedia
Ron Perlman
Best known for: Sons of Anarchy, Hellboy
He says: Ron Perlman -- who says that fans often get intimidated by thinking he actually IS Sons leader Clay --  gets approached so often by fans that lately he's been Shark Tanking ways in which he can profit from the experience. "If they want to make a donation to my career, that would probably be the best thing they could do. Like a cash donation. Anything short of that, we'll talk," he jokes. For real, though, he's quick with a handshake and a chat.
Wikimedia
Wendi McLendon-Covey
Best known for: Bridesmaids, The Goldbergs
She says: The long-suffering mom from the Goldbergs is still always down for a candid fan interaction, and if you're a calm and collected person, then she has all the time in the world for you. But...
"Don't give me a dead eyed stare and follow me around a store," she jokes. "I don't want to say a lot but it happens more than I'm comfortable with. It's creepy. It's stalkery, it makes me feel like you have a screw loose. Being like, 'Oh hello I like your work,' that's fine. But the following and the staring is so weird. They think they are being sly and discrete, and it's like, "Ohhhhh.'
The one place she might want some space? Trader Joe's. "You feel it... being watched. Sometimes I just want a rotisserie chicken!"
Wikimedia
Tina Majorino
Best known for:Napoleon Dynamite
 
She says: "I wish that people knew that they could just come say 'hi,'" the puffy-shouldered girl from Napoleon Dynamite says. "Because I think more often than not, they do the following you thing, trying to see if it's you and feeling weird about coming up. It's so much better to come up and talk to me than it is to lurk behind because then I get scared. I'm like, 'Oh my God. What's going on?' I'm more than happy to talk to people, I just want them to come up and talk to me!"
Just don't talk to her when she's walked into a stall at a public bathroom and shut the door. "That's a little weird. I've had that happen when you are mid pee and someone will pass a piece of paper under and say, 'Hey can you sign this?' and it's like, 'Hey can you give me a minute?', she reveals. "Once I'm at the sink washing my hands, it's fair game. Let me wash my hands so I don't give you germs!"
Mike Shinoda
Best known for: Linkin Park
He says: "Fans once walked up when my wife was sick. She got food poisoning and literally had a barf bag in her hands and this guy is coming over like, 'Hey man!' and I'm like, 'Yeah dude. If you used your eyeballs, you'd know that this is dangerous for you right now. You could actually get thrown up on!'", he exclaims.
"If I'm hanging out here or I'm hanging out wherever and I look available, then all good. Come up and say hi. I love it. We actually do meet and greets for the fans before every show for at least 75 people and we've done it since the beginning of the band till now. So that's 15 years of meeting people before every show. I'm approachable, just not if somebody's throwing up!"
Judd Apatow
Best known for: C'mon, like, everything? OK: 40-Year-Old Virgin, Trainwreck, Love, Girls, etc., etc.
He says: Have some time to spare. "What I do is when anyone recognizes me, I talk with them until they want to leave. They'll want a minute with me, and I won't stop talking for 20 minutes. And then they'll regret the whole interaction," he explains.
David Spade
Best known for: SNL and much more
He says: It's more what not to do than what TO do with Spade. "Headlock selfies! Sean Penn doesn't get what I get, which is the back slapping frat brother where they see me and are like, 'Dude! Joe Dirt' and then they proceed to shove shots down my gullet. I think it's because I'm a comedian that people do so many weird things," he admits. 
He also appreciates a nice, clean, non-sweaty palm. "I would say that a dry hand is appreciated," he explains. "I understand that some people get nervous but it's like shaking hands with a ShamWow. And when you're at the pool and you put your arm around me for a picture, don't brand me with your pit because it's so hot and steamy."
David Duchovny
Best known for:X-Files, Californication
He says: Don't get super weird. "When I first started getting fan mail, I was jazzed. They'd give it to me every Friday and I'd take it home and try to answer it," he explains. "There were letters that were disturbing about abductions and things like that. People thinking that I had some kind of an insight in some of that!" Needless to say, it freaked Duchovny out so much that he began relying on his publicity team to respond with the standard issued autograph stamped 8x10. So yeah: say hi. Don't offer to abduct him.
Constance Zimmer
Best known for: Entourage, House of Cards, Unreal 
She says: "I am super excited when fans know who I am!" she chirps. "Half the time they think I'm Pam Adlon. So I actually love it!"
"My characters I play are not the nicest people," she explains. "People think that I'm that way in real life so a lot of times they are afraid to approach me."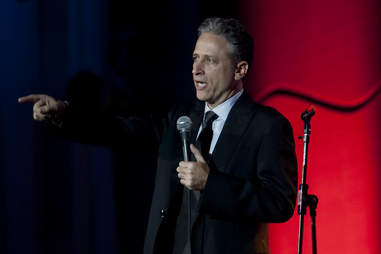 Wikimedia
Jon Stewart
Best known for:The Daily Show 
He says: Flatter him. "A lot of people come up to me on the street and say, 'Wow, you are a lot shorter and older in person than I would have thought. Without makeup you look sick,'" he explains. "I get that a lot!"
"Most people are generally very nice," he adds, but it does freak him out a tad when people scream at him from the backseat window of a taxi. "[I live in] New York, though, so some people might yell things from cars that they might not yell somewhere else!"
Sign up here for our daily LA email and be the first to get all the food/drink/fun Los Angeles has to offer.
Nicole Pajer is a Los Angeles-based freelance writer. She's interviewed just about every celeb in Hollywood, which makes her really popular to have around at a dinner party. To keep up with Nicole and her writing adventures, follow her on Twitter & Instagram.