The Largest Arts Commune in America Is Right Here in LA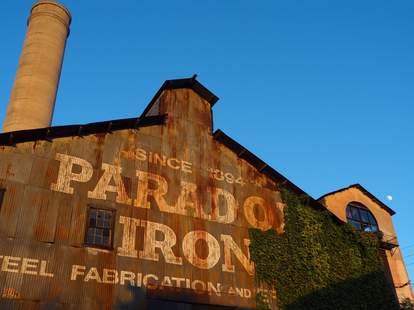 Imagine Burning Man with fewer drugs, more art, and no end date -- right here in LA. Well, that's The Brewery -- Los Angeles' historic art colony. Since 1982 The Brewery has created a safe haven for artists to live, work, and commune on 16 acres in Lincoln Heights, right outside of DTLA. Art spills out from windows, rooftops, hand-painted garage doors, and the occasional bus. Walk around, and you might stumble across someone constructing a life-size replica of a dream they had or a nude woman painted bronze posing on miscellaneous slabs of iron (indeed, many of the "ships" for Burning Man originated here).
It's like the Santa Ana's swept up a desert hippie-art commune and dropped them into the middle of the most unlikely place: Los Angeles. As a result, The Brewery has always had an 'us against the world' vibe, not in a middle finger sort of way, but in a quiet 'when the world ends and you've all destroyed yourselves we're still gonna be here' kind of way. We went inside for the lowdown.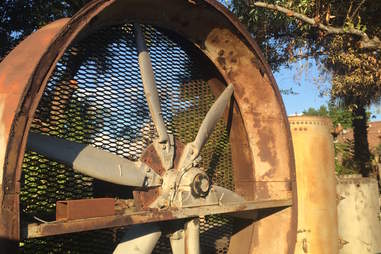 Kelly MacLean/Thrillist
Steam de la steam
Bordered on the East by the 5 Freeway, on the South by the Union Pacific Trainyard, and on the West by the UPS facility, The Brewery looks like a scene from the next post-apocalyptic, teens-save-the-world installment in the Maze Runner series. Whatever steampunk utopia Downtown's Edison bar is trying to be, The Brewery -- which actually used to be an Edison electric plant -- has been for decades. Brewery Owner Kristen Carlson says it's no coincidence an art community inhabits the space, "It serves to both inspire people and make them feel like so much is possible. If you walk into a quiet, sterile room you worry about touching anything, doing anything. Here, everything seems possible."
Kelly MacLean/Thrillist
The accidental commune
The Edison Electric Steam Power Plant eventually became the Pabst Blue Ribbon Brewery (thus the name), and was later purchased by the Carlson family. "We had tenants like a broom factory and a trucking company [initially]," says Kristen. Intrigued by the idea of including an artist's loft, they listed one second-floor unit in the newspaper. "The phone rang off the hook and we had a line down the street. So we decided to embark on the process of subdividing buildings and converting everything into artist lofts." The idea of populating the space with artists appealed to the Carlsons, who have a quirky, artistic background themselves -- Kristin's great-grandfather was a sculptor and the foreign art director of Balboa Park in San Diego. Her grandfather ran a circus in New York. "We've always been supporters of the arts," she says.
That support has paid off -- The Brewery has maintained 100% occupancy since opening in 1982. "The location and size of the community make The Brewery into a sort of island with its own culture," says Kristen. The "island" consists of 310 units and more than 500 artists -- so, yeah, the Carlsons are still running a circus.
Urban tribe
Today The Brewery is home to a diverse swell of artists -- from the angsty young photographer whose tiny fridge holds nothing but brewskis and cold brew, to the grizzled old painter who definitely did cocaine with Mapplethorpe in the '80s (sometimes, you can just tell these things).
The art mediums are as varied as the residents. A chef has transformed her loft into a cooking school complete with walls of gorgeous utensils. Some are landscapers, others painters. One woman's art involves exploding glass over a fire in her living room. It's an eclectic bunch -- yet all are totally united in art. There's even a Facebook site where Brewery artists swap art supplies, furniture, and obscure treasures you can't find anywhere else.
What The Brewery lacks in amenities it makes up for in community, "I've lived in lots of different neighborhoods -- New York and small-town New England -- and this is the most welcoming and inclusive community I've found in my 58 years," says artist Susan Savory, who makes '"ancestor portraits," vintage photographs accompanied by real or imagined belongings of the ancestor in question, and frequently scores loot from neighbors who show up on her doorstep with bags of old photographs and antique knick knacks. "It's a trade-off here; we're sandwiched between UPS, the rail yard, and the freeway. It's not clean, and it's not quiet but it's completely worth it."
At The Brewery, even the most sullen of artists may find themselves a part of an unlikely family. Charles Cohen has lived there since 2001, "The living conditions can be really sub-par in some respects. Some units are better than others. It's the people that make [The Brewery] what it is. I'm a misanthrope. I don't give a fuck about people and yet, in this place, I can say that [and still be embraced]."
The Cowboy Days
Several artists in the Brewery have resided there since the commune started in the '80s -- aka 'The Cowboy Days.' "We rented units really raw -- not even painted -- and things were a little more wild around here," says Kristen. When you ask them about the rumored crazy parties that happened people seem to have the same response "It was the '80s... " The dirt cheap rent and desolate surroundings attracted a plethora of artists who had nowhere to go and nothing to lose. Downtown was not yet desirable and Hollywood was too expensive.
"Suddenly all these struggling artists belonged somewhere; they had their own village," says LA historian Hadley Meares, who imagines there was a Lord of the Flies quality at first. "I bet the police didn't come around much. It was like their own little anarchist universe where they could create and destroy what they wanted."
Tamed though it may be, The Brewery remains largely the same, "It hasn't really changed in 30 years. That's what's so incredible," says Roland Reiss, one of the stalwart residents who, along with his wife and fellow artist Dawn Arrowsmith, has resided there for 30 years. "It really feels the same," he says, though his own work has evolved along the way. Reiss is one of the best-known artists at the Brewery, creating effusive floral paintings which he says are more about the geometric pattern of flowers than the flowers themselves. The pieces range between $20,000-$40,000 a pop and hang in the permanent collections of LACMA, MOMA and the Hammer.
Get lofty
Lofts at the Brewery range from small studios with just enough room to live and work, to veritable cathedrals of art. Dave Lefner, one of the darlings of the LA art scene, has worked his way up from the former to the latter in his 15 years on property. Lefner works in the medium of reduction linoleum block printing, or linocuts, a process developed by Picasso in the 1950s and scarcely practiced anymore; his gargantuan vintage printing presses look right at home at The Brewery.
His studio itself has also become a canvas with a kitchen that looks like a '50s diner which he's managed to make totally separate from the work space. His bed is on the loft, completely private from the gallery below. Lefner keeps his place pristine at all times, "You never know who's going to walk in and buy your best piece." Unlike many Brewery residents, Lefner no longer has to bartend or keep a side job; he has a long list of clients including LACMA and Disney. One of his paintings was even featured in the plot of the movie Valentine's Day "Moving here really changed my career," he says. "I mean, it truly did."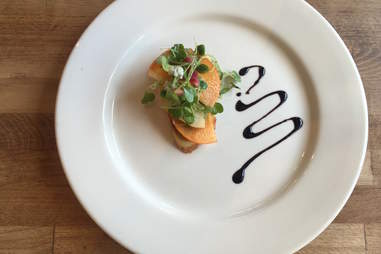 Kelly MacLean/Thrillist
Barbara's
Every colony needs a hub. Just as families gather for dinner at the end of the day, so do Brewery residents come together for happy hour at Barbara's, the one and only restaurant on campus. Around 4pm locals start trickling in to sip craft beers and smoke American Spirits on a patio all but officially reserved for residents only -- although outsiders can come to Barbara's as well for the fine beer selection, sophisticated food and sheer convenience. The Brewery is right next to the USC hospital and thus the often gray-and-black-clad crowd of artists gets notably peppered with blue scrubs as the evening wears on. Something about Barbara's sparks a connection between these varied groups says manager and former resident James Slay, "I see really weird interactions where there are people from the DA's office and then people who are -- not bad people -- but who have not at all taken that path and they're just chilling and having a conversation... There's a famous sports doctor that comes here and he's just hanging out with local artists."
People don't just come here to bond, though. There's another kind of art on tap. The Brewery has also received recognition as one of the best beer purveyors in East LA. Curated by Barbara's son and part owner Erik Huig, the menu sports a rotating selection of craft beer plus fixtures like the Craftsman's Heavenly Hefeweizen, brewed in Pasadena (about as good as domestic Hef gets) and 1903, which they frequently use to batter fish or add malt to a dessert sauce. "Barbara's has been the only craft beer in this neighborhood for 17 years," says James, who's worked here nearly as long, "Some people are just now catching on."
Chef Joseph Rivas was classically trained by LA chef Octavio Becerra. He was also the executive chef at the famous Mexican dive El Cholo, garnering awards for his chili. In Barbara's, Joseph's diverse background finds compromise. One part fine dining, one part diner, Barbara's has delicately prepared meals sans pretension, "I'm not a paper and pencil chef. I'm the chef that's always in the kitchen, behind the line with my guys, burning my hand, yelling sometimes... it's just the passion!" The ribeye sandwich with jalapeño aioli and onion is one of his best, if you're lucky enough to catch it on special. The fish tacos are a beloved standby, too. Walking in you may wonder if Barbara's is popular due solely to the exotic location or if they actually deliver -- it's the latter. Chef Rivas' life purpose seems to be delivering a heartwarming, lip-smacking, belly-aching good meal, "I try to put a lot of love in there and I like to think you can taste it."
Brewery Art Walk
If you go poking around on a normal day at the Brewery, you may feel less than welcome. Tenants often hold open houses on an individual basis, but it's not an invitation to crane your neck into every loft. Parking is tight and in general the artists don't seem to love people tapping on the glass of their fishbowl community.
If you want a comprehensive tour, go to The Brewery Artwalk, the colony's signature event. Twice a year (once in fall and once in spring) food trucks and beer stands spring up and the seemingly impenetrable artists' sanctuary gets as crowded as an ant hill.
Thousands tromp through the festival, which accounts for much of the year's rent money and publicity. People of all ages come to the Art Walk. LA gets to glimpse how residents live, to see their canvas right next to a mattress on the floor. It gives you a pretty good idea of what it means to be an artist -- teenagers should have to come see this before applying to art school.
The tide pool
Decades after the creation of The Brewery, other industrial, artist-in-residence communities are popping up all over LA but none is as quintessentially LA as The Brewery, argues Meares, "It's so significant to LA history because it encapsulates everything that's awesome about LA. We're constantly reinventing ourselves and redefining spaces, [and The Brewery] repurposed industrial into residential. Usually, a neighborhood becomes a cultural wasteland [when there are changes]. It's the opposite here, in true Angeleno spirit of 'we can make this whatever we want.'"
And so they have. To Cohen, The Brewery remains a genuine tribe in the midst of corporate America, "If you think of LA as the ocean, I think of The Brewery as like a tide pool -- all the nutrients come in, everything comes in but you don't get the crazy-ass waves."
Sign up here for our daily LA email and be the first to get all the food/drink/fun Los Angeles has to offer.
Kelly MacLean is a freelance writer, host of The Tao of Comedy Podcast and the one person in her family who can't draw to save her life.