The Lowdown on LA's Street Art -- From Two of Its Most Recognizable Artists
WRDSMTH
WRDSMTH
The unassuming exterior of this corner Downtown LA building with draped windows would never lead you to believe that on the other side of the wall was a massive, exposed brick-walled art studio, likely equivalent in value to a small museum, adorned with high beamed ceilings, and belonging to RETNA (born Marquis Lewis) -- a graffiti-writer-turned-artist success story.
Your eyes immediately scan the psychedelic, opulent room when you walk in, making you second guess if you just entered an exhibit at the Smithsonian. Several of RETNA's own masterpieces painted with cryptic letters are sprinkled throughout the studio, surrounded by cultural souvenirs he's picked up along his travels. At the entryway, there's a ballerina sculpture wearing a pastel-colored tutu, adjacent to another sculpture of sorts made out of colored propane tanks. As you glance upwards, you see a matte black bicycle with gold painted rims hung vertically against the wall atop a painting of the American flag (except, instead of stars, it lists all the countries we've been at war with), a black and white photo of artist Damien Hirst, stacks of glossy art books, and fancy furniture that you're too afraid to even caress for fear of breaking anything, knowing that even one piece is probably worth more than your entire apartment (and its contents).
RETNA is one of many artists in LA whose work is informed by the city who started his craft illegally and has managed to make a career of it. There's a deep-rooted history in the LA art scene, almost like an underground club, that lies behind all the colored canvases.
What is a street artist?
Over the last few decades, the term "street artist" has been thrown around loosely to anyone whose work shows up on city streets. For example, the self-taught artist WRDSMTH (who has asked to remain anonymous) -- and whose art, seen all over the city and identifiable by his signature typewriter image and inspirational messages like "Aspire to inspire others and the universe will take note" -- became a street artist accidentally; the former-published author actually considers himself a writer that has been labeled an artist, a title he doesn't mind. Street art became an afterthought when he was looking to find an active hobby to distract him from his computer and day job. In contrast, RETNA -- whose distinct typography resembles Egyptian hieroglyphics and who paints elaborate murals that are seen on public buildings like the West Hollywood Library or Craig's restaurant on Melrose -- had a much different path to success, like many LA artists, that traces back to years of building a reputation as a graffiti writer.
According to RETNA, there is a huge difference between a graffiti writer and a street artist. "It's a blurred line now... because there is so much of it," he says. "That street artist term is cool for a certain time, but I'm just not a street artist." The difference, he explains, is the legality. While there is a negative connotation in the public's eye, a graffiti writer "pays their dues."
"You could probably put me in the category of a street artist. You could do that with maybe a lot of graffiti writers. But there's not a lot of street artists that you could put in the category as a graffiti writer. There's a major difference, for sure. I'm prideful of the work that I've done," says RETNA. "When I paint walls, I consider them murals [not street art]."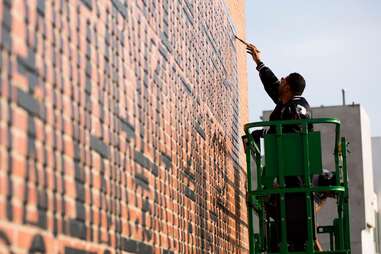 RETNA started doing graffiti at a young age of just eight-years-old when his mother intentionally put him in Saint Anne's private school in Santa Monica to avoid the gang life -- which ended up backfiring. He learned about graffiti from seasoned gang members in his neighborhood and after-school programs and started developing his aesthetic while practicing penmanship in school. By his early teens, he was a full-fledged graffiti writer who dubbed himself A One -- yes, like the steak sauce -- which he was forced to change later to Zoom because an NY artist with the same name made it clear there was only room for one. "I got my first arrest in '93 on the corner of Veteran Avenue and Wilshire Boulevard," he said. "I was about 13 years old. I was wearing my Catholic school uniform."
"The thrill was having recognition from these people you looked up to. The thrill of it being illegal I guess was another part of it -- getting away [with it]," said RETNA. There is also an unspoken hierarchy in the world of graffiti and usually writers fall into one of three categories -- tagger, bomber, or the highest title you could earn, a piecer -- someone, like RETNA, who can put together a tag with multiple pieces or colors. "Normally the rules were, the bomb could go over the tag, the piece could go over the tag and the bomb, so to speak." And the idea was "... to get up as much as you can on as much shit as possible... " he explains.
Eventually, the name RETNA was born from a Wu-Tang song (referring to "Heaterz") and he started drawing inspiration from ancient cultures and artists like Gustav Klimt, Alphonse Mucha, and Chaz Bojorquez, who's been dubbed the "Godfather of Cholo Style Writing" and took his work from the streets to the Smithsonian. "[Chaz] gave me my first show in '97," says RETNA whose own style has evolved over the years. It wasn't until RETNA started using straighter lines that morphed into characters derived from the Latin alphabet that his career suddenly took off. All his artwork comes in pairs or sequences and there is an underlying message that only he can decipher -- whether they're song lyrics, quotes, or drawn from his personal experiences. Perhaps it's the mysteriousness that has catapulted the 37-year-old's career and attracts a large following amongst art enthusiasts, collectors, and celebrities (including Justin Bieber, who chose some of RETNA's work for an album cover), which has led to collaborations with major fashion brands including Louis Vuitton, Chanel, Jimmy Choo, Helmut Lang, and VistaJet, a private jet company.
The street art underground
Being an artist in LA hasn't always been glamorous. In the '60s and '70s, LA was considered the "mural capital of the world" but it's been an uphill battle with the city and government officials who have cracked down on artists and been quick to remove murals that they believed were vandalism or gang-affiliated. Shepard Fairey, the artist behind the 2008 Obama "Hope" campaign poster and the clothing line OBEY, is just one of many artists who has been arrested for destruction of property.
"The first time you go out, you literally think like the world is looking at you... It's scary as fuck but then you finish, and you have this adrenaline rush," says WRDSMTH, about his early days making street art. After watching several documentaries, and videos from veterans like Shepard Fairey on how to make wheat paste, the self-taught artist created his own stencil method and hit the streets. Initially, he started painting solo during the wee hours of the night but learned the tricks of the trade and realized that "... if you look like you're supposed to be there, nobody questions anything," he says. In other words, if you're the only one on the streets at odd hours of the day and a cop sees you painting a wall, they're going to be suspicious, but if there's a guy painting a box during the day -- often times wearing a hard hat and construction vest -- no one will look twice. About 75% of WRDSMTH's "illegal" art is now done during broad daylight, but it also helps to have a "lookout", usually another artist friend, because for the most part, they all have each other's backs. Literally.
Street art's mainstream acceptance
In August of 2013, just a few months before WRDSMTH started hitting the streets, street art was in the midst of a major paradigm shift. Thanks to the Mural Conservancy of Los Angeles, LA City Council had just lifted a decade-long ban on murals that was a game-changer for some artists, but didn't affect others who were used to, and perhaps even drawn to, the thrill of illegal art. With the advent of social media and documentaries like Exit Through the Gift Shop, which takes a closer look at the renowned artist known as Banksy, street art -- whether legal or not -- has earned a certain cachet and well-deserved place in pop culture. Artists like D*Face and Curtis Kulig are now commissioned by popular establishments like The Line Hotel or Smashbox Studios, respectively, to beautify their walls.
While LA has previously struggled to compete with other cities that embrace a strong art culture like New York and London, LA has garnered worldwide attention with the highly anticipated opening of contemporary art museum, The Broad in September 2015, the first LA location for global gallery Hauser Wirth & Schimmel, and several luminaries like RETNA, David Flores (who paints famous faces that look like like stained glass) or REVOK (the famed graffiti writer who was featured in the acclaimed "Art in the Streets" exhibit at MOCA), who continue to make their mark all over city streets, retail buildings, and alleyways. LA's art scene is burgeoning and finally having a moment. It's an exciting time with more and more artists flocking to the West Coast, eager to be a part of the evolution because now there's no question that the LA art culture has now become embedded into the fabric of our city.
"The street art movement helped someone like myself, that was a graffiti writer that had this negative connotation, when [the art world made street art] more easily acceptable," said RETNA. "Have I benefited from that stuff? Of course I have. It's a real trend now for people to go find [the murals]. It was never really like that before. You do it to uplift and brighten up people's day."
Sign up here for our daily LA email and be the first to get all the food/drink/fun Los Angeles has to offer.