LA's Now Got a Netflix for Sweet Toys and Gear. Here's How It Works.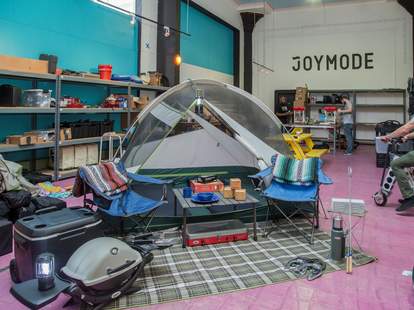 You shouldn't have to be rich to throw a spontaneous backyard movie night, host a day of games with chest-high Connect Four and oversized Jenga, or roll hard at the campground with your solar USB charger, laser-like headlamp, and French press.
That's the thinking behind Joymode, a company that loans stuff out to Angelenos who pay $99 per year for a membership (plus additional low-cost add-ons) for low-maintenance fun. You pick the "experience" -- that's the tailored package you'll borrow to do something specific -- from the website or their iOS app.
Then they deliver, and you use it for the weekend, paying far less than you would if you had to buy and store it.
"It's this notion of being able to do more and own less. We can provide you with everything you don't want or don't need to own to have fun with your friends and family," Joymode founder and CEO Joe Fernandez said at his Downtown Los Angeles warehouse on a recent Thursday afternoon.
His previous company, Klout, was also a study in how people connect. But instead of mapping out how social media ties translate to influence, Fernandez's current venture keeps an inventory of no-they-didn't awesomeness on loan to help you make memories.
Nearby, two staffers were cleaning out popcorn machines, along with returns of other whimsy -- cotton candy machines, outsized board games -- coming back from Joymode's slammed Labor Day weekend.
Dustin Downing/Thrillist
This ever-growing depot of calibrated tomfoolery is in the South Park neighborhood – that's Staples Center-ish -- with a single J on the nondescript door of what Fernandez thinks was once a raver space. (The black light-optimized ceiling, pink floor, floating stairs & railing leading to a DJ platform, dungeon-like carved wood door, and cluster of naked, torso-only mannequins clued him in when they took over the space a year ago.)
You ring the bell and are greeted by a handsome young fellow who wasn't expecting you, but is smiling anyways, and leads you, without name-checking you or in any way sizing you up, to the equally laid-back CEO, whose previous venture was in social media analytics. That makes him just about as much a modern-day Wonka for millenials as can be.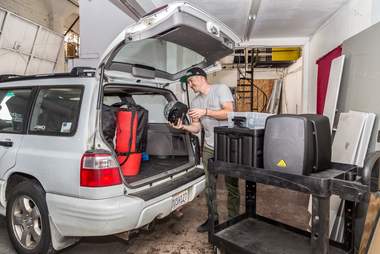 Dustin Downing/Thrillist
They don't only deliver the goods a saucy single might borrow to take to a beach party or weekend barbecue cray-cray. Massive crews (and, yes, families) are a big part of the member base, often booking the backyard movie night package, which includes a movie screen, projector, folding table, another table for the goodies, gourmet popcorn kernels, movie theater-style popcorn maker, cotton candy machine, blanket, inflatable couch, low lawn chair, blankets, and a portable fire pit. Boom: party.
Even casting director Stacey Snow impresses her industry friends with her alfresco screenings at her Highland Park home. "When I have [movie] parties, people are like, 'What?' They're just tripped out." She also gets the Pool Party experience delivered to take on weekends in Palm Springs, and adds on the snow cone maker to different orders, because everyone loves snow cones.
Of course, for boozy elements, there's a rentable frozen margarita maker you can throw in. If your cocktail preferences are a little more upmarket, there's a separate package, the Crafty Cocktails experience, to make a proper Moscow mule, copper mugs and all. And if you have no idea how to pour anything but beer from a bottle, don't fear -- every experience has a GIF for guidance on assembly or use, dropped in your inbox.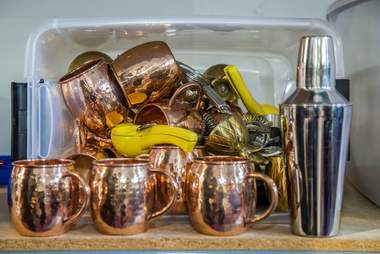 Dustin Downing/Thrillist
They've also got beer pong, complete with red Solo cups -- which is not to be confused with Bear Pong, an oversized version of the original that goes with the Giant Games collection.
They're adding new experiences all the time based on customer demand. So far the most outlandish inquiry -- the one flat "No" to this day -- was for a Ferrari (which, let's be honest, you can rent at many other places in town, and which costs way more than $99 a year). One customer wanted her dog to have his own agility course -- so now that is available. Someone else wanted a sous vide for a cooking experiment, so that's offered too.
Santa Monica resident Kyle Taylor, 30, has done an annual trip with high school friends for four years straight, all outdoorsy. He'd done short backpacking trips, but wanted to go bigger without having to talk his friends into shelling out for equipment they wouldn't touch for the other 50 weeks of the year. His request became the Backpacking Essentials experience, one he used to roam Utah's Zion National Park in April, with his entire LA crew on the trail. "It's a great way to get friends interested in trying something with you," Taylor said. Next he'll try their virtual reality Oculus Rift experience.
Some add-ons carry a fee -- like $5 to $15 each for an extra toy in addition to those included in the Pool Party experience, allowing people to book extra or mix in some unrelated bits. If you want to bring a bubble machine camping, go for it. "You can customize" beyond a typical package, Fernandez said. But he estimates that borrowing as a member, even with some add-on fees, still works out to a deep discount. "[The fee for each rental is] roughly five to eight percent of retail cost of the stuff. So, like, 1,000 dollars of camping gear for $50 to $75."
"We want the math to be really easy, like 'If I don't think I'm going to use this 15 to 20 times, do I really want to buy this?'"
Owen Gee, 30, a branding specialist whose South Park loft is blocks from Joymode, uses his membership to do things that aren't usually a part of true urban life, like spontaneous pool parties. "Giant floating doughnuts, pizzas, ice cream cones. It was a blast. It became an event rather than a pool party. [Without Joymode] I don't think I would ever have done that."
Shockingly, Fernandez's own home is actually not a massive repository of colorful, impractical tchotchke. He is anti-storage, and has been since living in a small New York apartment from 2005 to 2007, where he made a pact with his then-girlfriend, now wife. They decided that whenever they bought anything, they'd get rid of something.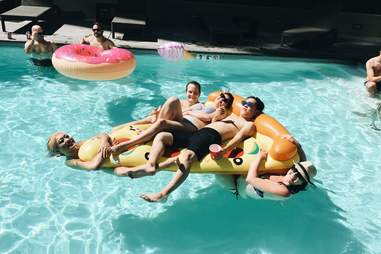 Naomi Tirronen
He likes choosing things for others, though, having handpicked the experiences Joymode would offer -- at least until member suggestions started taking over. He didn't order deep market research or check sales of this gear or that. Still a social media believer, he simply browses Pinterest to cull ideas and gauge interest.
One wishlist item kiboshed by the state-wide drought: a blocks-long Slip N' Slide. "That was kind of a bummer," Fernandez conceded.
Members can next look forward to giant, inflatable Twister -- think your air bed, but 15 square feet, with bright-colored dots and your friends trying even harder to balance on the undulating surface -- and Boosted Boards. Moving into fall, there will be more for indoor fun, like home brewing kits.
Fernandez sees the company growing, with membership not just as an effective pricing model, but as a kind of happy club: "We do want this to be a community. We want you to feel like you belong to something… Our hope is that the community both inspires you to do [new] things, and then on the flip side, because you feel like you're a part of something, you treat the items with respect. And that has been true."
Joymode is available to residents of Los Angeles within a defined service area. Through the end of September, Thrillist readers can bypass the waitlist to join using invitation code thrilljoy.
Sign up here for our daily LA email and be the first to get all the food/drink/fun Los Angeles has to offer.
Julie Walmsley is an LA-based freelance journalist. Past work includes
LA Weekly
,
The Real Deal
, and the early days of Patch (when it was actually good). Lately she is interested in the the gig economy, all things on-demand, and everyone in LA juggling a side hustle or two because, as an independent journalist, she feels their pain. Check her hustle score @JWalmsleyJourno.