It's winter in LA, and even though it's sort of, kind of, maybe a little bit cold, that doesn't mean that there aren't a ton of things to do. Grab the jacket you (normally) never use and hit one of these winter events, which range from beer fests, to Lunar New Years parties, and even a pop-up pizza museum. Who says you need snow to have a great winter?
December 5 - February 20
Frogtown
Swing by the beloved Frogtown Mexican spot for mezcal tastings every first and third Wednesday through February. Salazar has remained one of the best places to drink in LA, so if you like mezcal you really can't afford to miss any of these.
Cost: $40
December 8
The Phoenix Club, Anaheim
Any beer fest that takes place at the Phoenix Club is a beer fest you want to be a part of -- especially one with more than 100 craft brews on offer. So much of LA's best beer is brewed in Anaheim (like Noble Ale Works, Bottle Logic, and so many more), making this is an absolute must-do for any beerhead.
Cost: $55
December 8
Santa Monica
If you're looking to crawl your way through the holidays (and you're not alone there), a good place to start is the Santa Monica Pub Crawl. You'll have four crawlable routes, so choose wisely -- though if you want our advice, hit the Pier route since the bars are bigger and you'll have an easier time getting a drink. Also, please don't forget to eat. Please.
Cost: $15-20
December 11
SLS Hotel, Beverly Hills
José Andrés' revolutionary small plates titan is hitting double digits. The culinary teams from multiple Bazaar locations across the country will be in the house, collaborating on over 20 Bazaar classics. $125 gets you access to the full menu and the roaming drink cart, but $225 will grab you unlimited premium wine and champagne.
Cost: $125 & $225
Until December 30
Wallis Annenberg Center for the Performing Arts
You love Love Actually. We love Love Actually. The whole damn world loves Love Actually. Embrace that love with the all new 15-piece orchestra musical based on the movie, and you'll see… love actually is all around.
Cost: $45-90
Kiss 2018 goodbye on New Year's Eve
December 31
All over LA
There's always so much to do in LA for New Years, so if you haven't made plans yet, don't fret. Grand Park's NYE celebration is always ton of fun, and remains the most family-friendly (since it's completely dry). For a less dry option, consider one of the all-inclusive parties from The Doheny Room, Skybar at the Mondrian, or Poppy. Maybe you want to dress up like you're from the '20s? Give Prohibition NYE a look. Had so much fun at the Santa Monica Pub Crawl that you're itching to do it again? Just do it again.
Cost: Varies by party
January 6
Smorgasburg
Hit the rooftop at ROW DTLA for some pleasant outdoor yoga before stuffing your face with all the goodies Smorgasburg has to offer, like Mid East Tacos, Burritos La Palma, and so many more.
Cost: $18-23
January 11 - 25
All over LA
Two of the best weeks of the year are here at last. The specialized prix fixe deals will be flowing during dineL.A., so if there's a restaurant you've been meaning to hit, now's the time. Menus are still TBA, but you can count on some solid deals at a ton of great spots.
Cost: Varies
Advertisement
Between the holidays and finishing out the year at work, your calendar can fill up fast in the colder months. But whether your winter plans involve heading out to a new bar opening, onto the open road, or to the office, Wrangler has new styles and comfortable fits made for wherever life takes you -- so you won't have to think twice about what to wear.
January 16
Marina del Rey
Do you love to dance? Do you love to dance in the early hours of the morning before work? Do you love to dance in the early hours of the morning before work on a boat? Do you love to dance in the early hours of the morning before work on a boat with free kombucha and healthy snacks? If you've been nodding your head like a maniac, Daybreaker is for you.
Cost: $30-40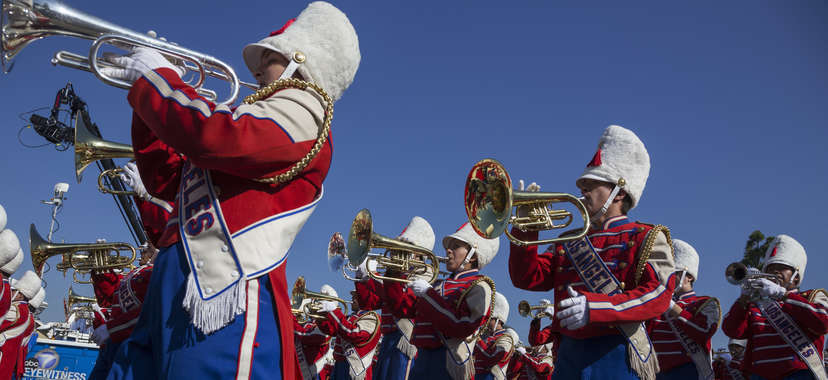 January 21
Along MLK Boulevard
Join one of the biggest Dr. King celebrations in the country, hosted by The Congress of Racial Equality of California (a group that's been active since the Civil Rights Movement). We need this celebration now more than ever.
Cost: Free
January 26
Union Station
Are you the wino in the group who has to suffer through all of your friends' beer festivals? Uncorked is here for you, with a ticket getting you access to unlimited pours of over 200 wines for four hours. You don't even have to like wine to like the sound of that.
Cost: $60-70
January 26 - 27
Downtown Monterey Park
It's the year of the pig, and just because our new year is over doesn't mean you have to stop celebrating. Head to Downtown Monterey Park on January 26 and 27 for five blocks of entertainment, vendors, food, and family activities.
Cost: Free
February 2
Universal City Hilton
We're not gonna say that Japanese food is the best food, but we're also not not gonna say that. If you lay awake dreaming of pork cutlets, sushi, ramen, sake, and all the other tasty things that come from Japan, you have no excuse to miss this self-explanatory event.
Cost: $60
February 2 - 3
Anaheim Convention Center
The biggest baking convention on the west coast is back for the fifth time, complete with a live Sweet Genius show. Grab a ticket for access to pretty much every single thing that's happening in the world of baking, and enough samples to warm the Grinch's heart.
Cost: $60
February 7-18
Various Locations
Considered "ground zero" for Black film and entertainment, hitting up some of the screenings at PAFF is easily one of the best ways to celebrate Black History Month. Films are still TBA, but you can bet there will be some powerhouse features and shorts, along with Q+As, awards, and parties.
Cost: Varies
February 9
The Buffalo Club
What if we told you that you could help fund neurofibromatosis research by running around in your underwear? Cupid's Undie Run is a 15 minute (very brief, if you will) run bookended by some mostly-naked partying, with proceeds going towards NF research. This one's a no-brainer.
Cost: $30
February 9
Chinatown
There will be over 1,000 people lining the streets of Chinatown for the 120th annual Golden Dragon Parade, which includes nearly two dozen floats, multiple marching bands, and a whole lot more. Chinatown has blown up with great things (like Majordōmo, Highland Park Brewery, and Apotheke), so there's no reason not to make a day of it.
Cost: Free
February 13 - 14
The Mayan, DTLA
If you've been to Lucha VaVoom, then you know how fun it is, and if you haven't… well, now's the time to figure it out. Part luchador wrestling, part burlesque, and part comedy show, Lucha VaVoom is an entirely original experience. And on Valentine's Day, it's not a bad date night either.
Cost: $40-75
Through February 29
Pasadena
In yet another addition to the always growing collection of stuff built for people to put on their Instagram, the Pizza Experience is a fully immersive, multi-sensory pop-up museum complete with a pizza night club, a dough rolling room, and so much more. Do it for the 'Gram.
Cost: $25
Sign up here for our daily LA email and be the first to get all the food/drink/fun Los Angeles has to offer.