If you live in LA, the end of summer doesn't mean the end of our festival and event season. There's a ton of fun summery stuff waiting for you just around the corner as the calendar turns to fall, and we've rounded up all the best options -- from food festivals to a summer camp for adults -- so you can decide how to spend your weekends from here 'till eternity. Or at least until it starts raining.
Now through Thursday, October 31
All over LA
A hefty amount of food trucks (like Cousins Maine Lobster and Baby's Badass Burgers), movies like Rocketman, Fight Club, and Hocus Pocus (which was released 26 years ago, in case you'd like to feel old), ample grass seating, and usually lots of dogs. Any questions?
Cost: $19
Now through Thursday, October 31
Ricardo Montalbán Theater & Neuehouse Hollywood
Back to the Future, Mean Girls, A Star Is Born, and more await you on top of the Ricardo Montalbán Theater and the Neuehouse Hollywood for this year's edition of Rooftop Cinema Club. Tickets tend to go quick, so don't leave this one 'till the last minute.
Cost: $17-$24
Thursday, September 12 - Sunday, November 3
Universal Studios Hollywood
A Stranger Things maze? Check. An Us maze? Double check. A Ghostbusters maze? Triple check. Universal always knocks it out of the park at Halloween Horror Nights. If you're running low on Halloween-based activities, you'll want to grab yourself a ticket.
Cost: Packages range from $69-$299
Friday, September 13 - Sunday, November 3
ROW DTLA
This multi-sensory spookfest is back for its fifth year so gear up for elaborate lighting, diverse and detailed environments, and yep, plenty of scares. 
Cost: $69
Ongoing
STAPLES Center 
Having access to free food and drink in a prime box suite makes victory taste just a little sweeter. Marriott Bonvoy members can use their points for two tickets to the Marriott Bonvoy suite at the STAPLES Center and get prime seats (plus food, beverages, and more) at the Lakers' home games all season long. Marriott Bonvoy offers benefits and endless experiences at more than 7,000 hotels across the globe, so whether you're into live music, exclusive dining events, or luxury VIP experiences, you're bound to find a perk that fits your lifestyle. Of course, they have you covered on where to stay after the game, too.
Cost: Starting bid at 100,000 points. Auction terms apply.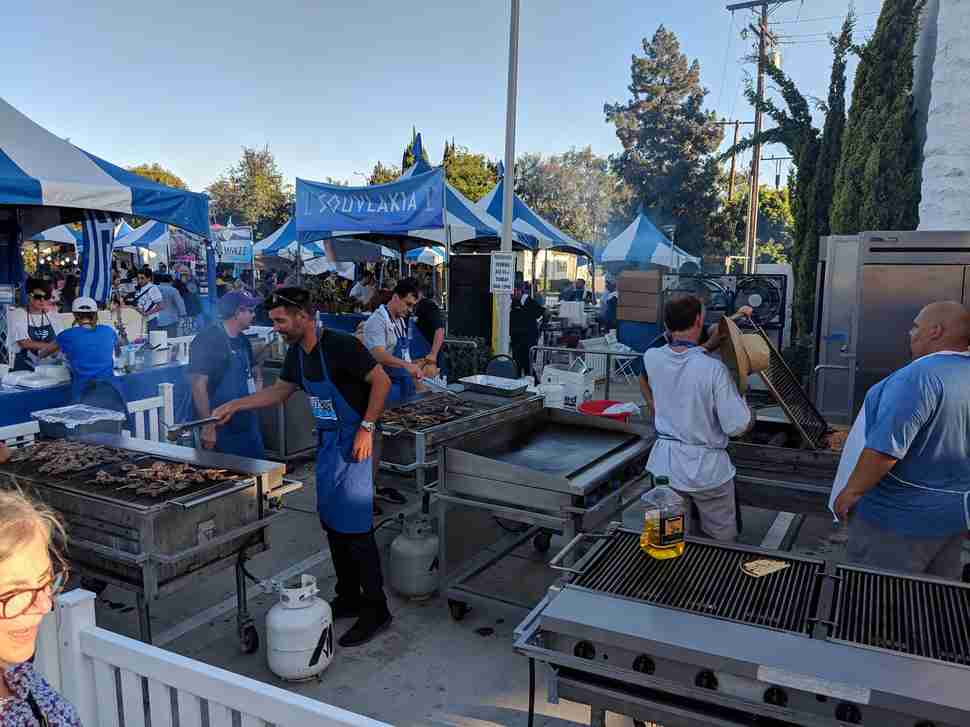 Friday, September 20 - Sunday, September 22
778 S. Rosemead Boulevard, Pasadena
Greek food! Greek music! Greek dancing! Greek wine & spirits! All the "opa"s you can stand! What more needs to be said?
Cost: $4 at the door
Thursday, September 26
Columbia Square 
Hollywood staples like Cleo, Wood & Vine, and more will be serving up goodies at this eighth annual food fest. You know the drill: a ticket gets you access to unlimited tastings and, at $50 a pop, that really ain't bad.
Cost: $50-$75
Thursday, September 26 - Sunday, September 29
Canyon Creek Summer Camp, Lake Hughes
The beloved weekend experience had a brief scare when it changed ownership, but Camp No Counselors is back for more, taking up residence at Canyon Creek Summer Camp during the last weekend of September. Sure to be the highlight of your year (and potentially your life), CNC takes over summer camps around the country and turns them into an all-inclusive, all-you-can-eat, all-you-can-drink, camp-based adult party scene. Play all the games, sports, and activities you loved as a kid each day before gearing up for the huge open-bar parties at night.
Cost: $699
Friday, September 27 - Sunday, September 29
Doheny State Beach, Dana Point
It's rad enough that Ohana Festival is a relaxed, beachy festival with a stellar lineup and headliners like The Strokes, Eddie Vedder, and the Chili Peppers, but even more rad is the fact that Ohana donates a portion of its proceeds to the San Onofre Parks Foundation as well as Doheny State Beach Interpretive Association. The TBA food and drink lineup, which is always rock solid, don't hurt none either.
Cost: Single-day passes $128.50-$499.50; weekend pass $355
Saturday, September 28
LA Center Studios
LA's biggest beer fest is back for fall, held once again at LA Center Studios. Expect live music, a dueling piano bar, and food trucks galore. Oh, and with over 200 beers, there'll probably be a little drinking involved as well.
Cost: $45 GA or $85 VIP
Saturday, September 28
Pearson Park Amphitheater, Anaheim
Going 14 years strong, this Anaheim tradition will unquestionably be colorful and traditional. This year's proceeds will benefit the Rhythmo Mariachi Academy, so just think about all the young musicians you're helping foster into Coco-style stardom.
Cost: $13-$75
Saturday, September 28
City Market Social House
For the first time, Pinot Palooza is bringing their epic (and world's biggest) pinot party to LA for an all-inclusive wine-soaked blowout. $60 gets you access to all the wine you can drink from 40 wineries (plus a commemorative glass) so, ya know, that's a pretty bangin' deal.
Cost: $55-$60
Saturday, September 28 - Saturday, November 2
Griffith Park
The Old Zoo's Haunted Hayride has always sat pretty high on the list of iconic LA activities so if you've never done it, now's the time. This year's not-very-scary-but-who-cares ride is going for an '80s theme, so pack your Walkman and have a great time.
Cost: $30-$110
Sunday, September 29
Abbot Kinney Boulevard from Main Street to Venice Boulevard, Venice
Five stages of music and spoken word, three beer gardens, and tons of food trucks (past vendors have included Cousins Maine Lobster, Kogi, and Belly Bombz) line the streets of Abbot Kinney for this event that waaaaay predates current trends: It's a 35-year tradition.
Cost: Free!
Wednesday, October 2 - Saturday, October 5
LA Live
Probably the flashiest of all the food events this year, the All-Star Chef Classic is a four-day culinary throwdown featuring an endless number of dazzling dishes prepared by more celebrity chefs than you can shake a breadstick at. There are a number of different dinners you can attend but whichever you choose, prepare to be blown away. Loads of stone-cold killers top the bill this year like Nyesha Arrington, Wes Avila, Sang Yoon, and Suzanne Tracht.
Cost: Varies by event
Thursday, October 3 - Sunday, October 6
Newport Beach
Legendary chefs (like Nobu Matsuhisa and Shirley Chung) sit at the forefront of this tasting event, which also includes cooking demos, seminars, cocktails, beer & wine tastings, and live funk & jazz. There are plenty of event options, so pick your poison and eat up.
Cost: Varies by event
Friday, October 4
San Gabriel Mission District
Dumplings and beer go together like…well, dumplings and beer. You love both of those things, so what more do you need? Plus, a wristband for unlimited beer tasting is only $30, so make sure your Uber account works and get to work.
Cost: $24-$29
Saturday, October 5
Will Rogers Park
You'll have a chance to watch polo, drink champagne, and try to pronounce Veuve Clicquot at this year's Polo Classic. It's an indulgent day, no doubt about it, but sometimes we need such days.
Cost: Packages ranging from $90-$1,900
Saturday, October 5 
OUE Skyspace
If you're looking for a break in your normal Oktoberfest routine, OUE Skyspace is a perfect way to mix it up. $40 grabs you admission, a ticket to the slide, two beer tickets, a commemorative boot mug, discounted beers, games, giveaways, live music, and…how much more convincing do you need?
Cost: $40
Thursday, October 10 - Sunday, October 13
Joshua Tree Lake Campground
This jammy, yoga-y fest is a deal if that's your thing, with a four-day wristband going for $200. Talent this year includes North Mississippi Allstars, The California Honeydrops, and Yak Attack.
Cost: $50-$90 per day or $200 for 4-day pass (camping and parking extra)
Thursday, October 10 - Sunday, October 13
Moreno Beach, Lake Perris
Wu-Tang Clan, Ween, The Flaming Lips, and Devo are toplining this year's Desert Daze. If dazey desert ambience and psychedelic music is your bag, you shouldn't miss this somehow-less-than-$300 weekend.
Cost: $289 for weekend GA (additional options available)
Thursday, October 10 - Sunday, November 3
Fairplex, Pomona
A ticket to Pumpkin Nights snags you access to a half-mile walking path full of fantastical installations, all built using more than 3,000 pumpkins. Whether it's date night or a night with the family, you're in for some serious pumpkin-y goodness.
Cost: $20
Saturday, October 12
Pico House
Over 100 wines and 40 restaurants (including Osteria Cal Mare and Pasta Sisters) will be showcasing their wares at this 11th annual Italian extravaganza, sponsored by the Italian American Museum of Los Angeles.
Cost: Packages ranging from $65-$5,000
Saturday, October 19 - Sunday, October 20
ROW DTLA
This hit two-day music fest is back for its second year, focusing on hip hop and dance acts with Justice and Black Coffee headlining. ROW DTLA is blowing up, and this fest is sure to boast a ton of vibrant life.
Cost: $79-$119 per day or $129-$179 for 2-day pass
Wednesday, October 23 - Sunday, October 27
Various DTLA locations
Though it's not as huge as monster fests like AFI or LAFF, the Downtown Film Festival is a cool place to catch all kinds of great filmage, so keep your eyes peeled on the schedule and grab some extra popcorn.
Cost: Varies by event
Thursday, October 24 - Sunday, October 27
The Barker Hangar, Santa Monica
If modern design is on your agenda, WestEdge is sure to give you a boost of inspiration. Shop from more than 200 brands, meet the designers, and more. Hooray for liking the place you live!
Cost: $25 for GA admission; $95 for opening night party or $125 for VIP all-access pass 
Friday, October 25 - Saturday, October 26
OC Fair & Event Center
Three hours of unlimited beer tastings from some of the country's top breweries is great and all, but you know what's even greater? Three hours of unlimited beer tastings when the lineup is focused on Oktoberfest and German-style lagers.
Cost: $45 GA or $70 VIP
Friday, October 25 - Saturday, October 26
NOS Event Center
Not only does this EDM fest boast Alesso and Bear Grillz, but it's also got circus performers, scary mazes, and plenty of fire. Sure, it's not the cheapest fest you'll attend all year, but sometimes the best things in life actually aren't free.
Cost: $170 GA or $320 VIP
Saturday, November 2
Hollywood Forever Cemetery
This annual festival of the dead is back again, stuffed full of pan de muerto, performances, music, and thousands of people in classic sugar skull dia makeup. And where better to celebrate such a day than at a cemetery?
Cost: $25-$300
Saturday, November 2
LA State Historic Park
Dog Blood and the Martinez Brothers will be headlining this year's Day of the Dead-themed oontz fest, complete with face-painting and food trucks galore. 
Cost: $70 GA or $140 VIP
Friday, November 8 - Sunday, November 10
Magic Box @ The Reef
Do you work in the coffee industry? Do you not work in the coffee industry but just want to spend a day learning and sampling? Are you just very cold and need something warm? LA Coffee Fest is the place to be for all three reasons. Head downtown for three days of classes, demos, and tastings.
Cost: Packages ranging from $23-$80 ($10 for coffee cocktail tokens)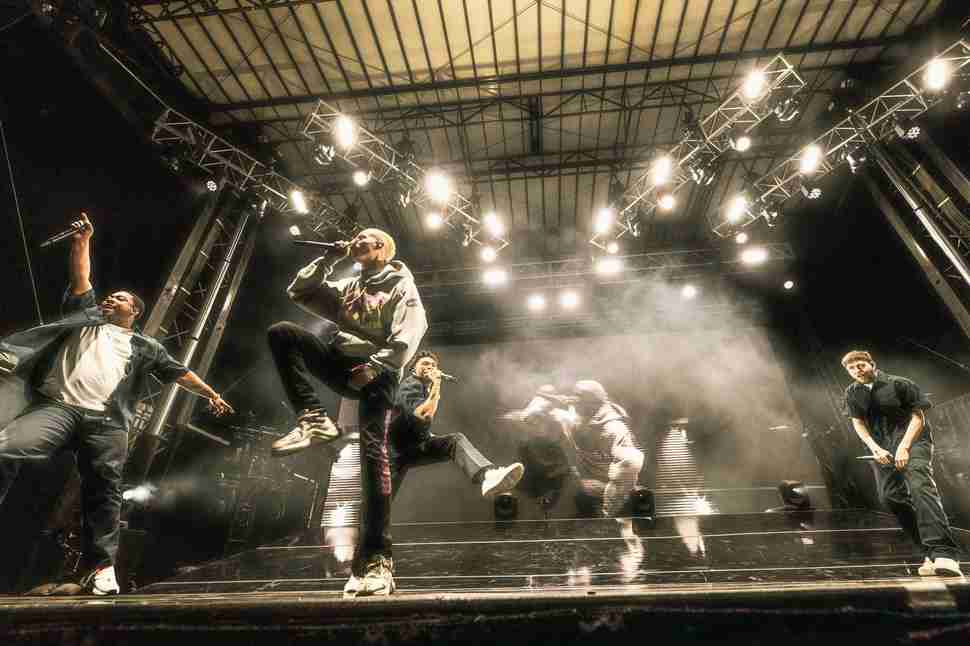 Saturday, November 9 - Sunday, November 10
Dodger Stadium
Solange, YG, Brockhampton, and of course, Tyler, The Creator will be headlining this year's edition of the Odd Future-curated fest. Rumor has it there's a huge mystery headliner popping up too, so you may just have to roll the dice on this one.
Cost: $245 for 2-day GA
Saturday, November 9 - Sunday, January 12
Los Angeles Arboretum
A lantern art festival for the ages, Moonlight Forest transforms the LA Arboretum into a full-fledged winter spectacle. With fun art, food trucks (still TBA), and booze, it definitely has the potential for a date night grand slam. 
Cost: $25-$28
Friday, November 15 - Saturday, November 16
Banc of California Stadium
Now in its second year, this hit fest is getting ready to blast off with an all-star assortment of activities including performances by Vince Staples, Eric Andre, and an exclusive Rick and Morty Season 4 screening. Expect plenty of great food, too.
Cost: Packages ranging from $49-$499
Sunday, November 17
Various Orange County beaches
Almost two miles of open streets, bike- and pedestrian-friendly activities, live music, and food await you at Meet on Beach, an LA-as-hell event connecting seven different Orange County cities. It's a great way to say goodbye to summer.
Cost: Free!
Sign up here for our daily LA email and be the first to get all the food/drink/fun Los Angeles has to offer.