I Did LA's First-Ever Topless Yoga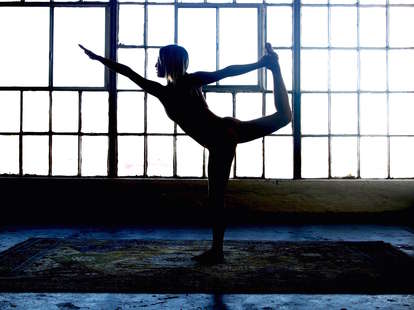 Courtesy of Jonathan Haloossim at Astroetic Studios
My nipples made their Los Angeles debut and, thankfully, it wasn't while I swung on a pole or in preparation for a Mardi Gras bead-gathering experience. It was all in the name of yoga.
It's not exactly like my breasts asked to be liberated. They live a cushy life fully supported by pretty bras. Technically, they've been seen in public on a nude beach in Jamaica and in a gay bar when some curious gentlemen wanted to know what all the fuss was about (response: "Now we know why straight guys like boobs!").
While I love an adventure and will try anything once, the little Catholic girl inside me was nervous to bare my breasts in a room full of strangers, especially while twisting my body like a pretzel.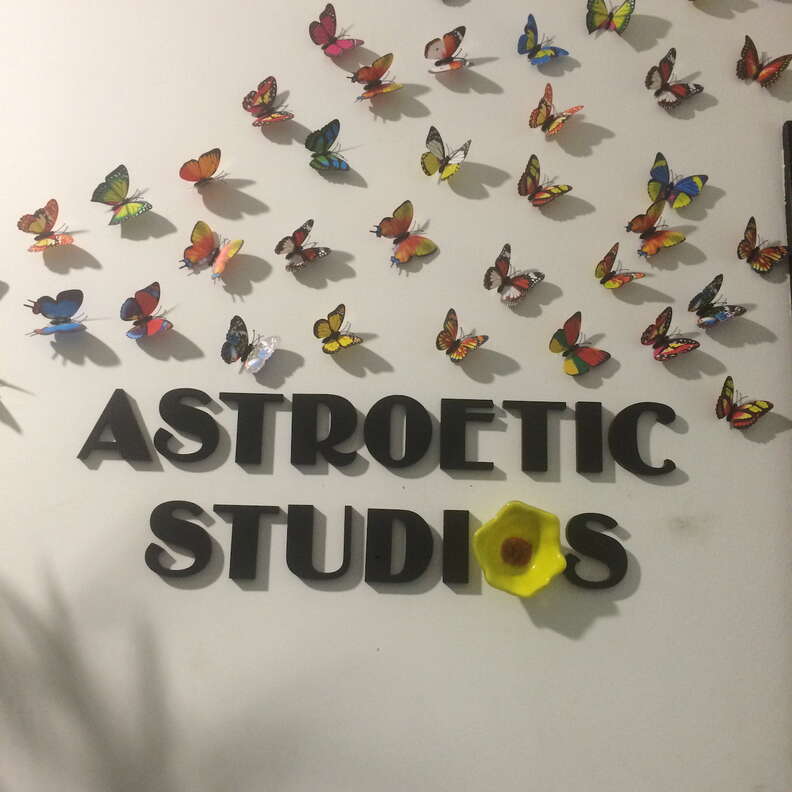 The scene
Free the Nipple Yoga is held at Astroetic Studios in the Fashion District of DTLA. The studio is a large loft space with huge windows overlooking Downtown. As I walked into the room, the teacher, Llyn Stransky, introduced herself. She was already topless and I completely understood how guys feel. My mind screamed, "Look at her eyes! Eyes! Keep the gaze up!"
As I unrolled my mat, I noticed there were two other women. There were also three guys setting up for class, two with man buns. I kind of wanted to yell, "Hey, bottoms off!" because it's no big deal for them to be topless. But bottoms are mandatory in this class and really, that's a blessing. Right before the lights went down, four more women came in for a total of seven, or 14 breasts.
The class was inspired by campaigns to decriminalize women's breasts and promote body positivity, so this isn't the Lululemon blonde-trophy-wife-army kind of crowd. The crew seemed artsy, neo-feminist, and new-age hippie. I was definitely the fish out of water.
The reveal
The lights dimmed and candlelight took over. I saw the other women pull their shirts off. It was now or never. I took a deep breath, unzipped my sweatshirt, yanked my tank top over my head, and ripped my bra off like a Band-Aid. There they were in public: my ta-tas. I half-expected a trumpet to sound, but all I could hear was the sound of a Durga power mantra, aka a dude calmly muttering Sanskrit words. I'm pretty sure he wasn't chanting, "Nice rack."
The one thing that unnerved me more than the reveal was how cold it was in the room. With the cement floor and a few small heaters, it was very nippley. I wasn't sure if that was by design. (I learned after class that a fuse for the heaters had blown just before class, which was why it was so cold in the room.) The irony is that if it had been regular yoga, I would've kept my sweatshirt on.
The yoga
As class began, I worried about how athletic the class would be. I imagined my natural 32DDs smacking me in the face. I'd dramatically explain my facial bruises with, "No one hit me. It was my breasts."
It turns out the class was of the spiritual, gentle, and restorative genre. We started with some light breathing through alternate nostrils. Next, we rolled our necks, did a few rounds of hip openers, and moved to bridge. Thanks to the freezing temperature of the room, I was hyper-aware. I felt self-conscious looking around the room for fear of being pervy -- or worse, inviting anyone to look at me.
Instead, I just watched my breasts through each pose. During bridge, my boobs moved as far away from each other as possible, like two people who hated each other. One nipple pointed to the left wall and the other to the right one. During downward dog, my breasts looked like eggs in skin socks. Unnerving.
As we moved into savasana and the sound bath, my body craved my sweatshirt or a blanket, but I didn't want to be that jerk who wussed out and covered up in Free the Nipple Yoga. Instead of fully relaxing, I tried to imagine being on a tropical beach while wearing a parka.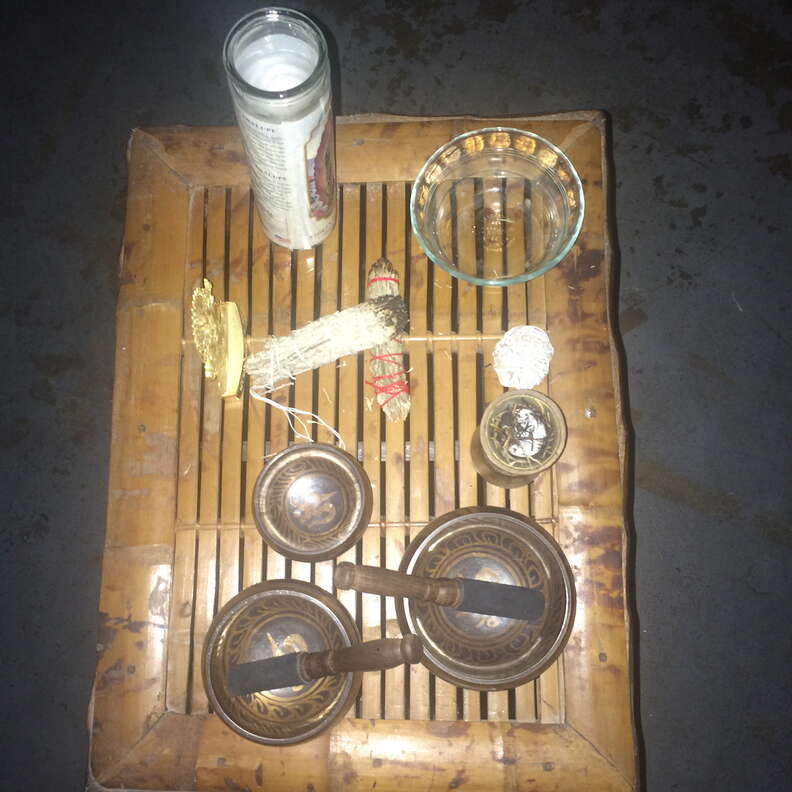 The sound bath
Just before the gong and sound bath, the teacher came around and saged us to help remove any lingering bad energy. She played the gong and a small bowl. The sounds were soothing and offered a great opportunity to meditate.

The after
As soon as we namaste'd, I put my bra, shirt, and sweatshirt on faster than after a bad one-night stand. Everyone else in the room did the same. With my armor back on, I felt good. My body felt stretched, like I'd given myself a moving self-massage. The sound bath elevated my mood. I had an unexpected burst of endorphins that had me like, "Yeah, topless yoga! Nudist colony here I come!"
My sentiment to become a nudist faded by the time I got to my car. I certainly felt more comfortable baring my breasts in front of strangers and was happy to avoid weird red marks from my sports bra. I was a little stunned by how mobile my boobs were, which is why I was ultimately happy to be strapped back in.
If you want to push your boundaries and do it in a body-positive way, then Free the Nipple Yoga may be for you. I'd like to say that I'm the kind of girl who can whip off her shirt and be comfortable. Maybe if I did it enough, I would be. But I kind of like being covered up so I can focus on the postures and working up a sweat.
Free the Nipple Yoga launches Wednesday, January 20th at 8pm at Astroetic Studios, 224 E 11th St, Ste 700A, Los Angeles, CA 90015. Classes are regularly $20, but there is a grand-opening special of two classes for $30. Sign up here.
Sign up here for our daily LA email and be the first to get all the food/drink/fun Los Angeles has to offer.
Kerry Quinn is a blogger for The Kerry Diaries and writer based in Los Angeles. When she's not topless, she's writing a collection of humor essays. Follow her: @kerrylquinn.