Though it seems like LA is an eternal summer, it actually gets cold here (OK -- cold-ish). And around the holidays, it can even get festive, if you hit it right -- and we've got you covered, because we whipped up this handy guide, full of all the holiday cheer you seek.
Recommended Video
Meat Flowers Are Here to Give You The Best Valentine's Day
Christmas Fantasy Parade
Disneyland
Disneyland's Christmas Fantasy Parade is always a monster parade full of the Disney-riffic joy we've come to expect from the brand, and since it's only an hour away it's kind of a no-brainer to hit if you live in LA. Pro tip: The best time to go on Space Mountain is during the parade, so if your idea of festive-ness somehow doesn't include holiday Mickey, you're in luck..
Chill at Chill
Long Beach
The Queen Mary's annual winter wonderland is here again, with classics like ice skating, ice tubing, and their winning North Pole Village. New this year is their "Alice in Winterland," which sticks you in a 14,000sqft immersive experience -- jump into Alice's shoes as you find yourself in the Hall of Doors, the White Rabbit's Kitchen, Mad Hatter's Workshop, the proverbial Tea Party, and even the Hedge Maze.
See real reindeer at Reindeer Romp, and check out the Zoo lights
Griffith Park
Reindeer are real things, not just fictitious Santa Claus animals, and you can visit them in Reindeer Village at the LA Zoo until January 8th -- where you can also enter a contest to name their new baby reindeer (Deery McDeerface is probably not going to win, though). Not a reindeer fan? The rest of the zoo will also be decked out all wintery for Zoo Lights, which includes NYE festivities, a happy hour lounge, and more.
Candy Cane Lane
Woodland Hills
It turns out there is a reason to be in the West valley besides to hunt down great strip mall sushi. The homeowners on Lubao Ave and Oxnard St have been losing their damn minds for Christmas decorations since 1952, so prepare for insanity (especially since every year each house tries to outdo the others). Bring shades. It'll be bright.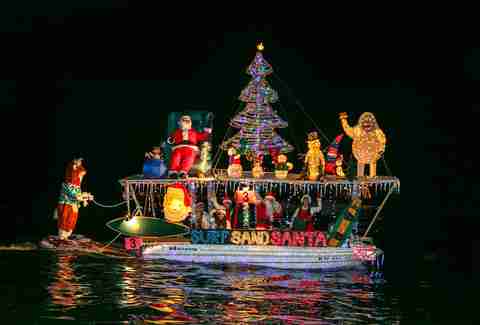 View excessive wealth and a ton of lights at the Newport Beach Christmas Boat Parade
Newport Beach
Over a million viewers will be posting up for the 108th annual Newport Beach Christmas Boat Parade December 14th-18th, so why not be one of them? The harbor will be alive with boats, yachts, and canoes, many of them sporting over $500,000 in decorations. Oh, rich people. Bless their hearts.
Test your endurance at the Santa Monica Pub Crawl
Santa Monica
If you're looking to drink your way through the holidays (and who isn't) a good place to start is this Sat at the Santa Monica Pub Crawl. You'll have four crawlable routes, so choose wisely, and, uh, don't forget to eat. (Pro tip: Choose the Pier Route, as the bars are bigger and you'll have an easier time getting a drink.)
Ring in the season at the LA County Holiday Celebration
Downtown
Bands, choirs, and dance companies will be spreading the cheer during this free, three-hour Christmas Eve show at the Dorothy Chandler Pavilion.
Descanso Gardens' Enchanted: Forest of Light
La Cañada
Through January 8th, this beloved garden has set-up Enchanted: Forest of Light: a 1 mile walk through some crazy-impressive lighting displays (some of which are totally interactive). There will be two lounges set up throughout the whole Enchanted experience, so you can get your food and drank on, too.
Sign up here for our daily LA email and be the first to get all the food/drink/fun Los Angeles has to offer.